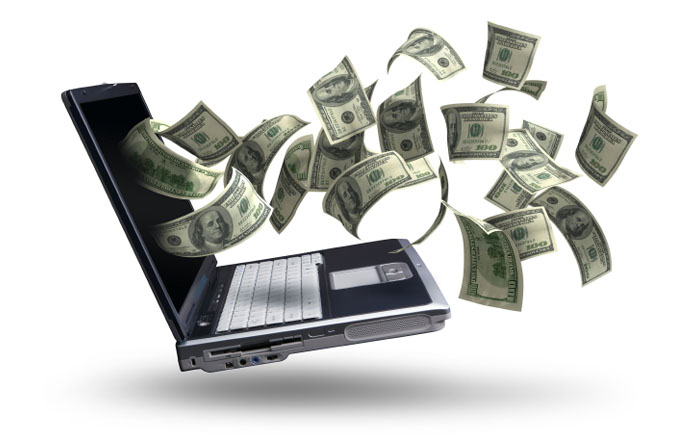 Last Updated: September 2018
Have you ever bought something online, only to sit at the checkout page thinking to yourself, "Wow, I sure am glad that I'm paying full price for this."
Me neither.
This website is about Money Wizarding! We want discounts dammit!
Enter the world of online rebates.
"Are you kidding, Money Wizard? I'm not messing with postage stamps and envelopes just to save a few bucks…"
Get with the times grandpa! I said online rebates, which are literally as easy as clicking a link. If you can lift that lazy pointer finger of yours and drop it back down onto your mouse's left button, then you've got what it takes to save some serious coin. Enter my favorite new websites: Mr. Rebates and Ebates.
Review – How Ebates and Mr. Rebates Work
Both websites are cash-back affiliate rebate sites. That's a lot of words which boils down to this: Rebate websites have deals with retailers. The deal works like this: when the rebate website refers customers to a retailer, the retailer pays the rebate site a commission.
The rebate site could try to refer customers to the retailer in a number of ways. They could run ads, or they could emphasize the best deals at certain websites. Or, and this is the route Ebates.com and Mr. Rebates websites have taken, the cash-back site could make things easy on themselves, and just share a portion of their commission with you.
The retailer is happy because they gained a sale. The rebate site is happy because they got a commission. And you're happy because you got some free money! I believe the technical term for this situation is a Win-Win-Win.
Here's an example. Say I'm dying to score tickets to a Pro Racketball Tournament (I am not making this up, this is for sale on Groupon.com right now). I go to MrRebates.com and see they are currently offering 8% cash back for all Groupon purchases. I click their link for Groupon.com, wait about 0.002 seconds for the redirect to Groupon.com, and then browse Groupon just like I normally would. Once my order is complete, MrRebates automatically gets confirmation that I bought $100 of Pro Raquetball tickets.
Since their offer was 8% cash back, I automatically get $8 into my MrRebates account. When I decide it's pay day for me, I can either get a check mailed to me or redeem the rebates directly to PayPal.
How Much Can I Earn?
I've seen deals as high as 30% cash back. There are hundreds of affiliated stores, and each has its own cash back rate. These aren't unheard of vendors either. Right now I'm seeing 1-12% cash back at Walmart, Target, eBay, Groupon, Living Social, Best Buy, Bed Bath and Beyond, nearly every hotel chain, rental car company, and yes… even Amazon.com.
This is what a few of Ebates' featured stores looks like right now: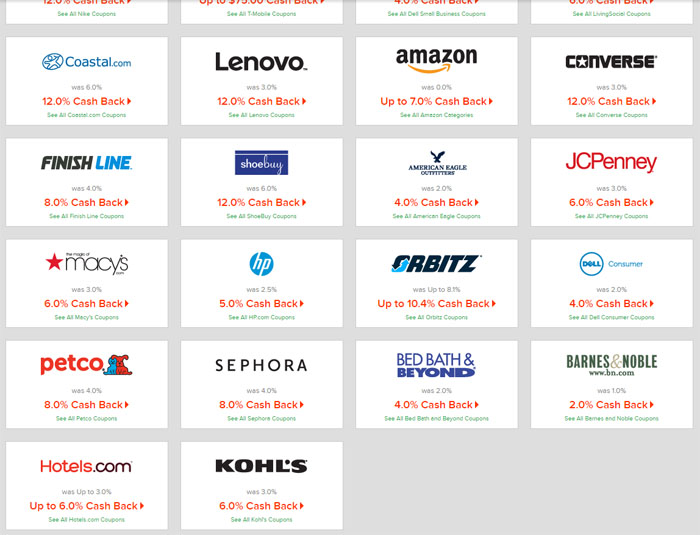 And here is the MrRebates interface. I'm in the process of stocking up on pet food, so I've sorted by the Pets category.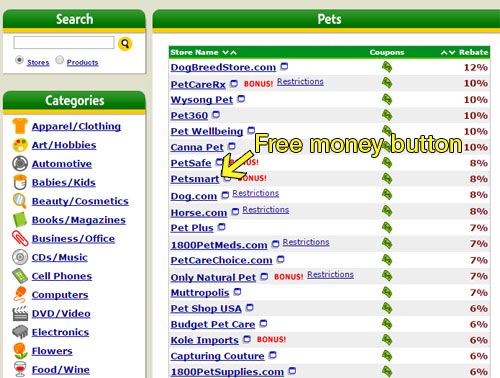 I really wasn't making up my previous Groupon example; 8% is the current cash back rate. See for yourself!
Is Ebates a Scam? Is Mr. Rebbates a Scam?
I'll be honest, when I first saw MrRebates.com and it's Netscape-era site design, I thought for sure this was scam city. Ebates looks a little more professional, but you always have to be skeptical any time someone on the internet is promising free money. Several successful cashouts later, I'm back to report that both of these websites are in fact, the real deal.
Beware though, there are tons of cash back websites out there. Some are scams, and some are just flat out unreliable. For my money, these two are the best.
But how do I decide which of the two sites to use? Cross comparing both sites for every purchase can be a pain. I've got one last tool for that.
Easily Compare Cash Back Rates
Time to bring it all home with the last piece of the puzzle, evreward.com. Evreward is my favorite cash back comparison site, which I use to make sure I'm getting the highest percentage possible before buying anything online. I just search for the store and choose whichever site has the highest rebate percentage.
Plus, the site automatically shows any coupon codes and even compares credit card reward programs. How cool is that?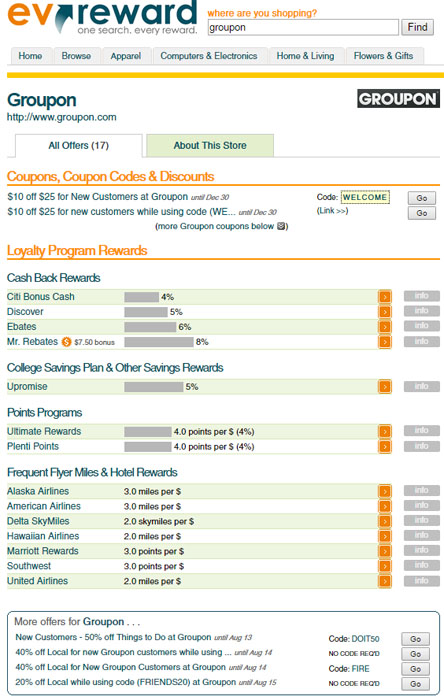 Get Your Free Money. Because Hey, You Deserve It.
In addition to all the fat paychecks you will be scoring just from using the sites, both of my referral links below include sign up bonuses for you. Ebates is offering a $10 giftcard through my link below, and Mr. Rebates is giving away a free $7.50 after your first purchase.
Mr Rebates – earn an extra $7.50 after your first purchase
Ebates – Use this link to get a free $10 gift card
Happy Deal Hunting!
---
[Photo credit: SEOPlanter via Flickr under cc]