When it comes to tracking your money, the personal finance industry has two clear leaders in the free category. Which leads to one of the most common questions sent across the Money Wizard inbox: Personal Capital vs. Mint?
There's only one way to settle this dispute, and that's a head to head comparison between the two offerings.
Ahh, who doesn't love a good cage match?
In one corner, we have Mint.
Mint was one of the original FinTech companies bursting onto the scene in 2006. Hyped as the "Quicken-killer" their free service allowed users to automatically aggregate all their spending info in one place.
Mint's service was a revolution. So much so, that in 2009, Intuit sold Quicken and bought out Mint for a cool hundred million-ish. The supposed Quicken-killer was victorious!
Fast forward to today, where Personal Capital burst onto the scene hyped as a "Mint-killer."
In some ways, we have the old dog vs. the up-and-comer. What a match-up!
Who's gonna win this battle of the juggernauts??
The Personal Capital vs. Mint Experiment
Mint and Personal Capital are the two most popular personal finance tools on the market. Both offer online platforms to help you manage your money, and they're both free.
The gist of their platforms is simple enough:
Create an account
Link your bank accounts, credit cards, investment accounts, etc.
Enjoy your new simplified financial life. With all your accounts in one easy to monitor dashboard, you can easily track your account balances, spending habits, and investment performance.
Of course, this is a simplification, and each has their own strengths and weaknesses. Which is the whole reason for this article!
Now is the part where the typical reviewer starts regurgitating product specs straight off the box.
NOPE. NOT HERE.
Instead, for our comparison, I created accounts with both platforms, and I got as familiar as possible with the systems. My goal was to uncover each service's strengths and weaknesses, find the bugs and the quirks, and report back to you.
For 8 rounds of cage match, here's an overview of tonight's entertainment:
Round 1: Linking Accounts
To start, Mint and Personal Capital will both ask you to link any accounts you'd like to track.
The process is pretty similar for both, and surprisingly easy. You just search or select the provider of the account (Chase, Vanguard, etc.) then give Mint or Personal capital the login info for your online ID. (If you're worried about security, we'll get to that in a little bit.)
I didn't have a problem with either Mint or Personal Capital supporting all my accounts, which is nice. Some people report issues with linking up small credit unions or other obscure accounts, but this is rare. They really do have a staggering number of accounts covered.
Winner: Well, it's hard to find a standout in something as boring as account linkage, but Personal Capital was a smoother process overall. Mint hit a small hiccup with dual factor authentication, which I was able to sort out via an unsuccessful trip to their help center and a lot of googling.
Round 2: Dashboards
With your accounts linked up and ready to rock, Personal Capital and Mint can start working their magic.
Both tools seek to simplify your finances with a nice, easy to read summary dashboard. A picture is worth a thousand words, so here's a peek at the two:
Personal Capital's Dashboard: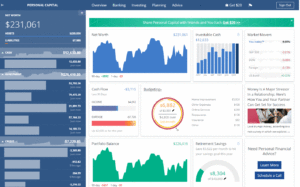 Mint's Dashboard: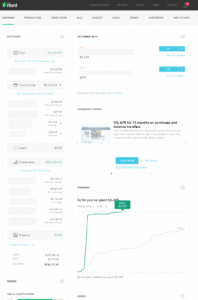 You'll notice Personal Capital's dashboard is more investing/net worth focused, while Mint's focuses more on spending and budgeting. That's a key distinction between the two programs, and a pattern we'll see throughout the features.
Mint's dashboard does have the advantage of being customizable. You can select which features to show and even the order which they show.
That said, I find Personal Capital's emphasis on charts and graphs to be easier to digest, and as you click through the dashboard, Personal Capital's interface just seems more user friendly.
Since that may just be personal preference, we'll label this round too close to decide.
Winner: Draw.
Round 3: Budgeting
Personal Capital and Mint both sport the awesome feature of tracking your spending automatically, once you've linked your credit card accounts.
Budgeting with Mint
Mint is first and foremost a budgeting app, so you'd expect it to have the edge here. And it does.
Unlike Personal Capital, Mint allows you to build a budget category by category, and the program then tracks your spending in each category.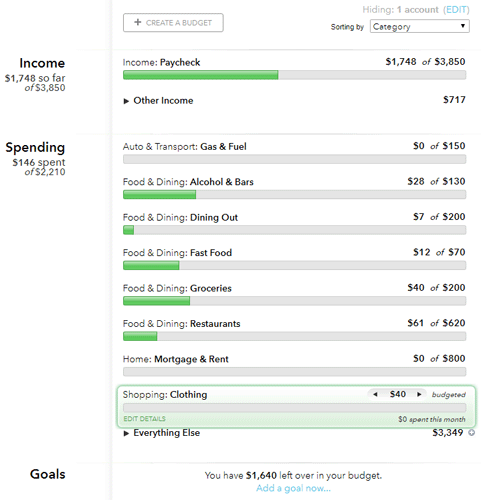 For someone trying to get their spending under control, this categorization provides a nice frame of reference.
Mint also has a robust bill feature. The dashboard will automatically notify you of any upcoming bill, and you can even link recurring online bills, like insurance or utilities, or even offline bills, like rent, the babysitter, or that handyman you pay under the table. Shame on you, you tax evader you!
Budgeting with Personal Capital
Budgeting with Personal Capital is more cash flow based, meaning the program emphasizes your overall income versus expenses for each month.
You can set a budget by total dollar amount, and the program will automatically report on your spending by category, but you won't be able to compare category wide spending versus a broken down budget. For this reason, I'd consider Personal Capital's budgeting feature as more of a "spending report" than an actual budget.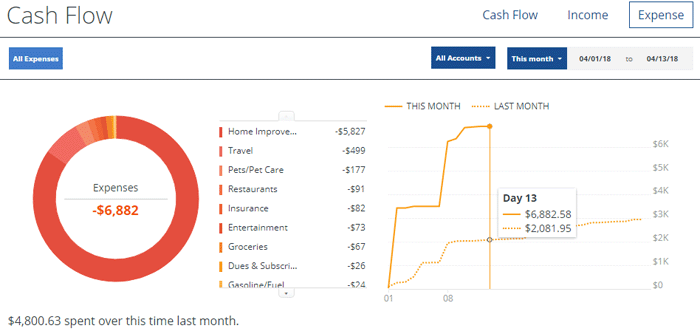 For advanced money wizards, I actually prefer this approach. I find categorized budgets can tempt people into spending money, just because they're "under budget" in a certain category. Personally, I try to spend as little money as possible; I don't care what category the saving comes from. But beginners probably won't appreciate the lack of guidance.
Personal Capital's bill feature is also not as robust as Mint's. I haven't found a way to add utilities and other offline accounts, and while you can see an overview of bills for your linked accounts (mostly credit cards bills) alerts are pretty much nonexistent.
Winner: Mint.
Round 4: Investing
Just like the budgets, both Personal Capital and Mint will link and track your investment accounts.
Monitoring Your Investments with Mint
I'll be blunt. In my experience, Mint's investment tracking is garbage, to put it nicely.
Like Personal Capital, Mint shows your individual investment balances and tallies up a final net worth figure. But that's about where the features end and the bugs begin.
The first thing you'll notice is that the historical performance tab is limited to when you set up your Mint account. Depending on the age of your investments, this could mean years of lost information. What good is the historical performance without, you know… history?
Scroll over to the comparison tab, and the quirks continue.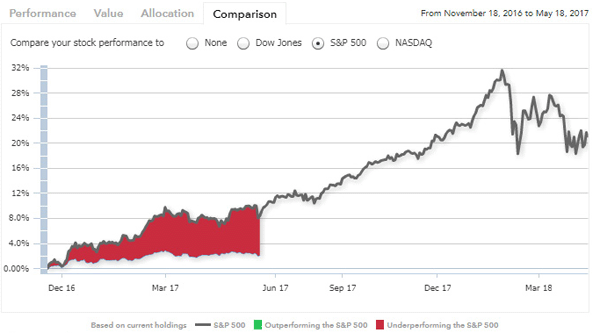 Umm, anyone want to explain what's going on in this graph?
The scale dates back to 2016, which is strange since the investments date back to 2012.
The graph is supposed to compare my account's performance to the benchmark, but for some reason the comparison stops halfway through.
The graph defaults to stopping in May 2017, for some reason.
And forget about detailed reports. For 65% of my portfolio, the investment tracker can't even figure out what stocks I've invested in!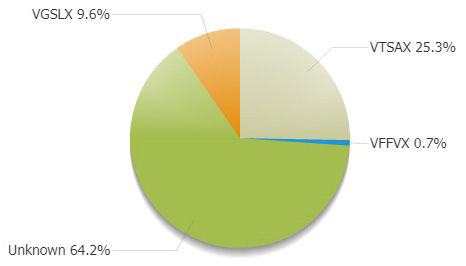 And the asset type is 100% broken: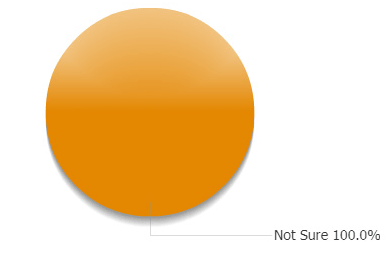 Just ridiculous.
Monitoring Your Investments with Personal Capital
Personal Capital was created as an investment analysis tool, so it's no surprise its features here are top notch.
Put simply, Personal Capital's investment tools just work. No bugs, no hassle, and even a few high tech features for a pleasant surprise.
Unlike Mint, Personal Capital had no problem tracing my portfolio's performance waaaay back in time, and Personal Capital had no issue breaking down my whole portfolio into the accurate allocations.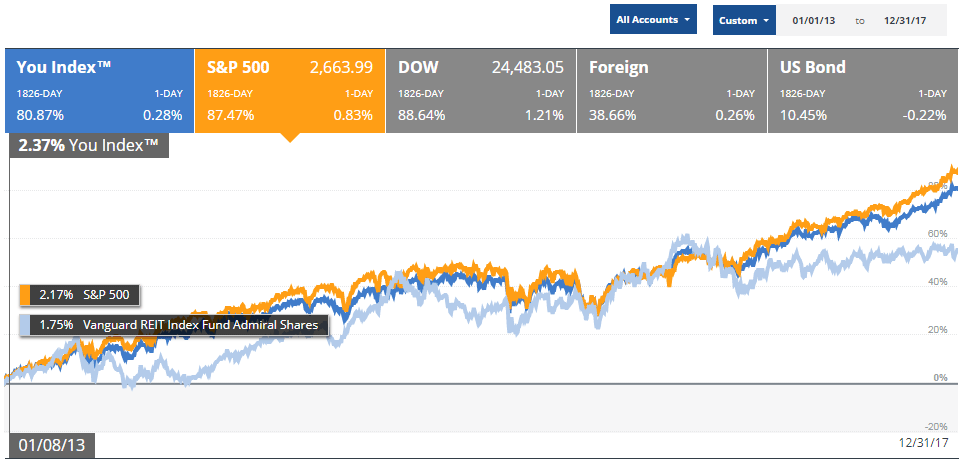 Even more impressive, Personal Capital broke down the individual holdings within each index fund, in order to give me an exact total portfolio allocation. That's a level of detail I'd never be able to calculate without the help of a computer program, and is seriously impressive coming from a free tool.
The software also has a pretty nifty investment checkup tool, which analyzes your portfolio's allocations, calculates the risk, and offers suggestions. These sorts of features are usually pretty gimmicky, but Personal Capital's are actually based on some really solid financial theory: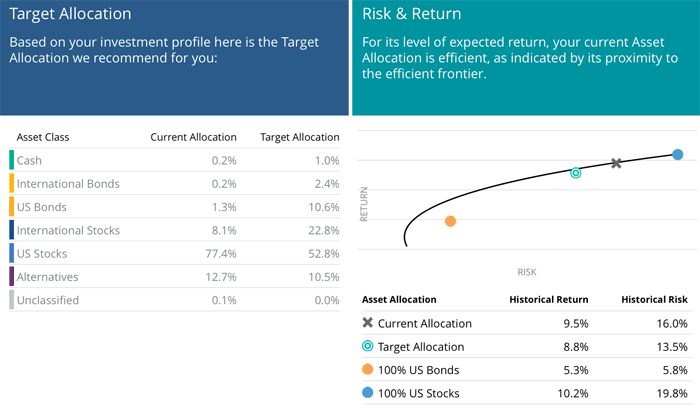 Winner: Personal Capital, and it's not even close.
Round 5: Bonus Features
But wait, there's more! (There's always more, btw…)
Extra Features from Mint
Mint has a couple of bonus features worth mentioning.
1) Bill Pay: Mint has a bill pay feature, which lets you pay bills directly from the dashboard. I could see it being especially convenient if you used it to its full potential. Imagine paying your car insurance, utilities, credit cards, etc. all from one place. Pretty cool!
2) Free credit score: Mint offers a free credit score for all users, right in the dashboard. I was pretty excited for this, but unfortunately, I could never get the score to pull up during my test, for some reason.

3) Goals: The budgeting feature allows you to add goals, like saving for a house, buying a car, or paying off debt.
It's a really cool idea, but I found it to be hit or miss. For example, here's me adding the goal of our upcoming kitchen remodel, which makes for a really nice addition to the budget tool: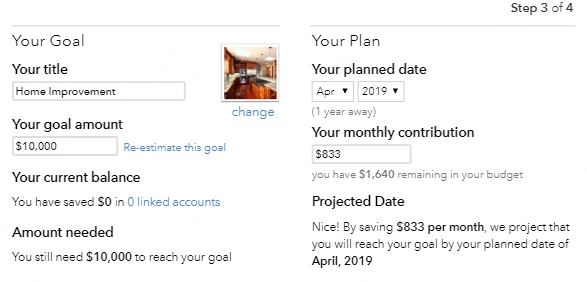 On the other hand, the "buy a house" goal recommended I look for something in the $415-$485,000 price range. Considering we are loving the $180,000 house we just bought, this is some insane advice! I'd damn near be living paycheck to paycheck with a $400,000 mortgage!
Extra Features from Personal Capital
Not to be outdone by surprises, Personal Capital swings back…
1) Investment Fee Analyzer and Retirement Fee Analyzer: Personal Capital scans all your investments and calculates just how much you're really paying in fees. The answer might surprise you!
Since fees are without question one of the biggest determining factors in investment success, I found this really helpful. For somebody caught up in a high fee mutual fund, this could save them thousands over their investing career.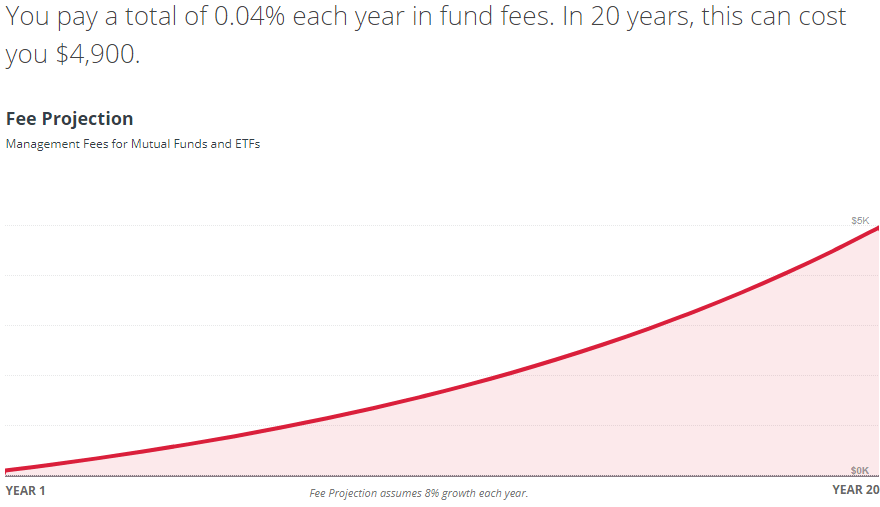 2) Retirement Calculator: Personal Capital rocks a solid retirement calculator. The system runs a Monte Carlo analysis, which is a fancy finance model that analyzes 5,000 scenarios simultaneously to determine how likely it is your cash will last.
Like any good retirement planner, the model is based on how much money you want in retirement, and not just some arbitrary hand waving by a financial planner. It's also crazy customizable; you can add income events like social security payments, inheretances, rental income, etc. and you can even factor in big spending goals like vacations, charitable giving, or healthcare. It's really an incredibly deep tool that I've only scratched the surface on.
Winner: For my money, (literally!) Personal Capital. But the budget oriented folks might appreciate Mint's bill pay and budgeting features.
Round 6: How do Personal Capital and Mint make their money?
Mint's business model is an ad based system. Within the dashboard, you'll see "suggestions" for how to save money, which usually involve opening up a credit card with lower interest rates or switching to a lower fee brokerage. These ads are included in the "ways to save" tab, but you'll also see random popups throughout the software.
Personal Capital also has a hidden agenda with their free offerings. Personal Capital actually has a financial advisory firm, and they hope to recruit high net worth individuals to their financial advisory services, who do charge a fee.
I knew this going in, and yet I was still surprised when I got a call on my cell phone from a financial adviser from Personal Capital hoping to pitch me his services. You'll also be hit with the occassional message steering you towards "meeting with a professional."
(At my age, I've saved enough money to get featured on the front page of Yahoo Finance, yet Personal Capital is sure to remind me that "25% of users like me have saved more… schedule a call today!")
To be honest, I don't find either business models to be a big deal, but you may have different tolerances.
Winner: Draw.
Round 7: Is Personal Capital Safe? Is Mint Safe?
I'll admit. The idea of aggregating all of my financial information in one place sounds like an online hacker's dream come true, so this had me concerned at first.
Well, here's the technical answer first. Personal Capital and Mint both uses AES-256 bit encryption.
I don't know what that means either, so I had to google. Apparently, it's the same stuff used by the US government, and basically impenetrable to brute force attacks. Supposedly, it would take 50 supercomputers checking a billion billion keys per second about 3,000 years to crack. (Seriously!)
I like my chances there.
And now let's say somebody actually managed to get into your Mint or Personal Capital account. Because the software is just viewing your account balances, and not actually doing anything with them, our thieves wouldn't have a lot to do.
In that, you could say using Mint or Personal Capital is actually safer than logging into your online bank. Whereas if somebody hacks your online bank, there's the very real possibility that they can transfer money out. If somebody hacks your Mint or Personal Capital, all they get is a peek at what a diligent saver you've been!
Of course, nothing is invincible. But I like my chances against 50 supercomputers.
Winner: Draw
Round 8: The Cell Phone Apps
One of my biggest pet peeves is cell phone apps that don't have as many features as the website version. So, I hit up the App Store to see how well the online apps translated to their iPhone versions.
Personal Capital passed with flying colors. The app worked flawlessly, and was basically a miniature version of the website. Every single feature was included, from the net worth tracker to the complex retirement planner, all scaled down for easy finger swiping.
Mint also boasted a nice cell phone app. The ability to see your budget in the palm of your hand could really help some folks stay on track during that impulse late night trip to the bar.
But that's about where the app version features of Mint ended, because several of the website's features, like goals and investments, were missing from the app entirely. (Although judging by the unfinished nature of the website's investing section, we might not be missing much there.)
Winner: Personal Capital.
Final Thoughts: Personal Capital vs. Mint
So there you have it folks! Personal Capital with a judge's decision, winning 4 rounds to 1.
But it's worth emphasizing that's just this judge's decision. If you're more focused on setting a budget and sticking to it, Mint probably represents the better option for you.
Personally, I continue to use Personal Capital like an addict, for a few reasons:
Mint has the advantage over Personal Capital in budgeting, but it's not a total landslide. But Personal Capital is light years ahead of Mint in investment tracking.
I've never been a big believer in budgeting certain amounts for specific categories. I find that tracking my spending overall is more effective for me, so I actually prefer Personal Capital's summary spending reports.
Personal Capital's fee analyzer and retirement calculator are incredible features.
I like Personal Capital's iPhone app a little better.
Overall, I found Personal Capital to be a smoother, more polished product. Mint's errors in investment tracking is embarrassing, and I never could get the credit score to work. Even as I wrote this post, Mint somehow got disconnected from one of my credit cards, and 4-5 repeated login attempts couldn't fix the issue.
Fellow Money Wizards, do you have an opinion on Mint vs. Personal Capital?
Note: I think Personal Capital is so awesome that this site worked out an affiliate agreement with their company. This means if you click through one of my Personal Capital links, this site may receive a commission, at no cost to you. The information in this article is based on my opinion and is not influenced by the agreement.