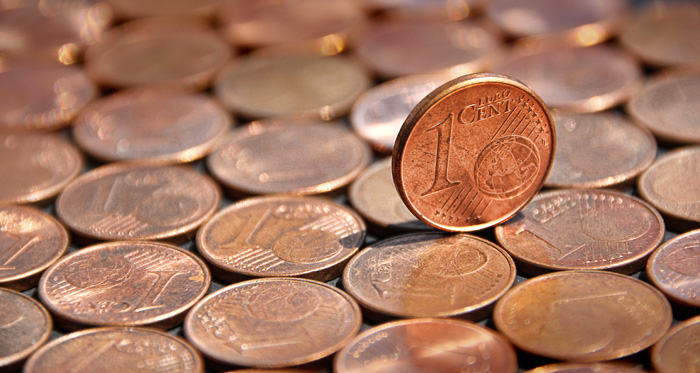 The biggest news in the Money Wizard corner of the internet remains the viral spread of my strategy to stop wasting money.
Framing your spending in terms of time spent, not pieces of paper, apparently makes for a pretty catchy story.
The story was first written by Business Insider, who approached me about doing a piece on the psychology of saving. From there, the story was picked up by Yahoo Finance, and eventually made its way to the #1 story on Yahoo.com's front page.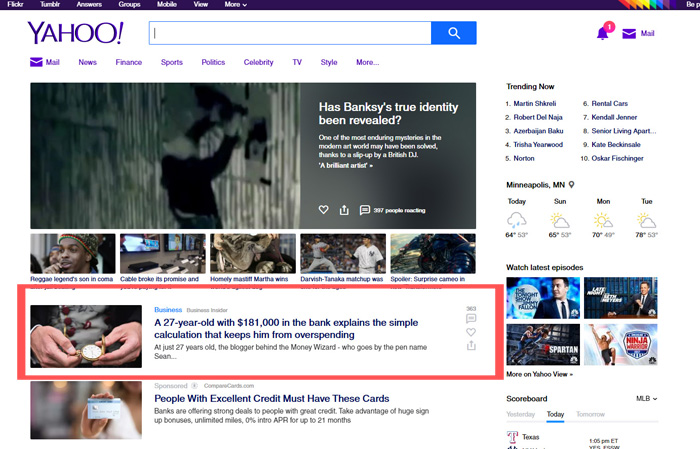 For an encore, the piece then made its way onto the front page of MSN.com.
Last time I had my 15 minutes of fame, I joked about how crazy it feels to see yourself featured next to leaders of the free world. Well, it's even more surreal to see yourself featured above leaders of the free world!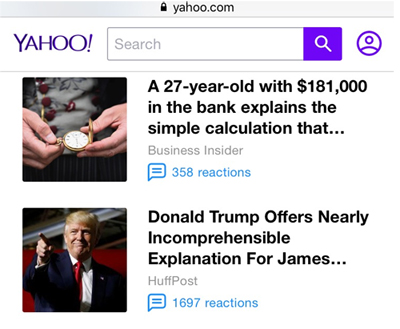 All this has made for fun times in blogging land. This site blew past its previous record of views in a day (15,000) and set a much harder to topple new record (22,519). Lively discussions abound on this site's comments sections, my email inbox is overflowing, and we now have over 3,300 email subscribers!
Of course, there's one group of people who simply aren't impressed by any of this. I'm talking about the internet's premier experts on everything – the Yahoo.com commenters.
These guys are quickly becoming my favorite part of any major media appearances. Not only do their bizarre tirades make for some pretty hilarious one liners, but I always learn all sorts of new things about myself.
Facts be damned, without even reading the article they commented on, here are 7 things Yahoo commenters automatically know about anyone who manages to save some money:
1) Big savers ALWAYS live in their parent's basement.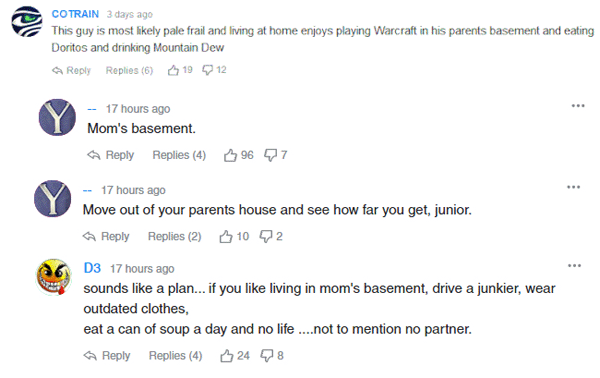 It doesn't matter if you haven't lived at home since high school. It also doesn't matter if you lived in Denver while it was the hottest real estate market in the country, and you managed to weather the tsunami-like rise in rent prices there for years. Nor does it matter if you currently live in a slightly too large and slightly too fancy apartment in Minneapolis.
The unfortunate truth is that anyone who saves over 10% of their income lives with their parents. Crazy, I know, but the Yahoo commenters were pretty confident about this one, and who are we to argue?
2) Big savers are ALWAYS single.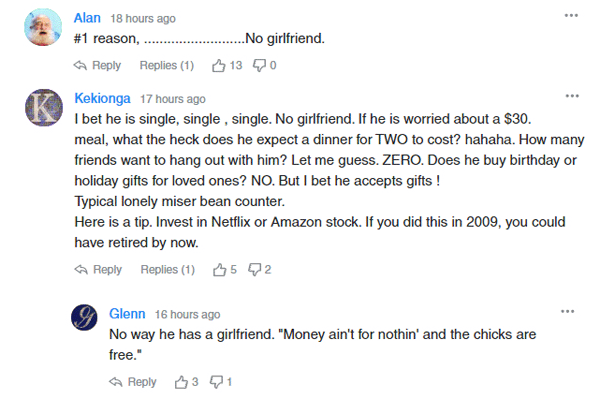 This one was especially surprising to my girlfriend of the past three years. Not only did she learn that she didn't exist, but she also learned from the comments that it's impossible for her to save any money at all, simply because she's a female!
3) Saving is pointless, because unexpected things happen.

I always thought saving was smart planning in case something unexpected did happen. I figured setting up a rock solid foundation of savings could only help to handle life's surprises.
Instead, I've learned it's better to design your finances like a house of cards. That way, when the inevitable light wind comes along, you can be sure your finances come crashing down. At least this way you'll know what to expect.
After all, what's the point in even trying to secure your future when there's new luxury cars to finance?
4) Only people who make $80,000 can save money.

I thought I remembered saving money from part time jobs in high school and college. I also could have sworn I was saving nearly 40% of my income when I got my first salaried job earning $50,000 a year, which is the figure I think "GaborS" was shooting for before he got worked up and accidentally smashed the percentage key.
Luckily, Yahoo readers were quick to correct that my entire nest egg was because of an $80,000 a year salary. On the plus, this means I managed to save $183,000 in the few months since my recent promotion! Go me!
5) Savers will NEVER be able to access their retirement accounts before age 65. 

We'll go ahead and ignore the fact that the normal penalty free withdrawal age for retirement accounts is 59.5, not 65. We'll also ignore the countless retirees who have successfully accessed their retirement accounts in their 30s and 40s using Roth IRA Conversion Ladders.
Even if IRS rules clearly allow you to rollover a 401K to Traditional IRA, then covert the Traditional IRA to a Roth IRA, wait five years, then withdraw the conversions from the Roth, tax and penalty free, we're probably better off listening to the conventional wisdom…
6) Big savers have NO life.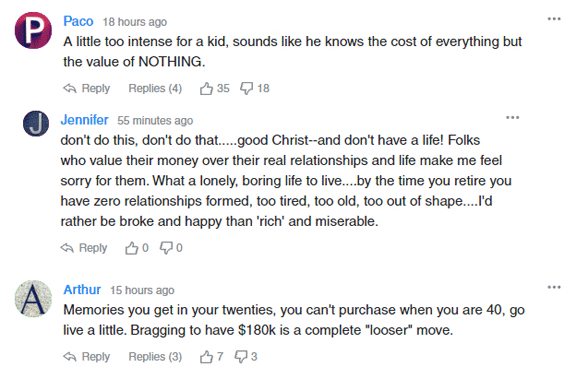 I thought I was living it up by maintaining a great circle of friends and family, many of whom I spent the past year traveling with to New Orleans, Seattle, Alaska, the national parks of Wyoming and Montana, the beaches of Florida and Cape Cod, plus ski trips to Denver, Utah, Lake Tahoe, and Canada.
But unfortunately, like most people who save a lot of money, I'm missing the point. Without the luxury of the latest Macbook, more extra bedrooms than I'll ever use, monthly car payments, or a nice amount of credit card debt, disciplined savers are living a giant void of a life.
7) People who save money are just lucky, because the world is not out to get them.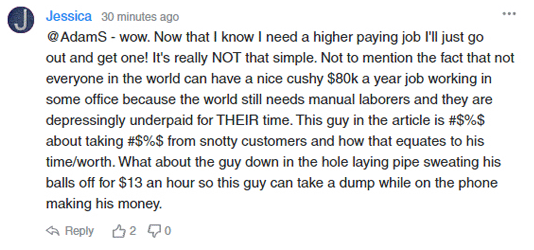 Gross, who talks on the phone while taking a dump??
Obviously I'm poking fun at some bizarre comments in this article, and I could go on and on with the examples. At last check, there were 492 of these wild responses, just on Yahoo's version of the article.
And while it's fun to have a sarcastic laugh, there's a more concerning issue at hand.
There are two types of people in the world…
There's people who look at something and say, "I can never do that." And then there's people who look at something and ask, "How can I do that?"
One is a scarcity mindset – there's never enough to go around. The other is an abundance mindset – anything is possible, the trick is just finding out how to create the reality that you want.
Psychology has a fancy name for these two differing attitudes – an internal vs. an external locus of control, and there's perhaps no better predictor for your success in life than this little shift in mindset.
A locus of control is the degree to which people feel they have control over their lives.
Someone with an internal locus of control believes they can strongly influence the events and outcomes of their lives.
Someone with an external locus of control believes the outcomes of their lives are influenced mostly by external forces beyond their control.
This isn't a small nuance. Research shows that people with an internal locus of control:
Do better in school
Deal with stress better
Are less likely to be depressed
Find solutions to problems easier
Report stronger satisfaction with their jobs
Make more money.
And this makes sense. Action creates results, and someone who believes they can influence their own world is more likely to take action.
The world doesn't care about all the things you tell yourself about it. The world only cares about the actions you take.
If you're not happy with your position in life, it's time to take action change your situation. Drastic change, if that's what it takes.
If you're a manual laborer tired of low pay, this does not mean sending job applications to every similar position you can find, in hopes of a $1 an hour raise. That's nothing more than spinning your wheels in a bad position.
Instead, evaluate your position on the chess board. Note if you've made any wrong moves, then make strategic changes to improve your situation.
After all, making money is nothing more than a game, and your overreaching job, at all times, is to take advantage of the game's rules.
It may be entirely unfair that manual laborers make so much less than office workers, but that's not your job to figure out. Your job is to recognize the nuances of the game, then reposition yourself on the chess board.
It may not be easy, but it's never  too late to go back to school, learn a new skill, pursue a new career path, start a side business, or change your saving habits.
You can't control the hand you're dealt, but you can make the most of it. And if you keep getting dealt bad hands, you can always stand up and move tables.
---
Related Articles: