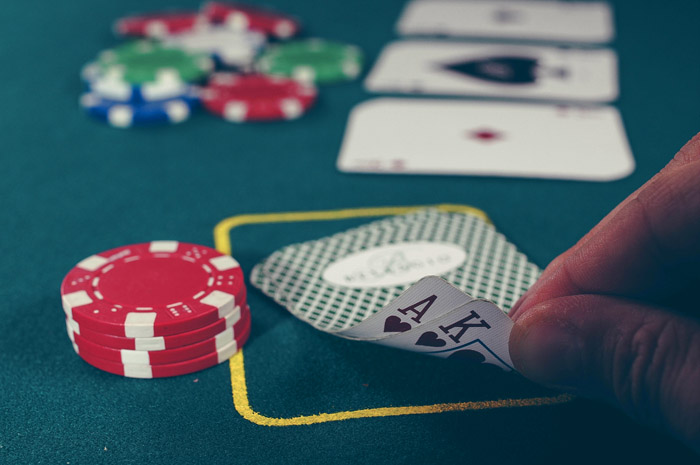 Back when online poker was legal in this country, I was an avid player.
Wait, I'm being told online poker might not have ever been legal. A gray area is more accurate. In which case, the remainder of the article is about my entirely fictional friend.
Anyway, at the time I was fascinated by the story of professional poker player Chris Ferguson. Chris, a five time World Series of Poker Champion, posed a simple question. Starting from absolutely nothing, could a professional poker player stay disciplined enough to slowly build up a bank account?
Chris implemented a strict set of rules to keep himself on track, and then set out at the lowest stakes games against average players. From behind a computer screen, online players had no way of knowing they were playing against one of poker's most successful players of all time!
The result? After a year and a half, Chris grew his poker account's balance from $0 to $10,000:
Feeling inspired, and being a bored college student desperate to procrastinate away my assignments, I implemented a similar set of rules with surprising success. I started with $0 to my name, started grinding it out in a bunch of free tournaments hoping to place high enough to win a few cents, then fought tooth and nail to try to grow those winnings.
After several months and far too many hours staring at the pale hue of a computer screen, I walked away with a little over $100 to my name. For those calculating along at home, that's an infinite return on investment. Take that Warren Buffet!!!
As I'm now older and wiser (or at least as wise as a 26-year-old with a marginally-successful blog about money can be) I started to recognize the enormous parallels between the game of poker and the game of life.
Specifically, the money game.
While poker is a game taking place on dimly lit felt tables (or in my case, a dimly lit computer screen) in cardrooms and casinos, the money game is all around us. The money game is taking place every day at your job, your bank, the mall you go to, and during every deal agreed upon by each and every one of us.
Surprisingly, poker can teach us quite a bit about how to win this money game.
The Game of Money
Poker lingo has an old school term for players. Bad players are known as fish, and good players are known as sharks.
The sharks eat the fish.
(Sometime during poker's history, the term fish got replaced by "donkey," which I find far more hilarious.)
If you can't find the sucker at the table, you're it." –Warren Buffet
Finance is just like a poker table, but instead of cards and chips, we've got loans and bank accounts.
Some people lose the game of money, some people win, and some never even give themselves a chance to play it.
Someone constantly spending and constantly in debt never gives themselves a chance to start their investment journey. They haven't even left square one of the Monopoly board. They're the sucker.
With his eyes wide shut, Mr. Big Spender is feeling good about how he's "winning the game." Just look at his fancy car and fancy watch to prove it.
Meanwhile, behind the scenes, the real sharks are eating him alive.
As Mr. Big Spender hands over another hard earned paycheck for his luxury car or fancy watch, the real players are happily taking that money and lining their pockets. They're using his money to invest in productive assets and growth their wealth. They're focused on creating businesses, gaining passive income, and reaching freedom. They're winning the game.
Avoid the traps of consumerism, and give yourself a chance to win the game by saving enough money to start investing.
Anything Can Be Learned
When I first started playing poker, I couldn't tell you a spade from a club.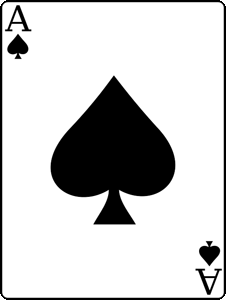 Then I found 6 of the best poker books, and I read them from cover to cover. What I learned was three-fold:
Those trees are actually called clubs: And those arrow looking things are spades.
Anything can be learned: I was amazed to find that studying doesn't just get you better grades in school, but it can also earn you cold hard cash. After each book, I noticed a marked improvement in my poker game. When I reached the end of my mini poker library, I had gone from a clueless player to someone who could consistently hold my own at poker night with my friends, and was turning a small profit online.
Most people don't research anything: Low stakes poker tables are full of players who don't know the basics of the game. The number of people who will jump head first into anything, whether it be poker, investing, owning a pet, or buying a house, without doing a moment of research, never ceases to amaze.
A little bit of studying can put you at a huge leg up. Always consider the power of research, either from books, online, or even blogs about Money Wizards, before risking any of your hard earned money.
Investing Is About Playing the Odds
Professional poker is about more than having some superhuman ability to read a Poker Face. In fact, most players will tell you their most useful skill is actually quickly calculating their estimated odds, then consistently and repeatedly making the right move given the odds.
Statistics are never perfect. If you've ever flipped a coin heads several times in a row, you can relate. Even after making the perfect statistical play, there's an element of chance.
Sometimes the poker player wins, sometimes they lose. Yet over a long enough time, making the right bet should pay off. The good player tilts the odds in their favor, and knows that making the correct choice with enough consistency will cause them to come out ahead.
Investing is no different. We will always have unknowns in life, and in investing. This means some investments make money and some do not. But following tried and true investing strategies tilts the odds in our favor. Just like the professional poker player pushing his chips in when the moment's right, over time, the majority of our well calculated investments will pay off.
My Net Worth Updates show how some months I make money, and sometimes I lose money. But investing is a marathon, not a race. Because I've bet on the odds, over a long enough time statistical anomalies smooth themselves out, and a sound portfolio continues its upward march of wealth creation.
Controlling Risk
Once the basics of the poker game are mastered, risk management is one of the most important tools in a player's toolbox. Funnily enough, any serious investor will tell you the same thing.
"Bankroll management" is the term used in the poker world to describe controlling risk, and bankroll management was the key to Chris's $0 to $10,000 challenge. This meant sticking to one simple rule:
Always Diversify!

The golden rule of Chris Ferguson's $0 to $10,000 challenge was simple: never risk more than 5% of your portfolio at any time.
This meant never sitting down at a table with more than 5% of your poker net worth, while also forcing yourself to walk away in the event of a bad beat. This not only limits your risk of losses and allows "good plays" to more consistently march that account balance upward, but the rule also eliminates the most difficult and emotional part of gambling: walking away.
This rule is not at all limited to gambling poker players and their crazy challenges. Good stock investors would be wise not to risk more than a set percentage on any trade. And when analyzing balance sheets while working at a bank, I noticed wealthy real estate investors adhered to a similar 5-10% rule – never risking more than a set percentage of their net worth on any deal, no matter how glamorous it looked.
You Can Take More Risk When You're Young
The one exception to the 5% rule? The very early stages of the challenge.
For example, when my total poker bankroll was just 10 cents, it was impossible to bring just 1 cent into a game. There aren't even tables that small!
I had no choice but to be more risk taking, which is very much like life itself. (Seeing a trend with this article yet?)
When you're young and beginning the investment game, you can risk more, simply because you have less to lose. Not only do you probably have less family obligations, as a young investor you also have time on your side. With years of investing ahead of you, you can ride out any waves or recover any losses.
Growth Is Exponential
I've harped on the beauty of compound interest before, but there's nothing quite like playing hours of poker just to win a whopping 3 cents to really drive the point home.
We can obviously see exponential growth in the graph from Chris Ferguson's challenge:
My own net worth progress is similar. It took me almost 10 years to build my net worth to $100,000, then in just 1 more year I had added another $50,000.  Here's a graph of my net worth over time, to the best of my memory: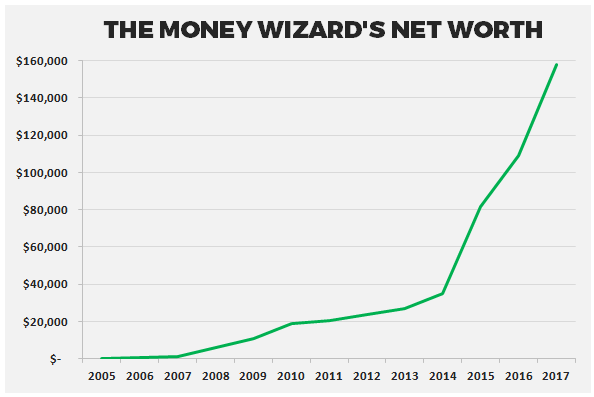 The power of money is surpassed only by the power of exponential growth. Put the two together, and the results are truly amazing.
Become a Shark in the Game of Money
Poker is a game of chance, yet it's also a game of skill. Life is no different.
We can't control the hand we're dealt nor can we plan for every variable. But we can strategically position ourselves for the best chance to win the game.
Don't be a donkey. Step back and look at the rules of the game, then use them to place yourself firmly in the winner's seat.
Your move.
_____________________________