If you've followed the investing headlines (or even just watched the Super Bowl commercials) you've probably already heard the shocking news.
Fidelity's declared war with Vanguard. And they've now taken the arms race to uncharted territory – Fidelity is literally offering FREE index funds.
The move dethrones Vanguard's decades long position as the cheapest index fund provider.
Not surprisingly, this has left a lot of well-meaning index fund investors caught in the middle of the war. And they're smart to ask the question that's on everybody's mind:
Is Vanguard or Fidelity the better choice for investing your hard-earned dollars?
Today's post, to the rescue. I'm pitting Vanguard against Fidelity, and then breaking down all the Vanguard vs. Fidelity nuances you need to know to stretch your investment returns the farthest.
(For the impatient, you can use this table of contents to jump to my final Vanguard or Fidelity conclusion.)
Vanguard vs. Fidelity, The Quick Overview
Account Minimums
$3,000 (for most funds)
$0
Cost of Stock Trades
$7 per trade (for most accounts)
$4.95 per trade
Cost of ETF Trades
•$0 per trade
•$0 for commission free ETFs

•$4.95 for all other ETFs

Cost of Mutual Fund Contributions
•$0 for Vanguard Funds

•$0-20 for non-Vanguard mutual funds

•$0 for Fidelity funds

•$0-49.95 for non-fidelity funds

Cost of Direct Bond Purchases
$0 to $2 per $1,000 face amount
$1 per bond (usually)
Commission Free Mutual Funds
2,800 funds
3,700 funds
Commission Free ETFs
1,800 ETFs
91 ETFs
Lowest Index Fund Expense Ratio
0.04%
0%
Diversification of Index Funds
3,573 companies held by VTSAX Fund
2,500 companies held by FZROX Fund
Percentage Return Lost to Taxes*
0.58% for VTSAX fund
0.98% for FKSAX Fund
Customer Service
•Monday-Friday phone support from 8 AM – 10 PM ET

•Email support available

•24/7 phone support

•180+ physical branches

•Live chat and email support available
*2018 returns used – aligns closely with returns since fund inception.
And from that huge chart of technical mumbo jumbo, here's the part that actually matters to you:
You can use either company to open a taxable investment fund, Roth or Traditional IRA, college savings fund, or just about any other relevant investment vehicle. (Put simply, if these guys don't offer it, it's probably not an investment you or I have any business being in…)
On the whole, the two companies are both top notch, and the differences are somewhat splitting hairs.
In any case, let's split some hairs…
To the 9 round showdown!
Round 1: Investment and Mutual Fund Selection
Both Fidelity and Vanguard have access to thousands of fine index fund choices. If we're splitting hairs (and we are…)
Fidelity technically has the edge in mutual funds, sporting an impressive list of 3,700 mutual funds which can be bought and sold for $0. (Versus "only" 2,800 commission-free funds at Vanguard)
Vanguard has the edge in ETFs, with 1,800 commission-free ETFs. (Versus 91 at Fidelity)
Honestly though, that's mostly a bunch of marketing nonsense, in my opinion. Realistically, we only need our broker of choice to have enough solid options to build a good three-fund portfolio.
Either Fidelity or Vanguard serves that purpose just fine.
Vanguard is anchored by classics like their Total Stock Market Index Fund, Total International Index Fund, and Total Bond Index Fund.
Fidelity is supported by the highly hyped, hot off the press Fidelity ZERO Funds, which likewise include a Total Market Index Fund, International Index Fund, and US Bonds Index Fund.
Round 1 Winner: Calling this one a draw, since both companies offer elite options for the only type of index funds we should bother with.
Round 2: Fees
It's pretty surreal to write, but Vanguard does not actually have the cheapest fees anymore. (Hence, the entire reason for this article.)
That's because in 2018, Fidelity fired a shot across the bow. The company's announcement that their index funds wouldn't just be cheap to own, they'd instead be entirely free, was a cannonball straight into Vanguard's main competitive advantage. (Get the metaphor?? Vanguard's logo is an old-timey ship!)
By comparison, Vanguard's cheapest funds carry a 0.04 percent expense ratio.
So, it's clear who the winner is. Free is better than not-free, even if the not-free option is still about as close to free as you can possibly get.
How is Fidelity able to offer funds for free, anyway?
It's a good question, with a two-part answer. We'll get to the second answer in the next round, but let's first focus on the part with the potential to impact the average investor the most.
Fidelity is willing to offer their index funds at no cost because they're essentially taking a page out of the grocery store's playbook. By offering these funds on sale, the funds act as a loss-leader for fidelity.
That's because Fidelity has many other actively managed, high fee funds they're kinda-secretly hoping you buy once you become a customer. Fidelity also sells their active trading and investment advisor services much harder than Vanguard. Both of those have the potential to provide a serious revenue stream to the company, while also wiping out the small savings you might experience from their free index funds.
Whereas at Vanguard, pretty much everything is at its rock-bottom price already. There's no chance you'll end up in a fund with an unnecessarily high expense ratio, because Vanguard holds their fees as low as possible all the time.
To keep the grocery store analogy going, Vanguard is the grocer that is always really cheap, but never runs any sales. On the other hand, Fidelity is the store that occasionally runs unbeatable deals. A smart shopper can certainly come out ahead at Fidelity by carefully selecting what's in their cart, but if you're not careful, you could end up buying a can of beans for $4.
What about fees for stock trading?
Both providers offer free trades whenever you're dealing with their own index funds. If you're trading individual stocks or some weird third party index fund, you'll be hit with a $7 fee at Vanguard (usually) and a $4.95 fee at Fidelity.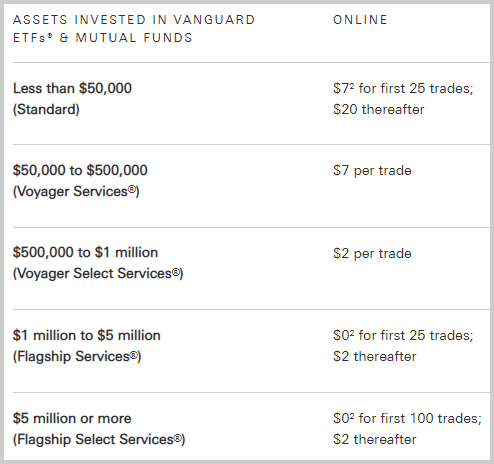 Then again, none of those prices should matter to you. Because if you're looking for the best brokerage for active stock trading, I have to ask… Why are you doing this to yourself? You'll pay more for your hours and hours of research, and worse, research shows you won't beat a basic index fund investing strategy anyway.
Round 2 Winner: Fidelity, with a bit of an asterisk. You'll need to navigate their at-times booby trapped selections, and Vanguard holds a few cost-saving aces up their sleeves in the next few rounds…
Round 3: Securities Lending and Index Fund Tracking
Securities lending is likely the second reason Fidelity is willing to offer free funds. Securities lending is common practice in the index fund industry, where companies like Vanguard and Fidelity lend out index fund shares to active stock traders who are interested in short selling and other more complex trading techniques. In exchange, Vanguard and Fidelity make money.
What does security lending mean for you, the regular index fund investor?
Well, it means the index fund itself can actually make a tiny bit of money, and often times, the manager of that index fund chooses to distribute some of those profits back to shareholders.
Securities Lending at Vanguard
We see evidence of the securities lending effect in Vanguard's Total Stock Market (VTSAX) index fund. Over the past 19 years, the stock market returned 6.70 percent per year. Given VTSAX's expense ratio of 0.04%, you'd expect it to have returned 6.66% over the same time period.
But in reality, VTSAX returned 6.68% percent over the past 19 years. That's 0.02% higher than expectations. The main cause of this overperformance? Vanguard distributes all of their securities lending profits back to shareholders.
The result is that thanks in part to securities lending, Vanguard's effective expense ratio is actually 0.02%, rather than the stated 0.04%.
Securities Lending at Fidelity
Fidelity claims they will also distribute some of its securities lending profit back to shareholders. But with their ZERO funds being brand new, there's no track record to double check this claim.
Looking at some of Fidelity's other funds, they do have a similar track record as Vanguard, overperforming the stock market by about 0.02% per year. So it's probably safe to assume they'll treat their new funds similarly. That said, zero fees is new territory, so there's no guarantees.
Round 3 Winner: Draw. Both companies operate similarly here.
Round 4: Underlying Diversification of the index funds
As index fund investors, we invest for diversification's sake. Therefore, we want an index fund provider whose funds own as much of the stock market as possible. This will help reduce our risk to any single stock or group of stocks.
Vanguard has the very slight advantage here. Vanguard's Total Stock Market Index Fund holds a staggering 3,573 stocks. Fidelity's ZERO Total Market Index fund holds "only" 2,500 companies.

At this point, it's worth noting the 1,100 company difference mostly includes the tiniest of companies. When companies are that small, they're unlikely to skew the index fund's returns all that much. That said, it's still a minor bonus point for Vanguard's diversification advantage.
Round 4 Winner: Vanguard, although the difference is pretty minor.
Round 5: Tax Efficiency
If you're not holding your index funds in a retirement account, tax efficiency should be one of your biggest concerns.
Of course, any investment held in a non-retirement account is subject to taxes whenever you sell at a higher price than you bought (capital gains) or receive interest income (dividend taxes).
But what most people don't realize is that when a fund manager sells the underlying investments making up the fund, the fund itself has to pass off those taxes to shareholders. Even if you personally haven't sold any shares.
(This is why actively managed funds, which buy and sell all the time to try to beat the market, handicap themselves by causing so much extra taxes for shareholders.)
Do we expect Vanguard or Fidelity to be more tax efficient?
Vanguard holds a huge advantage here. For two reasons:
Vanguard owns a patent through 2023 which allows them to flow capital gains through its ETF shares of the same fund.
In the case of Fidelity's new zero fee funds, Vanguard's funds are older. This lets them use down years in the stock market to carry losses forward and reduce tax liabilities.
Who is actually more tax efficient? Vanguard or Fidelity?
Because of this and other strategies employed by Vanguard's fund managers, VTSAX has distributed $0 in capital gains to shareholders since 2000. That's amazing.
For comparison, Fidelity's Total Stock Market index fund distributed $0.322 per share of capital gains last year. (The new zero funds don't have a track record yet to analyze.)
The end result? Fidelity's index fund gave up 0.99% of its return to taxes, while Vanguard gave up just 0.48%. (Source: Morningstar has a great breakdown of FKSAX's pre & post tax returns and VTSAX's pre & post tax returns)
This is huge.
Think about it this way. Fidelity's new funds are "free" whereas Vanguard's 0.04% expense ratio will cost you $4 in fees for every $10,000 in your portfolio. BUT, Vanguard's increased tax efficiency means you'll lose $51 less in taxes each year.
In other words, Vanguard's tax efficiency could save you 13 times as much as its higher expense ratio costs.
Round 5 Winner: Vanguard, by a lot. Vanguard's tax efficiency completely wipes out the savings from Fidelity's lower fees, and then some.
Round 6: Minimum Investments
If you're investing in ETFs, this section doesn't matter. But I prefer mutual funds over ETFs, so we'll include this category for good measure.
Vanguard's minimum investments for mutual funds technically start at $1,000, but almost all the funds you'd want to be in have a $3,000 minimum investment. [ Note: Thanks to some readers for pointing out that Vanguard recently lowered their "admiral funds" share class from $10,000 to $3,000. This means that unlike before, a $3,000 investment in Vanguard mutual funds automatically gives you access to Vanguard's lowest fees. Apparently when Vanguard and Fidelity compete, we all win!]
In contrast, Fidelity's mutual funds have no minimum investment. Which means if you have less than $3,000, you can immediately jump into their zero fee funds. This is definitely an advantage for Fidelity.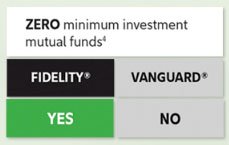 That said, I find minimum investments to be pretty overrated. Hear me out.
You should be making your investment selections with a long term mindset. If you're serious about building wealth, you'll likely stick with whichever investment company for 30, 40, or 50+ years. If that's the case, making your decision based solely on a minimum investment is pretty short sighted, because the amount of time that you can't afford the minimum will represent such a small portion of your investing career that it's not really worth stressing over.
Round 6 Winner: Fidelity.
Round 7: Mobile App
To be honest, this isn't high on my priority list, since I'm not actively trading. Waiting until I'm near an actual computer to buy, sell, or convert funds isn't the end of the world for me. If anything, it helps helps me to avoid the temptation to gamble in the market.
The only use I have for a mobile investing app would be to check my account balances. And for that, I'd rather see all my accounts in one place with my favorite investing app, Personal Capital.
That said, Vanguard and Fidelity both offer mobile apps with solid reviews on the Apple store.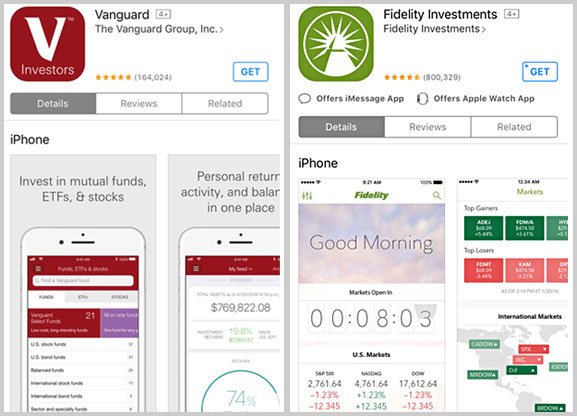 Since I haven't personally used either of these apps, and I couldn't find anything alarming either way in my research, I'll call Round 7 a draw.
Round 8: Customer Service
I've been a Vanguard customer for nearly a decade, and I've never had a problem with their customer service.
However, I'm giving the advantage here to Fidelity. For two main reasons:
Fidelity's telephone customer service is available 24/7, versus Vanguard's regular Monday-Friday business hours.
If a problem gets real serious, Fidelity has physical branch offices you can walk into. I typed my zip code into their Branch Finder and was surprised to see three locations within driving distance.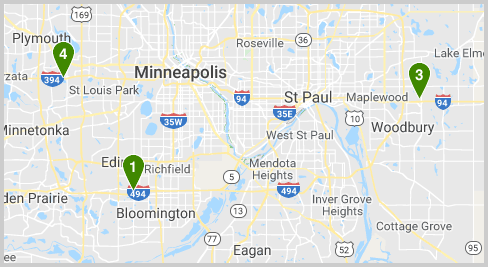 Round 8 Winner: Fidelity.
Round 9: The Intangible Trust Factor
Lastly, no discussion would be complete without mentioning one important but often overlooked factor. How much can we trust Vanguard or Fidelity?
Because let's face it. Handing over your life's savings to an investment company requires a level of commitment that we shouldn't ignore. The last thing we want is a company that will lure us in with low expenses before jacking up the price on us.
Unfortunately, some investment companies have actually done this in the past, and it leaves shareholders in a terrible position. Switching to a lower fee fund, especially in a taxable account, isn't as simple as deciding to open a new account or selling a fund. Often, it comes with all sorts of capital gains tax penalties – something we obviously want to avoid.
Who's been more trustworthy in the past?
Thankfully, neither Vanguard nor Fidelity has a history of these shenanigans. In fact, both have a long history of actually lowering their costs to shareholders, which is admirable.
That said, for my money, the advantage here has to go to Vanguard. Their founder, Jack Bogle, literally invented the index fund, and then spent a lifetime campaigning against the greed and corruption on Wall Street.
And it may be easy to forget in the wake of Fidelity's ground breaking zero fee funds, but make no mistake. Fidelity's lowering of expense ratios is a marketing response to Vanguard's long and storied history of driving prices down for the common shareholder.
Fidelity is jumping on the bandwagon, which is obviously a great end result for its customers, but Vanguard's been driving this ship for decades. (See! I managed one last ship metaphor!)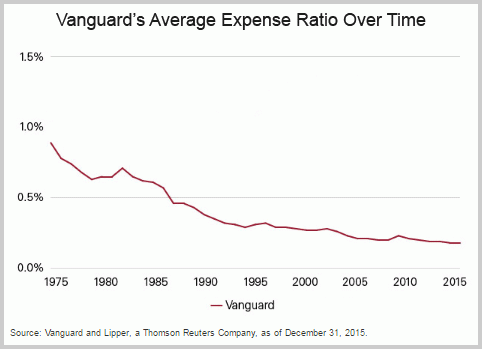 Which company has the better structure for shareholders?
And lastly, Vanguard is unique in its structure. While Fidelity is owned primarily by one rich family and a few venture capitalists, Vanguard is structured so that it's owned by its shareholders.
The result, in theory at least, is that rather than juggling the average investor's hope for low costs with the private owner's need to maximize profits, Vanguard's structure is aligned in the best interest of shareholders. Vanguard keeps no profits, and instead funnels all earnings back into the funds themselves.
Sounds a little dreamy, perhaps, but Vanguard's history backs up the claim.
Round 9 Winner: Vanguard, although both are highly trusted investment firms.
Vanguard vs. Fidelity: The Money Wizard's Final Conclusion
| | | |
| --- | --- | --- |
| | | |
| Investment and Mutual Fund Selection | | |
| Fees | | |
| Securities Lending/Index Fund Tracking | | |
| Diversification | | |
| Tax Efficiency | | |
| Minimum Investment | | |
| Mobile App | | |
| Customer Service | | |
| The Intangible Trust Factor | | |
Despite Fidelity's aggressive moves to undercut what was once Vanguard's #1 selling point (low fees) my usual recommendation still doesn't change.
Vanguard is still the best choice for long term index fund investors.
Vanguard just holds too many advantages over Fidelity in the most important areas. Some of those areas, like their patented tax efficiency, is actually very quantifiable, and enough to offset Fidelity's marginal cost savings. Others, like their four decade history of doing the right thing, are more intangible.
For that reason:
If I were a new investor debating whether to open an investment account with Vanguard or Fidelity, I'd still choose Vanguard.
If I was an existing Vanguard customer (I am) wondering whether I should jump ship (boat metaphor #3!) to chase Fidelity's lower fees, I wouldn't.
And for current customers who are happy with Fidelity, the company has enough advantages that I don't see any pressing reasons to change.
The last point highlights an important distinction. We may have reached a point where the competition has grown so close, the differences are almost too small to matter. And on that front, we all win.
---
No matter which investment company you use, I still think Personal Capital is the best free app to help manage your Vanguard or Fidelity investments. Personal Capital automatically 1) tracks your investment performance 2) breaks down your asset allocation (across all your accounts) better than any tool I've ever seen 3) reports on your fees, to make sure you're not getting overcharged.
For the price of free, it's a no brainer.
---