Full disclaimer: some of the companies and services on this page offer compensation for referrals. Others do not.
I promise to only recommend services on this site that I have either personally used myself or would feel comfortable recommending to my own mother. 🙂 If the company does happen to offer referral compensation, an affiliate link has been included. Signing up through one of those links gives this blog credit for your business. Running this website is, unfortunately, not free, and your support is greatly appreciated.
It's a bit of a win-win, since many of the links below include special deals and pricing for readers of this site. But if you choose not to use my links, don't worry, that's cool too.
The Money Wizard's (still growing) Tool Box:
Vanguard: My preferred method of investing my after tax dollars is into Vanguard Index Funds. Don't just take my word for it, Vanguard index funds are also recommended by THE investor himself, Mr. Warren Buffet, as the single best investment strategy for casual investors. Set it and forget it here, and you'll outperform nearly all professional money managers. Yes, investing really can be that easy.
Personal Capital: I hate logging into a million accounts track changes to my net worth, and personal capital solves this problem by providing up to the minute details of all your accounts, in one place. Personal Capital is my favorite tool for quickly tracking my spending and net worth. Plus:
Their budget tracker also automatically records all of your spending
Their portfolio analyzer double checks my investment decisions
And their fee analyzer makes sure I'm not getting ripped off.
Did I mention it's all FREE
Ebates: Same as above, but with different payouts for different vendors. On average, I find Mr. Rebates pays higher, but it is worth cross checking the two sites to make sure you're maximizing your rewards. Sign up through my link and get a free $10 gift card.
Credit Sesame: I can't imagine anything quite as financially devastating as getting your ID stolen. Or equally annoying, having an inaccurate credit report that costs you thousands on any loan or mortgage you receive. Thankfully, Credit Sesame is an awesome service that helps you monitor your credit report for suspicious activity, for free.
SoFi: SoFi, short for Social Finance, is a completely legit company changing the game of student loans. SoFi offers refinancing of student loans, with a recent study showing the average user saved nearly $19,000 by refinancing with the company. Pretty exciting stuff, and my own brother and sister in law will be the next two users. Money Wizards signing up through this page get $100 free. Read my full review here.
LendEdu: LendEdu is an awesome website that lets you compare your student loan refinancing rates across all of the nation's top lenders, including SoFi. All you have to do is answer a few simple questions, and it's completely free. If you're tired of student loans, it's definitely worth the 5 minutes. My full review here.

Mr. Rebates: I'll be honest, when I first saw this website and it's 1990s era site design, I thought for sure this was scam city. Several successful cashouts later, and I'm here to confirm that Mr. Rebates is the real deal. If you do any amount of shopping online, you should be using Mr. Rebates to earn free cash back on all your purchases. Basically, Mr. Rebates gets a commission for referring you to a number of reputable online sellers, and then shares a portion of that commission with you. These aren't unheard of vendors either, we're talking 1-10% cash back at eBay, Groupon, Target, Best Buy, Bed Bath & Beyond, nearly every Hotel chain, rental car company, and hundreds of others. You'll get a free $7.50 after your first purchase by signing up through my link:

Amazon.com: Who doesn't love amazon? The time savings and skipped gas money can make Amazon a pretty frugal shopping option. If you're already planning on buying something, starting your shopping session through my links will send a few pennies towards this site. Thanks for the support!

Audible: Audible has been my latest addiction. I love how Audiobooks can completely transform a waste of time into a learning/self-improvement experience. You'll find me listening to audiobooks while driving to work, flying on a plane, at the gym, or cleaning up around the house. Amazon is giving away two free audiobooks just for starting a free trail of their new service.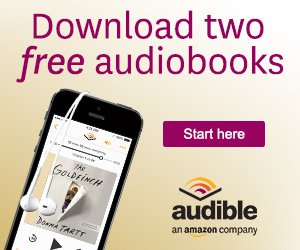 Website/Blog Recommendations
Siteground: This site began it's life hosted on a shared hosting package at Bluehost.com. Most bloggers still recommend Bluehost (no doubt because Bluehost offers some of the highest affiliate payments in the industry…) However, I don't believe in selling out my readers for a few bucks. My own experience with Bluehost was less than stellar, and I'm not alone there. I've since met several tech gurus who all agree – SiteGround is the best low cost web host. If I were starting a site today, I'd definitely go with SiteGround.
Genesis/StudioPress: This site runs on the Genesis framework with the Metro Pro child theme. All of this is basically a fancy way of saying I chose one of the most supported software out there to build my blog around. Why? There are a lot of free themes out there, but idea of getting stuck with a broken website when Podunk Programmer (headquartered in Mom's Basement) decided to bail on that free theme was enough to convince me to spend a reasonable $80 and ensure I was set up with the most professional website possible, forever.