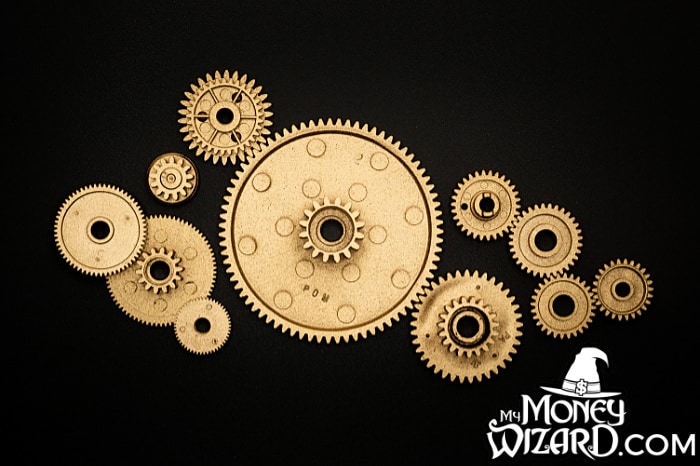 Protip: don't frustrate. Automate!
A few weeks ago, I called automation the most powerful wealth building machine we have, and I stand by that.
But what does that even mean?
Well, say you have a goal of investing $500 per month this year.
Great! Now let's make that dream a reality.
We have two options:
Working up the enthusiasm to log into our investment accounts (not to mention, remembering the password!) on the same day, every month. Then, choosing an exact amount, avoiding that constant seed of doubt ("is the stock market at a good price right now?") and forcefully kissing your money goodbye. Then, repeating this unpleasant ritual like clockwork for the next 12 months, without faltering a single time.
OR…
Committing to the goal just once, and then spending 3 minutes to put it on autopilot. Then, sipping a cocktail and breathing a sigh of relief, knowing that if nothing else, you've got your investing situation on lockdown.
Today we're going to do option 2, inspired by my own failure to consistently invest into my Vanguard account for the past three years.
Because even if you run a blog about money, it seems you can accidentally blink and let two years go by without consistently investing into your brokerage account!
How Vanguard's automatic investing option works
I mentioned this in last month's article, but after getting a few questions, I decided to get a little more specific.
Basically, you just choose an amount of money and a frequency, and then Vanguard will automatically pull that money out of our bank account and invest into your index fund of choice.
(Note that this only works with Vanguard mutual funds, not ETFs. Which is one of the reasons I prefer mutual funds vs. ETFs.)
So say you want to invest $500 a month into VTSAX, on the first of every month. There's an app for that… I mean automatic investing setting.
Or maybe you want to invest $250 into VGSLX, twice a every month? Vanguard's settings can do that, too.
Or maybe you want to create an automatic investment into multiple funds, with $1,000 split in a specific allocation between them, that only lasts for a set number of months? Yep, that's no problem either.
Why this is awesome
Setting up automatic contributions does two things:
Removes the emotions from investing, which study after study have shown to be the average investor's bitter nemesis.
Creates consistency, which is really what this game is all about.
The end result is a perfectly executed dollar cost averaging strategy.
Since you're investing the same amount each time, you automatically buy more of the fund when the price is down and less when the price is raised.
In a way, you're sorta guaranteeing yourself to buy low and sell high, all while you forget about boring investments and instead binge Netflix.
So, how do you actually set this up?
4 (simple?) steps to setting up automatic investments at Vanguard
You can find Vanguard's official instructions here.
According to them, setting up automatic investments is a four-step process:
Log on to your Vanguard accounts
From the menu, choose "My Accounts" and click "Profile & account settings"
Click "Automatic investment."
Select an account and follow the simple instructions.
Okay, that doesn't look so bad.
The only piece that might give some pause is #4… Are we talking instructions as easy as finding an angry facebook ranter these days, or "simple" instructions like "put together this 1,294 piece IKEA set using these 'simple instructions' which are actually just cave-painting hieroglyphics?"
Considering I've personally been procrastinating automating my Vanguard contributions for long enough, I figured I'd use myself as the test dummy and document the steps along the way for you all.
Since I've long been wanting to set up an automatic $1,000 per month investment into my favorite index fund, VTSAX*, that's what we'll walk through today.
*not investment advice. Always do you our own research.
Step 1) Log into your Vanguard accounts
Okay, that step is definitely simple, unless you're like me and have a tendency to forget your passwords a few thousand times a year.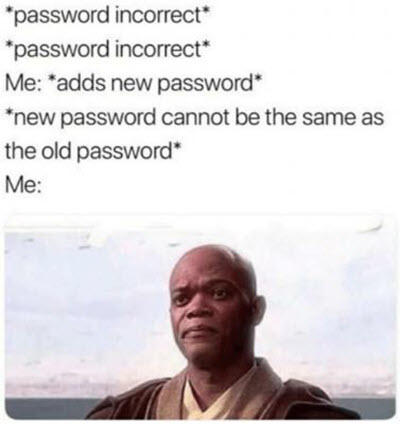 Step 2) From the menu, choose My Accounts
Not bad…

…and click Profile & account settings

and click automatic investment..
Step 3) Choose "add automatic transaction"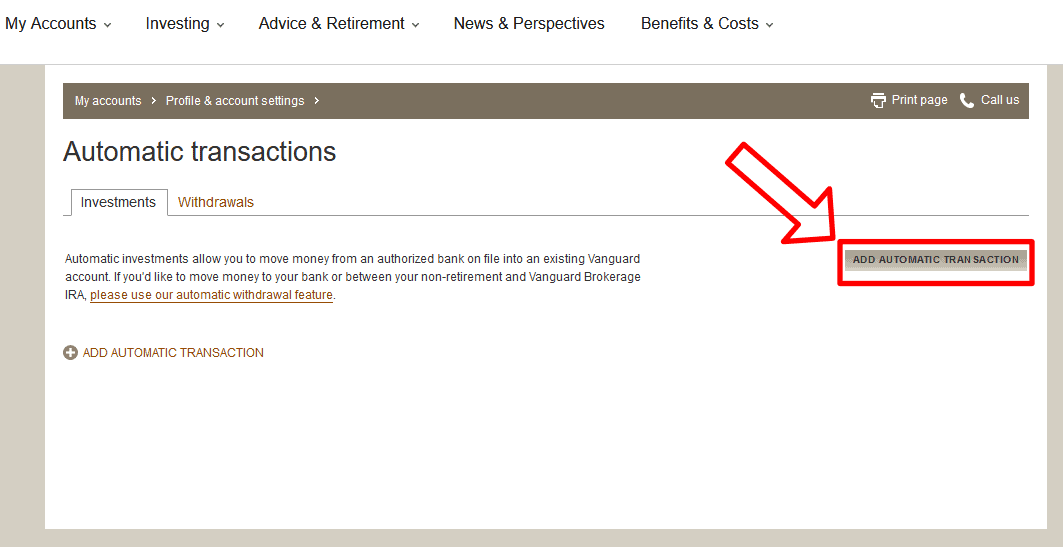 Apparently this step is important, because Vanguard actually puts two links for it on the same page.
Step 4) Follow the simple instructions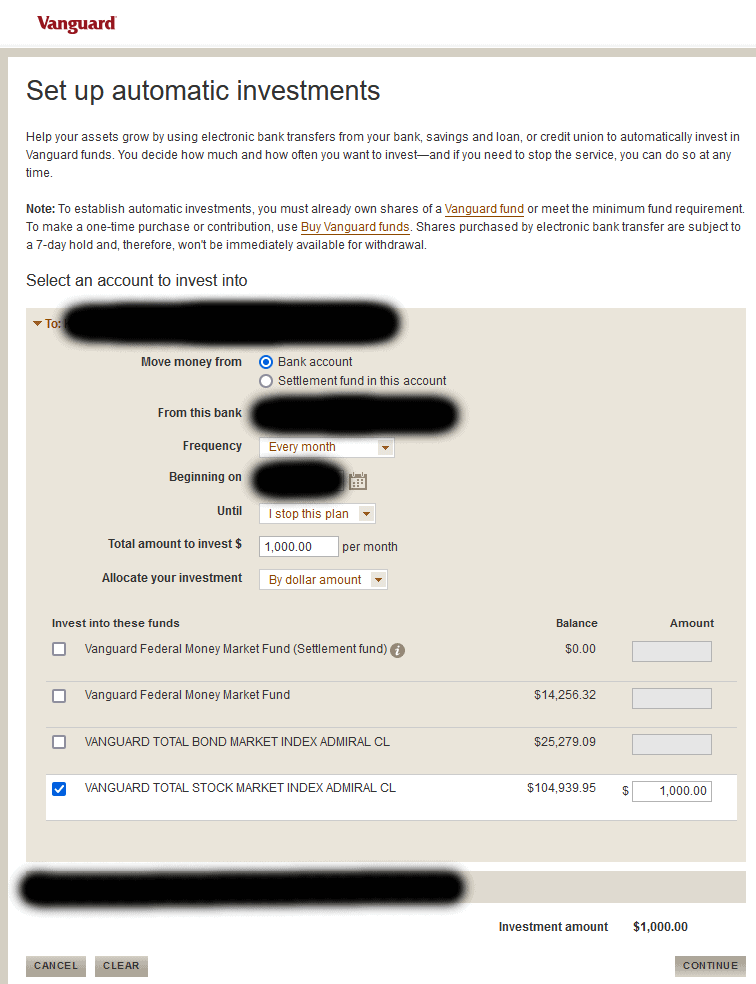 Admittedly, this is the least simple step, but still nothing to stress over.
Some translations from the above screenshot:
"Move money from" – you can either choose your bank account or settlement fund.
The bank account option is exactly what it sounds like, just be careful that you've got plenty in your bank account or are otherwise running a nice budget surplus. (Don't want to get hit with an overdraft fee if Vanguard tries to pull money you don't have!)
On the other hand, if you're like most people and long ago transferred a big chunk of cash into your Vanguard fund but never got around to investing it, then that money is probably sitting in what Vanguard calls a "settlement fund." If that's the case, you could select the settlement fund option.
"Frequency" aka how often to invest. You can select every month, week, two weeks, or twice per month.
"Beginning on" aka when to start the plan.
"Until" aka how long to keep the automatic contributions going. You can either set it to end at a prearranged date or just let it run FOR.EV.VER.
"Total Amount to invest" aka the amount Vanguard will automatically pull from your bank account each time.
"Allocate your investment" – If you're investing into more than one index fund, you can either split those contributions by a fixed percentage or a dollar amount.
Step 5) Review and submit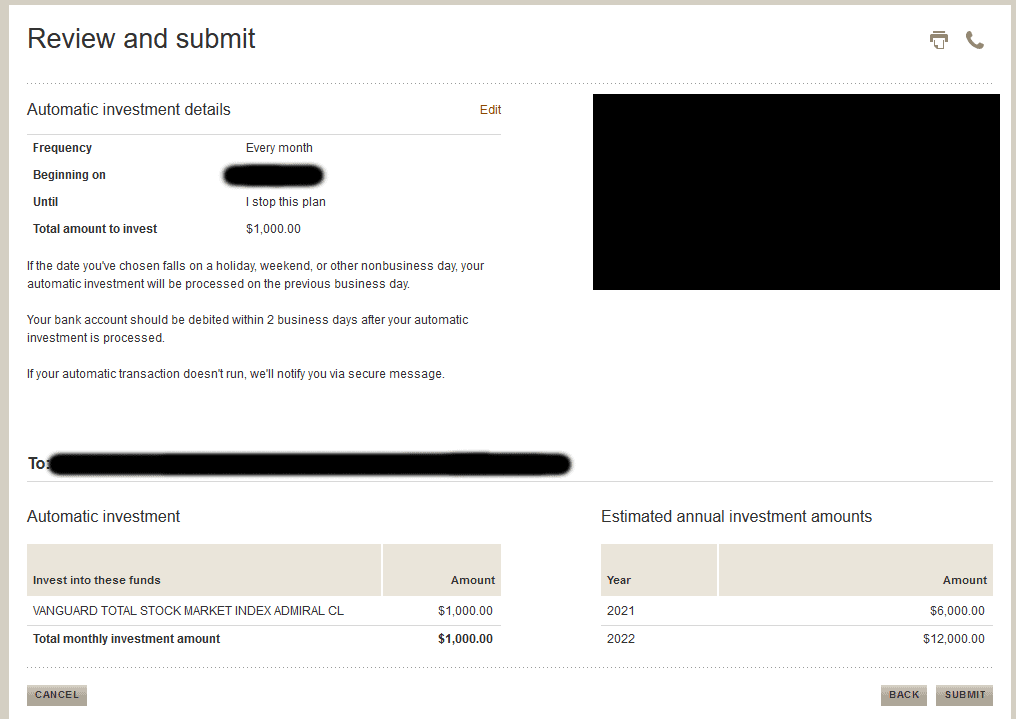 Pay special attention to the "estimated annual investment amounts" and give yourself a pat on the back. That's how much freedom you're buying each year!
Ta-daa!
Conclusion – You can definitely become a dedicated investor in 3 minutes or less.
True to the instructions, I found this process to be pretty darn simple.
Screenshots and all, the whole process took me about 6 minutes. If you weren't taking screenshots along the way for your money blog, you'd easily be able to crank it out in less than 3 minutes.
Either way, with that chore out of the way, I will finally stay consistent with my brokerage funds contributions, which is definitely easier than summoning the willpower on a monthly basis.
I'm already excited to see how this impacts the net worth moving forward!
Hope this quick little tutorial was helpful! If so, don't hesitate to share it with a friend!
And you can always support the site by signing up for my favorite net worth tracker or cash back portal.
As always, nothing on this site is financial advice, and my investment example was for illustrative purposes. Always do you own research or consult an actual professional (I am not one of those) before choosing any investment.
---
Related articles: