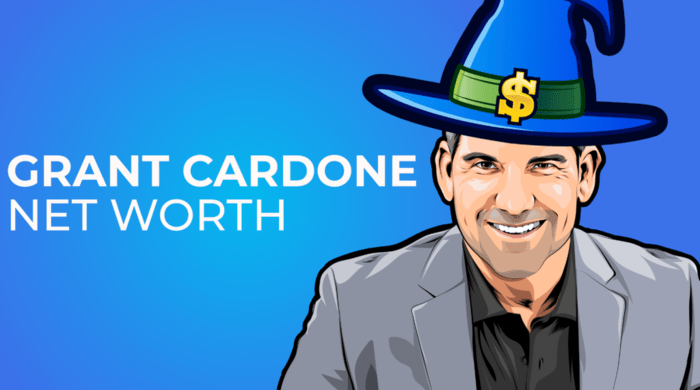 Introduction
Grant Cardone is world-renown sales consultant, real estate investor, author, and entrepreneur.
He owns several companies, including multiple sales consulting and sales training businesses. His real estate company, Cardone Capital, owns and manages a portfolio of apartment buildings valued over $1 billion dollars. He's also written several best selling business books, including The 10X Rule and Sell or Be Sold.
Early Life
Grant Cardone was born in 1958 in Lake Charles, Louisana. He was the fourth of five children. He describes his upbringing as lower-middle class.
At age 10, Grant's father died unexpectedly. His mother, who didn't have an education and struggled holding down a job, spent the next several years managing a small life insurance payout to raise her five boys.
Grant says he remembers his mother's constant stress and fear about money. So, at age 16, Grant vowed to get rich.
Unfortunately, realizing that dream was no easy ride.
In 1981, he graduated from college with a degree in accounting. However, after graduating, his hometown faced over 25% unemployment. Brutal!
Not surprisingly, he struggled finding a job related to his degree. He eventually, reluctantly, accepted a job selling cars. However, Grant said he hated sales so much that he soon filed for unemployment instead.
He struggled finding a purpose for the next several years. And in his mid-20s, he developed a drug addiction and ultimately checked himself into rehab.
During rehab, Grant realized his drug use could be attributed to boredom and a lack of purpose. When he checked out of rehab at age 25, he vowed to channel all of his energy into something productive instead.
He returned to the sales job he'd hated so much. But this time, Grant devoted himself entirely to it.
Starting his first business
"Even though I hated the job, I decided I would throw myself into my sales job 100 percent," he later explained.
With his renewed focus, he saw some initial success. And by age 29, he had his first business idea.
While selling cars, he'd noticed all sorts of things that just didn't make sense. Areas where the sales process was completely antiquated or totally customer unfriendly.
So, he hit the road. He started pitching any business who would hear him out about how they could could be faster, friendlier, and more profitable.
In exchange for the free pitch, he offered to sell those businesses consulting services. A few even took him up on it!
Before long, he was traveling all over the country, giving 250 speaking gigs a year.
He soon had not one but two multi-million dollar sales consulting businesses – one focusing on the automobile industry and another dedicated to improving any business needing sales training.
Entrance into Real Estate
With two successful businesses generating serious cash flow, Cardone realized he wanted a stable place to invest those profits.
So, he started looking into real estate.
He made his first real estate investment into a single family home at age 29; however, when his tenants moved out unexpectedly, he quickly lost money on the deal.
He spent the next five years reeducating himself about real state. By age 34, he was confident enough to pull the trigger on a 38 unit apartment complex in San Diego. The $1.9 million dollar unit cost him a $350,000 down payment.
The deal was a success. So, he continued reinvesting his business profits into apartment complexes.
He bought his second apartment complex just one month later. Then, as he earned more money form his businesses, he continued reinvesting those excess profits into his real estate holdings.
"Every time I get money, I go broke again because I shove it into this real estate thing," he explains.
Today, his crowd-sourced real estate investing company, Cardone Capital, owns over $1.2 billion of real estate across 4,500 apartment complexes.
Expanding Businesses
With his businesses growing and his net worth rising, Cardone looked to even more business opportunities.
First, he began expanding his reach by writing books and publishing online business programs.
His first three books, Sell or Be Sold, If You're Not First, You're Last, and The 10X Rule became bestsellers.
Then, he founded Cardone University and Cardone on Demand, two online training programs for aspiring entrepreneurs and salesmen.
He followed this up with a social media advertising company, 10X Productions.
Today, he runs at least 7 different companies. (And I'm not even all that confident in that number, because he's involved in so many business!)
Grant Cardone Net Worth – $300 million
Today, Grant Cardone's net worth is estimated at $300 million.
This includes his ownership stake in Cardone Capital's $1.2 billion portfolio of apartment complexes, as well as the earnings from his seven companies.
Grant Cardone's House
Grant Cardone owns an $8 million luxury condo with a pretty impressive view of in Miami, Florida:
(view at 7:45)
He also owns a $50 million private jet, which he says he purchased to wipe out a large tax bill and buy himself more time.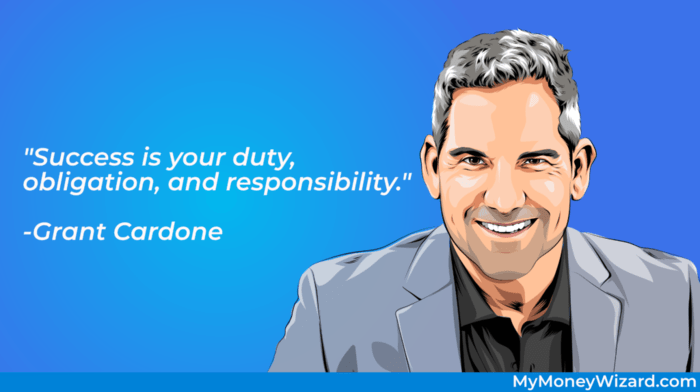 "Success is your duty, obligation, and responsibility." – Grant Gardone
"If the people around you are giving you advice to slow down or to take it easy – you are surrounded by the wrong people." – Grant Cardone
"I don't go to work to work. I hate that saying! You go to work to prosper. Go to work for freedom. This is what wealthy people do different than anybody else. Wealthy people work for freedom. They're not working for comfort items, not for a weekend, they're working for freedom." – Grant Cardone
"You won't get much done if you only grind on the days you feel good." – Grant Cardone
"The ambitious are criticized by those that have given up." – Grant Cardone
"Almost every problem people face in their careers and other aspects of their lives – such as failed diets, marriages, and financial problems – are all the result of not taking enough action." – Grant Cardone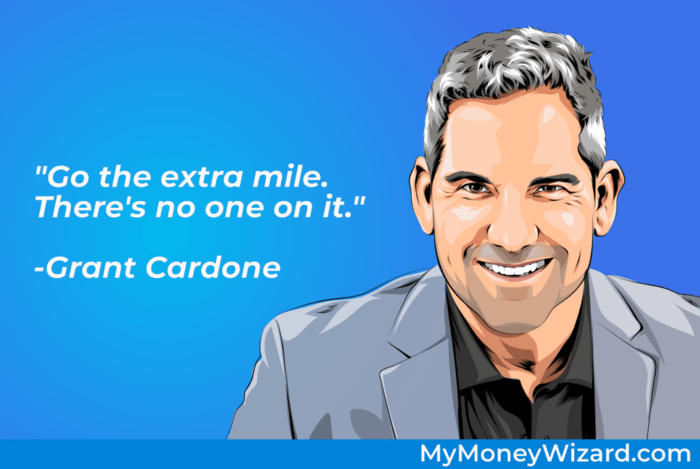 "Go the extra mile, there's no one on it." – Grant Cardone
"There are certain things in life that have limits, but you don't – unless you impose limits on yourself." – Grant Cardone
"One week they love me, next week they hate me. Both weeks I get paid." – Grant Cardone
"Don't be a little b!tch…champions dominate." – Grant Cardone
3 Lessons from Grant Cardone
What can those of us without a billion dollar real estate portfolio (yet?) learn from Mr. Cardone?
1. Success compounds
I don't know if I've ever seen a better example of the compounding effects of success quite like Grant Cardone.
You look at somebody who's involved in 7+ different businesses, and you wonder how on earth that's even possible.
But he didn't start with seven businesses.
He started as en entry level salesmen. Then used his success there to open a sales consulting company. Then funded his real estate company with the earnings from his consulting company. And then used that success to write a book. Which opened the doors to his online training platforms.
It's a self-fueling cycle of success and wealth.
2. You don't have to be perfect.
Our culture is fascinated by the young success stories.
The over night breakout. The young prodigy.
That's not Grant Cardone.
In his early 20s, he was on unemployment. At age 25, he was in rehab for drug addiction.
He didn't get his life together until he was near his 30s. He didn't find his first successful real estate investment until age 34.
And from there, he built and built until he reached a point of staggering success.
Building wealth is a marathon, not a sprint. It's okay to take a few wrong turns.
3. It's all about MASSIVE ACTION.
In preparing for this article, I actually listened to Grant's entire book, The 10X Rule.
My biggest takeaway?
Success is all about getting 10 times the results you thought possible. And how do you get those results? By putting in 10 times as much action.
Grant's never been big on planning: 
Despite running several million dollar companies, he admits he's never made a business plan in his life.
Despite owning over a billion dollars in real estate, he's never read a single book about real estate.
As one example, he wrote his first two books in less than two months. In a push to make them bestsellers, he then personally recorded over 200 videos, wrote over 150 blog posts and articles, and did 700 radio interviews in less than a year in a half.
He followed this up with tons of mainstream media appearances on Fox, CNN, CNBC, MSNBC, and Wall Street Journal Radio, all while writing over 2,000 Facebook, Twitter, and LinkedIn posts in between.
Talk about getting things done!
Now a question for you. What's your massive action?
It doesn't have to involve starting million dollar companies, by the way.
Becoming debt free, increasing your savings rate, or even building a modest side hustle are all forms of massive action. As long as you attack them with an approach that would make Grant Cardone proud, you're taking the right steps.
Sources:
---