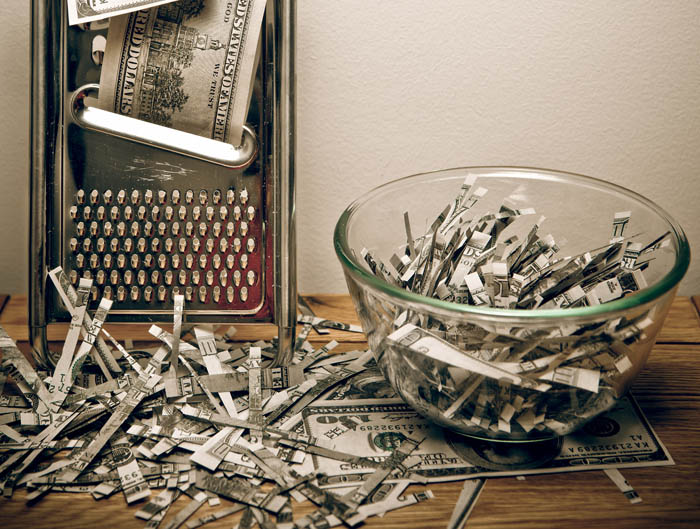 We've all heard the story. It goes something like this:
Finance Muggle 1: "Joe Average made a killing off his house!"
Finance Muggle 2: "Really?"
Finance Muggle 1: "Yeah! He bought his house back in 1995 for $200,000, and he just sold it for $400,000!!! Doubled his Money!"
Finance Muggle 2: "Damn, and here I am renting like a sucker. I better find myself a shady real estate agent and buy the first house I see!"
Sounds good doesn't it? Joe Average, making thousands off his brilliantly located home.
Like most people, Joe and our Muggle friends are ignoring a lot of hidden costs in his $200,000 "profit." If Joe was actually tracking his expenses, he'd see that when the smoke cleared, he actually LOST money on this so called investment.
But Buying is Always Better Than Renting, Right?
Before we take a look at how Joe managed to lose money on something that doubled in value, let's debunk one persistent myth once and for all. Renting is not always throwing away money.
This is such a persistent fallacy among people who don't understand personal finance that I will reword it for emphasis:
You can throw away more money owning a home than renting one.
To understand how this is true, we'll need to take a look at the six most common (and usually forgotten) home ownership expenses.
Money Pit #1: Mortgage Interest
Do you ever feel pressured to buy a home? Ever wonder why you've been told since the dawn of time by your Mom, Dad, Friends, Aunt, Uncle, Coworkers, Radio, TV, and even that random guy at the bar that home ownership is the only true American Dream?
Quite simply, it's because ever since bankers realized they could sell you a home before you could actually afford it, they've been making a KILLING off of the interest.
Let's assume Joe was a diligent saver and was able to come up with a $40,000 down payment on his home. In other words, his mortgage was $160,000 over 20 years with a 4% interest rate.
Using a simple financial calculator, we realize Joe paid right around $73,000 of interest over those 20 years. And that's using today's historically low interest rates of 4%.
The next time someone criticizes you for "throwing money away" on rent, ask them if they've calculated how much interest they're paying the bank lately.
Money Pit #2: Closing Costs
It's amazing; talk to anyone even remotely employed in the real estate business, and the best time to buy is now. When the housing market is hot, you better hurry up and buy now before some else does! (And pay above asking price while you're at it) When the market is depressed, well hurry up, there are bargain deals to be had!
Perhaps the reason they want you to BUY NOW is so they can get PAID NOW. And paid BIG.
As a buyer, expect to pay "them" around 4% in closing fees.
Just who are they? Bankers, inspectors, attorneys, appraisers, surveyors, and title companies. Buying a home is a complicated process, and all of these people need to be paid.
For our friend Joe, that's $8,000 to go around.
Money Pit #3: Selling Costs
As annoying as closing costs are, they're still better than selling costs. Realtor commissions, for both the buyer and the seller, are funded by the seller.
This optimistic advantage here is that a buyer won't owe his realtor a penny after receiving the keys to his new house. The depressing truth is that his procrastinated payment will come back to bite him in the ass if he ever wants to sell his home.
Average realtor costs vary, but 6% of the selling price is pretty standard.
In our hypothetical scenario, Joe's house sold for $400,000, which means a whopping $24,000 to fund his selling agent, the buyer's agent, and the companies that each side works for.
Money Pit #4: Property Taxes
Yet another great place to set your money on fire and never see it again is the world of property taxes. As a true American landowner, every year you owe the government money for the privilege of resting your home on that land.
Property taxes are paid as a percentage of the home's assessed value every year, and property tax rates vary by state, county, and city. In 2016, New Jersey claimed the dubious crown of highest property tax state at 2.29%, while Hawaii had the lowest at 0.28%.
On average, property taxes cost about 1% of the home's value every year.
For Joe, this means as the value of his home went up, so did his taxes. Assuming he paid about 1% property tax for 20 years, Joe paid Uncle Sam $58,000 in property taxes while he owned the home.
Money Pit #5: Home Owner's Insurance
Although home owner's insurance isn't required by law, unless you buy your house with "straight cash homie," most banks will require you to carry home owner's insurance before they loan you any money. Home owner's insurance protects the home against the sort of catastrophic events that leave your house burned to the ground or with a meteor sized hole in the roof.*
Predictably, home owner's insurance rates vary based on the likelihood of a natural disaster where you live. So if you live in Tornado alley or a state which makes for a good hurricane punching bag, prepare to pay as much as 1.5 to 2 times the national average.
In 2016, the average home owner's insurance premium in the United States was right around $1,000 per year.
Premiums (a fancy word for the amount you pay regularly to have an insurance policy) are calculated as a percentage of the value of your home. Your premium depends  on the danger of your location and a few other factors, but a good rule of thumb is expect to pay about half a percent of the home's value per year.
Since Joe Average is well, pretty average, we'll assume he too paid the national average of $1,000 per year.
*But not the sort of catastrophic event that leaves your home flooded by Mother Nature. You'll need to buy flood insurance for that. 
Money Pit #6: Annual Maintenance
Home ownership: where recurring expenses have a tendency to keep reoccurring, and extraordinary expenses become ordinary.
Experts advise budgeting around 1 percent of the home's value per year for maintenance. If $2,000 per year of maintenance on a $200,000 home sounds high, consider this:
The average homeowner spends $6,800 to replace their roof every 20 years. In other words, your roof costs $340 per year.
The average cost for purchase an installation of a water heater is $1,200, with an average lifespan of 8 years. You're paying $150 per year for your water heater.
The average cost of central air conditioning is $5,000 with a 15-year lifespan, or $333 per year.
This calculation can be completed for everything in your home. Windows, doors, and locks… Toilets, sinks, garbage disposals… Washers, dryers, refrigerators… Paint, caulking, pest control, and… Do I hear a smoke detector that needs new batteries?
How to Lose Money on Your House (Even After It Doubles in Value)
Remember, none of those 6 money pits contribute a cent to your equity. Just like rent, the money for the above expenses is "thrown away."
Now let's get back to Joe Average, who bought his home for $200,000 and sold it for $400,000. This is the sort of story most home owners use to show off their real estate picking genius. Let's see how he really did: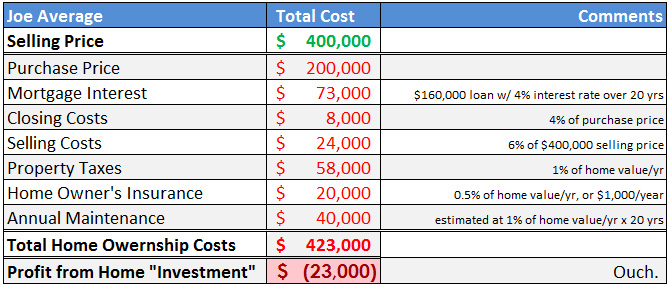 Yes, you're reading the table right. Even after his home doubled in price, Joe lost $23,000.
If Joe's home price instead stayed flat, he would have "thrown away" over $200,000 during his 20 years of home ownership.
Rent vs. Buy
So no, renters aren't idiots throwing away money, and home owners aren't living for free either. The truth lies in the middle, and the final answer to the "rent vs. buy" question is more complex than a one size fits all myth perpetuated a loud group of chanters who never stop to crunch the numbers.
There are many reasons to own a home. Fear of throwing money away on rent should never make the list.
______________
[Feature photo credit: taxcredits.net via flickr under cc]