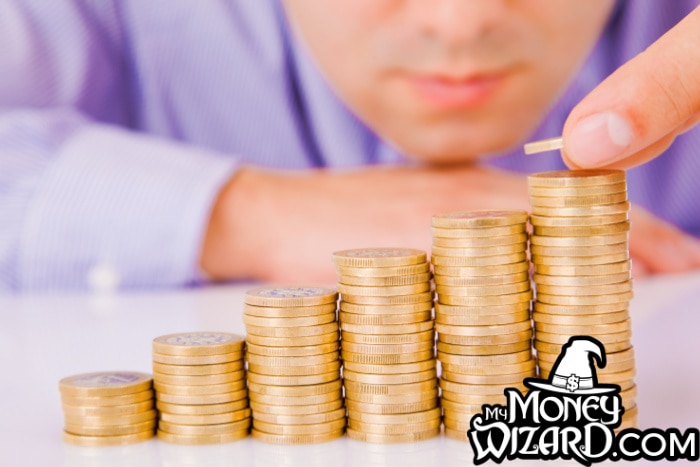 Inflation.
With the U.S. Government printing unprecedented amounts of money, most investors are shaking in their boots over this nine letter word.
But what if I told you that with a tiny change to your lifestyle, inflation can actually turn into a smart investor's best friend?
And that you could harness the mysterious force of inflation to make yourself systematically richer, year after year?
How most people view inflation
Here's the quote you'll hear over and over again around the office. (And my inspiration for writing this article.)
"Hey, I got a 3% raise this year. Too bad that only covers inflation…"
On the surface, that quote makes sense. But like most "common wisdom" in personal finance, it's super misleading…
Why?
Every year, the government measures a basket of consumer products. Since government officials have no creativity, they aptly named this basket of stuff the "consumer price index." And each year, that basket (aka CPI) usually goes up anywhere from 1-3% per year.
That's inflation. It's real, and it will eat your lunch if you're not careful. In fact, thanks to the rule of 72, we know that with a 3% rate of inflation, the price of everything doubles every 24 years or so.
Which means that if you're a normal consumer, that 3% raise does indeed suck. It does pretty much zip-all to combat inflation, since your overall lifestyle now costs 3% more, too!
There's just one huge qualifier with that statement:
If you're a normal consumer.
But what if you're not?
What if, like most readers of this site, you've shunned the average consumer's acceptance of wage-slavery, and through the magic of money wizarding, you've instead transformed yourself into an above average saver. How does inflation impact you then?
Inflation Hack #1: Actually saving money
The math on Mr. Average Consumer Complaining Coworker's statement that a 3% raise doesn't cover 3% inflation only works under one very large and very specific assumption: that you're spending exactly 100% of your earnings.
Let's assume you're salaried at $75,000. (We'll ignore taxes here for simplicity, but the effect is the same.)
After a brief back and forth negotiation during your annual performance review, you get the luke-warm news: all that's in the company budget this year is a 3% raise. This equals a $2,250 increase in your salary.
Unfortunately, like most of America, you've designed your lifestyle on a knife's edge, so your annual expenses perfectly match your salary.
In other words, your $75,000 basket of designer clothes, subscription boxes, high end gym members, and sports car insurance will all cost 3% more. To buy the same lifestyle as last year, next year's expenses will cost an extra $2,250.
No surprise here, inflation completely wiped out your raise.
Now let's assume you're NOT an average consumer.
You received the same $2,250 increase to your $75K salary, but you live on annual expenses of just $30,000. What does inflation do to the cost of your $30K lifestyle? A measly $900 increase.
In other words, a raise which does nothing for the average spender actually allows you to save an extra $1,350 per year.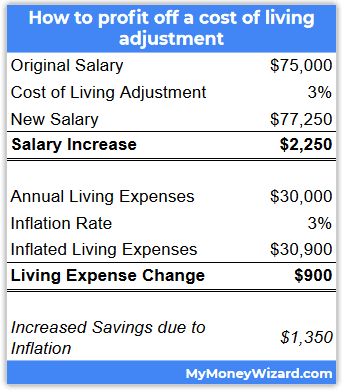 Simply by living below your means, you've not only shielded yourself from inflation, but you're actually profiting off it!
You just bought yourself a raise! (Even when conventional wisdom says there's none.)
In the above example, you actually captured a 1.8% raise, adjusted for inflation, in a supposedly "flat" year.
This effect becomes even more pronounced the larger your savings rate becomes.
If your annual expenses were only $20K (rather than $30K) you'd actually capture a 2.2% raise.
What's this mean? The more you live below your means, the more you can profit from inflation.
*Keep reading for an advanced strategy.
Further, every year that you continue to hold your lifestyle steady, you continue pocketing this difference. While it's easy to dismiss a fraction of a percent or a thousand bucks in any given year, over a lengthy career, reinvesting this difference can result in hundreds of thousands of dollars in additional lifetime earnings.
Speaking of reinvesting…
Inflation Hack #2: Actually investing money
Inflation hits one group of people harder than any others: consumers.
Duh. Anything that makes stuff cost more money is going to be bad for people buying that stuff.
But what about the people selling that stuff? It turns out, those people have got a pretty easy answer to the inflation problem; they just charge a little more to make up for the difference.
Inflation in the Stock Market
This is why the stock market is usually considered a hedge against inflation. Investing in the stock market means you're investing in businesses. In the event of inflation, the earnings from those businesses usually rise with the rate of inflation.
*Remember the salaried worker who created a raise out of thin area? The same strategy works for financial independent investors.

Say you're living off a $1 million portfolio and your annual expenses are $35,000.
3% inflation causes your living expenses to increase by $1,050. Meanwhile, your $1 million portfolio should inflate to $1.03 million, so your portfolio grows from supporting $40,000 of annual living expenses to $41,200 of living expenses. (Assuming The 4 Percent Rule.)

In other words, your portfolio gave you a $1,200 cost of living raise, but your cost of living only went up by $1,050. You skimmed the leftover half a perfect for yourself!
Inflation for Real Estate Investors
For real estate investors, inflation isn't usually a huge deal either.
Landlords can offset inflation by charging more for rent. Inflation also means the price of homes go up, which is fine if you hold a portfolio of homes.
And as a cherry on top, it means the real estate investor's mortgage is easier for them to pay. (Imagine using today's dollars to pay for a mortgage you took out in 1990. Thanks mostly to the inflation, the average home price in 1990 was around $80,000 – your monthly payment would be a piddly $300!)
Inflation for Cryptocurrency Investors
Okay, this one is definitely less proven than the first two, but in my investing in bitcoin article I pointed out that as inflation continues, the value of fixed-supply cryptocurrency should increase. So again, the investor comes out okay.
Conclusion? Saving and investing are unbelievably powerful.
Like most things personal finance, you can twist a negative into a positive simply by following the two most important rules of personal finance:
Live a little below your means
Invest the difference.
Keep it simple!
Do you enjoy my blog? Share this article on your favorite social media or take advantage of free, awesome products like Personal Capital or Rakuten using affiliate links (like those!) from this site.
---