Welcome to the celebrity net worth series – the newest feature on MyMoneyWizard.com!

If you're like me, you might find yourself curious about how rich celebrities and successful businessmen actually are. So, I thought it'd be fun to trace back their paths of success, and then, once we finish gawking at their wild stories, kicking it up a notch to see what regular people like you and I can learn from their stories.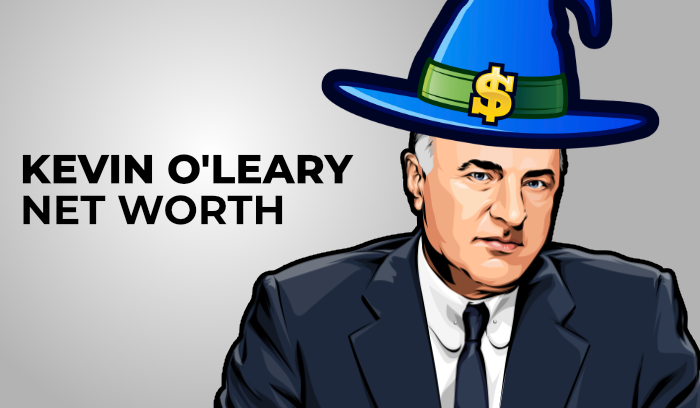 Introduction
Kevin O'Leary is a multi-millionaire businessman from Canada. He is famous for his TV appearances on Shark Tank and Dragons' Den. He's also authored several best selling personal finance books.
In the 1980s, O'Leary co-founded Softkey Software Products. The company sold educational and entertainment computer software. He and his partners eventually sold the Softkey for $4.2 billion dollars.
As of 2019, Kevin O'Leary's net worth is estimated at roughly $400 million dollars.
Early Life
O'Leary was born in Montreal, Quebec, Canada. He carries the rare heritage of Irish-Lebanese-Canadian, thanks to his Lebanese mother and Irish father.
His mother was the small business owner of a company that made children's winter clothes, and his father was a successful salesmen.
When he was six, O'Leary's parents divorced. The courts awarded his mother full custody of Kevin and his brother, partly due to his father's alcoholism.
O'Leary would later learn that his mother was a diligent saver and shrewd investor. It turns out, she'd consistently saved 33% of her income every year, always investing it into stocks and bonds – a habit O'Leary only learned when he executed her will after her passing.
Initially, Kevin struggled in school.
"The words on the page were jumbled into an incoherent mass," he said. His mother took him to the children's hospital, where he was diagnosed with dyslexia.
Although he wanted to become a photographer, his parents succeeded in convincing Kevin to attend college. At age 23, he received his undergraduate degree in environmental studies and psychology. Three years later, he received an MBA in entrepreneurship.
Early Career
His first job was an intern at Nabisco, where he was later promoted to brand manager. There, O'Leary says he picked up valuable marketing skills.
He left Nabisco after a few years and reunited with two of his former MBA classmates. Together, the three founded an independent TV production company specializing in sports TV shows, documentaries, and films. The company had modest success, but certainly didn't make Mr. Wonderful rich – one of his partners eventually bought out O'Leary's share for just $25,000.
Kevin's Path to Mega Wealth – Softkey
Kevin first used the proceeds from his $25,000 buyout to fund the downpayment on a house. He also used the money to purchase something that would later change his place in history forever – a personal computer.
At the helm of this new 1980s technology, O'Leary saw the potential of emerging software and home computers. So, in the basement of his newly purchased home, he founded a new company. He called it Softkey Software Products, Inc.
Their big idea? Sell software on CD-ROM discs.
Their big differentiator? Thanks to O'Leary's flair for sales, he'd go door to door, convincing computer companies to bundle the software discs into their existing product sales.
(Remember those random discs with games and encyclopedias that you'd get when you bought your new printer? You can thank Kevin O'Leary for those plastic frisbees…
That said, the company owned some names you certainly recognize – Oregon Trail and Earthworm Jim being two of the most famous.)
He also shattered previously held assumptions about the software industry. Namely, that you could only sell software through computer retailers. Instead, O'Leary got his software into the big box stores, like Walmart, Barnes and Noble, etc., for dirt-cheap prices.
Over the next several years, O'Leary grew the company aggressively. Using profits from the business, he went on a buying spree, acquiring nearly all of his major rivals, including The Learning Company, which Softkey purchased for a whopping $606 million.
By the early 1990s, Softkey was the largest player in the educational software market.
By 1999, O'Leary sold his company for $4.2 billion dollars to the toy company Mattel.
Although the sale would later go down as one of the most disastrous acquisitions of all time, O'Leary was now a bonafide mega-millionaire.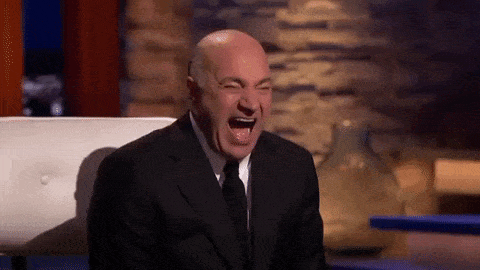 Other Business Ventures
Since his big break, Mr. Wonderful has parlayed his initial success into a serious money making platform.
In 2003, he successfully invested in the storage facility industry. He purchased a director's stake in the company StorageNow Holdings for $500,000 and sold his shares four years later for over $4.5 million.
In 2006, he joined the cast of Dragons' Den. (The Canadian investing TV show ripoff of the British investing TV show, which "borrowed" the idea from the original Japanese investing TV show and was eventually ripped off by the US investing TV show, Shark Tank… Who said there's nothing original on TV anymore?)
By 2008, he started his own mutual fund company, O'Leary Funds Inc.
In 2009, he became an American household name thanks to his participation on the TV show Shark Tank. He now owns the holding company Something Wonderful which manages his Dragons' Den and Shark Tank investments.
He later started O'Leary Ventures, a private equity fund for startups, as well as O'Leary Books and O'Leary Fine Wines.
He's also authored the bestselling personal finance books Cold Hard Truth: On Business, Money, & Life as well as the follow up, Cold Hard Truth on Men, Women, and Money. He also got really creative with his third title, Cold Hard Truth on Family, Kids, and Money.
Kevin O'Leary Net Worth – $400 million
As of 2019, Kevin O'Leary's net worth is estimated at $400 million.
The bulk of his net worth stems from the $4.2 billion sale of his software company, Softkey. At the time of the sale, O'Leary was one of three primary partners, and he likely earned hundreds of millions of dollars in the deal.
However, he's continued to pad those earnings as a businessman.
Exactly how much is a tough guessing game. That said, we can follow the clues to get pretty close.
To start, there's the sale of StorageNow Holdings, which O'Leary earned earned at least $4 million on.
Then there's his mutual fund business, which, as I've mentioned in my push for passive index funds, is lucrative business for its owners. With O'Leary's funds having over $1 billion in assets under management, Mr. Wonderful no doubt earns a steady stream of management fees.
He's also known for his "royalty structure" deals on Shark Tank and Dragons' Den. In those, he typically structures agreements where he receives a certain percentage of an entrepreneur's future earnings in exchange for his investment. These deals certainly earn Mr. Wonderful's Something Wonderful holding company a steady passive income stream.
And then, there's his earnings from his rise as a celebrity, TV personality, and bestselling author.
Reportedly, the sharks on Shark Tank earn $50,000 per episode. Considering O'Leary position as one of the show's staple hosts for over 10 seasons, he's likely earned several million from this role.
Kevin O'Leary's House
O'Leary's main home is in Toronto, Canada.
He also owns a luxury condo in Boston, Massachussets, as well as a cottage in Muskoka, Canada and a vacation home in Geneva, Switzerland.
Kevin O'Leary Trivia
He holds the record for the largest exit in the history of Shark Tank. (His investment in the meal delivery service Plated sold to Albertson's for $300 million.)
Businessweek once called Mattel's $4.2 billion purchase of O'Leary's company one of "the worst deals of all time."
He's passionate about the environment. He majored in environmental studies and co-hosted a Discovery Channel show about reversing climate change.
He's an avid photographer. He's often sold prints of his work and donated the proceeds to charity.
He once tried to buy the video game company Atari, although the deal fell through.
He identifies with Canada's conservative political party, and he once offered $1 million to the province of Alberta for the resignation of Democratic First Minister Rachel Notley.
He's been married since 1990 to his wife Linda, although the couple allegedly separated for two years in 2011. They have two children.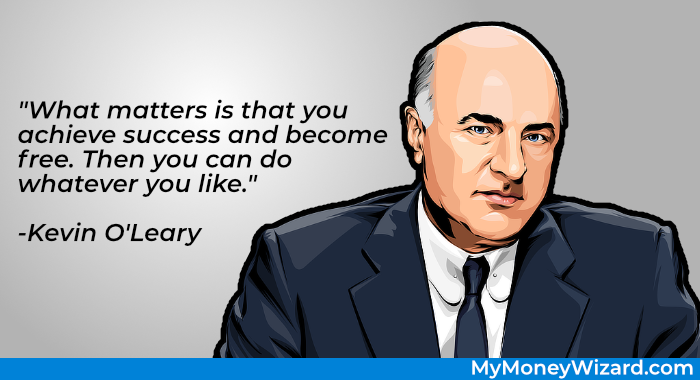 "What matters is that you achieve success and become free. Then you can do whatever you like." – Kevin O'Leary
"I'm not trying to make friends. You wan't a friend? Buy a dog. I'm trying to make money." – Kevin O'Leary
"Assholes get rich because they're not afraid to ask for what they want." – Kevin O'Leary
"Money equals freedom." – Kevin O'Leary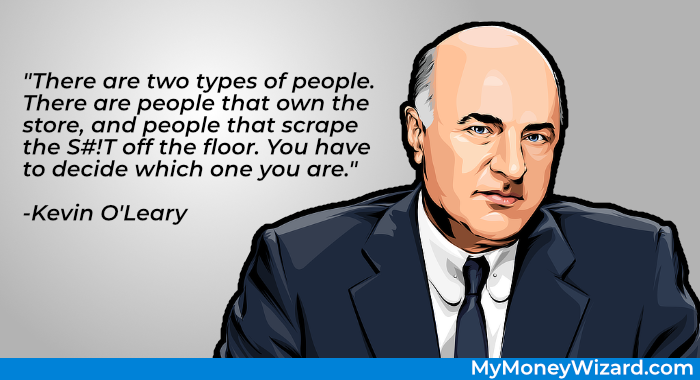 "There are two types of people: There are people that own the store, and people that scrape the S#!T off the floor. You have to decide which one you are."- Kevin O'Leary
"The best motivator in the world is money and if that doesn't work try more money." – Kevin O'Leary
3 Wonderful Secrets to Success You Can Learn from Mr. Wonderful Himself
Of course, just gawking at O'Leary's nine-figure net worth and multiple houses and cars doesn't do us much good.
What can anyone learn from O'Leary's path to wealth, even if we don't have Shark Tank dreams? (And instead have more modest aspirations of financial freedom?)
1. You only have to get rich once.
As O'Leary said earlier, you only have to become free, then you can do whatever you like.
What I find most interesting about Mr. Wonderful's story is that, despite the eventual colossal failure of his first company, he's been able to let that initial cash-out carry him for decades.
That's not to discount all the success he's had since. Instead, it's proof that success compounds.
Once you reach a certain critical mass, you become somewhat unstoppable.
That's true whether you sell your first company or invest your first $100,000.
2. Sales is an incredibly useful skill to have.
O'Leary's dad was a successful salesmen, and Kevin says the most important thing he learned during his brief stint in the corporate world was marketing.
He used that marketing to fuel his first successful company. Anyone who ever played one of those CD-ROMs that came with a 1990s computer knows they weren't the best product in the world. But still, O'Leary marketed those CDs with gusto, convincing tons of companies to carry the product and turning the brand into a household name. 
And eventually, we can only assume he used his sales skills again to convince Mattell to overpay for his company, making him insanely rich.
(Even on the shark tank panel among other successful mega-millionaires, O'Leary has marketed himself as one of the more memorable Sharks.)
But sales doesn't have to just be about door-to-door CDs or million dollar business deals.
Learning some basic social skills and sales techniques can help you better market yourself in your career and increase your earning power.
3. Financial literacy is the foundation for all wealth.
O'Leary is a relatively frugal guy. His books preach the praises of frugality, and if you don't feel like buying them, here's an interesting article where you can get a glimpse – O'Leary never buys fancy coffee and owns just four pairs of shoes.
Kevin saw the power of savings firsthand when he realized his mom always saved 33% of her salary, and it left her rich.
He used the same approach to fund his lifestyle while he was starting businesses that would eventually make him wealthy.
You don't get rich by wasting money. And so while it may seem silly to talk about frugality in an article about a guy worth hundreds of millions – the great irony is that's actually where it all starts.