$250 billion Most recent estimated market size of TV infomercials in the United States.
$120 billion Size of the entire US broadcast TV industry, making the infomercial business larger than TV itself.
$28 billion The size of the entire US book publishing industry.
$24.95 The cost of the UroClub, a golf club ingeniously designed as a camouflaged portable urinal.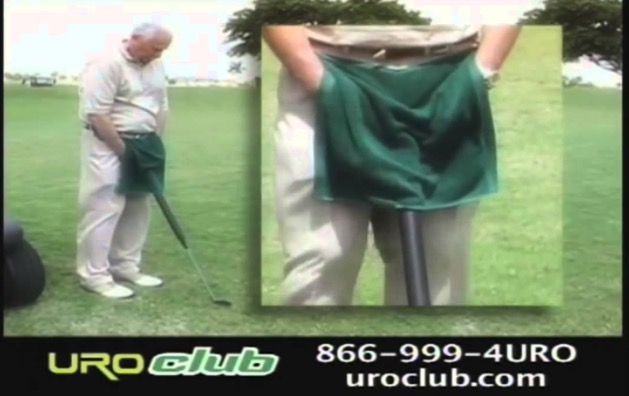 400 Percent markup, the industry standard for pricing products on infomercials, making that $19.99 offer appear even less like the deal of a lifetime and more like just $4 of materials.
$460,000 Average cost of producing and airing one standard 30 second TV commercial.
$153,000 Average cost to produce and air a ten series 30-minute infomercial.
20 Percent improvement in infomercial response rates with a celebrity appearance.
$17.5 million George Foreman's lifetime earnings from his entire Hall of Fame boxing career.
$200 million Estimated lifetime royalties paid to George Foreman from the infamous grills named after himself, which he did not invent and was initially apathetic about marketing.
Ah, I love the infomercial industry. There's nothing quite as fascinating to me as America's obsession with junk sold on TV.
Unfortunately, "As Seen on TV!" might as well be code for, "ridiculously marked up gutter trash."
And while purchasing one UroClub Portable Urinal isn't likely to leave anyone in financial ruin, infomercials' mind blowing popularity shows a much more systemic issue.
Have a problem? Don't put in the work to find a solution, just buy some cheap junk hoping for a quick fix!
The no-thought, buy-now culture is a recipe for disaster. "What's $19.99 anyway? I make good money. Never mind the house I can't afford, the car I don't actually own, and the job I can never quit."
Here's a better plan – reject junk when you see it and start saving money. As easy as it is to fall into the habit of buying crap, it's even easier to fall into the habit of defaulting to an automatic, "No thanks."
In fact, it's probably even easier because it doesn't cost you any money!
It sounds crazy, but these small decisions really do add up! I kinda-accidentally saved $150,000, and you wont find any UroClubs in my golf bag.
"Money Wizard, you don't golf…"
Hey, the point still stands!
__________________________________
Related Articles: