There's something oddly satisfying about wasting a sleepless night on the ridiculous products peddled by infomercial pitchmen.
Laugh all you want, but this segment is big business aimed right at your hard working dollars – the infomercials market is estimated as a staggering $250 billion-dollar industry.
Most of these products are outrageous at best, but a few are downright shameful. I did a little research, and I'm (not so) proud to present the five worst offenders. Hopefully we can all learn a little something from their shady ways.
5. Head On
We all remember these annoying commercials applied directly to our foreheads, right?
Aaand repeat until I want to throw my TV through the window.
Head On claimed to cure the common headache. Problem was, the product didn't do a damn thing. Testing revealed the "medicine" to be… wax in a tube.
You can't make this stuff up. Here's the Wikipedia entry:
Chemical analysis of the Migraine formulation has shown that the product consists almost entirely of wax. The three "active ingredients" are iris versicolor 12× (a toxic flower), white bryony 12× (a type of toxic vine), and potassium dichromate 6× (a known carcinogen). The "×" notation indicates that the three chemicals have been diluted to 1 part per trillion, 1 part per trillion, and 1 part per million respectively. This amount of dilution is so great that the product has been described as a placebo."
4) Miss Cleo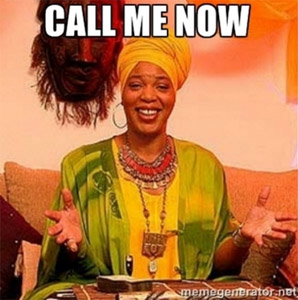 If calls to Miss Cleo were supposed to be free, how did the company make $1 billion from just three years of TV commercials?
That's the question asked of Miss Cleo, a mystical shaman from Trelawny*, Jamaica who promised toll-free tarot card readings predicting your future.
*Wait, anyone catch that Harry Potter inspiration? Professor Trelawney is Miss Cleo in another world?
Not surprisingly, the calls weren't actually free, and Miss Cleo wasn't a mystical shaman from Jamaica.
She was actually an aspiring actress born in Los Angeles, California, whose most significant acting accomplishment prior to the infomercials was a failed playwriting company. Her company ended when she skipped town without paying her cast, claiming she had bone cancer.
The promised "first 3 minutes free" were predictably spent on hold, then customers were unknowingly charged $4.99 per minute. The average phone call cost $60, and the company conned millions into pouring out their most intimate details to fake psychics.
Miss Cleo eventually did get real cancer, and died at age 53.
3. Power Balance Bands
The Power Balance band is an incredible case study in the power of marketing and herd behavior. The $40 wristband promised wearers "up to a 500% increase in strength, power, and flexibility."
How?
"Use of holographic technology to resonate with and respond to the natural energy field of the body," of course!

The band was spotted on everyone from Shaquille O'Neil to Brad Pitt to Princess Kate & Bill Clinton. Never mind almost all were paid heavily for their endorsement, that didn't stop millions of people – everyone from high school athletes to jogging moms – from spending $40 on a product which double-blind testing proved was no more effective at improving athletic performance than a rubber band.
Eventually, the company sheepishly held a press conference which admitted, "In our advertising we stated that Power Balance wristbands improved your strength, balance and flexibility. We admit that there is no credible scientific evidence that supports our claims…"
…Then paid $57 million in false advertising fines.
2. Kevin Trudeau
Dubbed the King of Infomercial Scams, Kevin Trudeau takes slimy pitchman to a whole new level.
He first rose to prominence for infomercials promoting his book, Natural Cures "They" Don't Want You to Know About. Although the Consumer Protection Board was quick to warn the book contained no actual cures, but instead only included instructions on how to subscribe to a $499 lifetime membership service to learn the cures, the book sold over 5 million copies.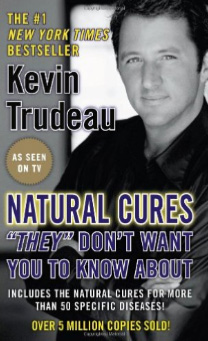 The book contained a number of fantastic claims, including that the sun does not cause cancer, sunscreen does cause cancer, and AIDS is a hoax.
Much of this was backed by herbal remedy studies from the University of Calgary. Representatives from the University of Calgary were quick to point out they never performed the cited studies.
Trudeau got really creative with his next few book titles, which included:
More Natural Cures Revealed
The Weight Loss Cure "They" Don't Want You to Know About
Debt Cures "They" Don't Want You to Know About
He also promoted several sketchy products through infomercials, including:
"Hair Farming" cures for balding
Nonsurgical facelifts
A 60 second solution to all addictions
Mega memory techniques for anyone to gain a photographic memory
Coral calcium supplements as a cure for cancer
His wild and unsupported claims led to an eventual FTC ban on several of his infomercials, and a court order explicitly forbids him from selling any product or service, except for his books which are protected under free speech rights.
Unsurprisingly, in 2008 a federal court ruled there are consequences for going on TV and selling a fake cure for cancer, and Trudeau was ordered to repay all $37 million in profit from the sham coral calcium supplement. When he failed to pay a cent, he was sentenced to 10 years in prison.
1. Enzyte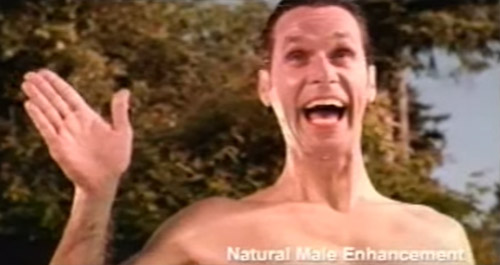 Meet Bob, the smiling idiot who bombarded our TVs with endless penis enlargement innuendos. The natural male enhancement pill supposedly led to all sorts of "big new swings of confidence" down there, and Enzyte spent a staggering $374 million on TV ads to tell us so. Not counting sponsoring an entire Nascar race team.
Somewhere along the way, the Better Business Bureau started receiving thousands of complaints about the company, leading to a federal raid and a 112 count criminal indictment.
As it turns out, the pill had no scientific evidence whatsoever to support its big claims. A company executive testified the pill's benefits were completely fabricated, and admitted the company intentionally charged customers even after they cancelled. Worse, employees were specifically instructed to make it, "as difficult as possible for unhappy customers to receive refunds."
Enzyte's founder and president, Steven Warshak, was found guilty on 93 counts of conspiracy, mail fraud, bank fraud, and money laundering, and he was sentenced to 25 years in prison.
His mother would be ashamed, except the 75-year-old was also sentenced to two years in prison for her involvement in the scam.
Steve Warshak is currently held at a federal prison in Ohio, where I can only assume he's receiving plenty of natural male enhancement.
Conclusion
The above scams are pretty obvious, but what about more subtle and widely accepted marketing stories? If a fake Jamaican actress could swindle $1 billion dollars using low budget infomercials, imagine the success of say, $44 billion spent on car advertisements every year, or the diamond engagement ring scam?
Every day, there are plenty of marketing machines designed to take your money. Stay wealthy, my friends.
_______________________________________
Related Articles: