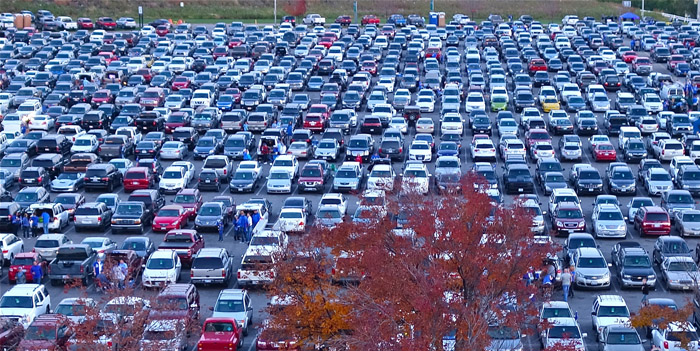 $30,032 Average car loan during the first quarter of 2016 – the first time in history the number passed $30,000.
68 Months, the average repayment term of a new car loan today.
2022 Year before your loan would be paid off, if you financed a car today with the above repayment terms.
$503 Dollars spent per month on the average car payment.
$1,197,800 Size of a portfolio with $503 monthly contributions after 40 years, assuming a 7% annual return.
10.6 The average percent of income used on vehicle related spending per year, including car payments and ongoing maintenance costs.
4.7 Average household saving's rate.
3.4 Percent increase in the average purchase price of a new car in the past year.
0.1 Percent of inflation during the past year, suggesting that the increased price of car purchases is due primarily to more expensive consumer tastes rather than external factors.
$44 billion Amount spent by the automobile industry on advertising in 2016 – more than any other industry in the world.
1/2 The fraction of the average $32,000 car purchase needed to find a perfectly reliable, new car that can even be fun to drive.
Well, I found this one was absolutely fascinating to research.
Americans probably have a love affair with vehicles unlike any other good, and car manufacturers have the advertising budget to prove it. Whether the two are related, I will leave up to you to decide.
We all like to complain about the cost of a lot of things in this country, myself included. Yet one spending category is suspiciously absent from the crossfire of criticism. Our spending on cars (also known as The Precious…es) get a free pass, despite it easily being the one spending category most in our control.
Never mind that the average family spends more on cars per year ($9,503) than healthcare ($4,352)… our vehicles remain a beacon of pride. A symbol of self expression, whether that expression is an announcement of budgetary stress or not.
I still can't get over the idea that a lifetime of Ford Explorer payments can grow into one Bugatti Veyron payment. With a little bit of delayed gratification, nearly every driver on the road could realistically afford a vehicle so expensive that its rarely, if ever, bought by anyone whose not a famous rapper, professional athlete, or movie star.
Pretty wild to think about. I'd say this is one area where being below average is a badge of honor.
Clearly, cars represent one of the largest expenses for a vast majority of this country. Which is actually an inspiring revelation, because they also represent one of the easiest and biggest opportunities for unusual savings.
__________________________________________
Related Articles:
[Photo Credit: Dean Hoffman via Flickr under CC]