If you ever visit the headquarters of Berkshire Hathaway, Warren Buffet's behemoth of an investment firm, it might take you a while to notice what's so peculiar about it.
From the outside, you're certainly not given any hints.
The building looks so stereotypical cookie cutter it's laughable. The plain rectangular shape could camouflage itself as any generic office building in any generic city in the world. And the "Plain Beige" color that coats its outside walls doesn't differentiate it in any way, either.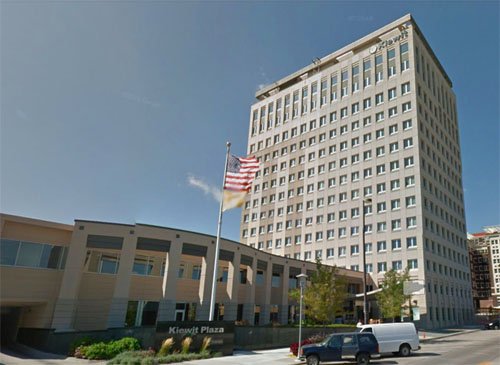 Step inside, and you still might not be able to spot it.
Here's a hint…
It's what's missing that makes the Berkshire Hathaway headquarters so unique.
Despite the investment firm holding nearly $1 trillion dollars in stock market investments, you won't find a single stock ticker display.
Nor will you find a host of monitors spitting out the latest charts, graphs, and prices.
In fact, a starry-eyed MBA student once asked Warren Buffett why he chooses to headquarter his investment company in the sleepy town of Omaha, Nebraska instead in the investing hotbed of New York City.
His answer?
Well, for one he likes Omaha.
But more importantly, he says it gives his investing company a competitive advantage.
While his competitors are buried in the chaos of Wall Street, it's hard for those competitors to ignore the noise and panic of the latest stock prices. Meanwhile, Buffett and his employees can relax in the peace and quiet of Omaha, while focusing on what really matters – the long term view of his investments.
Stock price is not that important to me, it just gives you the opportunity to buy at a great price. I don't care if they close the New York Stock Exchange for 5 years." – Warren Buffett
Feeling it first-hand
If you followed my latest net worth update, you know the recent decline made me $15,000 poorer in just 31 days. If you've got any money in the market, you probably felt it, too.
So it'd be reasonable to ask the follow up question.
"What do we do now? How do we prepare for a potential economic downturn??"
And you might be surprised at my answer, which can basically be summarized as, "Don't change a single thing."
Seriously, Money Wizard? What kind of worthless advice is that??
Let's break it down.
Losses are only real if you sell.
I get it. It's human nature to avoid pain. Nobody particularly likes getting punched in the face, and nobody likes losing money either. (Which coincidentally feels remarkably like getting punched in the face…)
So when the economic downturn hits, your human instincts will tempt you towards three common paths.
But they're all traps!
Let's examine the three most common ways people blow themselves up in the stock market.
1. Why you shouldn't try to sell early to "get ahead" of a recession
Okay, let's say we fall into the temptation of trying to avoid a downturn. We monitor our index funds like a hawk, and as soon as we see the start of an obvious recession, we're out!
Let's see this in action with a historical example. This is an actual 12-month view of the S&P 500 a few years ago: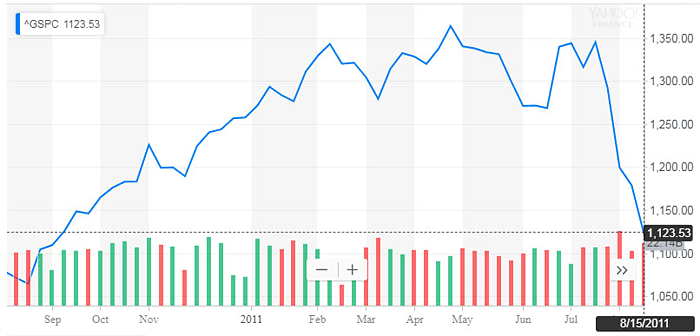 Not so fast, buddy. I played a trick on you.
Because if we zoom out of the above graph, it turns out that obvious downturn wasn't so obvious. In fact, what we thought was "the start of a recession" was nothing more than a little blip in an epic rally upwards: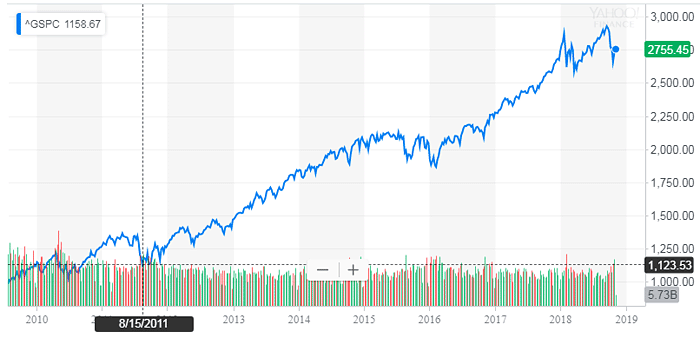 Had we sold at the first sign of trouble, we'd have missed out on 145% returns!
Whoops.
2. Why you shouldn't try to "stop the bleeding"
This is the second most common mistake people make.
To explore why it's such a bad idea, travel back with me to September 2008.
The stock market is tanking. Everyone knows it. Over the past 11 months, the S&P 500's price has fallen and fallen and fallen. A whopping 20% loss in less than a year.
You check the markets and see a 12 month S&P 500 chart that looks like this: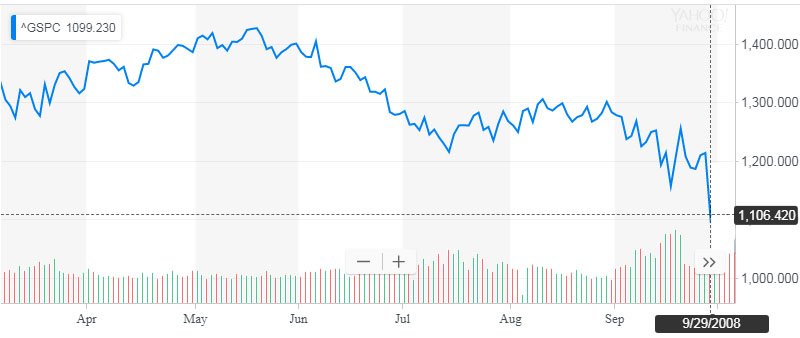 No big deal, you know better than to sell on a downturn.
And then… one week later, this happens: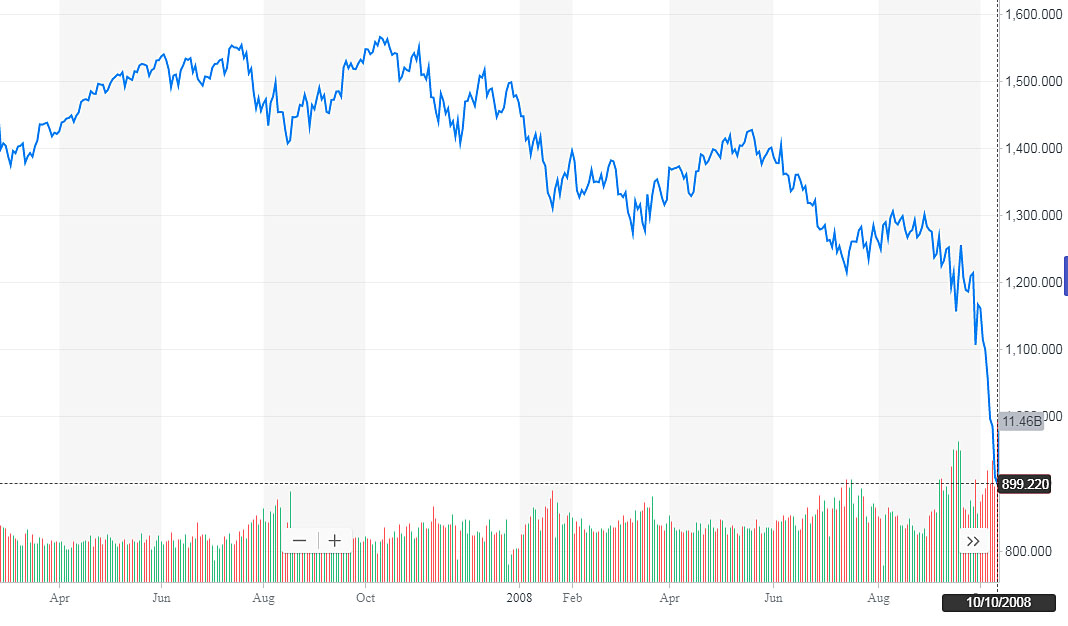 OH DEAR LORD THE WORLD IS ENDING.
So you panic. Deep down, you know better, but you've got to stop the bleeding somehow. That's your life savings. Your husband or wife is tired of losing money. You've got kids to consider.
You sell, and at first, you're pleased with your decision. In the coming months, the market falls another 20%. "Crisis averted!" you say to yourself.
You continue with your life, avoiding the stock market until things cool off.
Things don't cool off for a year or two, but eventually, you're finally convinced the recession is over. Prices are back to levels before the mega crash, so you confidently jump back into the market.
Overall, you're feeling pretty good. You avoided the "major" downturn and seem to have broken even.
But let's take a look back at what actually happened. (We'll assume you'd originally invested 2 years before you panic-sold.)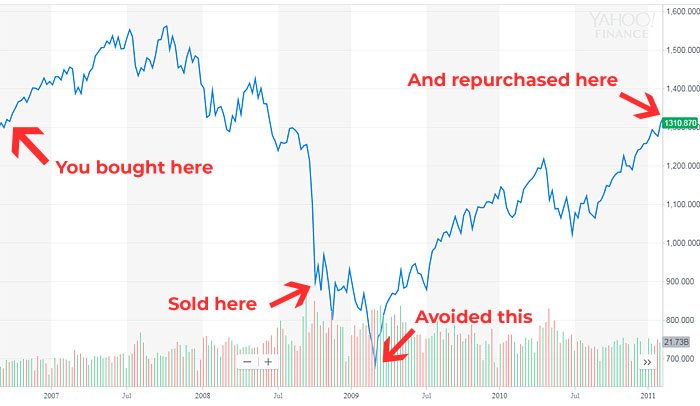 We can assess the financial damage by analyzing the price of the S&P 500 index.

You're exactly where you started, and all you've got to show for it is a 32% loss in your initial investment. A place you could have been for free, had you just ridden out the recession to the very bottom.
Sure, you successfully avoided the last 16% of the market's crash. Except, in avoiding that, you turned an imaginary 30% loss into a very real 30% loss.
3. Okay, don't sell. Got it. But why shouldn't I build up my cash pile, to take advantage of future low prices?
This is the most common mistake made by newbies and pros alike. They're worried a crash is coming, so they either cut back how much they're investing, or worse, they never build up the courage to invest in the first place.
On the surface, this strategy sounds the most reasonable. But we're walking into another trap…
Because there's one GIANT wrench in this plan. How do you know when to start hoarding cash?
Captain Obvious would answer this simple question with, "When the market is at the top, dummy…"
And to refute that claim, I'll simply reference this graph of the stock market over the past 116 years: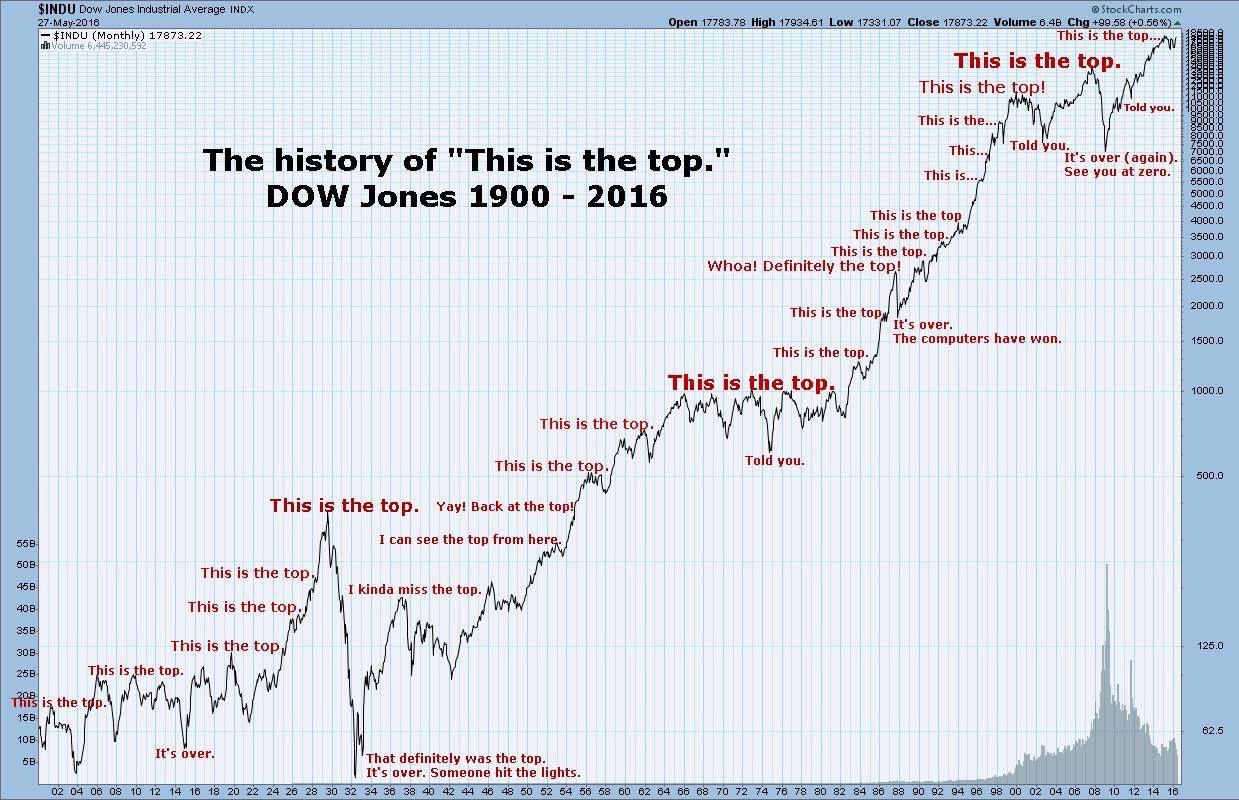 Surely, you see the problem with this strategy. While you're busy waiting around for prices to "come back down from the top" the stock market is busy compounding and compounding and compounding.
For me, this approach hits the closest to home. Back in 2014, I can clearly remember the pundits claiming the market was overpriced. And in my naivete, I seriously considered whether I should dial back my investments.
We all know what's happened since then…
The stock market went on to climb another 60% or more. Meaning even if a huge recession hits, there's no guarantee prices will ever come back down as low as 2014's "overpriced" levels.
Worst case scenario? Things will probably work out.
In the last net worth update, I talked about the unluckiest investor in history. He put all of his money into an S&P 500 index fund, right before one of the worst crashes in the history of the S&P 500.
It would take powerball-esque bad luck for this to happen, and most people would assume he'd be broke.
But despite involving himself in this doomsday scenario, our poor unlucky investor still made a 75% return on his money in the end.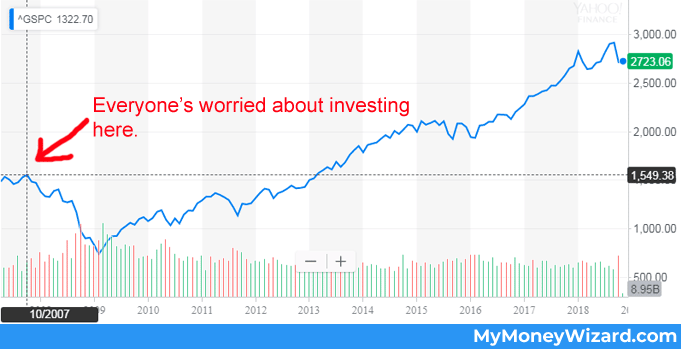 Because our unlucky investor was smart, and he didn't panic.
He didn't try to predict a recession, stop the bleeding, or hoard cash.
Instead, he took the easy path.
He invested, then he did nothing. And his bank account thanked him.
---