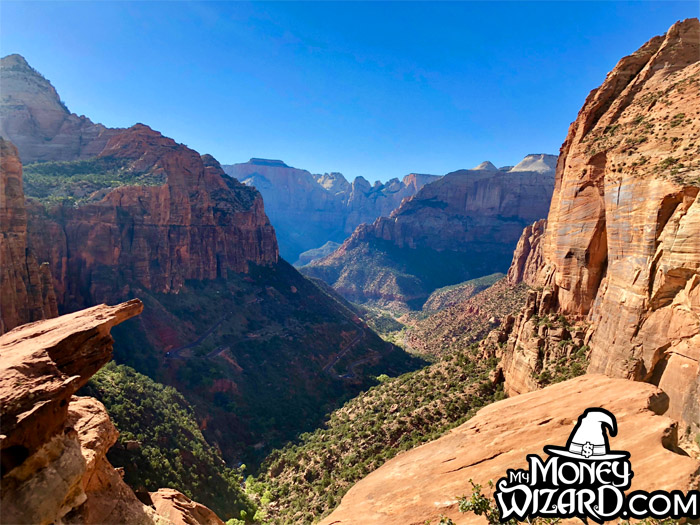 Hey there! Welcome to another monthly net worth update!
So, what are these about? Well, I'm sprinting towards a $1 million-ish dollar portfolio, and I'm sharing my progress towards that every month. The end goal? Escaping the rat race, and retiring around age 37, at the latest.
Every month, I share all this not to brag, but to help. Hopefully…
Why? Because for whatever reason, everyone guards their financial info like some sort of life-or-death secret. Obviously, this creates a huge problem where well meaning people get left completely in the dark about money, which opens the door to absolutely terrible advice from the people least qualified to give it.
That little rant aside, let's jump into October 2018. Home of an amazing frugal vacation, spooky Halloween festivities, and to top it all off… an epic stock market crash!
Where to start? How about at the beginning of the month, where I think I cracked the code on frugal vacations once and for all…
October started with a flight to Las Vegas. If you're thinking Vegas is the farthest thing away from a frugal vacation, you'd be right. The whole town reeks of a giant tourist trap, and there's something especially depressing about watching so many people flush away hard earned money towards rigged games and $14 drinks.
Pouring salt in the wound was the look on their faces. The average gambler's warn, weathered appearance hinting at a gambling addiction, a drinking addiction, a smoking addiction, or all of the above.
Not my scene, but hey… to each their own. And at least Vegas rocks cheap flights!
Luckily, Vegas wasn't the final destination, but instead a speed bump towards the real purpose of the trip. Zion National Park!
Located about 2.5 hours from Las Vegas, Zion is heralded as one of the most scenic national parks in the US. And she did not disappoint.
We spent two days in the park gawking at its beauty. Zion is a natural desert canyon, yet for whatever reason, trees and plants thrive in the environment. What's left is a sort of beautiful love child between the Grand Canyon and the Rocky Mountains. I commented that it's so beautiful it looks fake; like an artist took some "creative liberties" just to make sure the painting was as gorgeous as possible.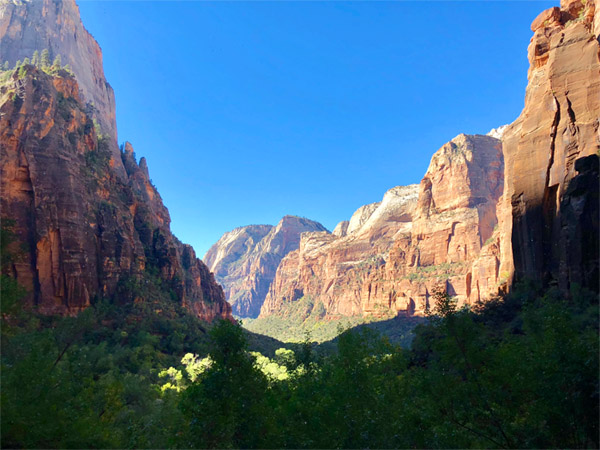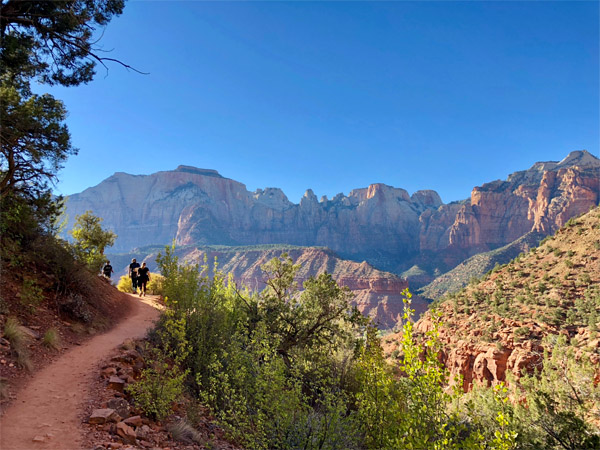 Oh, and it was also INSANELY cheap. Total out of pocket cost for the four day adventure? About $300.
Lessons in Cheap, Amazing Vacations:
Zion was a nice little case study on how to have an awesome vacation on the cheap. Here's how I kept the price so low:
1) Free airfare – I used leftover credit card points to claim a free flight.
2) Costco Rental Car – Costco seems to consistently have the cheapest rental car prices, and we found a great deal.
3) Split the cost with friends – This was a group trip, which meant we split everything four ways. The added company ended up being tons of fun and created tons of savings.
4) Destination? A National Park – I've decided that regardless of price, National Parks might be my favorite types of vacations. As an added bonus, they're also far and away the best value.
In a fitting irony, Zion was the ultimate contrast to the man-made chaos of Las Vegas. I was struck with how even the biggest construction budgets in the world can't compete with nature's natural beauty. Total cost of admission? $35… for a seven day pass. (Which we split four ways!)
Plus, a National Park is just begging for a hike and a picnic, so we saved on dining and drinks and everything in between.
The rest of October…
Back home, I spent the rest of the month decorating the house for Halloween and getting into the spirit of the season. (Ba-dum-tss!)
Oh, and I also rode out that WILD stock market ride. Let's assess the damage:
Net Worth Update: October 2018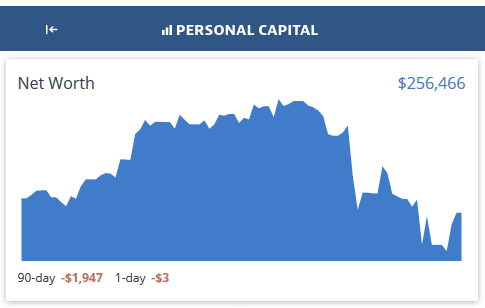 Whoa! Nooow things are getting interesting. Let's look at the details: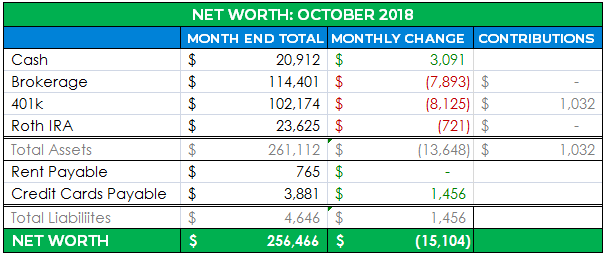 Now's a good time to talk about that little FIFTEEN THOUSAND DOLLAR blip.
For the past 10 years, we've been spoiled with one of the longest stock market rallies in modern history. Literally. A 10 year run is unheard of.
I've been saying for months and years that we're due for a correction, and so has everyone else involved in finance. It looks like we might be starting to see the beginnings of that.
So, what does that mean? Is it time to panic? Pull everything out and sit on the sidelines to avoid a potential downturn?
The answer is no and definitely no.
Here's the thing. Nobody knows. And anyone who claims they do is lying. This could be the start of another catastrophic crash. Or equally likely, it's just a blip before another mega-rally. In either case, your best best is to stay the course, especially because for young investors, missing rallies can be even more catastrophic than riding out a downturn.
Look at it this way. A decline in the stock market means stocks are now cheaper. 90% of the readers of this site are still building their portfolios. If that's the case, don't you want stock prices to go on sale?
It's like grocery shopping. Do you start stressing whenever Walmart runs a 10% off sale on Chicken breasts? Or do you say, "Hey, sweet deal! I think I'll stock up on a little more chicken this week."
And if you're still concerned, maybe this hypothetical will ease your mind.
Let's say you're the unluckiest investor ever. You invested $100,000 all at once, in October 2007, just days before the second worst stock market crash in history. Certainly, you're screwed right? Probably lost everything…
Not so fast. If you just rode out the recession, didn't sell at the bottom, and held that stock investment to today, would you be broke?
Nope, you'd have $175,000. A 75% return on your investment.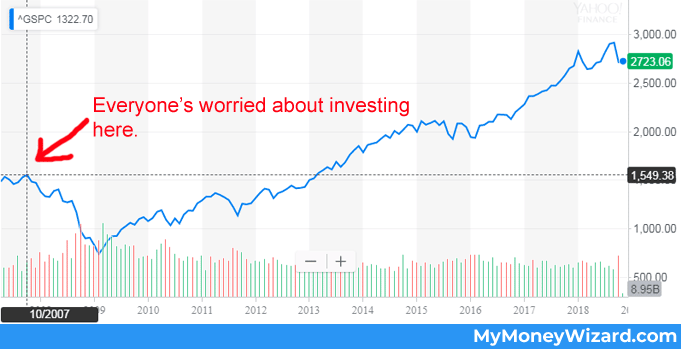 Cash: $20,912
(+$3,091)
In July, I bumped down my 401k contributions from around 25% of my paycheck to 7%. The idea was to not max out my 401k for the first time in my investing career, and instead build up cash for a potential rental property downpayment.
I'm happy to report that the strategy seems to be working. Since July, my cash balance has increased from $14,000 to $20,912. Hopefully by early spring next year I'll be in a position to seriously shop for my first rental.
Brokerage: $114,401
($7,893)
Who knew brokerage accounts could go down in value!? Jk…
The S&P 500 plummeted 7% in October, and obviously, my investments took a massive hit from the brutal October. My breakdown has been:
50% in Vanguard's Total Stock Market Index Fund.
30% in a mixture of Vanguard growth, value, and bond ETFs.
20% in individual stocks, back from the days when I thought I could beat the market. I've now wised up and decided not to trade individual stocks.
So it will be interesting to see if this is still the case after the dust settles in the next month or two.
401(k): $102,174
($8,125)
An even brutal-er hit!
For new readers, the breakdown of my 401k is roughly:
50% in Large Cap US Stocks
35% in Small Cap US Stocks
15% in International Stocks
Roth IRA: $23,625
($721)
My Roth IRA is invested entirely in Vanguard's REIT index fund, and it looks like even real estate didn't escape the rough month.
Rent Payable: $765

($0)
Honestly, I had trouble tracking down the utilities total, so as a placeholder I just left this amount equal to the usual bill. Since it's usually just a $10-20 swing either way, these details probably don't matter a ton, especially in a month where my stocks fell $15,000…
As a reminder, this represents my half of the mortgage, utilities, and anticipated home maintenance. (We allot 2% of the home's value to expected maintenance each year, or $300 per month. This lets us pay for any miscellaneous house expenses, stress free.)
Credit Cards Payable: $3,881
(+$1,456)
Not sure why this is so high, either. My credit card bill always includes some reimbursable work-related expenses, and the cutoff date means it's always got weird overlaps going on.
To get a better idea of my monthly spending, let's look at my spending report:
Total October Spending: $2,501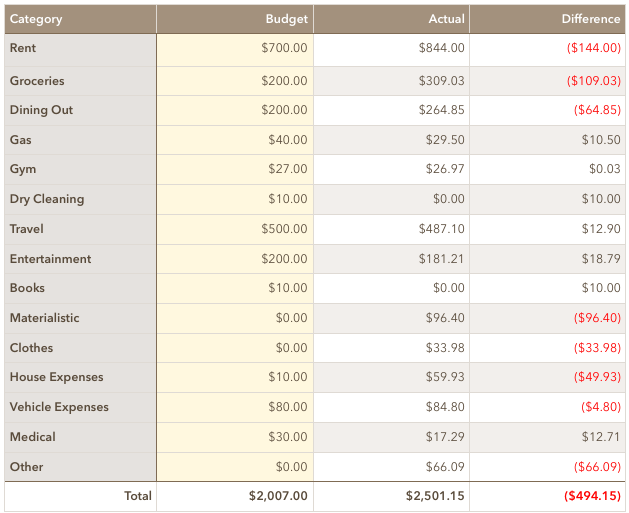 I blew the budget! Let's see some main reasons:
Rent: $844
The quarterly water and trash bill came due, which bumped up the cost.
Groceries: $309
Similarly, about once a quarter I run to Costco to restock on dog food, paper towels, toilet, and sorts of other glamorous items. So, this month's grocery bill was definitely higher from that.
Dining Out: $264
Another month, another month where I struggle to keep dining out in check. I've done a lot better bringing my lunch to work, but still spent date night at a few pricier places in October.
Travel: $487
The Zion trip was a bargain $300, but I also spent a weekend in Dallas visiting family.
Materialistic: $96
Cracked my old sunglasses and bought a new $95 pair. Decided I didn't like the $95 pair, so I'll soon try to return them. Wish me luck!
Hang in there!
We've been due for a bumpy ride in the market. If we all hang in there, it should be worth it in the long run!
Readers – how did you handle the October?
---