Well folks, it's official…
Inflation has entered the room!
Let the party begin!
Wait a minute, who invited that guy, anyway?
And what does the highest recorded inflation since the 1980s mean for your wallet today and your retirement plans in the future?
Let's get the party started
You know when you're hosting a fun get together with a carefully curated guest list, and then your one friend blows the whole thing to smithereens by inviting the worst person possible to join the group?
That's what just happened in the United States.
The U.S. economy was having a grand old time, and then The Fed went ahead and invited Inflation into the room.
And before you know it, Inflation drank way too much and is totally out of control, and if the Fed's friend Inflation doesn't reign it in quickly, he's about to destroy the whole place, get the cops called on everyone, and ruin everyone's future.
This dumb metaphor explained
You see, The Fed is assigned a dual mandate. Meaning they have two jobs:
Maximum employment (MAXIMUM!)
Stable prices
The Fed and its team of economists interpret stable prices to mean low levels of inflation. Their stated target rate of inflation is 2 percent, so you can imagine their surprise when the latest numbers came back, and… whoops!
Inflation is 7 percent! The highest in 40 years!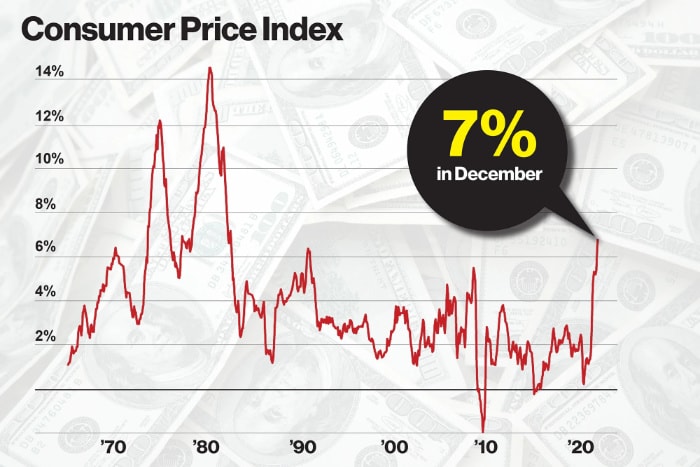 (And it's may be even higher than what they report, since inflation might be total B.S.)
How Inflation Skyrocketed to 7%
In a nutshell?
The Money Printer went brrrrrrr a little too hard.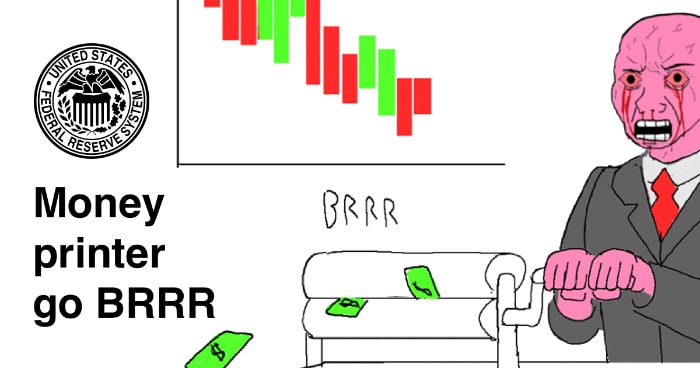 I explained money printing in my article about the broken stock market.
I wrote that article back in June 2020, at a time when the Coronavirus had just been unleashed from the lab and/or batcave and the U.S. Government responded by printing $3.5 trillion dollars here, $2 trillion dollars there, and I can't even remember what else.
At the time, inflation was a paltry 1.5 percent.
Well, it turns out printing 80% of all the money ever printed in just two years has some impacts on the economy, after all.*
*Interestingly, I think part of the reason we're starting to see inflation now, when we hadn't the last million times the government printed money, is not just the amount that was printed, but also what was done with it. I wrote before about how the printed money never really got loaned out like The Fed planned, whereas large portions of the recent stimulus package were injected directly into the economy, either through stimulus checks, emergency Paycheck Protection loans, and other programs.
(Note there's also the bit about broken supply chains and a whole host of other factors, which some people are blaming as the inflation cause. Per usual, multiple factors can lead to an outcome, but I'd put my money on the biggest driver being the largest money printing experiment of all time.)
Anyway, enter 7 percent inflation.
What happens next will be really important
In my article about money printing, I explained that there's really only two main ways The Fed can deal with all the money they brrr'ed into existence:
Start doing the opposite of printing money. To get technical, this would mean they stop buying government bonds and start selling them instead.
Let the economy grow (or inflate) its way out of the problem.
Number 2 is interesting to think about. For example, after WWII when government debt was the largest in history, the government never really "paid back" the debt. Instead, they just watched the economy grow so big that the debt payments were tiny relative to the government's income. (It's the same concept as buying a house in 1970, and then watching the housing market and inflation climb and climb. Grandpa paying his $50/month mortgage from 1970 is no sweat today, thanks mostly to inflation.)
So, what's The Fed gonna do?
Evidence in favor of strategy #1
In their January meeting, The Fed announced a plan to stop inflation. Specifically, they will stop buying bonds and start raising interest rates. they will start fighting inflation by raising interest rates and stopping their bond buying.
Translation: they're saying they will turn the money printer off, but aren't promising to go so far as actually removing any money from the economy.
BUT, they do plan to raise interest rates. Which through a technical process way too detailed for this article, has the effect of depressing asset prices and curtailing inflation.
Here's what to watch for: if they actually commit to raising interest rates and don't immediately revert course the moment there's trouble in the economy, and if they eventually start reissuing bonds, then maybe there's some hope we don't all end up carrying our dollar bills in wheelbarrows. (Kidding! Somewhat…)
Evidence in favor of strategy #2
In three words: 7 percent inflation.
The more the government allows inflation to stay at record levels, the more they're choosing the path of "inflating away" the country's debt problem.
Final Thoughts
Most people might not get too worried about the difference between 2 and 7 percent, but you all are astute money wizards, so I know you understand The Rule of 72.
2 percent inflation means that your cash will lose half its value every 36 years
7 percent inflation means that your cash will lose half its value every 10 years!
The clock is ticking!
But here's the good news: I was careful to say inflation erodes the value of your cash. It often has the opposite impact on your assets.
Case in point: inflation may be 7%, but even counting the recent crash, the stock market is up 17% over the past 12 months.
So, per usual, the most damaging move is to not invest.
A year ago I said that it was the most important time in history to buy assets. The only thing that's changed since then?
It's probably an even more important now!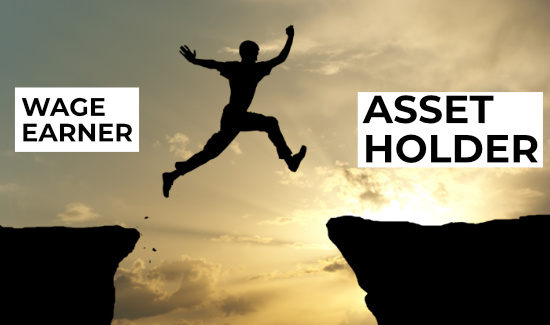 Interesting times!
Disclaimer: Per usual, nothing on this blog should be considered investment advice. I'm not a professional. I'm just a guy with a keyboard.
---
Related Articles: