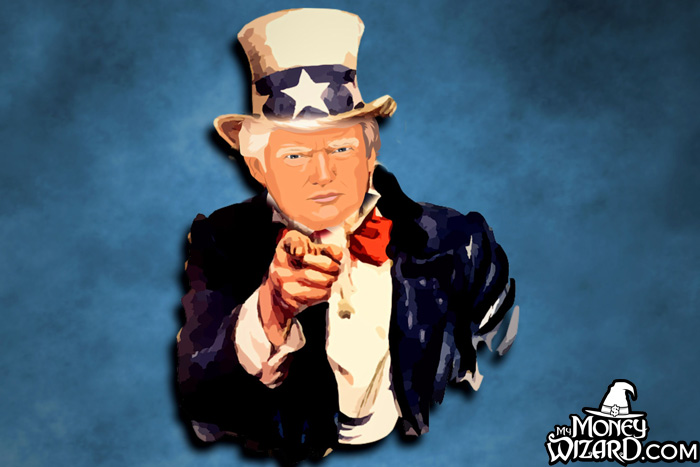 If you live in America, you might have heard a little something about the most dramatic change to the tax code in decades.
This sweeping reform has left the news, blogs, and analysts setting themselves ablaze with speculation about how the plan will impact everyone.
Who are the big winners? Who are the big losers?
People taking the standard deduction might save money… married couples with no kids might not… families with two children who are itemizing their expenses might still come out ahead… what about families with three children??
The stress and speculation has reached a fever pitch, as culminated in this astonishingly complex chart, which maps the hypothetical savings/losses for an insane number of scenarios: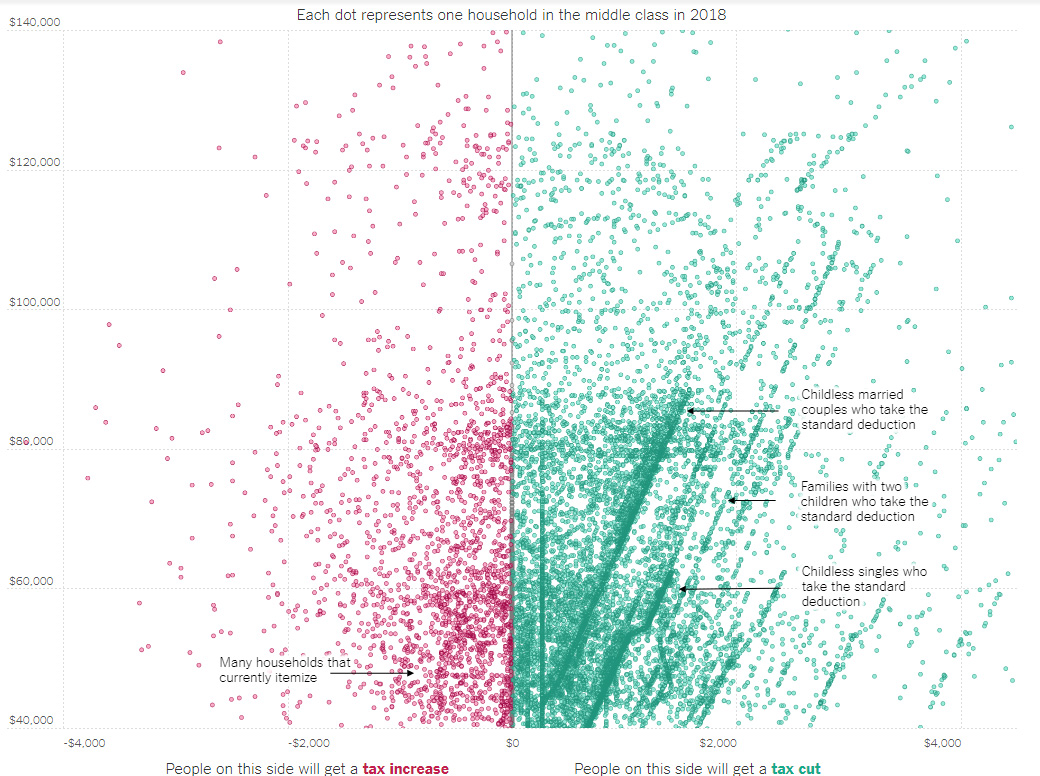 And yet through it all, most headlines are pretty consistent – this is yet another example of the greedy corporations coming out ahead no matter what, while the little guy is left scrambling through the gauntlet, and hopefully escaping unscathed.
But what if I told you there's a way to profit off the tax cuts right alongside those big bad corporations, and it could cost you as little as one cent?
The Tax Reform's Winners and Losers
I'll save you the headache of sorting through right wing propaganda and left wing bias. In general, here's the current state of affairs:
The house passed their version of the plan in mid November. The senate passed their's the first weekend in December.
Like good politicians, they can't really agree on anything, but they've said the next step is to come together for a final version.
All Trump wants for Christmas is the final tax reform, so that's the preliminary deadline.
The good news? Despite all the doom and gloom headlines, the majority of people will actually save money under the proposals.
You can see a pretty detailed breakdown of the changes here, in case you love reading about taxes or just feel like punishing yourself.
For an easier approach, Business Insider ran the numbers for the average single person earning between $25,000 to $175,000. Each group saved between 11-18% on their federal income taxes.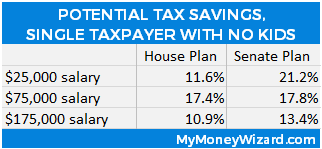 The biggest break actually came to those in the $75,000 salary range. Hey, that's me! Wohoo!
Meanwhile, they ran the numbers again for a family of four and found anywhere from a 1% increase to a 56% reduction.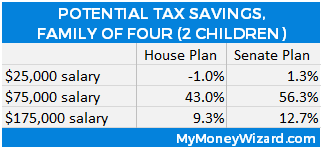 It's not all rosy though…
Among the complaints, both plans eliminate most itemized deductions. While 70% of tax payers don't itemize, that still means 30% of hard workin' itemized deductin' 'Muricans could get the shaft from this change.
(There's also a little something about increasing the federal deficit by about $1.5 trillion dollars over the next 10 years. Sliiiight problem for us millennials set to inherit this ticking time bomb of a federal balance sheet. Plus, the cuts aren't permanent, which could leave folks with the bait and switch of the century. But those are topics for another post.)
And if there's one feature of the plan that has people fired up more than any other, it's who's set to win the most from these sweeping changes…
Any guesses?
The tax reform's biggest winners? Those damn corporations.
Yep, the rich corporations win again.
While individual tax rates are dropping a couple percentage points, both plans have the corporate tax rate slashed from 35% all the way down to 20%.
"Hey, no fair!" you might be saying.
On the surface, this looks like yet another benefit for the those greedy corporate executives intended to cut out the middle class.
But don't worry, there's a way to benefit from those corporate tax cuts, whether you're a poor working family raising The Brady Bunch or single dude making a killing.
Become a corporation owner by buying stocks
When you buy a stock, you're not just buying a piece of paper or numbers on your computer screen. You're buying a percentage of ownership in a real company.
This might be boring investment 101, but it bears repeating in times like these.
When the emotions of tax breaks for the rich start getting thrown around, and the 99 percent start the rallying cries against those greedy corporations, everyone forgets we already have the most inclusive system in the world for anyone to profit alongside the corporations.
It doesn't matter your age, race, annual salary, or sexual orientation. Step up to the stock market with $30 in your pocket, and congrats! You're Bank of America's latest corporate partner.
So, how to profit off the tax cuts?
At this point, you might be thinking, "Yeah, big deal… how does a tiny sliver of a company let me take advantage of these tax changes?"
It's pretty simple actually. When corporations receive tax cuts, it directly hits their bottom line. By saving millions (or billions) on their tax bill to the government, their profits increase.
And earnings are the biggest driver of stock price. In fact, investors measure the value of a stock using something called the Price to Earnings ratio (aka the P/E Ratio).
If you've ever watched Shark Tank and heard Mark Cuban angrily shout "You're nuts! At that valuation I'm paying 20 times earnings!!" then you're already familiar with the idea of the P/E ratio.
Imagine the stock market has a P/E ratio of 17. This means investors are willing to invest $17 for $1 of earnings.
Now, imagine the market's earnings suddenly get a huge boost from money raining out of the sky, or even say, a massive decrease in taxes paid. We know investors are already willing to pay $17 for $1 of earnings, but now there's more than $1 of earnings to go around.
For the market to continue to trade at the same PE multiple, the price of stocks has to increase. Early estimates say the market would have to increase about 7% to adjust for the impact of the proposed tax cuts.
Lift yourself above the political BS
Of course, nothing is guaranteed in investment. It's possible the anticipation of the cuts is already priced into the market. Or maybe not.
This article isn't meant to promote market timing. That's a bad move, and over the long run tends to leave you broke.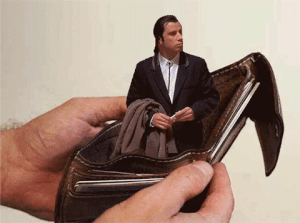 But one thing is certain. The dudes in power are set on seeing this one out.
Whether their decisions translate to the good of the country is debatable. Whether it translates to the good of companies is less so.
More money for companies is good for companies. They can use that money to invest, grow, or distribute profits to owners. When these things happen, it's good for the owners of those companies.
Put yourself in position to be an owner. 
You can do so for as little as one cent, since that's the share price of some of the market's cheapest stocks. It might sound silly and inconsequential, but it's not.
With that tiny investment, you're elevating yourself above the fold of Joe Average, Regular Tax Payer. Instead of staying at the mercy of politicians, you'll win alongside those lobbying corporate executives.
Not only will you share in their profits, but your portfolio will also benefit from any of their tax savings.
Unfortunately, most people won't do this.
The media knows this, so they promote the spin that will resonate with the biggest audience – that there's nothing we can do about the decisions of the elite.
After all, saving money and investing is hard. Shopping on Amazon and complaining about politicians is easy.
Most people do more of the latter than the former. They buy junk instead of investments. When their strategy doesn't work out, they shift the bulls-eye of blame to whoever the TV says is today's enemy.
My final advice for the Trump tax cuts?
Worry less about the potential impacts of decisions outside of your control, and use investment to lift yourself above this back and forth political BS.
Get your spending in check, and put your money to work as a corporation owner. Keep those index fund contributions strong, and ride the wave of corporate benefit.
Become an investor, not a consumer, and you'll join the corporations in their party of tax savings.
---