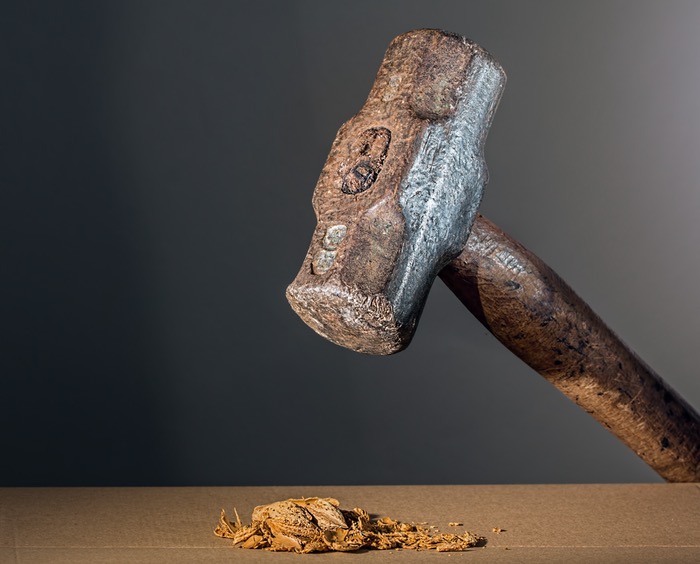 In order to keep you from snoozing off halfway through my articles, I always do my best to mix as much personal experience into any post as I can. After all, we've all read that textbook with all the right answers but no personal story. Who'd want to read a blog like that?
But there is one topic I admittedly struggle with.
I receive a lot of questions from readers dealing with debt. Unfortunately, that's one area where I know some textbook answers, but I can't provide much personal expertise. I avoided student loans, I basically paid cash for my car, my credit cards get paid in full, and I happily rent an apartment.
This debt aversion might be the single most important factor to my unusually high net worth, but it's a serious hindrance to my street cred as a debt blogger.
So, I've gone with the tried and true approach to learning. Surround yourself with people who know something better than you do, and hope a little bit of their expertise rubs off.
Which brings us to today's monster post. I've rounded up 11 of the internet's top debt bloggers, and they're all here to share their stories. Some overcame daunting student loans, and others were drowning in credit card debt. But they've all successfully overcome their debt, and I've asked each to share their single most important tip for killing debt.
This blog is honored to have them, and I hope you all learn as much from their contributions as I did. (If you're not quite prepared to read all 2,500 words just yet, click here to skip to the key takeaways.)
1. Get the Right Mindset
Steve from ThinkSaveRetire.com recently sold his home, becoming mortgage free and retired, all at the age of 35. Steve enthusiastically shares his most important debt payoff tip:
You need to want it!

It's easy to say that you want to be debt free. It is an admirable goal, no doubt. But without entering the game mentally to see this goal through to the end, you probably won't make it. Becoming debt free is a mind game as much as it is a savings game. If we want things bad enough, we tend to do the things necessary to make them happen.

Want it, baby. Want it!"
2. Develop a Strategy
Melanie Lockert is the author of Dear Debt: A Story About Breaking Up With Debt and founder of DearDebt.com.
She knows a thing or two about dealing with debt – after getting serious about her debt emergency, she paid off $81,000 in student loans. Here's her advice to any Money Wizards looking to get out of debt:
In order to get out of debt, people should look at how much they really owe and calculate the interest they are paying. This can be shocking if you are in denial! Then, focus not only on cutting back but also on earning more. I was able to supercharge my debt repayment by doubling my income through freelancing.

To stay motivated, keep yourself accountable with accountability partners, a blog, friends, etc. Most of all, keep focused on what your life will look like after debt. Remember that debt is temporary and it is possible to get out of debt. You just have to believe and remain consistent."
3. Visualize!
Chris Peach is a money coach at MoneyPeach.com, with a great tip on how to stay motivated:
Visualize it. We drew a giant debt-thermometer and every time we paid off more debt, we would color it in a little more.

Also, visualize the long term. Paying off a number will get tougher as the months go on, but visualizing what you'll be doing, where you'll be going, and what life will look like once you're debt free will keep the motivation alive during those ehhh days of debt payoff."
Has coloring a thermometer ever been so rewarding?
4. Avoid Lifestyle Inflation!
The Financial Panther graduated law school with $87,000 in student loan debt, but he decided to pass on living like a big-shot lawyer:
Avoid lifestyle inflation as much as you can!  I think lifestyle inflation is the #1 reason why most people aren't able to get rid of their debt.  You simply can't pay off debt if you're spending everything you make.

Instead, do your best to keep things in perspective.  Remember that there are a lot of people out there who can't spend a ton of money simply because they don't make that much.  If other people can live on less, my guess is that you can live on less too.  I always like to think back to how we lived as students. In hindsight, it looks really weird to live that way, but when you think about it, living like a student wasn't so bad.  If you can just keep that perspective in mind, you can really do a lot to avoid the lifestyle inflation trap and you'll probably put yourself in a great financial position later down the road."
Whether you're a lawyer, regular joe, or even Johnny Depp spending $2 million a month (true story!) lifestyle inflation can eat up any salary. By avoiding lifestyle inflation, The Financial Panther was able to use his salary towards paying down debt. Just two and half years later, he was free.
5. Track Those Expenses – You Just Might Be Surprised
Brian and his family climbed their way out of $109,000 worth of debt. Here's Brian detailing his strategy of managing expenses:
One of the first things we did to tackle our $109,000 worth of consumer debt was to get organized. Often people refer to it as a budget. I often use the "B" word, but when you think about it, simply put it's a plan for your money.

How often do you do things without a plan? Do you cook without a recipe? Play a game without rules? Attend work or school with a schedule? So when we started thinking about our money in those terms the "B" word didn't seem so overwhelming or restricting.

Very easily with pen and paper we were able to get a rough idea of all of our income and expenses down. Having all the categories of a budget laid out like food, gas, utilities, etc. gave us a clearer understand of where our money was going, compared to just days earlier when we had no clue. Still something didn't seem completely actuate.

We began tracking expenses daily, simply by saving all receipts each day and tallying them up in categories. When we looked over this monthly we quickly identified spending leaks. Things like eating fast food meals out, out of convenience, and if eliminated could save our family of five $200 per month. Subscriptions service items that when we asked ourselves if these items were a "want" or a "need" they were clearly wants and could be eliminated too.

With that clarity of tracking our expense we were able to free up money to help pay off our debt quicker. The mindset changes took a few months to set in, but we stayed motivated with the end goal of being debt free in mind."
Brian is now debt free and spreading the word of financial literacy over at DebtDiscpline.com.
6. Earning Potential Is Unlimited
Robert Farrington runs TheCollegeInvestor.com, which he founded after dealing with his own student loan debt after graduating business school.
When most people talk about getting out of debt they think about budgeting and saving. I think about earning more. You see, you can cut and save money all you want, but there is a finite bottom. With earning more, the potential is limitless.

As you look for ways to get out of debt, don't forget that earning more is usually the easiest path. Yes it requires more time, effort, work, and energy, but the amount you can suddenly put towards your debt is usually the largest of any scenario."
7. Find Creative Ways to Earn More
Michelle from MakingSenseofCents.com paid off $40,000 in student loan debt by the age of 24, within just 7 months of starting her debt payoff journey. When I asked her how she accomplished such a crazy feat, her response echoed Robert's earlier thoughts:
It was 99% due to making extra money. Before just a few years ago, I knew nothing about making extra money – I didn't even really know that it was something that people spent time doing. Then, I was introduced into the personal finance blogging community and it opened up many doors for me. I learned how to use my time better so that I could make extra money, and this included blogging, taking surveys, completing mystery shops, and more."
Michelle even put together the most exhaustive list of side hustles I've ever seen. Check out her 75 Ways to Make Extra Money.
8. Pocket Those Raises
Chris from KeepThrifty.com is on a mission to become completely debt free by 2020. Here's his unique trick for paying down debt faster:
Pretend you never get a raise and apply any raise you actually get immediately toward paying down your debt."
I've used a similar strategy over my short career to increase my savings rate with each raise. The best part? You don't even notice the "sacrifice" since your lifestyle stays just as great as ever.
9. This is not a drill… Prioritize!
Bobby Hoyt was able to pay off $40,000 of student loans in a year and a half… on a teacher's salary. He blogs over at MillennialMoneyMan.com, and is even crazy enough to allow me to guest post.
The biggest strategy that helped me when I was paying off my student loans was making my payment the top priority. Every two weeks when my paycheck dropped into my account, I immediately made the biggest payment I could towards my debt. Once Sallie Mae had the money, there was no way I would be able to waste it on something else instead.

My "lightbulb" moment came when a successful entrepreneur that was a friend of my wife's family got real with me. My wife and I were out water skiing on his boat one day, and we were surrounded by all these awesome mansions on the lake. I told him I really wanted to live in a house like that someday! His response was: "You're a teacher with $40,000 of student loan debt. That's not going to happen". I started paying off my loans the next month."
Although I tend to think mansions are overrated, Bobby brings up a great point. Killing your debt is the first step towards building wealth, and anyone focused on becoming rich has to break those shackles first.
10. Give Each of Those Lazy Dollars a Job
Holly Johnson, author of ClubThrify.com, struggled with saving until she took an unusual approach to budgeting:
Getting out of debt is a lot easier when you're able to maximize each dollar you earn. Our favorite budgeting strategy – zero-sum budgeting – helps you do exactly that. When you use a zero-sum budget, you plan out all of your spending based on last month's income. By giving each dollar "a job," you're reducing waste and making sure your money is working for you."
She brings up a great point. Dollar bills make for inherently lazy employees, and without careful oversight, most will slip away to be spent here and there without much thought. As CEO of your little money employees, you're not here to allow those dollars to lounge away on cushy jobs like buying dinner or spending on entertainment. Instead, you're ordering those dollars work towards paying down debt and building wealth!
Holly details the zero sum budgeting strategy in her new book, Zero Down Your Debt.

11. Keep Focusing on Your Dreams
Ms. Montana from Montana Money Adventures has about one of the wildest debt turnaround stories I've come across. She used all the previous pieces of advice when she visualized a life without $50,000 of debt, and then she developed a strategy to make it happen.
Take it away, Ms. Montana:
The turning point for our debt came when the University sent home Mr. Montana's estimated student loan repayment amount. For two people with low starting salaries, it was a devastating number. We had big dreams. We wanted to travel, adopt and buy a home. It felt like that loan payment was going to steal all of that away from us. Plus we had credit card debt. And medical debt. All together it was over $50,000. Going into a field where starting salaries averaged $18k-$22k a year.

The trick for us was to clearly see the vision we had for our life, how the debt was holding us back, and what we could accomplish if we were debt free. Then we looked at all the options. And just did whatever it took.

We quickly paid off the debt and kept going. We had saved our first 100k by the time I turned 24. We moved abroad and travel through 27 countries. We paid cash for our first home. We were able to quit our jobs and adopted a sibling group of 3. I just turned 34 and we are now able to custom create our ideal life. Picking and choosing exactly how we spend our time and energy.

It all started by getting debt free. If we had a huge mortgage, student loans, car payments and credit card debt, we would still be working the 9-5. But we had bigger dreams. We didn't want to waste our life constantly paying off debt. Taking on more debt, paying off more debt, in an endless hamster wheel. Our dreams are bigger than an expensive vehicle or new cell phone with a big data plan."
Key Takeaways
What's amazing to me is how so many different approaches can lead to the same thing – debt freedom.
Looking back at all the responses can seem overwhelming, but I'm seeing a few common themes here:
You've gotta get a handle on where your money is actually going. This makes sense. Without doing so, you're only wandering through the dark and hoping for the best. A system like Personal Capital which automatically tracks your income and expenses (for free!) can be a godsend here.
Find something to motivate you. Whether it's a desire to be free, or fear of paying too much in interest; find your motivation and remind yourself of it constantly as you continue this journey.
Cutting your expenses is the low hanging fruit. It's the obvious step and for good reason; tackling your expenses is critical to getting the most out of your dollars.
Raising your income is a little more difficult, but doing so supercharges the repayment process.
As all these efforts weave together, hold fast. Avoid lifestyle inflation and remember your priorities.
Above all, stick to it! All of these authors are able to write about their progress because they kept going! A payment here and there may not seem like much, right until you look back on the smoldering crater that used to be a giant mountain of debt. Enjoy the freedom!
As always, those with student loans may want to check into SoFi. SoFi's average student loan refinancer saves over $17,000 in interest payments by refinancing. At the very least, take 3 minutes and compare your options are using LendEdu's free interest rate comparison. 
---
Related Articles: