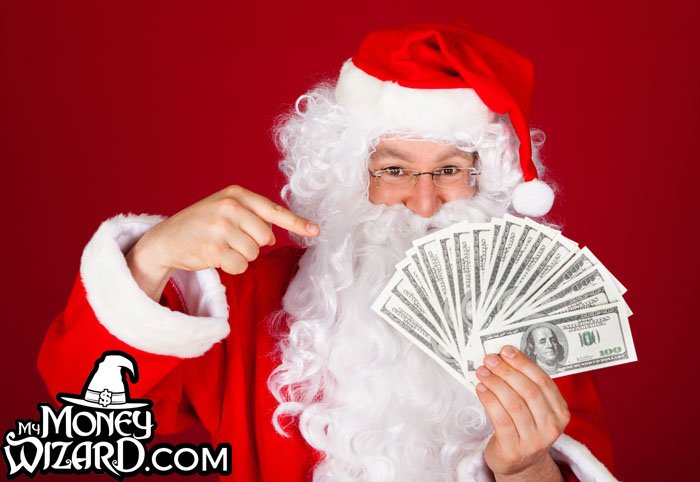 Do you have a special someone in your life, who just happens to be a totally frugal penny pincher?
You know the type. They're all about saving cash, and you've definitely heard them rant once or twice about the "commercialization of the holiday season."
These people are a nightmare to shop for!
For these folks, the usual go-to choices, like that newest iPad with a retina-searing display, or that BRAND NEW the 900 inch ultra-ultra-ultra HDTV will be met with rolled eyes. And possibly a lecture about compound interest.
How do I know? As much as I hate to admit it, I'm one of them. And I know the awful gift planning nightmare that I personify.
But fear not, generous gift giver! Not all hope is lost.
Because there are certain types of gifts that even the most practical penny-pincher can't help but tear open with excitement, before cracking an impossible smile and reluctantly embracing the holiday cheer.
How to shop for frugal people
It's not that we're scrooges, per say. It's just that we hold an unusual appreciation for the value of money, and it breaks our hearts to see you blow it on us.
BUT, there is a little cheat code to our gift receiving hearts.
For us frugal folks, it's all about practicality.
A purchase that will save us money in the long run? A definite hit.
Something that saves time? Can't argue with that either.
Something that we really need/want, but we're just too damn cheap to buy it ourselves? A gift here can relieve some serious frugality-induced stress.
The last one is particularly tricky, and your best bet is to stick to something you've directly heard them hint at. Assuming your frugal friend secretly wants to splurge on that retina-searing iPad display is probably a recipe for an unused re-gift.
With that in mind, I thought it'd be fun to go back through my own Amazon shopping history, wish list, and all-time favorite gifts to brainstorm some of the best gifts for frugal people.
(And of course, there's nothing stopping you from gifting these to a not-so-frugal friend. Score one for subtle nudges towards frugality!)
Basic Kitchen Supplies:
Frugal people love to cook! Basic kitchen supplies might be the ultimate gift of practicality. No matter how much you're into saving money, you'll still need to fill your body with fuel 2-3 times per day.
Plus, if a kitchen purchase encourages more cooking at home, you're directly saving money. All it takes is one or two passes on a $30 restaurant trip for your kitchen splurge to be a net win.
Here are some of my all-time favorite kitchen buys:
1. A good chef's knife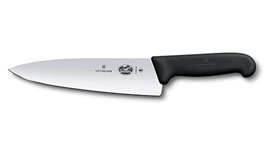 THE most important piece of equipment in the home chef's kitchen. And because a good chef's knife is literally used daily, a frugal person can't ignore its practicality.
For all-purpose function, you'll want to go with an 8" Chef Knife, without serrations. For years, this was literally the only kitchen knife I owned, and I used it for everything from pairing small fruits to butchering up giant cuts of meat.
A good chef knife can cost a fortune, but that's usually unnecessary. This 8" Victorinox Chef's Knife is widely considered the best value on the market. I've personally owned it for years and couldn't be happier.
2. A tri-ply sauté pan
Continuing with the theme of a minimalist kitchen. If there's only one piece of cookware you need, it's a high-quality, stainless steel sauté pan.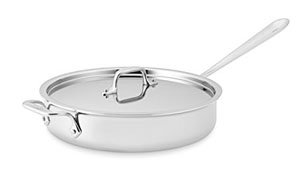 Most people mess up and go with one of those black-coated nonstick pans. While these are nice and convenient, the unfortunate truth is that over time, that Teflon coating will flake off. Obviously, this poses all sorts of health concerns. But even more annoying, it means our frugal-someone has to repurchase the same piece of equipment every few years. Speaking from experience, if there's one thing frugal people HATE, it's replacing things they already bought.
That's where a stainless steel non-nonstick pan comes in. With proper care, the pan will last a lifetime.
Plus, since food can actually stick to the pan, a good home chef can create that perfect golden brown caramelization on their meats and veggies. Throw some wine or broth in there to deglaze the pan, and oh my… you're about to earn your first Michelin Star.
This All-Clad Sauté Pan is my pride and joy in the kitchen. I literally use it for everything except eggs. The initial price stings a bit, but over the long run it's noticeably cheaper than replacing the nonstick junk every few years. Plus the food tastes so much better…
(BTW – This is one instance where the brand name is actually worth it. All-Clad owns some sort of patent on the tri-ply technology, which allows for more even heat distribution.)
3. A cast iron skillet
A well-seasoned cast iron skill can handle all your nonstick cooking duties without flaking off chunks of cancerous Teflon flakes in your food.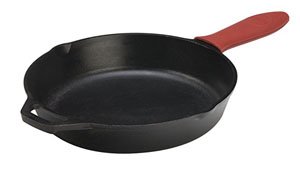 For the ultimate cast iron experience, look for one of those old-school antiques at a flea market. They literally don't make them like they used to. Back in the day, they smoothed down the inner surfaces during the machining process. Today, all the cast irons on the market have a rough, pebbly surface that makes keeping things nonstick more labor intensive.
Wagner and Griswold are the two premier antique cast iron manufacturers, but you'll have to hope to get lucky at a flea market.
If you're looking for something new and amazon convenient, Lodge's 12" Cast Iron Skillets are considered the best value on the market.
4. A good dutch oven
Looking to up your soup game? A quality dutch oven is a fantastic choice.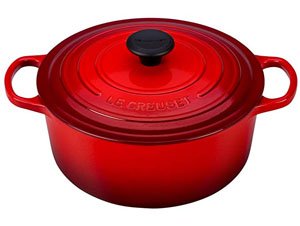 A good dutch oven comes as enameled cast iron, which allows for awesome browning of food and incredible heat retention. And their tall sidewalls allow for soups to really bake in the flavor of the evaporating fumes.
My Le Creuset Dutch Oven is one of my favorite possessions. Their price is insane, but the excitement of cooking with it has saved me countless takeout orders. It's also not uncommon for people to regale tales about their models reaching 50+ years old, so calculating the price divided by my lifetime helps me sleep at night.
For a more reasonably priced option, Lodge's version gets great review at a quarter the cost.
In either case, 5.5 to 6 quarts seems to be the perfect size for all but the biggest of families. My 5.5 quart makes a bomb batch of chili, filled with 3+ pounds of meat and somewhere around a million cans of tomatoes.
5. A solid wooden cutting board
Another instance where durability wins out over the long run.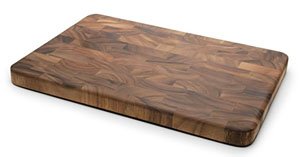 Plastic cutting boards hold knife gouges and can become unsanitary in a hurry, which means constant replacing. On the other hand, a good wood cutting board can be a kitchen staple for years on end.
Pro Tip: Knife gouges can be sanded out of a wooden cutting board's surface with some basic sandpaper.
Plus, there's something oh-so-satisfying about the sound of a kitchen knife hammering against a wooden surface. Chopped kitchen, here I come!
6. The classic slow cooker
Is there any gadget quite as symbolic of frugality and practicality as a slow cooker?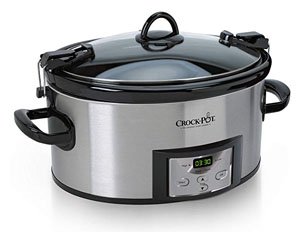 The option to load up a slow cooker in the morning and have a hot dinner waiting for your return is like a cheatcode to reducing your restaurant spending.
This crockpot might as well be the Cadillac of slow cookers, and it's still only 40 bucks. It comes with programmable settings, a countdown timer, and even a locking lid for when you get dragged to the next potluck and you're not in the mood to clean spilled queso off your passenger seat.
7. A meat Thermometer
Forget all those wives tales about touching the palm of your hand to judge different doneness of meat, or whatever else vodoo witch magic you're relying on.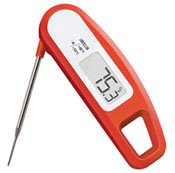 It turns out, even the best chefs rely on a quality meat thermometer to get perfectly cooked meat, every time.
This thing is my secret weapon in the kitchen. Trust me, the first time you taste a perfectly cooked 165 degree chicken or 130 degree medium rare steak… game over. (Protip: meat gains an extra 5 degrees while rest, so pull it off just before you hit your target temp.)
The price tag will save you so many steak dinners it will pay for itself 10 times over.
High Tech Gadgets that Actually Save Time and Money:
Okay, I'll admit some of these get quite luxurious and maybe even a little ridiculous. But, you can't argue that these gadgets aren't all practical too, and most could save you serious cash in the long run. Not to mention time – our most valuable asset.
7. A robovac
I've raved before about how much I love my robovac. I own a dog and a cat, which means lots of sweeping if I don't want disgusting floors. I was probably sweeping 10 minutes a day, or otherwise facing the horrifying feeling of hair and dirt on my bare feet. (Still, I shudder just thinking about it…)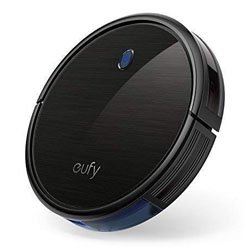 A robot vacuum allows me to completely outsource that chore. We could play the monetary game; 10 minutes of sweeping a day is 1 hour 10 minutes a week. That's over 60 hours a year, or about $2,000+ at my hourly salary.
But more importantly, cutting down on chores simply frees up my time and seriously reduces my stress.
I went with the Eufy 11s, which is considered one of the best value robovacs on the market. I couldn't be happier. (And as a plus, it doesn't cost half a grand like most of the competitors.)
8. The Robot Mop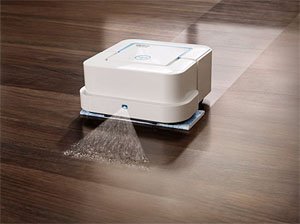 After being blown away by the robovacs, a robot mop has been my latest curiosity. Like a robot vac, these things zoom around doing our chores for us like we're living in The Jetsons. The main difference from a vacuum, obviously, is the emphasis on hardwood and tile floors.
This one seems to get the best reviews at the most reasonable price
9. Nest Learning Thermostat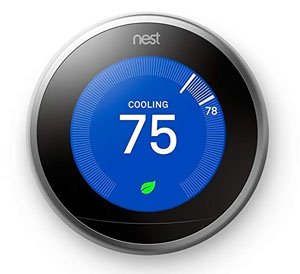 This one definitely fits the bill for practicality and long term savings.
Programmable thermostats, like the Nest Learning Thermostat, can automatically learn your habits and adjust room temperature based on those habits. These things are much more accurate than the traditional programmable thermostats, so you can save on heating and cool when they're not home.
10. Instant Pot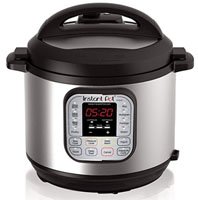 Like a slow cooker on steroids. The Instant Pot claims to combine 7 kitchen appliances into one, since it can do the job of slow cooking, pressure cooking, rice cooking, and even some wild ones like making homemade yogurt.
I'd normally be pretty skeptical of those claims, but these things have started to reach cult-icon status with all the owners I personally know.
This one is definitely a time saver. The pressure cooking feature slashing cooking times; we're talking finished rice in 4 minutes or less. And everything looks to be set-it-and-forget-it style.
Books:
Frugal people love reading too! And while some might be so hardcore they only get their books from the library, gifting them their own personal copy of a favorite, or hunting our some new reading ideas, is sure to be a hit.
11. Awesome finance books
A few months ago, I put together a list of the best finance books I read before saving my first $100,000. There's no doubt in my mind that reading through these classics will make your frugal gift receiver a whole lot richer.
12. The gift of audio books
Can we take a moment to stop and appreciate the modern productivity hack that is an audiobook?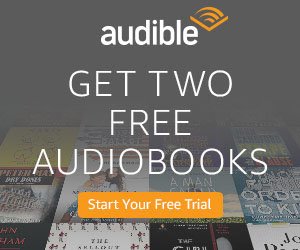 With an audiobook, we can turn mindless downtime into an opportunity to read and learn. How cool is it that we can now read while cooking, driving, exercising, gardening, and anything else that allows speakers or headphones?
For the past few years, I've gifted Lady Money Wizard a subscription to Audible, Amazon's audiobook service. She raves about how amazing it is to listen to books all throughout the day.
(You can even get two books for free if you start a trial through this page!)
13. A library card
Here's a totally free gift option. Ask your local library about gifting a library card. Most have options for gifting a library membership that to that special someone in your life.
Plus, most libraries now feature free apps that let you listen to free audiobooks, or even download books to your Kindle!
Miscellaneous Gift Ideas for Frugal People:
Kind of a catch all bucket here, but it's hard to beat the practicality and money saving capabilities of these ideas.
14. LED Light Bulbs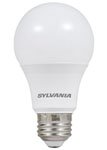 LED light bulbs came out a few years ago and immediately made incandescents look like something from the stone age.
If your frugal friend hasn't already swapped out his home lighting options, gifting a few LED light bulbs could save the typical homeowner nearly $100 a year.
15. Reusable Water Bottle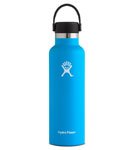 Bottled water has to be the biggest scam of all time, and even reusable cups are trashing the environment.
A reusable bottle like this Hydro Flask or the Klean Kanteen are incredibly practical and environmentally safe.
16. Water Filter
One of the biggest reasons we tend to default to the ripoff of bottled water is that we don't trust the tap water. This Brita Filter can ease those concerns by providing delicious, clean water every time.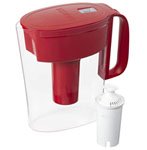 17. Darn Tough Socks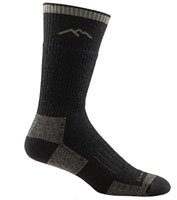 Socks for Christmas is like a bad cliche. But I gotta tell you, I LOVE getting socks for Christmas!
You can pretty much never have too many socks, and some of the socks these days are so comfortable they're mind blowing.
Darn Tough is one of those socks. (Women's version here) They're incredibly comfortable, and the quality is unreal. I mean they come with a lifetime warranty. LIFETIME. For a sock…
18. Heated Mattress Pad
Why spend hundreds a month cranking up your heat at night, when you can keep your bed warm and toasty with a heated mattress pad.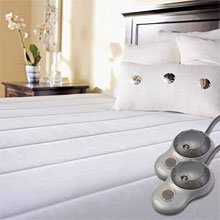 20. Reusable Lunch Bag
I'm constantly battling eating out at lunch vs. bringing my own to save money. That battle gets a little easier when you have a good reusable lunch bag.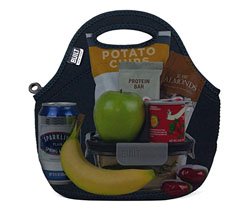 This version is particularly good. It's practically insulated like a vault, so your food stays cool and safe. It's also functional, because it's big and flexible, which means you don't have to bother with portioning out salad dressing – you can just toss the whole damn bottle in there.
But the best part is its flat, rigid bottom. Anyone who's ever had to clean out the mess from a tragic lunch bag spill knows how nice it it to keep things upright.
21. Nothing
If all else fails, don't get your frugal friend anything.
I know, I know… this makes you eager gift givers squirm with discomfort. (If it really bothers you, you can go the gag gift route, and literally buy them nothing.)
But most frugal folks I know would be perfectly fine with this arrangement, me included.
Because for all the shopping and stress we impose on ourselves for the holidays, it's important to remember what those holidays are really about – spending time, not money, with our friends and family.
---