Welcome to another edition of the celebrity net worth series!
This week we've got a wild ride of a story that somehow makes Kevin O'Leary's progress towards billions seem boring! Hope you enjoy!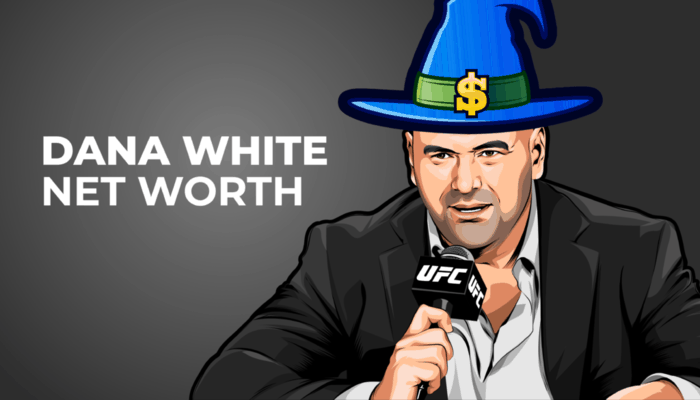 Introduction
Dana White is the president of the Ultimate Fighting Championship (UFC).
He and his business partners purchased the struggling mixed martial arts organization for $2 million in 2001. In 2016, they sold the UFC for $4.025 billion dollars.
As of 2019, Dana White's net worth is approximately $500 million.
Early Life
Dana's entrance to the fight game started with a wild story, that in many ways is symbolic of the business roller coaster he would spend the next 20 years living.
Although he'd been boxing since he was 17, he didn't fully jump into combat sports until age 19.
At the time, White worked as a bellman at a luxury hotel. He made good money and described it as a good job, but he noticed most of coworkers viewed the job as a career.
That's when everything changed:
I was literally standing in the lobby one day, and I'm like, "What the hell am I doing here? This isn't me. This isn't what I want." And I walked out the front door…

One of my good friends asked me, 'What are you doing? What are you gonna do?'

I said, "I want to be in the fight business." [My friend] said, "That's the dumbest thing I've ever heard in my life." -Dana White
Entering the fight business (and a run in with the mob…)
So, without even so much as a car to his name, Dana quit his stable job.
He started biking everywhere. Including, to the doorstep of local boxing legend, Peter Welsh.
Dana asked Peter Welsh if he could work with him. His goal was simple, if not insane – to learn everything there was to know about the fight game.
Peter reluctantly agreed. Dana then spent the next three years working for free. Peter put him on every job from boxing corner man, to referee, and even to fight manager.
Around age 25, Dana's life took another unexpected twist. After one too many intimidating phone calls, Dana bought a one way ticket to Vegas.
Why? He need to flee town to avoid the Irish Mob. (It's actually a crazy story – hear Dana tell it in his own words:)
Losing Everything, and Starting Over in Vegas
Dana left everything he owned in Boston, and he found himself starting completely over in Las Vegas.
The only thing he had to his name, other than the airplane suitcase he brought with him, was the knowledge of the fight game that he'd learned over the past few years working in boxing.
So, he opened a boxing gym.
Shortly thereafter, his life course would again change significantly when he attended a friend's wedding. There, he bumped into his old friend Lorenzo Fertitta.
The two had gone to high school together, and were surprised to learn they were both involved in the fight business. Although Lorenzo and his brother Frank were local casino owners by trade, Lorenzo had recently joined the Nevada State Athletic commission, the entity responsible for regulating boxing matches.
In another chance encounter, Dana, Frank, and Lorenzo met some UFC fighters while out at a bar. Through this connection, Dana began managing the fighters, including future UFC champions Chuck Liddell and Tito Ortiz.
In late December 2000, the UFC's original owner called Dana. The owner admitted the company was completely bankrupt. Dana White, still just a manager to some of the organization's fighters, immediately called Frank and Lorenzo Fertitta. Dana threw out a wild idea – they should buy the UFC.
One month later, the three purchased the UFC for $2 million dollars, with Frank and Lorenzo Fertitta providing nearly all of the investment from their casino revenue.
Rise to Wealth – Running the UFC
The Fertitta brothers immediately appointed Dana as the new President of the UFC.
At the time, the UFC was still a mostly underground sport. It was unregulated in several notable states, including Nevada. Due to its reputation as "human cockfighting" you could not watch it on cable, and pressure from Congress actually had it banned from pay-per-view.
As President, Dana worked with his now co-owner Lorenzo Fertitta, who sat on the Nevada State Athletic Commission, to get the UFC regulated in the country's biggest fighting state. They succeeded, and over the next 3 years, the company grew notably.
However, the UFC was still not profitable.
In fact, the UFC had burned through nearly $40 million dollars.
Although the Fertitta brothers were able to keep the lights on using their casino revenue, one day Lorenzo called Dana. He didn't want to keep losing millions of dollars. He told Dana they needed to sell.
Dana made some phone calls and found a potential buyer, who was willing to offer $6-7 million for the company.
Lorenzo initially agreed to sell the company and eat the roughly $35 million dollar loss. Then, Lorenzo changed his mind overnight.
They would not sell. They were going to see how far they could take the UFC.
The big turning point…
UFC saw its first turning point with UFC 40. The event featured WWE wrestler Ken Shamrock against Tito Ortiz, one of the UFC's most popular fighters at the time. The event shattered the UFC's previous pay-per-view records, and showed hope for the sport.
An even bigger break came in 2005 when Dana secured a deal for a UFC-themed reality television show, which featured up and coming fighters competing for a UFC contract.

Although several networks immediately rejected the idea, Dana was eventually able to convince Spike TV to agree. (Only after the UFC offered to pay all $10 million in production costs themselves.)
For the first time, viewers could watch the UFC on cable television. (Without purchasing a pricey pay-per-view event.)
The first season drew surprisingly strong TV ratings, and culminated with a dramatic season finale – a live bout between Stephen Bonnar and Forest Griffin. The fight was so action-packed that many considered it one of the best fights in UFC history at the time. To this day, Dana credits the event with saving the UFC.
With the UFC's increased visibility, pay per view purchases and TV ratings continued to soar.
In less than a year, pay-per-view revenues skyrocketed to over $222 million dollars, passing both professional wresting and boxing for the first time in history.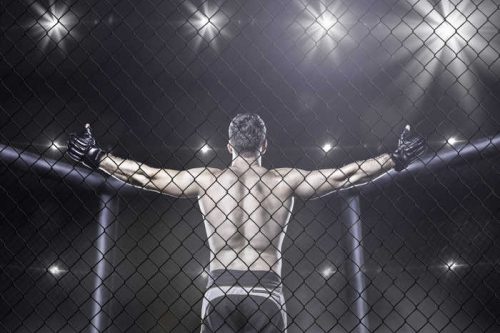 Almost overnight, the UFC was profitable enough to begin purchasing competing companies. By 2007, the UFC purchased its last major competitor, the Japanese owned Pride Fighting Championships.
The UFC continued its rapid growth and expansion for the next several years.
A Shocking Multi-Billion Dollar Sale
Less then a decade later, on July 9, 2016, Dana White and his partners sold the UFC for $4.025 billion dollars.
It was the largest acquisition in sports history.
Dana White, who owned 9% of the company, earned over $360 million dollars in the deal.
After the sale, Dana remained as President of the UFC. When asked why, he explained:
I can't stand three day weekends. I'm like, man I want Monday to come again. That's how much I love what I do."
Over the next several years, he continued to help grow the UFC as president.
Dana White Net Worth – $500 million
Dana White's net worth is derived from his ownership interest in the UFC.
In January 2019, Dana and the UFC signed a five-year broadcasting deal with ESPN for $1.5 billion. The deal increased the value of the UFC to $7 billion, increasing Dana White's net worth to half a billion dollars.
Dana White's House
In 2006, Dana purchased a 5,966 square foot house for $1.95 million from his friend and co-owner of the UFC, Frank Fertitta.
Then, after the UFC's sale for $4 billion in 2016, Dana went on a house-buying spree:
In October 2016, he purchased a 7,700 square foot home for $1.8 million

In January 2017, he purchased a 5,500 square foot home for $2.4 million

And in March 2017, he purchased a 4,700 square foot home for $2 million
All four houses sit near each other in the same Las Vegas neighborhood, making Dana's large collection of homes even weirder.
Dana White's Cars:
Dana owns over 16 cars, including:
A smart car he bought for $12,000 after a drunken night out with friends

One Datsun B210, his first car ever. He says he bought it as a reminder of his humble beginnings.

1971 Plymouth Barracuda

Ducati motorcycle

MV Agusta motorcycle

Two BMW M6s

Ferrari Testarossa

Ferrari F430

1969 Chevy Camaro

1969 Ford Bronco

2012 Range Rover

2014 Bentley

Custom Harley Davidson

Land Rover Defender V8

Cadillac Escalade ESV

Bombardier Private Jet (Okay, not exactly a car, but cool enough to include…)
(Source)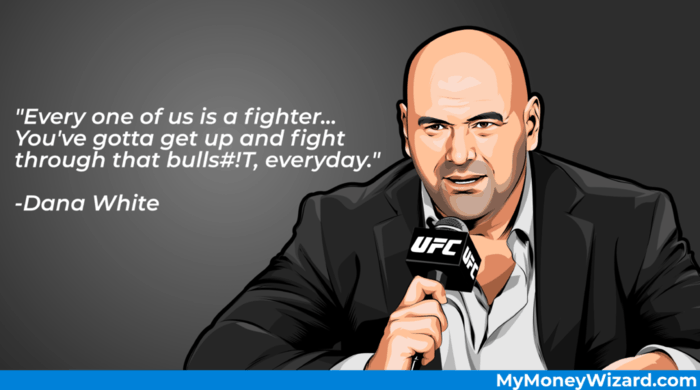 "Every one of us is a fighter… You've gotta get up and fight through that bull$#t, everyday. You have to." – Dana White
"If you're dreaming of F-You money, you're in the wrong place already… I just made more money than I ever dreamed I would make. I don't want to leave." – Dana White
"Once you break out of that and you find what it is that you truly love to do, it's really not work. It's actually fun. And you enjoy every day of your life." – Dana White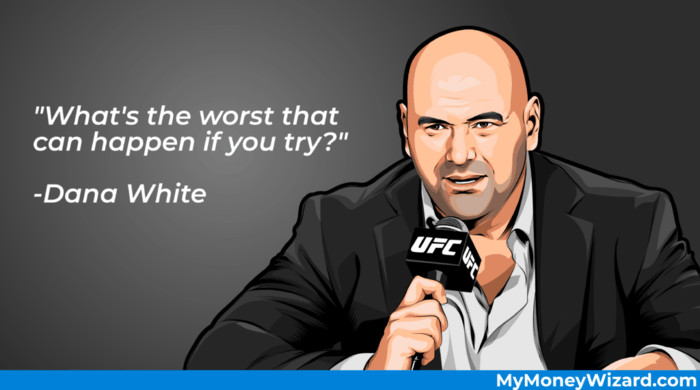 "What's the worst thing that can happen if you try?" – Dana White
"I always knew two things. If I brought these athletes in and you met them, you would realize the type of people that they are, and they're not who you expect them to be… And if I could you to the live event, I gotcha." – Dana White
3 Lessons You Need to Know from Dana White's Fight to Millions
As is the theme of this series, just scratching our heads at Dana's strange collection of million dollar houses isn't all that valuable for the rest of us hoping to make it.
What I love about Dana White's story is how perfectly it shines a light on some common lessons.
1. Flexibility is everything.
Where would Dana White be if he wasn't willing to change plans?
It's pretty wild to imagine him as a 50-year-old bell hop, making $30K a year instead of changing the fight game forever, and being rewarded with a $500,000,0000 net worth for his efforts.
And where would he be if he didn't drop everything at a moment's notice, in order to start over in Las Vegas? (6 feet under from the Irish Mob, most likely…)
Sure, maybe Dana's all-in approach isn't the most practical for most of us. But what about those of us stuck in a job we hate, or even just wondering whether to take a chance on another job offer?
I find Dana White's story a huge inspiration on that front.
2. Networks Matter
"It's not what you know, but who you know…" has become a total cliche.
And usually, it's used as a B.S. excuse by those who are unwilling to take a risk or be flexible. (See Lesson #1.)
But in Dana White's case, his relationship with UFC co-owners Frank and Lorenzo Fertitta shows the powerful advantage of a solid business partnership. Dana brought the hard work and passion, Frank and Lorenzo brought the deep pockets of investment.
As Shark Tank investor Barbara Corcoran said, "People smarts are 10 times more valuable than book smarts. I was the dumb kid in school but I'm a great entrepreneur."
Dana White was people smart, even though he admits he barely graduated high school. He was able to piggyback off his relationships, make deals happen, and eventually, sell Frank, Lorenzo, and the rest of the world the idea of the UFC.
And sure, he would have never been able to get where he was without their deep pockets. But they also would have never been able to sell their $2 million investment for $4 billion without Dana's grind, hustle, and passion as president of the company.
3. Life is too short to ignore your passion.
Yet another cliche. And yet, there's almost nothing that Dana White's story exemplifies better.
As a teenager, Dana fell in love with combat sports. And so, in the face of all that was practical, he chased that passion with ferocity.
And it was that passion that propelled him through all the ups, downs, and endless work hours. (While loving every moment of it.)
Every weekend when you're at home, and you're dreading Monday… Stop. Stop and get another job, because you're in the wrong place. That's not healthy for you." – Dana White
Maybe not everyone can hit the perfect timing of a sport's rising popularity the way Dana White did. (Dana himself admits just how close the UFC was to going bankrupt, or at least selling for a $35 million dollar loss…)
But, everyone deserves to be happy.
And with Dana White as an inspiration, we can all take action, no matter how big or how small, in order to get us closer to our passions and happiness. If his story is any indication, the wealth will follow.
PS – Want to see how your own net worth stacks up to Dana White? My favorite free tool is Personal Capital. Personal Capital will track all your accounts in one place, double check you're not getting overcharged on fees, and help you stay on track. For free!