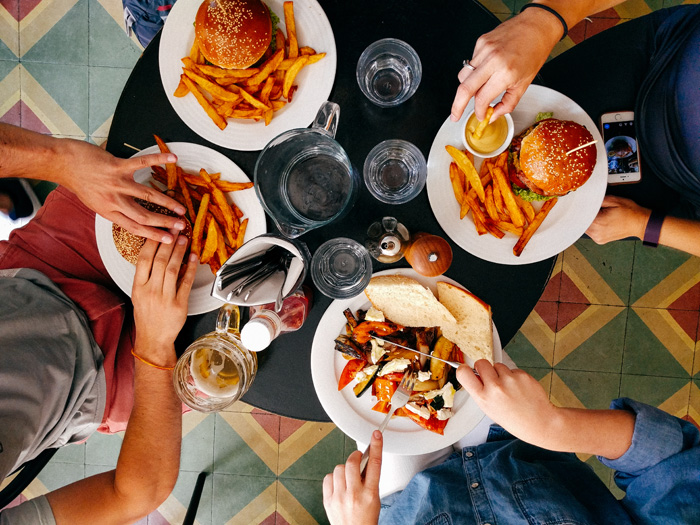 4.5 Number of times per week the average American eats out. (not including breakfast)
$36 The average amount spent, per person, when eating out.
$324 One couple's cost of eating out, per week, according to the first two statistics.
18.9% The average tip.
$2.36 billion How much more Americans spent on restaurants than groceries in 2016, the first time in U.S. history that spending on dining exceeded spending on cooking.
20% The estimated number of American meals that are eaten in the car.
$2,639 Amount the average millennial spends eating out per year.
28%Percentage of Millennials' disposable income spent on eating out.
85% People who have or would plan a vacation around eating at a certain restaurant.
Screw record breaking student loan debt and new car payments, millennials want their Chipotle!
I get it. In fact, my own restaurant spending has looked shockingly similar to those dining out statistics. For my first two years of this grown up life, I spent right around $2,000 per year on eating out. Uh oh, time for some self reflection…
Our generation definitely views dining out as more of a social experience than basic subsistence. You can see this shift in the preference towards the upscale atmosphere of Chipotle and Noodles & Company, rather than the baby boomers' preferred McDonalds and Burger Kings.
At the same time, we have a population unhealthier than ever, driving the frequency of in-car dining to alarming levels. (Ha! How's that for a car pun?)
The effect is pressure from both sides – an up and coming millennial generation who eats out for fun and an aging boomer generation who's abandoned long term health in favor of a quick fix. The result is ghost town home kitchens, with serious implications for our health AND wallets.
Look, I'm not limiting anyone to some sort of birthday-dinners-only rule. I can appreciate a good meal just as much as the next foodie. However, it's the habitual $8 lunches or last minute take-out defaults which I think we can all cut down on. When the dining experience becomes an automatic habit, it tends to lose the excitement.
Let's focus our dining bucks back to things that bring us happiness. How about trading five $10 lunches for one delicious $30 meal at the end of the week, and pocketing the difference?
---
Related Articles: