For the past few months, one of the most requested articles on this site is an update to my nearly-four-year-old article about how I spend less than $35 a week on groceries.
But of course, that article was written in a different time. A time when masks were limited to surgical rooms and inflation was a problem from the 1980s.
Well, here we are. So, I figured it was my duty as a diligent money wizard to figure out what exactly it costs to eat well for a week… in a world of double digit inflation.
How I Spend Less than $35 $40 a Week on Groceries
To get literal, I meal plan, then I grocery shop, and then I cook.
Wait, that vagueness isn't helpful? Time for a post!
Step 1. The Meal Plan
You can read the original article for my general approach to meal planning. But here are the three main parts:
1) Dinner is still a hodge-podge that draws on internet recipes, some of our favorite dusty old cookbooks, and my own adapted recipes over the years.
2) Lunch is even more throw-together, especially in a work from home world. My previous office-lunch-go-to (rotisserie chickens with portable snacks) has been mostly replaced with various leftovers, since those dishes can avoid the dreaded microwave when cooking at home. When there's no leftovers, I tend to default to various rice bowls… usually some sort of home-made Chipotle knockoff or a basic sandwich.
3) I'll still argue against anyone who buys into Kellog's marketing that breakfast is the most important meal of the day. I usually skip it. That said, lately I've been trying to up my protein intake to go along with working out at home more, so I've incorporated a little more early morning eggs, yogurt, or oatmeal into my life.
The cliff notes version? I tend to plan my dinners*, and the rest seems to work itself out.
For this week, those dinner plans included:
A huge batch of chili (my own secret take on this allrecipe.)
Paprika Chicken with sweet potatoes, hummus, and some other stuff (we're working our way through this popular Half Baked Harvest cookbook)
Cuban rice vegetarian bowl (one of our favorites from EveryPlate, the cheap meal delivery service that we tend to use one every month or so when we're too lazy to meal plan. All their recipes are online though, so you can take advantage of their meal planning if you're willing to grab the ingredients yourself. (recipe here)
Shrimp and broccoli
Salmon burgers with veggies
Pork loin with veggies (Aldi usually has delicious Salmon patties. But they were out this week, so I made an on-the-fly adjustment.)
*We usually only plan five nights of cooking. The other two nights get filled by date night dinners out, random events, or otherwise leftovers.
Step 2. Grocery Shopping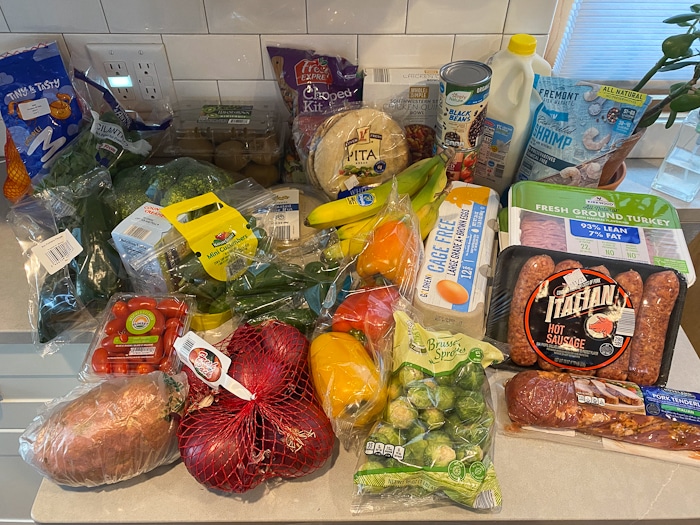 If I'm being honest, our most frequented grocery store these days is Amazon.com…
The delivery convenience is hard to beat, as is avoiding the hour-plus round trip battle to the grocery store.
But, in the interest of keeping this article true to its roots, I decided to head back to my old stomping grounds, Aldi, who I'm still convinced is by far the cheapest and nicest grocery store in the area. Come at me, Trader Joe's with all of your nifty-marketed yet basically freezer-isle food… (And yes I know the two stores are related, but that doesn't mean we can't encourage a nice sibling rivalry!)
The Money Wizard's Grocery Receipt in 2022

Unsalted Butter
$2.99
Broccolli (1.45 lbs)
$2.39
Quinoa Bowl Freezer Meals
$2.99
Sweet Potato (1.66 lbs)
$0.81
Canned Black Beans (Organic)
$0.99
Canned Tomatoes
$0.99
Red Onions
$2.19
Hummus
$2.45
Mandarin Oranges
$3.59
Kiwi
$3.89
Poblano Peppers
$1.49
Colored Bell Peppers
$3.19
Thai Cashew Salad Kit
$2.89
Brussels Sprouts
$2.29
Jalapeno Peppers
$0.95
Mini cucumbers
$2.39
Pita bread
$2.99
Cilantro
$0.85
Bananas (2.28 lbs)
$1.30
Grape Tomatoes
$1.89
Milk (1 percent 1/2 gallon)
$1.73
Eggs (Cagefree)
$3.85
Pork Tenderloin (20 oz – marinated)
$4.93
Shrimp (12 oz bag)
$5.49
Italian Sausage (19 oz)
$4.29
Ground Turkey (2 lbs)
$8.98
Total Cost
$ 72.78
Not included is a few pounds of chicken, which I've been stocking up at $2.80 per pound (also from Aldi – a steal compared to the $5.00+ per pound everyone else wants to charge) and freezing until needed. I also already had a few miscellaneous staples like lemons, limes, some celery for the chili, etc.
So, I'd suspect a more accurate total price is around $80.
How much have grocery prices inflated in the past 3.5 years?
When I last wrote an article like this, pre-pandemic and pre-extreme money printing round 36, my weekly total was $69. So, have prices really only increased a piddly three dollars since then?
Probably not.
We've all seen the price of everything skyrocket lately, and we do have a few constants in this two-part experiment. Here are the foods that made appearances in both the February 2019 version of this article and today's version:
Grocery Price Changes: Feb 2019 to Nov 2022
Nov-22
Feb-19
Inflation
Butter
$2.99
$2.49
20%
Cilantro
$0.85
$0.69
23%
Bananas (per pound)
$0.57
$0.46
24%
Milk
$1.73
$1.29
34%
Sweet Potatoes (per pound)
$0.48
$0.86
-44%
So, based on my extremely unscientific experiment, I think we can confidently say grocery prices have increased 20-30% across the board. Except for Sweet Potatoes – the silent inflation killer!
My exact bill not increasing an equal amount probably has more to do with the luck of the draw on this week's meal planning.
(Careful readers will also know that in the previous article, I bought an astounding 12.5 pounds of meat and ended up freezing most of it. So, it could be more accurate that the previous bill was unusually high, rather than this bill being unusually low.)
Step 3. Home cooking!
I know you all are just here for the pictures: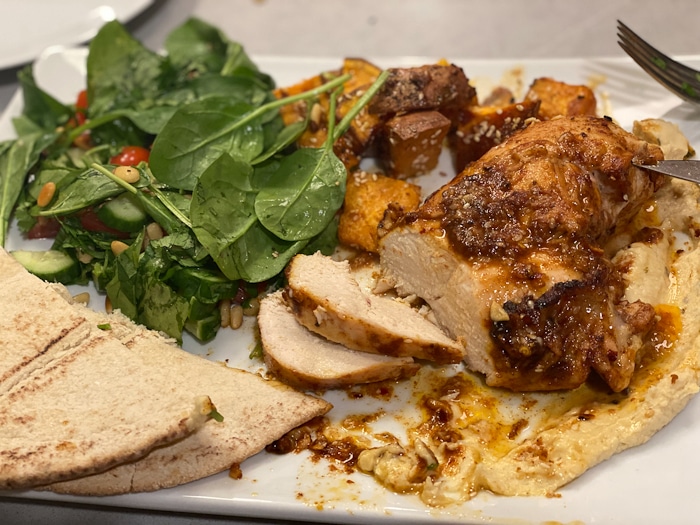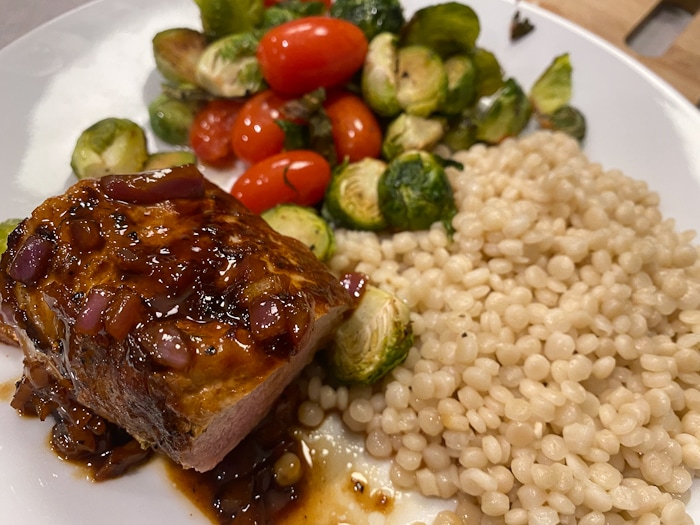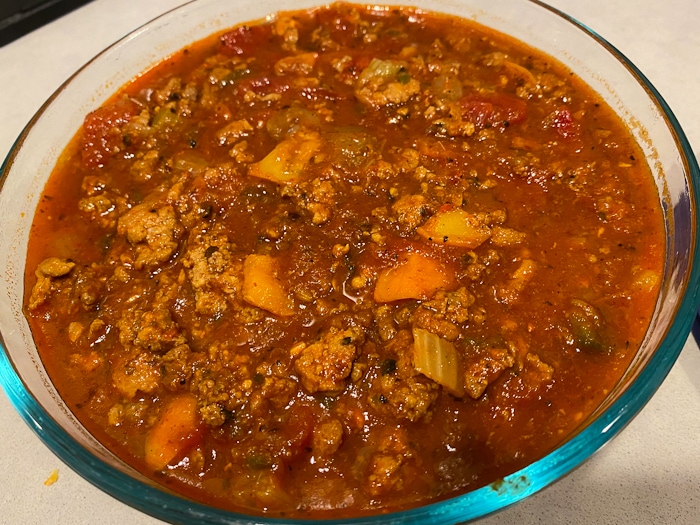 Forgot to grab pics of the other two meals, because it turns out I'm a better money blogger than food blogger…
This plan yielded quite a few leftovers – enough to have a leftover lunches of pork, chicken and sweet potatoes, and multiple bowls of chili.
In fact, by the end of the week, we still had:
Enough chili to freeze another 2-3 meals worth
A mountain of remaining veggies to save on next week's bill (one head of broccoli, a large poblano pepper, 2 onions, 2 mini cucumbers, 3 jalapeno peppers, two bell peppers.)
Quite a bit of fruit, including half a package of kiwis, half a package of mandarin oranges, and two bananas
4 eggs
1 slice of pita bread
Some fresh cilantro
Almost the full package of butter
So, you could argue the final cost was a little bit lower.
How does this week compare to the usual week?
I'd say the meals included in this batch of groceries happened to lean towards frugality.
A huge batch of chili, even if you load it up with 3.5 pounds of meat, is always an affordable option. And a spiced up bowl of rice and beans is definitely easy on the wallet.
But if I were going uber-frugal mode, luxuries like $7+ per pound shrimp and $4.50 per pound ground turkey could definitely be replaced by cheaper chicken, bargain beef, or even beans/veggies. I mean, I don't even see the classic penny-pinching staple of my childhood – spaghetti and meatballs!
But while this week was certainly on the cheaper side, it's still pretty consistent with what we regularly eat.
The biggest variable is always the protein – sometimes that shrimp is replaced with fresh salmon ($10+ per pound) or the chicken is replaced with steak (also $10+ per pound).
These days, that pushes the final bill over $100, meaning about $50 per person, per week.
We also opt for grocery delivery quite a bit. To see how that impacts the cost, I'll soon be coming out with a comparison of Amazon Fresh vs. Aldi.
More tips on how to save on groceries
Hopefully these examples were helpful. If you're looking for more specific ways to save, I've also compile my 15 best money-saving tips for grocery shopping.
How does your grocery bill compare?
I'm interested to hear from you all!
PS – If you're interested in easily tracking your grocery spending, I highly recommend Personal Capital. It automatically monitors your spending, helps you avoid getting overcharged on fees, and is the app I personally use to track my net worth every month.