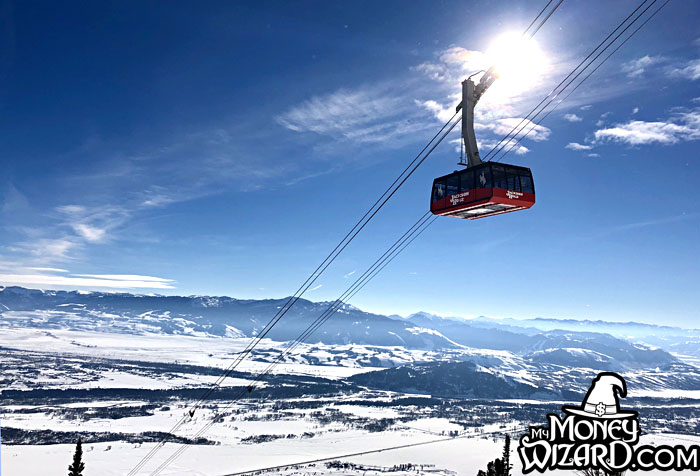 Hey fellow Money Wizards!
Welcome to the first days of March. Which around here, can only mean one thing.
As we push forward into yet another month, it's time for our traditional look back on the last. Because in the hustle and bustle of the steady march forward, sometimes it's the pause that's most appreciated.
As usual, we'll review my progress towards my goal of $1 million of investments by age 37. So far, I'm 28 with… read on to see!
Life Update: February 2019
February started the way I wish every winter month could start. With a ski trip!
I've noticed that ever since I moved from Colorado to Minnesota three years ago, every year follows a familiar cycle.
Around March or April, the snow starts to melt, I hide away my ski gear into the darkest depths of the basement, and I start the countdown to next year's ski trip.
I usually combat the withdrawals by researching more far more details about that trip than any sane person should ever research. (Especially when it comes to vacations that are 11+ months away.)
After Spring, my ski daydreams go into hibernation, and I distract myself with warm weather and sunny summer skies.
And this works for a while. But all it takes is the first orange Fall leaf or chilly autumn breeze to wake my hobby from its slumber, and remind me of one undeniable fact. Winter is coming. And so is skiing.
In the days leading up to my first ski trip, I can barely think straight…
In this case, that meant the last days of January. And come February 1st, I excavated those dusty ski bags from the basement, hustled to the airport, bustled through the rental car process, and eventually, finally, the chaos parted, the bliss took over, and I skied up to the beauty of this: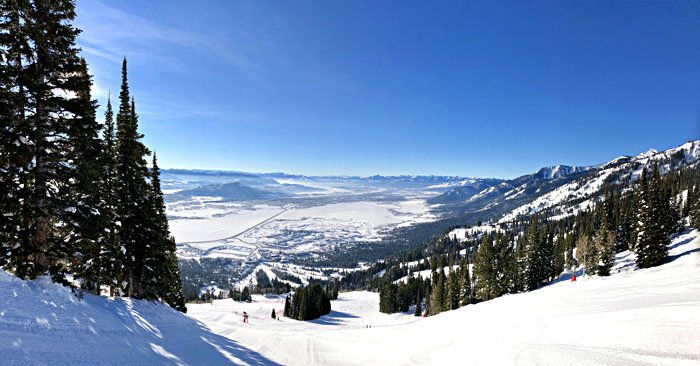 This… is what it's all about.
I dream of the day when I've reached financial freedom and can trade the office for a mountain escape.
Something about the majestic beauty of the mountains, the peace and quiet of the snow, and the athletic challenge of skiing makes this my absolute happy place.
Of course, the exact location of that happy places varies year to year. This year, it happened to be Jackson Hole, Wyoming.
To say I had a blast after 11 months of waiting is a total understatement. Me and three ski buddies spent three days reuniting with the snow and exploring every nook and cranny of a fantastic mountain.
Eventually though, we headed home, and I again started the cycle of counting down the days to the next ski trip. Luckily, I only have to wait until early March for the next one.
Slapped back into reality, I caught a bad case of the post-vacation blues as I grinded away a few devastatingly slow weeks at work. Eventually, I cried Uncle, and Lady Money Wizard and I ran away for a weekend to a winter rental cabin in Northern Minnesota.
The snow's siren call had drawn me back in…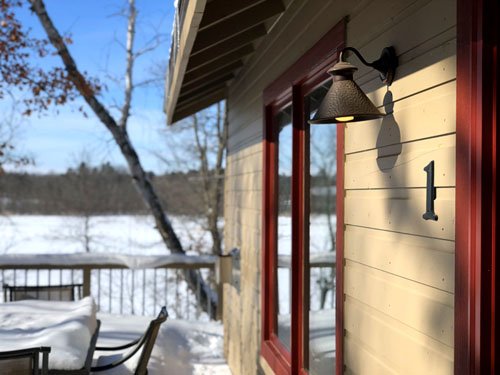 It was a trip so similar to the ski trip, and yet totally different, too. The cabin we rented is a summer destination, which meant the blanket of snow on the ground shooed away all the regular tourists for the winter. The great irony of vacationing to a non-vacation destination meant we had the beautiful Minnesota wilderness almost entirely to ourselves.
We spent our time enjoying the winter's simple offerings. We ate snacks, made home cooked meals, and lounged on the couch next to a toasty fireplace.
When the winter eventually offered up its beautiful blue skies, we found ourselves a snow covered hiking trail, completely empty of people. We meandered past a stream that somehow avoided winter's freeze, and enjoyed silent, snow covered forests.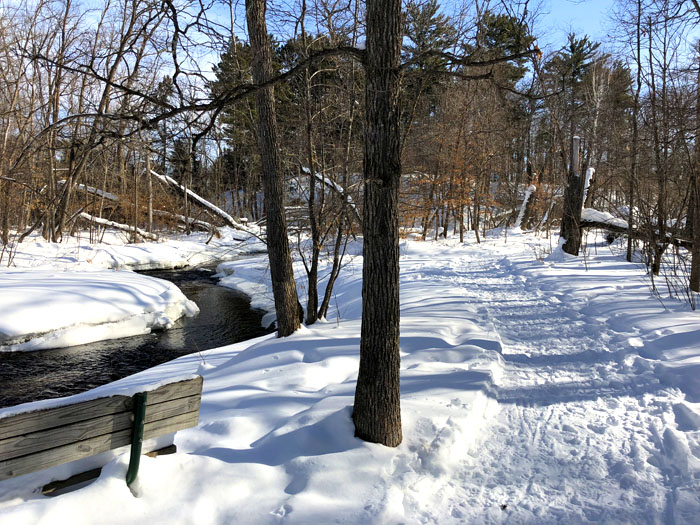 The setting was serene, and I again found myself dreaming of the day when I could trade the office for THIS.
Speaking of which, let's check on that progress.
Net Worth Update: February 2019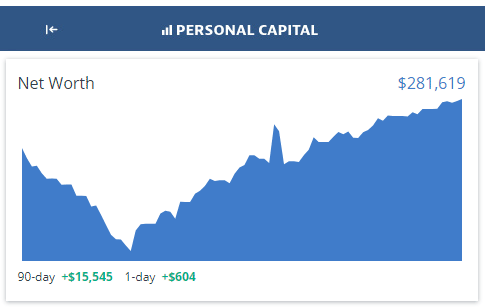 And the detailed spreadsheet: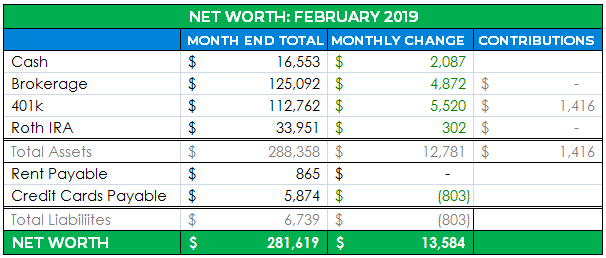 Green across the board!
Cash: $16,466 
($2,087)
January was the big month of movement to the cash account, when I withdrew $6,000 to max out my Roth IRA. In February, I don't have anything as exciting to report, although I did collect $1,000 of pre-paid ski trip expenses from my ski buddies.
Besides that, we just had the usual waves of money sloshing in and out, including work paychecks, credit card payments, and rent to Lady Money Wizard.
This cash balance is getting a little large for my tastes, so next month I'll probably start putting some of this to work.
Brokerage: $125,092 
(+$4,872
)
The S&P 500 gained another 3.6% in February, which almost exactly matches this account's $4,900 in gains.
In other news, I finally completed my spot check of my current portfolio allocation, which I've mentioned being on my to-do list for the past two updates. (Which, by the way, is ridiculously easy to do with Personal Capital, so I'm a total loser for making up excuses for the past two months. It literally took me 3 minutes to compare the numbers.)
My exact brokerage allocation through February 2019 is:
74% Vanguard Large Cap Index Funds (65% is the VTSAX fund and 35% is Vanguard's VUG and VTV etfs.)
17% Individual Stocks back from the when I was young and dumb and thought I could beat the market
7% Bond Index Funds (66% in Vanguard VBTLX and 34% in Vanguard's BSV etf.)
I'm going to do some soul searching over the next few months to decide if this allocation still fits with my goals.
401(k): $112,762 
(+$5,520
)
My 401k increased  $5,500, which includes $1,400 of contributions and employer matching, plus $4,100 of market gains.
I finished the spot check of this allocation too, and found:
40% Large Cap US Stock Index Funds
42% Small Cap US Stock Index Funds
18% Internal Stock Index Funds
Compared to my target of:
50% in Large Cap US Stock Index Funds.
35% in Small Cap US Stock Index Funds.
15% in International Stock Index Funds.
Comparing the two, we can see small stocks have had a disproportionate increase compared to large stocks over the past year. So I'll probably do some buying and selling in here to get my allocations closer to my target.
Roth IRA: $33,951 
(+$302)
The big news here is that, for once, I actually stuck to my plan!
Back in January, I moved $6,000 of cash to my Roth IRA, which maxed it out for the 2019 tax year. My plan was to temporarily store this $6,000 in Vanguard's Money Market Index Fund (VFMMX), one of my favorite places for cash these days. And over the next 6 months, I've convert $1,000 each month to Vanguard's REIT Index Fund.
I followed through with that plan in February, when I converted $1,000 from VFMMX to VGSLX. Vanguard makes the process insanely easy with their "exchange" tool:

After that you just enter which index fund you want to sell and which you want to buy. 10 seconds later, you'll be wheelin' and dealin' like a stock trading pro:

Rent Payable: $865
(+$0)
For some reason we haven't gotten our utility bill yet, so I'm using last month's payment as a placeholder here.
For the newer readers, I live in Minneapolis in a house with my girlfriend. This cost represents my half of the mortgage, utilities, and anticipated home maintenance. (We allot 2% of the home's value to expected maintenance each year, or $300 per month, which lets us pay for any miscellaneous house expenses, stress free.)
Credit Cards Payable: $5,874 
($803)
Still artificially inflated, since I front thousands for the group ski trips. Let's take a look at the spending report to get a better idea:
Total February Spending: $2,642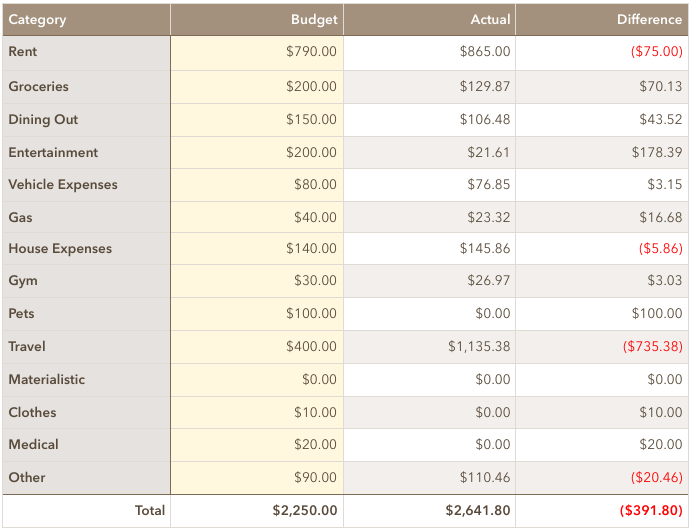 Phew, I'm over budget, but I actually expected much worse given all the travel.
Rent: $865
Self explanatory.
Groceries: $130 
If you missed it, check out my post on how I spend less than $35 a week on groceries.
Entertainment: $20
This one is really interesting. I felt like I'd spent a ton on entertainment this month, mostly because we hosted a big beer tasting party at our house. It was quite the production – We brought together three sets of couples, each person brought several beers and snacks for the group to try, and we even printed up super-fancy cardstock menus.
We had an awesome time, and yet, the total cost was less than a round of drinks at the nearby brewery. It definitely opening my eyes to the power of the dinner party.
PS – does this mean I'm getting old?
House Expenses: $145
Our old maid decided thorough cleaning wasn't part of her paid job duties anymore, so we had to find a new service. The new one is a little pricier.
Travel: $1,135 
$660 for the five day ski trip to Jackson Hole
$475 for the weekend getaway to northern Minnesota
I'm surprised to see these two so close. That said, the ski trip did benefit from frequent flier miles and splitting everything four ways.
How was your February?
I'd love to hear about it!
PS – This month continues to reinforce how awesome my favorite (and free!) personal finance app is. As you saw in this update, Personal Capital will automatically track your spending, double check your portfolio allocation, and add up your entire net worth in one place.
---
Related Articles: