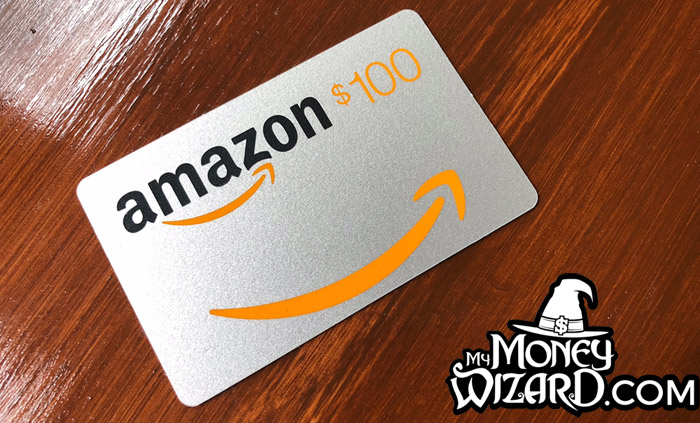 Let me take a wild guess:
You use Amazon.
In fact, you're probably one of the 64 percent of US households with Amazon Prime.
If my less than impressive odds betting is correct, then let me take a bigger leap of faith. You probably wouldn't mind some free Amazon gift cards!
I know I would! Which is why after yet another Amazon package landed at my doorstep, I said enough is enough. I started searching high and low for the best ways to earn free Amazon gift cards.
In my weeks of research, I found a whole bunch of scams, a few complete wastes of time, and luckily… a few really legit options!
Most of these strategies I've used for months already, so I figured it was time to share the goods. A few others are cool new leads that I'm just as excited to try out as the rest of you.
Let's start working our way to plastic gold!
How to Earn Amazon Gift Cards for Free
1. Ebates – a free $10 Amazon gift card for shopping online
You've probably heard of Ebates by now. If not, you need to hop aboard the free money train!
Ebates is a cash back website handing out serious discounts at thousands of stores. You'll find 5-10% cashback all day at the biggest names, including Amazon, Walmart, Groupon, Ebay, and hundreds more.
They pay you your cash back either through Paypal or by mailing you a "Big Fat Check." (That's actually what they call them, haha!) But if you're looking to get a free amazon gift card, new users who sign up through my link and spend $25 within 90 days earn a free Amazon gift card instantly!
Get your free $10 amazon gift card
2. Swagbucks – a free $15 Amazon gift card for surfing the internet
Swagbucks is a 100% legit company that pays you for doing things you're probably already doing online – like searching, playing games, watching videos, and taking surveys.
By completing these tasks, you'll earn points (aka Swagbucks or SBs) which by my calculations are worth about 1 to 1.2 cents each. Looking at the current rates and doing some quick number crunching, just searching the internet through Swagbucks is enough to earn you $12-15 per month.
SBs are redeemable for gift cards from tons of different stores. Among those redeemable gift cards? You guessed it – Amazon!
All users who create an account receive a $10 bonus after they spend $25 at any store through the Swagbucks portal. (To do so, just active the bonus under your "Swag Ups" tab.)
And the best part? You can stack that promo with a special promo for Money Wizards who sign up through my link, which gives a free $5 bonus after earning your first 2500 SBs within 60 days.
3. Cash Crate – win Amazon gift cards and get paid for tons of stuff
CashCrate is a legit rewards site, similar to Swagbucks. They've been around since 2006 and now have over 7 million members.
As the name implies, CashCrate pays you cold hard cash in a bunch of different ways. Like SwagBucks, most tasks are things you'd already be doing online, like shopping or watching videos. CashCrate also partners with companies who will pay you just for trying their products.
Oh, and they also hold monthly contests and giveaways, so you could win Amazon gift cards!
One of the coolest parts about CashCrate is their referral system. They'll pay you for each friend you sign up, and even better, they'll keep paying you as your friends earn money on the site. Win-Win!
4. Ibotta – a free $10 Amazon gift card after redeeming easy rebates
Ibotta is a really cool phone app that offers coupons and cash back for tons of stores.
I especially love that they pay cash back on groceries, which is a category most other cash back programs neglect. As I'm writing this, I just checked ibotta and saw promos like $1 off fruits and veggies and $1.25 cash back on dairy and eggs at Walmart, Target, Costco, etc.
Aside from coupons, they also offer blanket cash back at certain stores. I wrote earlier about how I got $64 cash back on my dishwasher purchase through the app.
If you sign up using my referral code (already added to the link below) you'll get a free $10 bonus. All you have to do is:
Create an account
Double check that my promo code is entered (KPDLGVP)
Redeem a rebate within 15 days.
Hooray! You can choose to get this $10 paid out as a free amazon gift card.
5. Global Test Market – get paid in Amazon gift cards for sharing your opinion
Global Test Market is a huge worldwide survey company. They've been around since 1999 and operate in over 60 countries.
Just answer a few questions about easy topics – like movies, restaurants, and products – and Global Test Market will reward you with up to $5 per survey. They also offer sweepstake giveaways; they've got one going right now for $2,000!
You can either cash out your earnings via paypal, or you can redeem your earnings for Amazon gift cards. (Or 200 of their other online partners)
6. Shoptracker – earn over $30 of Amazon gift cards for installing an app
If you prefer an even easier approach to earning free Amazon gift cards, Shoptracker will pay you $36 a year… just for downloading their app!
Here's how it works:
Fill out a quick form to see if you qualify. (Spoiler alert: you probably will… you mostly just need an Amazon account.)
Install the ShopTracker app on your phone.
Enjoy your free $3 gift card! Plus $3 every month you keep the app installed.
ShopTracker works by linking to your Amazon account and sharing your shopping insights with Harris Poll, one of the most reputable research companies in the game. I'm pretty paranoid about privacy, but ShopTracker automatically keeps everything anonymous. That means they remove your name, address, and payment info. They ONLY care about your shopping data, and they make this very clear with all sorts of guarantees.
Thanks to the sign up bonus, you'll actually earn $39 during the first year. Not bad for doing nothing!
7. Job Spotter by Indeed – free Amazon gift cards for snapping pics
Job Spotter is quickly becoming one of my favorite apps on my phone. That's because it pays you for the insanely easy task of taking pics of "Now Hiring" signs.
The process couldn't be simpler. Whenever you spot a Now Hiring sign, just whip out the app, take one pic of the sign and one pic of the storefront, and click send.
BAM! The payment fairies at Indeed will review your submission and reimburse you with points worth $0.05 to $1.50 towards an Amazon gift card. Which I admit, doesn't sound like a ton, until you consider that the whole process literally takes less than 30 seconds.
(I won't bore you with the math about how that can add up to some insane reimbursement rate around $180 per hour of actual "work")
And if you ever find yourself at a shopping mall in a good economy? Gold mine!!!
Since downloading Job Spotter, I've earned a steady $10 per month in Amazon gift cards.
8. Amazon Trade In – get Amazon gift cards for your old stuff
Feeling the need to go declutter? Amazon's Trade In Program will pay you Amazon gift cards for your old stuff.
The process is surprisingly simple. Just search to see if you qualify for thousands of eligible trade-in items, then double check whether you're a fan of the estimated payment.
From there, Amazon provides you with a free, pre-paid shipping label. Box your junk up, and in less than 10 business days you'll be the proud new owner of a free Amazon gift card!
Based on your order history, Amazon even offers suggestions for high priced trade ins. Apparently, I could earn a $21 gift card for the now-sold-out How to Retire at 35 book that I reviewed last year. (Did Money Wizard readers really buy out Amazon's whole stock???)
Check out Amazon's Trade In Program
9. Amazon Coupons – stockpile Amazon gift cards by claiming promo discounts
Did you know Amazon has started integrating thousands of coupons throughout their site?
This Amazon Coupon page is their official database of discounts. I've seen coupons ranging from $1 all the way up to a blanket 25% off.
By default, after you "clip" the coupons from their database, the discounts are applied at checkout. But what most people don't realize? You can also redeem those coupons as an Amazon giftcard.
With this little known hack, just a couple weeks of re-upping your paper towels or laundry detergent through Amazon and you'll be well on your way to a sizeable giftcard. For free!
Personally, I plan on using this strategy for the office white elephant gift exchange. I'm going to start claiming discounts as Amazon gift cards. I'll be happy because I won't have to shell out money for an office gift, and one of my lucky coworkers will be happy because they aren't stuck with the cheesy mug I'd have otherwise provided.
Explore thousands of Amazon coupons
---
Related Articles: