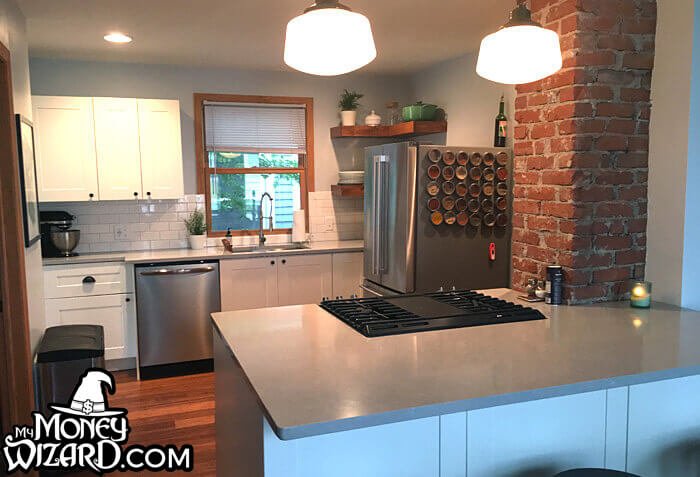 Drumroll please…
I'm proud to announce that after months… and months… and months… of waiting, we're finally finished with The Great Money Wizard Kitchen Remodel of 2018.
As regular readers can surely attest, I started to sound like a broken record with my constant "almost done" reminders in the net worth updates. What started as a two week project quickly (or slowly?) turned into a 4 month project.
#TypicalReno
BUT, there's one huge silver lining to all that waiting. We completed the whole project at a fraction of the cost of the average kitchen remodel.
We've all heard the common joke: "Kitchen remodel? Say goodbye to $20,000!"
And that joke might hold some truth, because national data shows the average cost of even a "minor remodel" clocks out at $21,198.
And unfortunately, there was nothing minor about our remodel. We gutted our entire kitchen. We:
Ripped out a load bearing wall
Bought a new fridge, dishwasher, range, and sink
Went with the pricey quartz counter-tops
Replaced all the flooring and cabinets
And added some foundation work for good measure.
I'd say this might fit into "mid-range to major" remodel category, which that same study estimates at an average cost of $60,000 to $125,000. (Even in a best case scenario, I'm pretty sure I've never seen an episode of House Hunters Renovations where the total damage was less than $30,000.)
So what was our total bill for that laundry list of costly kitchen costs?
$14,634.
And the results aren't too shabby, if I do say so myself:
Before: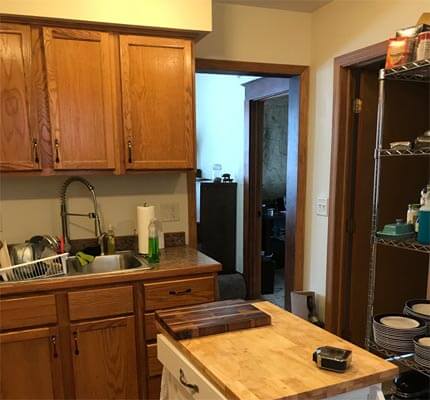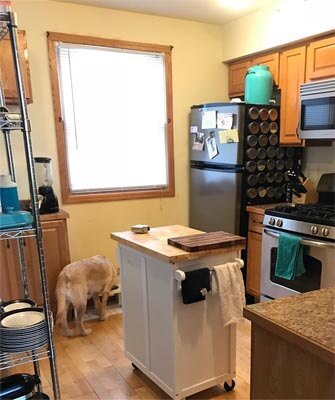 After:
But rest assured, you don't just slash the cost of a kitchen remodel in half by haphazardly floating through the process. Oh no, we relied on a calculated level of Money Wizarding not seen since I bought a brand new $20,000 car for $13,000.
Here's the 8 crazy tricks we used to make it happen. You won't find these gems on google, because they were born through trial, error, and constant terror about going too far over budget.
1. Home Depot's Low Price Guarantee

If you're like me, you've probably heard the saying a million times on their commercials, but I still had no idea what it actually meant. Which is a shame, because Home Depot's Low Price Guarantee is an amazing deal:
If you find a lower price on an identical product from a competitor, Home Depot will match that competitor's price. (This works if you're purchasing in store or online.)
BUT, purchasing in-store makes the deal even sweeter. Drag yourself to an actual Home Depot location, and Home Depot will match the competitor's price and take another 10% off for good measure.
A real life example – I found an awesome GE Gas Range at Home Depot. The only part that wasn't awesome was the $1,200 price tag.
So, I googled the same model number, and I found 4 stores several states away with the same model on sale for $1,000. After the manager double checked the ad to make sure it was legit, Home Depot sold me their $1,200 Range for $900!
Boom, instant $300 savings.
2. Lowe's 30 Day Coupon Policy

Shout out to the friendly Lowe's cashier who let me in on this gem.
After dropping over $3,000 on quartz counter-tops, I found myself making the walk of shame to the cash register at the front of the store, ready to pay the piper. I got my card ready when the cashier asked, "Do you have any coupons to apply?"
"S#!T!!!" I thought, as Lady Money Wizard painfully reminded me we'd thrown away some junk mail with a 10% off Lowe's coupon a couple weeks ago.
"No problem," the cheery cashier said. "You can bring in any coupons within 30 days, and they'll be retroactively applied to your purchase."
Veeeery interesting…
So, I finished my purchase and did what any reasonable schemer would do. I got home and immediately logged into eBay, where I found dozens of 10% off Lowe's Coupons selling for $3.99. Shipping included.
A couple days later, I brought my newly purchased golden ticket back into Lowe's. After a couple phone calls back and forth, I enjoyed a cool $350 discount on the beautiful counter-tops.
3. Ibotta's Amazing Cash Back
Ibotta is an awesome cash back app that constantly runs coupons on everything from ketchup to major appliances.
So when I found myself in Sears looking at $400 dishwashers, I remembered to check the app. Sure enough, Sears was running an amazing 15% cash back promo through Ibotta.
I bought the dishwasher, took a picture of the receipt with the app, and a few days later, saw $64 arrive in my account.
(Along the same lines, Ebates and Mr. Rebates are two other great cash back options.)
PS – if you sign up through my Ibotta link above, you'll get a free $10 bonus.
4. Entry Level Appliances
Now for some tough love. You are not Gordon Ramsey. And you don't need his equipment.
For the life of me, no salesperson could explain why I should spend $900 on a dishwasher for a 3 decibel reduction in sound, when studies show this change is completely imperceptible to the human ear.
A $10,000 refrigerator keeps the food just as cool as the cheap-o version.
A stovetop that runs on rocket fuel and can sear a steak at nine million degrees sounds awesome on paper, but will it really make your food taste $6,000 better? You'd probably be better off with a $10 cookbook.
So ditch the flash. Nobody can tell the difference anyway.
I get compliments all the time on my entry level stove-top, or even my dishwasher, which was literally the cheapest model in the entire store. But they're stainless steel, and I've watched enough House Hunters to know stainless steel is always impressive.
And besides, we live in a world of Amazon reviews. It seems every product has been tested, retested, and extensively reviewed again, which means you don't have to spend a fortune to find quality.
Research your purchases carefully. Go for the value, not the flash. And save yourself thousands.
5. IKEA Cabinets
I told a friend that I decided to go with IKEA cabinets. I could see the skepticism on their face as they asked, "Are they good?"
To which I answered, "They can open up. And I can even put things in them!"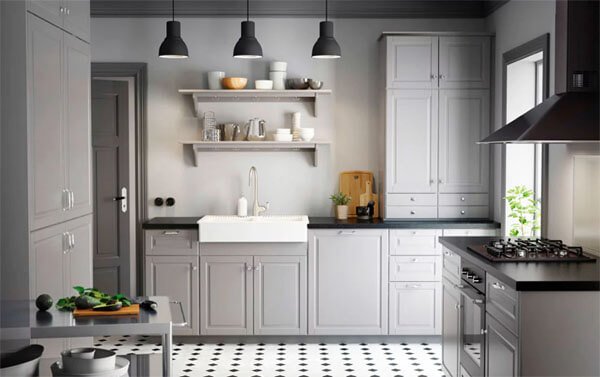 In all seriousness, they seem to be decent quality. They're also nearly half the price.
The high end cabinet salesman warned me that they may only last about 20 years. Maybe that's true. Or maybe he was just trying to use fear to sell.
In any case, is it even a big deal? The chances I sell my house within the next 20 years, or even the chances of the cabinets going out of style, seem very high. In which case, I could almost completely re-do the kitchen just with the price difference between IKEA cabinets and high end, custom cabinetry.
6. IKEA's Annual Kitchen Sale
Speaking of IKEA, did you know they run kitchen sales so often, there's no really no reason to ever pay full price?
2-3 times a year, IKEA offers a 15-20% discount on kitchen purchases over $2,000. PLUS free shipping.
Thanks to the internet, we've gotten used to the term "free shipping" as it applies to a book or a $3.99 Lowe's coupon. But in the kitchen world, free shipping is a HUGE deal, because shipping costs for a thousand pounds of cabinets, counter-tops, and appliances can be astronomical.
Here's a good breakdown of the most recent IKEA event, which ran from the end of February to early April, and saved me around $500 on my cabinets.
7. Home Outlet Stores
You know the type. Concrete floors. Random parts and plastic everywhere. Dinged up appliances that look like they fell straight off the back of a truck.
And zero air conditioning. Ever.
We browsed through nearly every one of these places all over the cities. Our hard work eventually paid off, in the form of beautiful hardwood floors for 92 cents a square foot.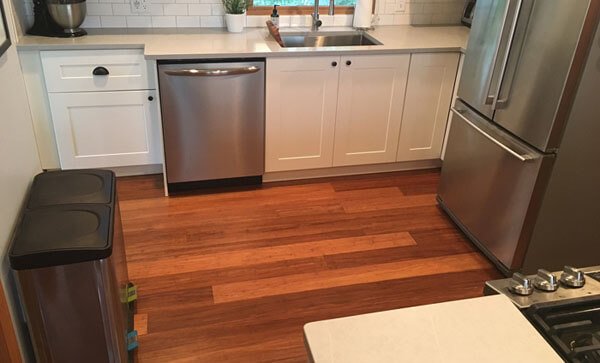 We got a good chuckle when we saw the exact same model number in one of the big box stores, for $3.50 a square foot. Ahh… who doesn't love a nice 70% discount?
Total savings for our square footage? Around $620.
8. A cheap contractor
I probably saved the most important point for last. We were admittedly very lucky to find an incredible contractor willing to do great work for awesome prices.
He just so happened to be a family friend, which came with the pros of great prices on labor. It's hard to say exactly how much this saved us, but I'm sure even my most educated guess would still be too low. (Not to mention the added savings of getting the job done right the first time.)
My recommendation? Search out every networking resource you have to find a great contractor who you trust to give you a fair price. If you don't know anyone, your friend, uncle, or neighbor probably does.
If you're not willing to D-I-Y it yourself, a good contractor is undoubtedly one of the most important factors, and also one of the most overlooked. Ours definitely saved our A$$ several times during the process.
Take advantage of these tricks to save big
Final thoughts? Home renovations are expensive, as any home owner can attest. But that's only half of the story.
Because I've noticed an interesting trend; the more expensive the purchase, the more wiggle room usually exists on the price.
And as my experience shows, with a little bit of hunting, the savings on high priced kitchen renovations are everywhere.
Do you have any tips to save on home or kitchen renovations? 
---