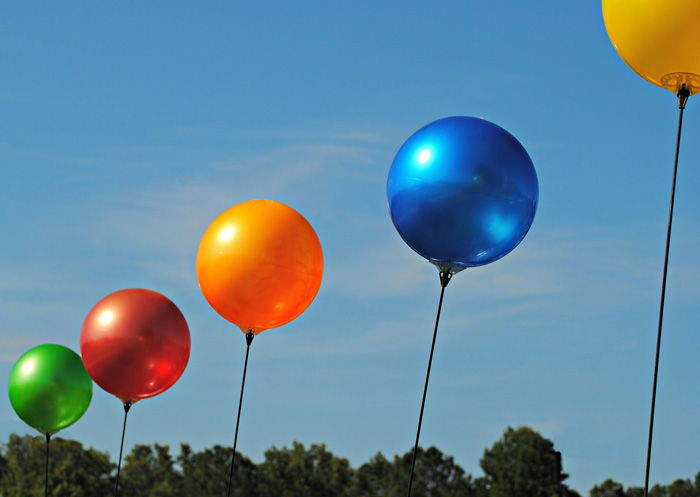 Great news! Today is the be-all, end-all post where I finally talk about buying a new car, from start to finish.
And to keep you from nodding off halfway through, I've made sure to interject this (kinda long) article with the most important lessons learned. At the end of this post, anyone should be armed with enough information and strategy to really take it to those slimy car salesmen.
The current situation's cliff notes: My 2003 Dodge Ram truck has been on its last legs for a while now. In a perfect world, my cheap ass would love to nurse this old thing along forever.
Unfortunately, facts are facts. My 13-year-old truck is badly hail damaged. The engine sputters and has died multiple times while idling at red lights. The heater is broken, which is more than a slight problem during Minnesota's arctic winters, and the estimated repair bill of $1,000 doesn't make the problem any less serious.
The passenger window no longer rolls down. The door locks went rogue and started randomly unlocking last month. One of the seatbelts stopped retracting a couple thousand miles ago, and if I'm not careful I'll slam the side door on it.
True story: I once drove a quarter mile from home before I realized there were feet of seatbelt dangling limply out of the bottom of the door like a sad, pathetic, broken noodle.
I could deal with all of this, if it weren't for the truck's atrocious gas mileage, which now hovers around an appalling combined 14 MPG. Winter gas mileage is closer to 11 or worse.
Not only are the thrice-monthly $50 fuel ups killing my wallet, but I can't handle the guilt of killing nature either.
Needless to say, as much as I loved my old car, it was time. Time to buy a new car.
That last sentence is particularly shocking to me, since I figured a used car was the only way to go.
When I ran the numbers and saw a sort of used car bubble, I realized it made more sense for me to buy a new car, enjoy the peace of mind, and still leave my wallet relatively unaffected compared to if I bought used.
Stage 1) Research, Research, then Some More Research
The most important thing you can do leading into any car purchase is become a knowledgeable customer.
If you're not annoying all of your friends, family, and blog readers by discussing available car prices AGAIN, chances are you're not doing enough research.
In my case, I narrowed down my preferred car type to a few important points:
I wanted something so reliable that in 15 years I could proudly use my old beater as a shopping cart rammer in grocery store parking lots.
A decade of 14 mpg had me bitter enough at the gas pump to refuse anything less than 30+ mpg.
From here I narrowed the choices down to: the Mazda 3, the Hyundai Elantra GT, and the Honda Fit.
After test driving the Honda Fit and being impressed with its incredible practicality, while simultaneously being bored to tears, I knew I had narrowed my search between the Mazda 3 or the Elantra GT.

Both cars are two of the cheapest on the market, which in this country means they come with more luxurious bells and whistles than any reasonable person will know what to do with.
They both sport good gas mileage, adequate storage, and are leaders in reliability. Neither come with the impracticality of a sports car, yet they're both pretty fun to drive.
From my test drives, I much preferred the Mazda 3, but I did not prefer its nearly $3,000 higher MSRP.
For the record, MSRP means, "some bogus inflated price from the manufacturer that you should never, under any circumstances, pay more than."
To get a better idea of the actual price, I used the TrueCar.com market pricing, which shows the average sales prices for cars in your area. According to TrueCar, the average Mazda 3 with the most basic package was selling for $19,292, which although that's nearly half of the average vehicle price in the US, is still an absolutely insane amount of money.
So I waited. And waited…
I watched prices go up and down while deals came and went. I signed up for a few email lists and learned something interesting; dealerships run "the deal of a lifetime" pretty much around the clock.
When $1,000 cash back ended, 0% APR financing started the next week. When 0% APR ended, $1,000 bonus trade-in cash arrived.
Lesson #1 Learned: Never feel rushed to buy a car based on current promos. There's always another deal around the corner, and it will probably amount to the exact same value as the current offer.
That said, ask anyone in the car industry, and they will admit the best time to buy a new car is towards the end of the year. Why? The next year's models are out, so dealers are eager to get rid of the "old" models. For you, this means cheap prices.
This prediction panned out just like I expected. From April to September, I logged into Cars.com frequently, and I watched the prices hover around $19,000 for new Mazda 3s.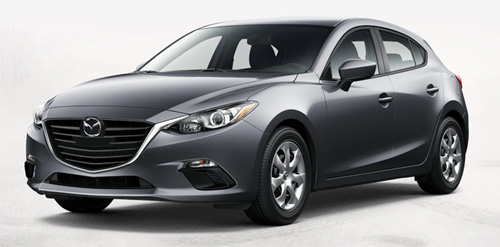 By November, the price was slashed down to less than $18,000. Now we're getting closer…
Lesson #2 Learned: If you're buying a new car, always wait for the year-end price drop.
Stage 2) To Hell's Gates (the Car Dealership)
Feeling like I had successfully low pointed the entry level price, it was time to make things more serious by heading to the dealership.
The dealership with the lowest priced Mazda 3 in the color I wanted prominently advertised itself as a "No Haggle Dealership."
These "No Haggle" or "No Negotiation" dealerships are a hot trend in the car industry. They're also complete bullshit.
Here's the real truth: In order to advertise as a no negotiating dealership, the dealer does actually apply and receive a license which legally forbids them from haggling on the car's sticker price.
BUT, that license says nothing about their ability to haggle on your vehicle's trade in price, available rebates, interest rates, etc.
In other words, they negotiate. A lot.
Lesson #3 Learned: Cars are always negotiable. Don't let some dealership take you to the cleaners under the guise of being "the nice guys who don't negotiate."
Knowing this info, I knew the area we could most negotiate on was my trade in vehicle.
You know, that old thing with a Kelly Blue Book value of $3,400 in "Excellent" condition. Given the giant dent in the rear, the $4,000 of hail damage around the whole body, the looming $1,000 heater repair, and a host of other issues, I'd say that thing passed excellent condition about 100,000 miles ago.
Like hell I'll share that opinion with the car dealer though.
Stage 3) The Negotiation, Step by Step
I stepped foot into the dealership, pretending I wasn't sure which color I liked best. (A negotiating tactic… I had come specifically to this dealership because they had the only model in the color I wanted within 150 miles.)
I went in there proudly spouting that I received a $4,000 trade in value on my truck from multiple competing Hyundai dealerships. The truth, of course, was that the best trade in I could muster at every dealership but one was only $2,500 to $3,000 dollars.
But when I convinced one Hyundai dealership to up their offer to $4,000 after tense negotiation which revealed their car had some mechanical issues, I ran with it. $4,000 was my new benchmark for what my beater was worth.
Lesson #4 Learned: Over-inflate your competing trade in offers. The selling dealer isn't about to get on the phone with other dealerships to make sure you're telling the truth, and they don't really care either way. They just want to sell a car.
I decided if they could match my inflated trade-in expectations and knock a little off of their already rock bottom, "no negotiation" price of $17,700, I would know I'd be getting a more than fair price.
So after poker-facing the test drive, we started the negotiations. I told them the above expectations, and of course at some point, the salesman goes back to check with his manager.
He comes out valuing my trade-in at $3,000, and hands me a piece of paper showing a total price, after trade-in, of $19,000! Those slimy salesman had pulled a switch, and started the negotiation at $22,000 instead of $17,700!
Of course, I sternly called them out on this nonsense, and what do you know, just an innocent mistake on their part.
"Oops, just almost accidentally charged you $4,000 too much, our bad…"
The number of people who probably get lost in the numbers, are too embarrassed to ask for clarification, and continue with the salesman's switch-a-roo "negotiation" really breaks my heart.
Lesson 5: Double check EVERYTHING. There's no low these guys won't go to extract as much money as possible from you. Don't be embarrassed to bring a calculator. 
Once they re-calibrated the negotiation to the accurate sticker price, I told them $3,000 for my trade-in still wasn't good enough.
The appraisal manager came out and talked in circles for a while, which is a common negotiating tactic they use to try to intimidate and confuse you as much as possible.
Eventually, he offered a counter of $3,500 for the trade-in.
I stood firm, and again told them no deal. "I know it's a high trade-in value," I said, "but it's what it will take for me to feel comfortable with this purchase. This really comes down to how badly you guys want to make a deal today," I said.
He then threw in an extra $500. I told him to match the lowest Mazda 3 I'd seen within 250 miles, which was still $300 cheaper.
"Are you really going to hold my feet to the fire over $300?" He asked.
"Yes," I said, without hesitating.
He extended a handshake. Done deal.
Lesson 6: Stand firm. Sometimes a strong "Yes" or "No" answer is the most powerful answer you can give.
The final out of pocket numbers came out like this: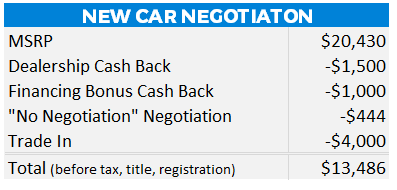 After triple checking there were no prepayment or early payoff penalties, I got an extra $1,000 cash back by taking out a loan I have no intention of keeping. The first payment is not due until March, at which time I will pay off the entire loan.
Could I have done better? Maybe, but I'm happy with the deal. $2,000 off the average sales price in my area, plus $500 over KBB excellent for my mess of a trade-in makes me  confident I got one of the better deals possible. •
What car buying tips do you have? 
____________________________________________________
Related Articles: