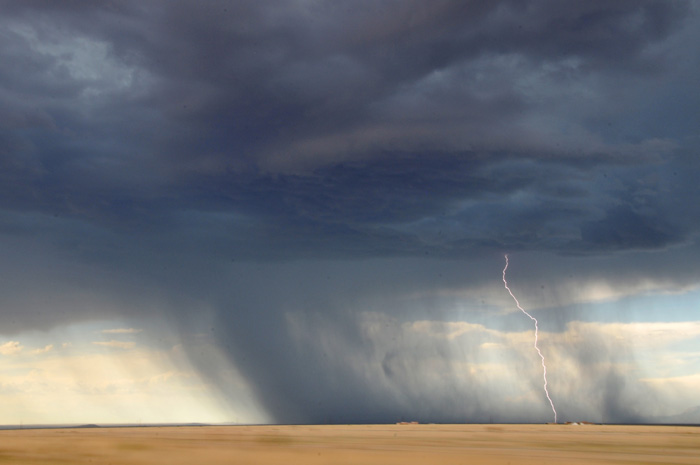 I'm a natural contrarian. If you tell me the sky is blue, I'll start looking for tornadoes turning the clouds green.
Maybe I've been hanging around the personal finance community a little too much, who all agrees in unison that a new car is the fastest way to the poorhouse. Hell, I'm kinda guilty myself.
So of course, while shopping for a replacement car, the contrarian in me soon found myself asking, "Are used cars really as great of a deal as everyone cracks them up to be?"
How to Tell if a Used Car is a Good Deal 
For my upcoming car purchase, I sought to tackle this question using a pretty common sense approach.
If the old axiom is true, which goes something along the lines of:
"A new car loses half its value the moment you drive it off the lot."
"Used cars are always a better deal than new, because cars depreciate so much up front."
"Anyone who buys a new car might as well light all their money on fire."
Then we should expect to see something obvious: Purchasing a new car and driving it for a few thousand miles should see a huge decline in the car's value.
For example, a new car driven for 1/10 of its useful life should lose far more than 1/10th of its value, since common knowledge says that cars lose the most value during their first few miles.
To test this theory, I will make a few assumptions about my preferred car, the Mazda 3. The assumptions are:
The car can be bought for $17,500 new.
The car's useful life is 150,000 miles.
The car's salvage value at the end of its useful life is $2,000.
Doing some basic accounting style straight line depreciation, we can go full-board Mathlete and say:
(New Car value – Salvage Value) / Useful Life in Miles = Depreciation per Mile Driven

For the Mazda 3, this depreciation cost equaled 10.4 cents per mile.
Now, if ye 'ole saying is true about new cars losing their value so quickly, we should expect some accelerated deprecation during the beginning of the car's life.
In other words, over the first several thousand miles, we would expect a new car to lose its value much faster than 10.4 cents per mile. This accelerated depreciation is the discount used car fans tout as the real money maker.
After all, there should be some sort of discount for a used car, above and beyond the normal rate of depreciation, to account for the risk of the previous owner using the car as a Dukes of Hazard jumper.
Plus, the cheaper sticker price isn't exactly free money on a used car, since used cars have shorter remaining lifespans and thus need replacing sooner. This all makes the accelerated depreciation discount vital in order for the used car to pull away as a great value buy.
Aaaand, action!

So let's look at some actual cars. We will pull up a combination of Mazda 3 used car dealer listings, personal craigslist postings, and recent ebay sales, then compare those prices to a new car losing its value at 10.4 cents per mile.
Hey look, a fancy table showing just that:

Wait, what?
Those red numbers show that for Mazda 3s, there is actually NO discount for purchasing a used car. Even crazier, the used cars are actually priced HIGHER than the rate of straight line depreciation.
This is pretty shocking.
In other words, the new car buyer is actually getting a better deal if he buys new and drives the car to any mileage point in the above table.
(Note that haggling prices should be a non-factor here, since the new and used car prices were based on internet listings prior to any negotiation. Factoring in negotiation would likely tip the scales in the new car's favor, since there is often more negotiating room on new cars.)
Repeating the same process for the Hyundai Elantra GT shows a used car market more in line with what we'd expect to see:

The Elantra is actually showing used cars which are discounted more than a new car driven for the same number of miles. But the discount is nowhere near the multiple thousands of dollars that common wisdom says used cars provide.
At only a $1,000 to $1,500 discount, is it worth it?
Imagine a car with 30,000 miles. You are already halfway to needing new $500 tires, and you're notably closer to the routine servicing milestones. In a best case scenario, accounting for these expenses closes the gap to about a $1,000 discount, for the unknown risk of buying a used car. Which may or may not have been abused for years in a rental car fleet.
In car-dollars, $1,000 is about one to two mechanic visits. Plus by buying used, the original manufacturer's warranty is likely either reduced or no longer honored, so the chances of having to pay in full for any problems is higher.
The fact that nearly every one of the 10+ used cars I took for a test drive gave me some sense of unease, whether it be a strange clicking noise in the engine or mysterious rumble in the floor boards, did nothing to ease my concerns about such a narrow margin of safety.
How Cars Really Depreciate
Since we're getting all scientific on this post, here's a fancy graph of my findings: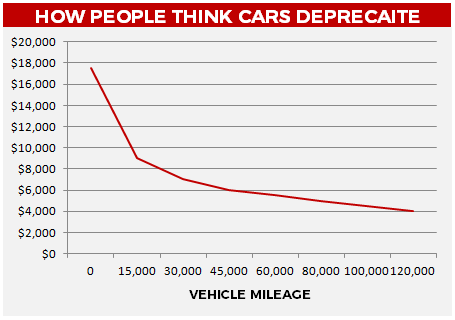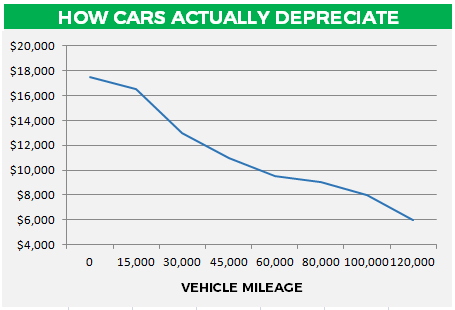 So, why are used cars so damn expensive all of the sudden?
There was a time when the used car was feared, and for good reason. Cars just didn't last. Over 100,000 miles on a car was a death sentence, and once a car got north of 50,000 miles, breakdowns weren't just dreaded; they were expected.
Back in those days, used cars really were discounted heavily, and there's no question that driving a new car off the lot meant you took a massive hit in resale value.
Today, cars are lasting longer than ever, and the pendulum has swung wide in the other direction. Used cars are widely considered to be the wisest financial decision, and the average buyer is no longer afraid of their risk. The result of this changing consumer preference? A used car market which doesn't offer nearly the deals that it used to.
For certain cars, like the Mazda 3, I believe we're seeing a sort of used car bubble, where a pre-owned car is so many buyers' default decision that the price is being bid up relative to their new models. Used cars are popular, and their discount has been completely smashed.
Why I Bought a New Car
With all that's been typed into this cartlicle so far (car-article, get it!?) it probably comes as no surprise that this is the conclusion where I announce these findings were enough to sway me to buck the conventional personal financial advice, and purchase a new car.
Now, I'm not so bold as to come out swinging with the claim that new cars are cheaper to own than used cars.
That goes against quite a bit of common sense. New cars come with increased insurance costs, increased taxes and registration fees, and the lost investment income from the bigger cash outlay at the car's initial purchase, even if you come up with a bunch of fancy tables showing how driving the new car is technically a better deal.
A new car is more expensive, just not by nearly as much as the conventional wisdom would have you believe.
In my case, I'm confident the difference was so negligible that my new car decision will hardly impact my financial goals. For your case to be the same, there are three huge keys:
You have to start your car search with one of the cheapest cars on the market. I was looking at the Mazda 3/Hyundai Elantra/Honda Fit sort of dirt cheap rides. The depreciation hit on cars any more expensive will be too large to ignore.
You must be patient enough in your savings to essentially purchase the whole thing in cash. If you stretch yourself too thin to reach the price of a new car, you will get destroyed by the interest payments.
You should intend on driving your new car into the ground. This means holding it for a minimum of 150,000 miles. Replace your car much sooner than this, and the cost of the larger initial cash outlays and higher sales taxes will drain your savings.
No, a new car is still not the most perfectly optimized decision. Play your cards right though, and it can be pretty darn close.
At the end of the day, I purchased a car at less than half the cost of the average car purchase in America, and I expect it's 40 mpg to cheaply propel me into the era of fully electric cars powered by solar paneled houses.
Maybe by then, the used car market will start looking a little more appealing. •
Want to see the exact strategy I used to pay  $2,000 less than the average sales price on my car AND get $500 over KBB excellent value on my trade in? There's a carticle for that: 
The Car Negotiation Strategy I Used to Save $3,000
________________________________________________________
Related Articles: