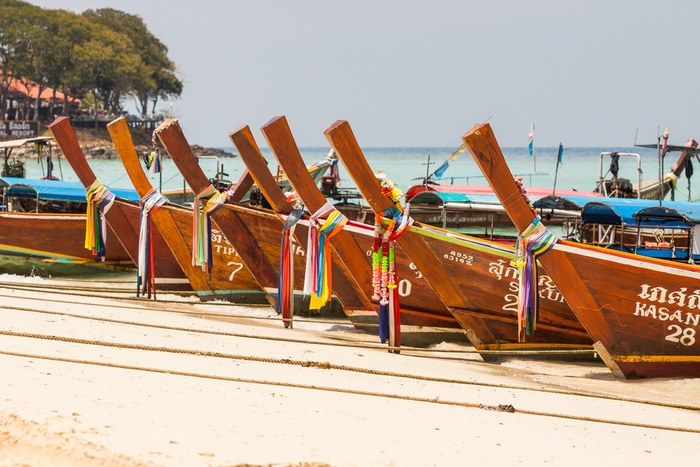 A few weeks ago, my favorite new podcast blindsided me with a book recommendation.
The podcast is called How I Built This, and it features awesome one-on-one interviews with some of the most successful entrepreneurs in the world. If you're as addicted to shows like Shark Tank as I am, you'll love the series.
Back in December, Mark Cuban was on the show. In the middle of his fascinating life story, he dropped a bomb of a book recommendation:
I read this book, How To Retire At the Age of 35. That was a book I kept on my desk. That was my mission."
Well, that marks (pun intended) the second time I've heard Cuban recommending this book in an interview, so now I had no excuse. As someone who's also on the mission to retire by around 35 and thinks Mark Cuban is the man, I knew this had to be my latest read.
Book Review – Cashing in on the American Dream: How to Retire by 35
In 1985, Paul Terhorst had successfully climbed the corporate ladder. He was a 35-year-old married man, making good money at one of the largest accounting firms in the country. He was young, successful, and by most measures, living the American dream.
He promptly retired.
Despite the glamour of the job title, Paul just wasn't feeling it. Because along with the success and the money, Paul felt overworked, stressed, and uninspired.
As an accountant, he ran the numbers and came to the startling realization that he didn't need to work anymore.
It's easy for those of us reading a blog about early retirement to take his leap from the top of the workforce for granted. Today, early retirement has at least caught on enough to allow a 26-year old to share his retirement plans on the front page of Yahoo.com.
In 1985, the internet wasn't even a dream, and Microsoft was still working on some doomed piece of software called Windows.
Paul presumably spent his first few years in retirement writing, because in 1988 he published Cashing in on the American Dream: How to Retire by 35. Does it make me a clueless millennial if I'm legitimately curious whether he wrote the whole thing on a keyboard, typewriter, or by hand?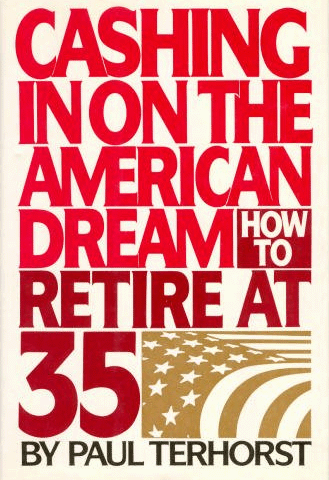 His book is a practical guide to early retirement from a time when early retirement wasn't a thing. For that, the book is groundbreaking, but also a little dated.
How to Retire at 35
The basic strategy outlined in the book is:
Save up $400,000 to 500,000 dollars. (about $900,000 to $1.1 million in today's value)
Decrease your consumption until you can live on $50 per day. (About $100 in today's value)
Limit your stuff, and invest your nest egg into CDs yielding 8% interest.
Wait, what? What's an 8% CD?
Yep, those haven't exactly existed in my lifetime, and apparently some angry Amazon reviewers are eager to write off the whole book because of it:

Those reviews would be… how do you say it? Missing the point entirely.
Yes, I'd recommend reading the investment sections with a grain of salt. The book uses a lot of examples with interest rates over 15%, and considers it almost impossible that interest rates would fall below 8% for any extended period of time. Oh how the times have changed…
(The investment section is interesting to skim, if for no other reason than to show how drastically the economic environment can change)
Even with its outdated investment advice, stained yellow pages, and antiquated Times New Roman font that gave me flashbacks to boring college textbooks, How to Retire by 35 is still packed with wisdom about early retirement.
The book swings hard at our desire for stuff, presenting a compelling case for giving up the big house, fancy cars, and expensive cities.
You'll be able to relax and read everyday rather than work to support your assets five days a week and maintain them the other two," Paul Terhorst on the early retirement lifestyle, pg. 165
And more so than any internet blog I've seen on the topic, the book really dives into the practical realities of early retirement.
Internet bloggers tend to sell early retirement as the obvious step once you reach a certain level of wealth. It's all good and no bad, they say, and anyone would be a fool to continue working when they have the option not to.
Comparatively, Paul Terhorst slows down. He takes a step back and asks you to consider exactly why you're planning on retiring, whether you're ready to handle the massive life change of an early retirement, and how you can expect your friends to react.
I enjoyed the author sharing his own story of life in retirement, and the stories of other early retirees he's met along the way.
When you're working a normal 9-5 career, day in and day out, your circumstances lead to you meeting lots of other people working a 9-5 career, day in and day out. This can lead us to incorrectly conclude everyone works a normal job. As an early retiree, Paul knows many more early retirees than you or I, and he happily shares some wisdom from their stories.
Paul and his wife Vicki have used their early retirement to travel the world. Midway through the book, he details all the different countries they've called home, and he compares how each country stacks up as a semi-permanent retreat for an early retiree. This unexpected field trip was a fun way to get the dreamer juices flowing.
I think I'll try living in Argentina, that country sounds nice. 🙂
So, Where's Paul Terhorst now?
Reading through the author's opinions and predictions from 30 years ago makes it easy to spot the incorrect guesses. One can't help but glimpse back with the benefit of hindsight and think, "Wow, that's certainly not going to happen. Is this guy's retirement gonna survive??"
Although the book hasn't received any updates since 1988, the internet is a beautiful place. Through a little research, I was able to track down Mr. Terhorst's latest updates.
35 years, 6% lower interest rates, and 3 of the most devastating market crashes in history later, Paul and his wife Vicki remain happily retired.
Now 68, the two still use their freedom to travel full time. In November 2016, they moved from Bangkok, Thailand to Kuala Lampur, Malaysia.
They were on their way to Buenos Aires, Argentina, where they've lived off and on throughout their retirement. A few times a year, they come back to the US to visit friends and family.
When interest rates fell, Paul ditched his CD investing strategy and now invests about 95% of his portfolio into the stock market. Their income is further supplemented by social security, which they started claiming at age 62.
To stay sharp, Paul writes an occasional column for a retirement magazine, and Vicki is his editor.
"Our lives just keep getting better and better and happier and happier," Vicki told Forbes in a recent update.
Final Rating:

One lost Wizard Hat because the book could use an update. Having to convert 1988 to today's dollars gets a little cumbersome, and the wisdom of an early retiree who's survived 3 massive market crashes would be a priceless addition. In any case, the fundamental concepts are still true today.
If you've been frequenting the usual early retirement internet sources, you probably won't see anything earth shattering. However, you will enjoy nodding in agreement to one of the original books that started a movement.
To grab your own copy, the frugal decision is of course to check your local library. For those of you as impatient as I am, you can order your own copy from Amazon using this link (or any other link on this page!) and your order will throw a few pennies this site's way. Thanks for your support!
UPDATE November 2017 – For some strange reason, this book is sold out everywhere on the internet, although some scummy amazon sellers still have it listed for $350. Yeah right… So I reached out to the author for a work around, and it turns out the book can be read for free on OpenLibrary.org. Link here.
Readers, does anyone have an opinion on this one?
---
Related Articles: