Welcome to another monthly Net Worth Report!
Last month, I apologized for publishing the October update a little late. Never one to be outdone, this month's update is even later!
Yes, as we close the books on National Turkey Month, it's time for that monthly strip down.
If you're new here, every month I reveal all my finances to the world in the form of an in depth Net Worth Report. Of course, this is all part of a broader plan to track my progress towards a big 'ole net worth and an early retirement.
Other than stuffing my face with well, stuffing (also some a ton of turkey) November was all about spending time with family. Although I did quite a bit of work related travel, the undisputed highlight trip was flying home to Texas to visit family over the holiday.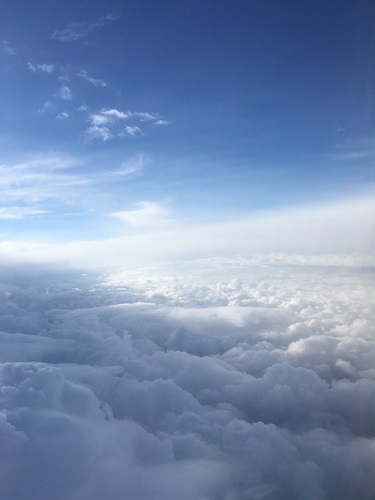 Back in Minneapolis, I continued to squeeze value out of my criminally cheap Minnesota State Park Pass. One of my favorite parts about Minneapolis is all the hidden parks and green spaces tucked away in plain sight.
I must have driven by this peaceful gem a hundred times, without any clue such calming nature was right underneath my nose: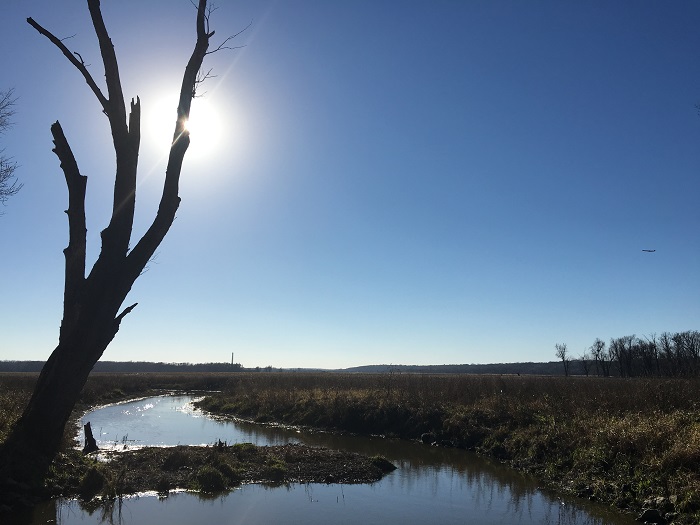 For anyone looking for some cheap entertainment – dining out isn't the only way to experience where you live. Explore your city!
Yes, I mean outside!
Otherwise, November was a relatively low key month.
Except that I bought a car!
Fear not, I will go into enough details over the purchase to make you all tired of me.
Expect to see future articles detailing my decision on whether to buy used or new, tips anyone can use to survive the car buying process, and the exact strategy I used to purchase a car for $2,000 less than the average sales price in my area AND get $500 over KBB "Excellent Condition" for my trade in.
How's that for a teaser trailer?
All of that is upcoming. This post is all about Net Worth, so let's get to it!
November 2016 Net Worth Update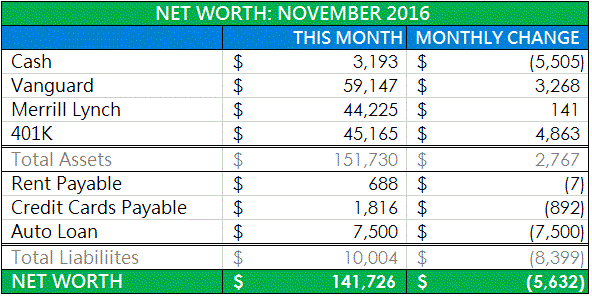 In a plot twist only M. Knight Shyamalan could have directed, the markets responded positively to the results of the presidential election. Because I'm still in the accumulation stage of my financial journey, and therefor invested heavily into the stock market, my portfolio was heavily boosted by this record upswing.
Despite this, my Net Worth still dropped $5,600!
As it turns out, buying a $14,000 car isn't the best move for your wallet.
Hmm, I could swear I read about something like that before on this website…
It is worth noting here that I'm shooting myself in the foot with my shoddy accounting system. I'm understating my net worth by several thousand dollars by not including my vehicle as an asset.
If I wanted to be more accurate, I would include the value of this newly purchased vehicle into my net worth.
I won't be doing that.
You might be tempted to think I have a really sophisticated Money Wizard-like reason for not including the car. You would be wrong. The simple truth is that I don't want to hassle with recalculating the value of my car every month for these net worth updates. Plus, the car will eventually, one day, be worth next to nothing, so why bother?
Score one convenience!
Cash Savings: $3,193 (-$5,505)
Ouch. My cash savings dropped nearly $6,000 in November, which was almost entirely spurred on by a $7,000 down payment on the car.  I did up my frugality in November to try to offset the kick in the gut I felt from this big 'ole purchase, but the dent remains.
Vanguard Account: $59,147 (+$3,268)
Hooray stock market rally!
No contributions this month, so that's $3,000 of passive stock market gains. I love when your money makes you money…
These days, this account is my primary after tax investment vehicle. I've chosen to go with VTSAX and VGSLX, which are both low cost index funds. VTSAX represents the total stock market while VGSLX is a real estate investment trust.
As of month end, I had $46,000 in VTSAX and $13,000 in VGSLX.
For anyone getting started, VTSAX, or any similar vanguard fund with low costs and a good representation of the market, is a great starting point.
Merrill Lynch: $44,255 (+$141)
With no contributions during the month, you'd think this account would more closely reflect the overall market. Unfortunately, I own stock in one of America's largest gun manufacturers, which got absolutely hammered when someone not talking about banning guns was elected president.
Check out this hilarious chart: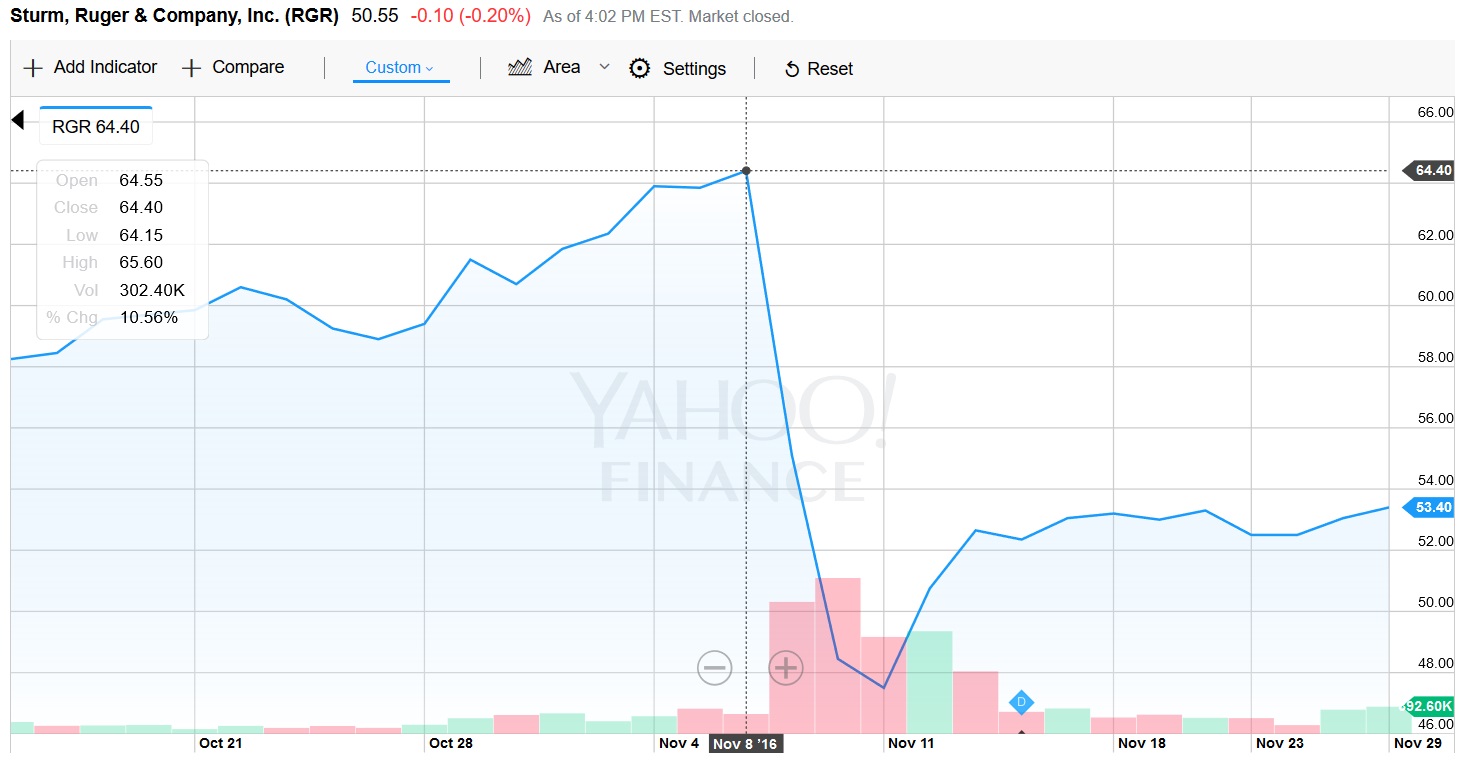 These are the swings you can look forward to when purchasing individual stocks, which is why I recommend most investors to just choose an index fund and save yourself the hassle.
401K: $45,165 (+$4,863)
Hooray stock market rally again!
This one was boosted by both the gains in the market and my automatic paycheck contributions, resulting in a supercharged capitalization on the stock market upswing.
Rent Payable: $688 (-$2)
Nothing to see here. Still sharing rent in a 2 bedroom Minneapolis apartment that has more space that I'd ever want. The heating bills seem to have leveled off now that we're nearly in the full swing of winter.
Credit Cards Payable: $720 (-$892)
I had a crazy low credit card bill this month, which I attribute to coming off of a frugal previous month, and then upping the frugality further after feeling the ache of a car purchase.
Auto Loan: $7,500 (+$7,500)
Don't drop your glasses just yet. Financing was necessary to score some cash back on the car purchase. The first payment is due in March, at which time I fully expect this sucker to be completely killed off.
Conclusion
Thus concludes a Net Worth Update of the November 2016 variety. We can see first hand just how devastating even a relatively cheap car can be to a net worth position. Had the stock market not rallied to record highs, this would have been an even uglier monthly update.
Of course, I'll be going into all the details soon enough, but for now we close the door on November and drive that Christmas sleigh right into the Holiday Season.
Happy Early Holidays Everyone!