In a world where most celebrities blow through their fortunes like it's some kind of race to bankruptcy, a select few dare to go where almost no others have gone before. They dare to be frugal.
But just who are these frugal celebrities?
I'll admit, when I first started researching frugal celebrities, the results were a joke.
Over and over, I'd find tons of celebrities pretending to be frugal. They'd talk about how they're "one of us" because they used a coupon or two, before being chauffeured back to their mansions.
Give me a break…
So, I decided to put together a slightly better researched list. Let's get into it.
1. Ed Sheeran
View this post on Instagram

As far as I can tell, Ed Sheeran might be the king of frugal celebrities.
The pop star pockets about $60 million per tour, yet the guy still uses his student checking account, monthly limits and all. And he's got a budget that even puts me to shame; he reportedly gives himself a monthly allowance of just $1,000 per month.
I thought we'd have to strip him of this title when I recently saw that he went on a house hunting spree, buying 27 properties worth £57 million pounds. But as it turns out, he rents them out as investment properties. Nice!
2. Warren Buffett
I don't need to tell you that Warren Buffett invested his way to somewhere around an $80 billion fortune. That's enough to constantly rank him among the 10 richest people in the world, which makes his frugality even more impressive:
He still lives in his modest house in Omaha, Nebraska, which he bought in the 1950s for just $31,500, (Barely over $250,000 in today's dollars.)
He eats the same breakfast every morning – a McDonalds trip that never costs more than $3.17.
And his guilty pleasure seems to be Cherry Coke.
To be fair, he did purchase a beach house in California for $150,000 in the 1970s, although I suspect he viewed the purchase partly through the lens of his investment sense – he sold the place in 2018 for $8 million.
His biggest splurge, without question, is the private jet he purchased to help with the amount of travel he had to do as Berkshire Hathaway's CEO. (He named his jet "The Indefensible" due to his past criticisms of billionaires and their jets.)
In any case, I still think anyone whose house literally represents 0.00025% of their wealth deserves to make this list. Plus, he already promised to donate 99% of his wealth to charity.
3. Elon Musk
Elon Musk's net worth is among the highest in the world, yet in 2020 he publicly announced that he'd be selling almost all of his possessions.
I am selling almost all physical possessions. Will own no house.

— Elon Musk (@elonmusk) May 1, 2020
He explained that after owning several homes, he'd decided possessions only weighed you down.
4. John Urschel
Former Baltimore Ravens offensive linemen was not only one of the smartest players in the NFL, but also one of the most frugal.
John Urschel graduated from Penn State in three years, then spent his senior year getting a master's degree in Math, all while teaching integral vector calculus trigonometry on the side. (No big deal…)
Despite earning $1.8 million over his three season NFL career, he still drives a used Nissan Versa that he bought for $9,000:
My Nissan Versa in the Ravens parking lot. pic.twitter.com/Bbqy8JircL

— John Urschel (@JohnCUrschel) August 3, 2015
And far from being a sacrifice, the 308 pound lineman says the tiny Versa is his dream car:
It's great on gas. It's surprisingly spacious. And you know what the best feeling is? You're driving into a parking deck, it's near full and you're on the first level and there is that space that everyone has passed because they said, 'No, we can't park in there.' And I take my Versa and I just go right in there."
All told, John Urschel says he lives on just $25,000 per year.
5. Daniel Norris aka "The Van Man"
View this post on Instagram

Daniel Norris is an MLB pitcher for the Detriot Tigers who's undoubtedly one of the most frugal players in baseball.
That's because in the offseason, Daniel chooses to live in a 1978 VW Wesfalia camper van which he nicknames "Shaggy." (His teammates nickname him "The Van Man.")
No worries though, Daniel is laughing all the way to the bank, since living in a van only costs about $515 per month. Not bad considering he earns around $1.3 million per year from his MLB salary.
6. Vincent Kartheiser
This Mad Men TV star has spent the last few years selling and giving away almost all of his possessions.
At one point, he didn't even own a toilet, which clearly might be tipping the scales from "frugal" to "cheap" since I'm not even sure how that would work.
In any case, he now lives in a one bedroom apartment and doesn't own car; he says he prefers public transportation, anyway:
It's wonderful. Instead of driving and being stressed out about traffic, you can work your scene, you can do your exercises or whatever on the bus."
7. Tiffany Haddish
Tiffany Haddish is an actor and comedian best known for her role in Girls Trip.
She explains that she was once homeless, and so she's constantly saving to make sure that never happens again. She still drives a Honda HR-V and proudly rocks a fake Michael Kors purse.
8. Matthew McConaughey
Apparently, even after making millions in his first few box office hits, Matthew McConaughey chose to live in an airstream trailer for four years between 2004 and 2008.
View this post on Instagram
Even recently, he was known to travel to his jobs via the airstream, rather than the luxury hotels most movie stars prefer. McConaughey says he just always loved driving, and his customized airstream allowed him to being the comforts of home wherever he was.
Although these days, frugality seems to be more of a vacation for him than a way of life. His permanent home is now a sprawling lake mansion outside of Austin, TX, and he tows the airstreams behind his King Ranch pickup truck, which is just one of the many cars he owns.
9. Jay Leno
Wait a minute, doesn't Jay Leno own the biggest multi-million dollar car collection in the world?
Yes, yes he does.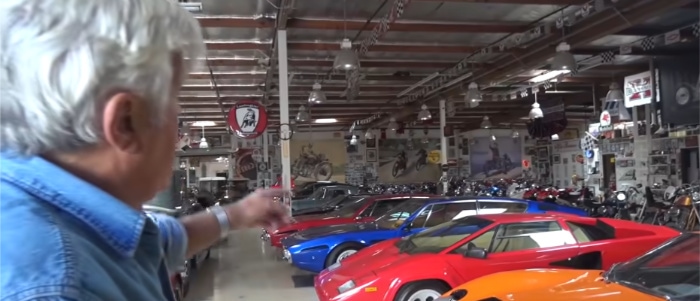 You're probably thinking I'm just getting desperate to round out this list, and if I'm being honest, you'd be kind of right about that. Jay Leno isn't really the greatest example of frugality.
BUT, he's an absolutely awesome example of being smart with your money.
Apparently, Jay Leno has never touched a dime of his Tonight Show salary. That's a seriously impressive display of willpower, considering in his prime, that salary topped $30 million per year.
Instead, Jay says his whole life, he's always had two incomes. No matter what, he'd live off one and save the other.
He explains to CNBC:
When I was younger, I would always save the money I made working at the car dealership and I would spend the money I made as a comedian," he says. "When I started to get a bit famous, the money I was making as a comedian was way more than the money I was making at the car dealership, so I would bank that and spend the car dealership money.

When I got 'The Tonight Show,' I always made sure I did 150 [comedy show] gigs a year so I never had to touch the principal," Leno says. "I've never touched a dime of my 'Tonight Show' money. Ever."
Personally, I think this example is just awesome.
I've always said the key to building wealth and happiness is not spending as little money as possible. Instead, it's making sure you're only spending money on the things that truly matter to you.
For Leno, that's cars. But like a true Money Wizard, that passion is backed up by some impressive savings.
---
Related Articles: