Hey Money Wizards,
As you can probably tell, I'm having a ton of fun with these celebrity net worth analyses! I just think it's fascinating what we can learn from some of the most successful people in the world.
We'll get back to our regularly scheduled programming next week, but today we're taking a look at the rise of Mr. Joe Rogan. Enjoy!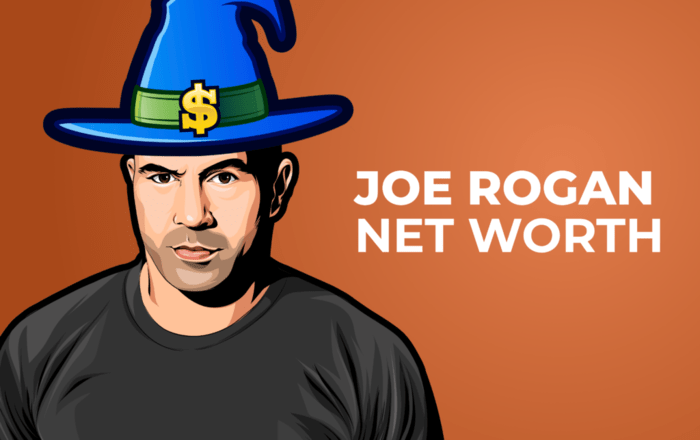 Joe Rogan is a stand-up comedian, martial artist, and television personality. 
Although he's most known for convincing people to eat disgusting things as host of the TV show Fear Factor, he also provides color commentary for the UFC and is a famous stand-up comedian. In his free time, he hosts the wildly popular Joe Rogan Experience, one of the most downloaded podcasts in the world. 
Joe Rogan's success across so many fields has led to him becoming one of the richest comedians in the world. 
While his official net worth is reported at $25 million, many estimate his podcast alone earns well over $10 million per year. Therefore, his true net worth is likely far more than reported.
Early Life
Joe Rogan was born in Newark, New Jersey in 1967. At age 5, his mother and father divorced, and Joe's father left after age 7.
Joe later said his only memories of his father were bursts of domestic violence, although he clarified, "Nothing bad ever really happened to me. I don't hate the guy."
Joe's family moved around until eventually settling in Newton Upper Falls, Massachusetts. As a teenager, Joe took up martial arts. Eventually, he began competing in Taekwondo tournaments.
Joe cites martial arts as helping him with the insecurity he experienced as a teenager.
"It was the first thing that I ever did where I didn't feel like a loser… All the sudden there was this feeling that I was unusual, that I was unique, that I was special."
He soon dedicated himself to improving at Taekwondo. He became obsessed with the sport, training for hours every day. At age 19, he won the US Open National Taekwondo Championship, and he remained a Massachusetts state champion for four years.
At age 21, he began experiencing headaches, which frightened him about the long term health-consequences of a contact sport like Taekwondo. He stopped competing shortly thereafter, and instead began instructing Taekwondo to support himself.
He attended University of Massachusetts at Boston for three years, but eventually dropped out due boredom and disagreements with professors.
Joe then worked a number of odd-jobs, including construction and newspaper delivery, although he says he was barely able to pay his bills.
At a stand-up comedy event in 1988, he took the stage after his friends pressured him into it. To his surprise, he enjoyed the rush. When he realized he could actually make money from comedy, he pursued it at as career.
He then began the long-grind of stand-up comedy, touring the country and making a few bucks at any event that that would have him.
At age 27, Joe moved to Hollywood, hoping to progress his comedy career.
Path to Wealth
A year after moving to Los Angeles, Disney signed Joe as an actor for the TV Show Hardball. His contract included a large signing bonus, and for the first time in 28 years, Joe's money problems were solved.
A year later, he landed a role on the TV Sitcom NewRadio. Although the show was cancelled after four years, it was an overall hit. (Eventually, the show turned into a sort of cult-classic, garnering Rogan even more exposure.)
In 1997, Joe was hired as post-fight interviewer for the nearly bankrupt UFC. He stayed on the job for two years, before realizing he could earn more working stand-up comedy gigs on the weekends.
But Joe's major breakthrough didn't come in 2001. At age 34, he agreed to host a new TV show called Fear Factor.
Fear Factor and the UFC
In his stand-up comedy special, Rogan joked that he thought the premise behind Fear Factor sounded stupid. He says he really only accepted the role because he could use the money and, "figured it would be cancelled soon, anyway."
To his and everyone's surprise, Fear Factor was a blockbuster hit.
Around the same time, Joe met the new president of the UFC, Dana White. Dana was immediately struck by Joe's knowledge and passion for martial arts, and he offered Joe a position as the ring-side color commentator.
Joe originally declined. "I just wanted to go to fights and drink," he later said.
Eventually, Dana White persuaded Joe into the job. Due to the UFC's poor financial position at the time, Joe agreed to work the events for free. "I said, 'Look, just get me there, get me and my friends tickets, and I'll do it.' And that's how I operated for over a year, and then I just became 'The Commentator.' It's just weird."
In 2006, Joe scored his first truly successful stand-up comedy special, Joe Rogan: Live, earning himself a healthy windfall in the process.
As Joe continued working on Fear Factor through 2013, and the UFC grew from a nearly bankrupt company (once fire-sold for $2 million before eventually growing to a $4.2 billion dollar company) Joe became a bonafide multi-millionaire.
He also released three more massively successful standup comedy specials – one originally on DVD and two through a lucrative Netflix contract.
Podcast (How much does The Joe Rogan Experience earn?)
Maybe the biggest mover to Joe Rogan's net worth is actually his podcast. In 2009, Rogan launched The Joe Rogan Experience. At the time, podcasts were still a relatively unknown medium, and Joe just wanted to see what would happen.
"It was just for fun. It was just to goof… We thought it would just be fun to hang out," he explains.
Since then, the podcast has grown into a monstrosity. It's now consistently one of the Top 5 downloaded  podcasts in the world.
And while Joe Rogan does not release exact download or revenue totals, a little basic investigation hints that Joe is making a ton of money from it.
Two years ago, Joe's friend Michael Bisping accidentally revealed Joe was making $75,000 per episode. And Joe's podcast has only continued to grow.
Insider reports estimate The Joe Rogan Experience now receives somewhere between 7 to 10 million downloads per episode. If this is true, given typical podcast advertising rates of $25 per 1,000 listeners, Joe is likely earning over $200,000 per episode.
Joe releases approximately 200 episodes per year, meaning The Joe Rogan Experience is likely earning nearly $40 million per year.
Joe Rogan's Net Worth – $25 million (likely very, very understated)
While Joe's reported net worth of $25 million may have been somewhat accurate prior to the explosive growth of his podcast, chances are his net worth is now far higher.
If his podcast earnings are correct, Joe Rogan's net worth could be over $100 million.
Joe Rogan's House
Joe Rogan owns a $5 million dollar home in Bells Canyon, California. In a neighborhood where his neighbors include Shaquille O'Neil and Alyssa Milano, Rogan actually owns the most expensive house on the block!
The six bedroom home totals 8,720 square feet, which is plenty of space for his wife and two daughters.
Rogan also owns a private studio in Woodland Hills, California, where he records all his podcast episodes.
Although the term "studio" may be a little modest…
In reality, Joe and his team built the space by completely remodeling an entire warehouse. He now describes the location as a decked-out man-cave, complete with a full gym, recording room, indoor archery range, and sensory deprivation tanks.
Joe Rogan's Cars
Over the years Joe Rogan has owned an impressive collection of sports cars, including:
1965 Corvette Stingray
A custom Porsche 911 GT3 RS Porsche
Tesla Model S P100D (which he bought after talking to Elon Musk about it on the podcast)
1970 Plymouth Baracuda
2014 Ford Mustang
MK IV Toyota Supra
Acura NSX
Favorite Quotes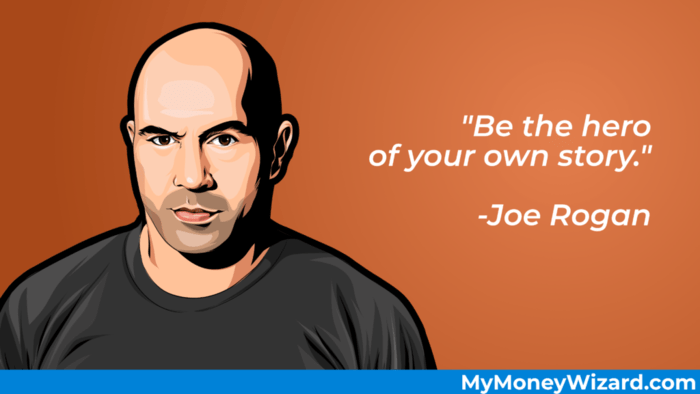 "Be the hero of your own story." -Joe Rogan
"There's only one way to get good at anything; you surround yourself with the bad motherf*ckers who are doing exactly what you want to do and you force yourself to keep up and inspire each other." – Joe Rogan
"One of the most fascinating lessons I've absorbed about life is that the struggle is good." – Joe Rogan
"Someone else's success does not equal a failure for you." – Joe Rogan
"We define ourselves far too often by our past failures.  That's not you.  You are this person right now.  You're the person who has learned from those failures." -Joe Rogan
"If you ever start taking things too seriously, just remember that we are talking monkeys on an organic spaceship flying through the universe."  – Joe Rogan
Want some serious Joe Rogan Motivation? I love this video: 
3 Wealth Building Lessons You Can Learn From Joe Rogan
Joe Rogan's rise from lost and broke college dropout to multi-millionaire renaissance man highlights a few wealth building secrets.
1. He hustled.
It's easy to look at Rogan story and only focus on the "lucky breaks." Sure, he agreed to host Fear Factor on a whim, and then to everyone's surprise it turned into one of the most popular shows of all time.
But anyone familiar with the career trajectories of comedians knows how brutal the early grind can be.
Before Fear Factor, the UFC, and his mega successful podcast, Joe experienced tons of late nights in empty bars, performing for uninterested drunks and hoping the owner's $50 check for an entire night's work wouldn't bounce.
And in between that, he drove himself all over the country, staying in grungy, cheap motel rooms night after night because that's where the gigs were.
2. He always said yes to opportunity.
How else do you go from getting coaxed by your friends into trying standup for the first time, to auditioning for sitcom roles halfway across the country, to taking a chance on some show about people eating cockroaches and burying themselves in cow turds?
As he explains:
"Something would come along and they'd say, 'do you want to act?' And I'm like, okay… I'll do that… There was no plan. It was like, how much? Okay, we'll do it."
When life hands you opportunity, you can either make excuses or be like Joe and say, "What the hell, I'll give it a shot."
Joe was always willing to try any opportunity that came along. His wide ranging life experiences eventually paid off huge.
3. He kept trying until he found what he was good at.
Joe describes feeling like a total loser as a teenager. He felt like he wasn't ever good at anything.
But he kept trying. And eventually, he found taekwondo and ran with it.
And as a college dropout, he was flat broke. He worked construction, delivered newspapers, and drove around an alcoholic private investigator. He lived paycheck to paycheck, struggling to get by.
Eventually, he found standup comedy. And he ran with it.
Everyone is destined to be great at something. Joe's story teaches us to keep churning through all the failures, because eventually you'll find your calling.
Once you do, your natural inclination and passion will propel you to success.
PS – Want to see how your own net worth stacks up to Joe Rogan? My favorite free tool is Personal Capital. Personal Capital will track all your accounts in one place, double check you're not getting overcharged on fees, and help you stay on track. For free!