Hey Money Wizards!
Time for an… end of summer?… net worth update.
If you're new here, every month I share my progress in growing my investment portfolio. Originally, my goal was walking away from work by age 37. Recently, I updated that goal to age 35, because why not? So far I'm a little ahead of schedule at age 29, so let's see the latest!
Life Update: August 2019
August is always a fun month in the land of Minnesota.
More than any other summer month, the Twin Cities really come alive in August.
By then, everyone has settled into the beautiful summer weather. The snow is long gone, the flowers are in full swing, and it seems every other day has some sort of festival packed with locals and tourists alike, who are all embracing the 75 degree highs and clear summer skies.
Lady Money Wizard and I had signed up for one of those festivals – a 35 mile summer bike ride.
Technically, the event isn't until September. But that meant to get ready, we spent many August days biking around town.
While that might make us sound like awesome fitness go-getters, the truth is much less glamorous.
In reality, I'd recently read in a fitness book that one of the best ways to hold yourself accountable for exercising is to sign up for something slightly outside your abilities.
So I tried it out, and I can definitely vouch for the strategy. Knowing we had less than a month to get in true biking shape, the clock was ticking fast!
Nothing to get you motivated for a workout then the thought of getting whipped by one of the big day's monster hill climbs!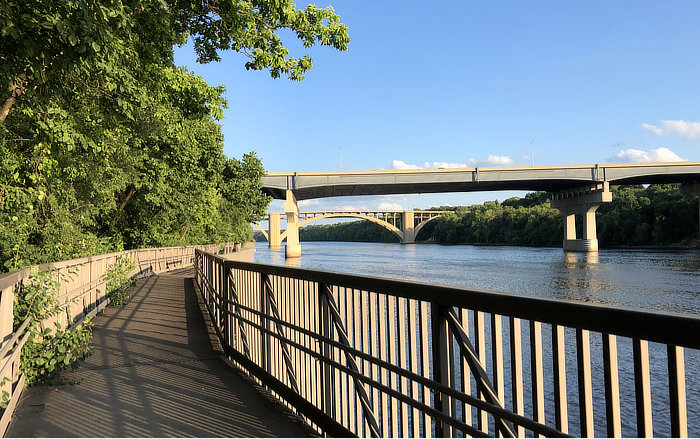 Outside of the bicycling guilt, August saw a few other seasonal festivities.
Of course, there's the Minnesota State Fair – the largest of its kind in the country, at least from a per-day attendance measurement. There, I did a good job counteracting all my hard work on the bike, by packing in as many corn dogs, mini donuts, cookies, sandwiches, and whatever else could fit in my stomach.
And then there was also one of my favorite summer traditions – the all you can drink beer fest held in Saint Paul. Again, I did my best to counteract all my hard work on the bike, this time with a liquid diet…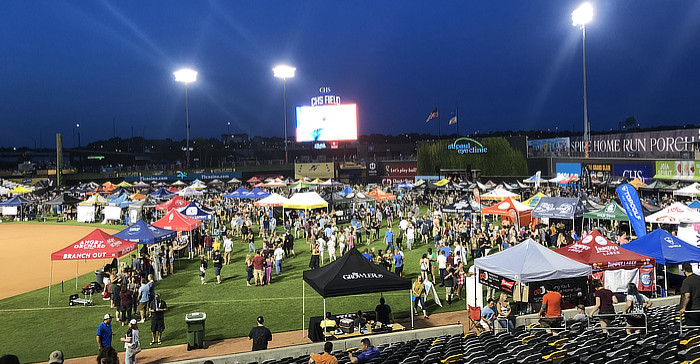 Oh, and last but not least, I'm happy to introduce a new member to the family!
After a few weeks of mourning last month's loss of The Cash Cat, we started the process of finding a new critter to rescue.
After many internet searches and our fifth or sixth in-person meeting, we finally settled on a friendly and easy-going 5-month old kitten.
So, without further ado, please welcome The Money Meow!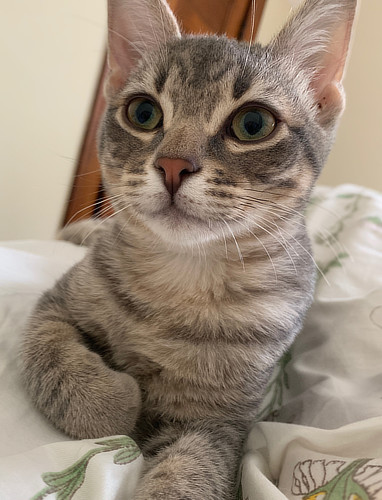 I'm sure he'll keep up plenty busy over the next few months. In fact, he's circling my feet as I type this, clearly ready for another play session. Guess it's time to wrap this section up!
Net Worth Update: August 2019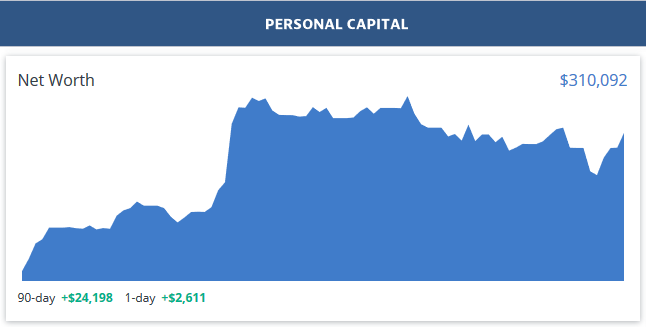 And the monthly spreadsheet: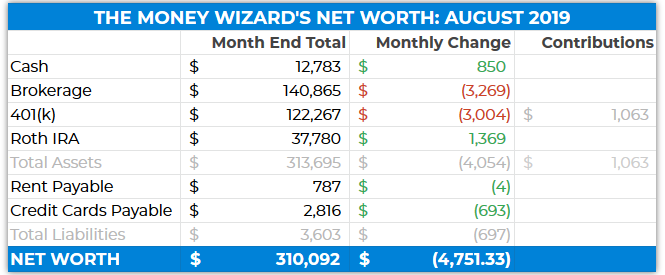 A ~1.5% drop following a wild month in the market.
As of month end, my total allocation across all accounts was: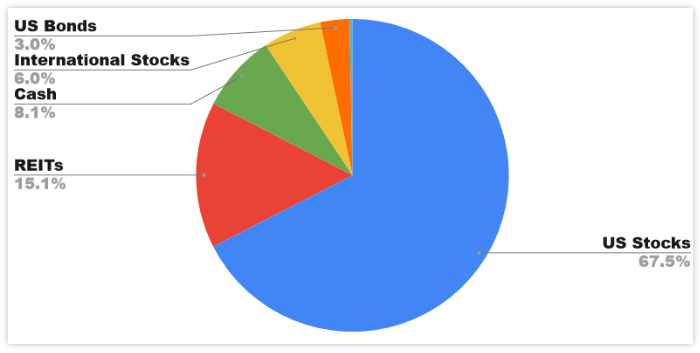 So let's take a closer look.
Cash: $12,783
(+$850)
I'm comfortable building my cash balance to a higher amount than ever before, given my concerns with the economy right now and my own personal risk tolerance. (If you missed last week's post about my thoughts on the market, definitely check out that article.)
That said, even though I'd like to build a larger "cash" balance, just having that cash sitting in a checking account is a bit of a waste. So, I'll probably transfer that cash to something like a money market account later this month, where I could at least earn 1-3% interest.
Brokerage: $140,865
($3,269)
The S&P 500 fell about 2.8% in August, and so that was somewhat reflected here in my 2% drop in the brokerage account.
401(k): $122,267
($3,004)
Similar drop in the 401k account, which is almost 100% stocks.
Roth IRA: $37,780
(+$1,369)
Pretty cool to see some diversification benefits here. While the stock market fell around 3% in August, Vanguard's REIT Index Fund rose 3.3%. (My Roth is invested entirely in this fund.)
This counter-cyclical nature is interesting to see, and makes me wonder about something I've been toying around with in my mind.
A look at recent history would show that Real Estate REITs are pretty highly correlated to the stock market itself. When the 2008 crash hit and stocks fell 30-40% across the board, Vanguard's REIT index was falling right there with the rest of the market.
Of course, that makes sense, considering the 2008 market crash was driven first by an implosion in the real estate markets.
Which then raises the question – what if a stock market correction occurs that's not triggered by real estate problems?
Hypothetically, REITs should offer a little more diversification benefits in that case. I have no idea if my hypothesis is correct, but it's something interesting that I'll research further.
Rent Payable: $787
($4)
Another pretty low bill, since the weather has been nice enough to not need to run the AC.
In fact, looking at the upcoming forecast, I think this means I went through the whole summer and can count on my hands and toes the number of times I turned on my air conditioning. Another cheer for Minnesota summers!
(For newer readers, this cost represents my half of the mortgage, utilities, and anticipated home maintenance. We allot 2% of the home's value to expected maintenance each year, or $300 per month, which lets us pay for any miscellaneous house expenses, stress free.)
Credit Cards Payable: $2,816
($693)
Still overinflated, per usual, due to some reimbursable work expenses.
As a reminder, this number is just my monthly credit card statements, which always get paid in full. Credit card interest is a massive wealth killer, and I never intend to pay it. Ever.
Total August Spending: $2,428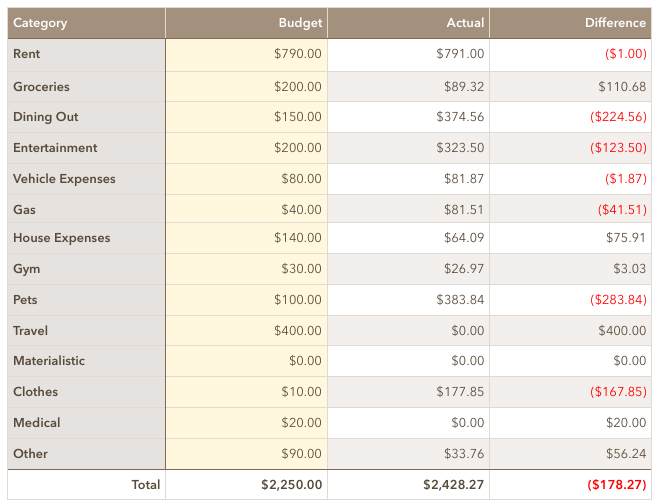 Dining Out: $374
Whoa! Maybe my new record?
Part of the reason for this massive tally is a funny story, and also a good cautionary tale for others.
In August, I bought a discounted Groupon for a dinner at a really fancy restaurant in town. Then, I smugly patted myself on the back for what a good deal I scored.
That is, until I actually went to the dinner and saw the menu prices! When it was all said and done, my "cheap" and "discounted" dinner still cost me $82!
A nice reminder – just because it's on sale, doesn't mean it's a good deal.
Groceries: $89
Unusually low this month, probably because of how many times I ate out instead.
Entertainment: $324
All those festivals added up! Included here is:
At least $50 at the state fair
$30 for a concert
$20 for a food truck festival
$80 for all-you-can-drink tickets for two to the beer fest.
$40 for a baseball game
Over $100 on random bar and brewery trips with friends
That said, I had a blast at all these and consider them money well spent, so I'm not stressing too much about this bill.
Pets: $384
Got the final bill for the loss of The Cash Cat, which Lady Money Wizard and I split.
Also bought some new food to win over The Money Meow.
Clothes: $178
Replaced one more pair of shoes. Also stocked up on these arch-support inserts, which for somebody with flat feet like me, are total lifesavers. They're only $10 or so, but I had a brief moment of panic when I thought they were discontinued, so I bought about 6 pairs in hopes of building a near-lifetime supply.
How was your August?
There's really something special about the summer. I hope you've had a great one so far!
PS – Want to easily track your own net worth? I still think Personal Capital is the best way to do it.
---
More from My Money Wizard: