You're gonna end up living in a van… down by the river!!!"
A few weeks ago I opened my front door to quite the surprise.
Right there, parked directly in front of my meticulously maintained front lawn, sat a huge… ugly… van.
This thing was hideous.
The van's condition immediately made me wonder whether it managed to drive here or instead fell off the back of a tow truck.
I also couldn't tell whether it was intentionally painted tan, or if 40 years of sunlight had finally worked its magic. "Racing stripes" in the worst shade of 1970s brown, orange, and maroon peeled off its sides. The hub caps (if there ever were any) were completely rusted down to something resembling a penny that had fallen out of somebody's pocket, sat untouched for years on end, before eventually getting run over. Probably by a hideous van.
That's when I noticed the half stained drapes covering the windows on all sides.
Unlike the van itself, which was coming apart at the seams in all sorts of figurative ways, the drapes were literally coming apart at the seems.
That's when it hit me…
"Somebody's living in this van!"
Just as I was about to call the city on my newest neighbor/squatter, I realized the potential genius of this setup.
Van Living
I quickly felt my hostility fading into curiosity.
After all, I've always had a soft spot for weird living arrangements. (I'm the guy who originally planned on renting an apartment for my entire life. Then, I started looking into living on a houseboat. Eventually, I settled on buying a real, actual house with Lady Money Wizard for about 1/3 the price the "common knowledge" said we could afford.)
Yet my dream of crazy living arrangements lives on. And I don't think we can get much crazier than a van.
Long the tenant of the homeless, living in a van has carried a reputation for affordability for centuries. But just how affordable?
More interestingly, what if we took this thing from "I just got kicked out of the apartment and have nowhere else to go?" to a well planned strategy of money wizarding?
Could it be done? Exactly how much does it cost to live in a van?
#VanLife
It turns out, in a world where pretty much anything can gain a following on the internet, selling all your possessions to live in a van has actually become quite the online movement!
But these are no ordinary vans. Instead, the most common move is to buy a used, retro camper van, (bonus points for a VW SlamVan) gut the interior, and rebuild the insides from the ground up.
The result puts that rust bucket parked in front of my house to shame. With Instagram handles like @VanLifeDiaries, @HomeSweetVan, and @LaCopaCaVana, these full time van dwellers rock some seriously impressive umm… houses!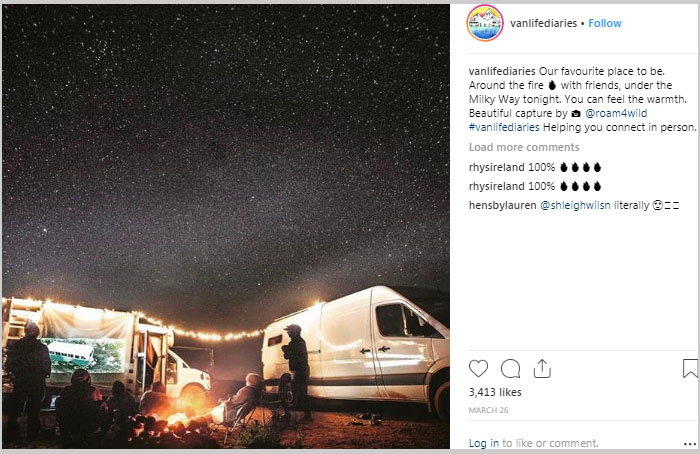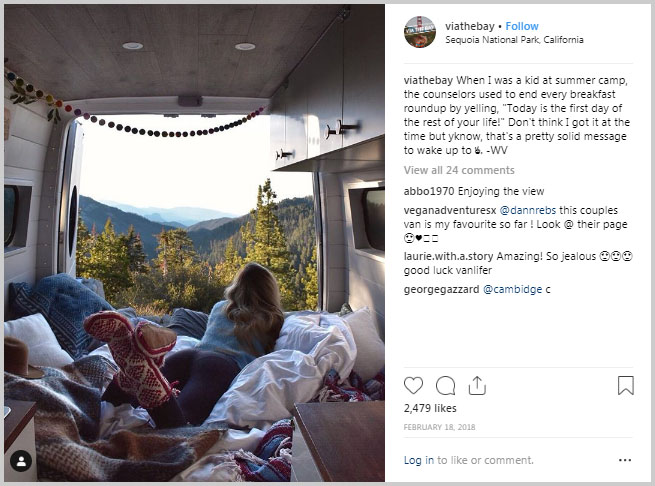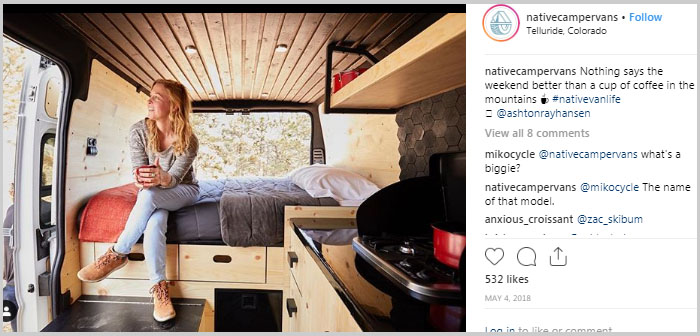 The Logistics of Living in a Van Full Time
Obviously, Van Life presents a few legitimate challenges.
When your entire house is less than 100 square feet, and the whole thing can be towed away on a moment's notice, needless to say your living arrangement requires a little more planning that the typical house.
Here's the biggest concerns that come to mind, and how Van Lifers usually address them: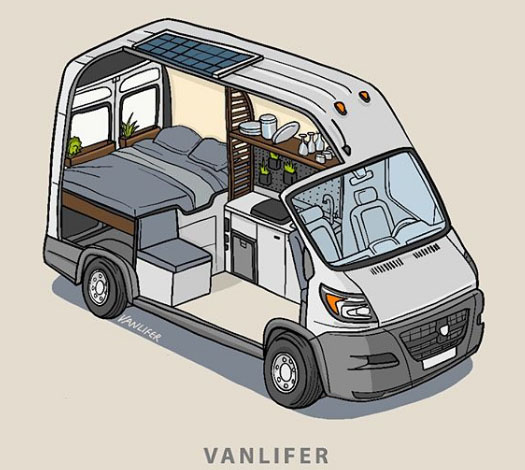 Eating in a van
Ever driven your entire house through a drive through? Now you can!
Outside of the ability to bring yourself and your house to dinner, many high end vans include mini fridges and stovetops built into the van itself. These either run off campground power, propane, or solar panels attached directly to the roof.
More frugal van dwellers forego the built-in kitchen and instead purchase a modest camping stove. These run on propane, are fully detachable, and usually cost no more than 100 bucks.
Other truly minimalist campers forego the stove entirely, and instead rely on an InstantPot for all their slow cooking, baking, and searing needs.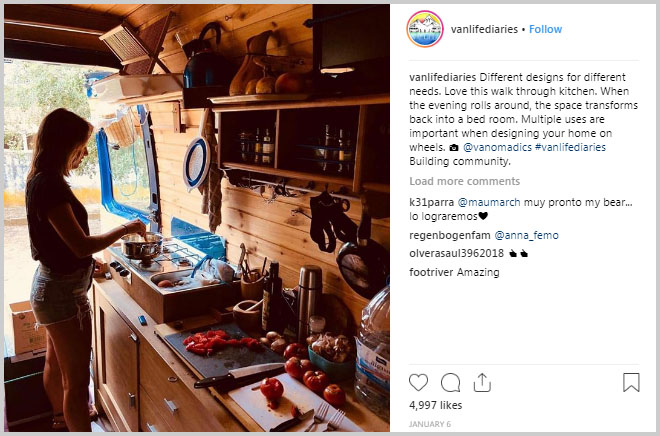 Bathrooms in a van
I'll admit, this is the first thing I wondered when I heard of people living in vans.
It turns out, solutions here get pretty creative. The most lavish option, and the one most popular for people building a van house from scratch, is a composting toilet. Others use a chemical toilet, which flushes into a black water tank below the van and is emptied at a later time. And for the truly frugal, there's Luggable Loo – a bucket toilet that's exactly what it sounds like.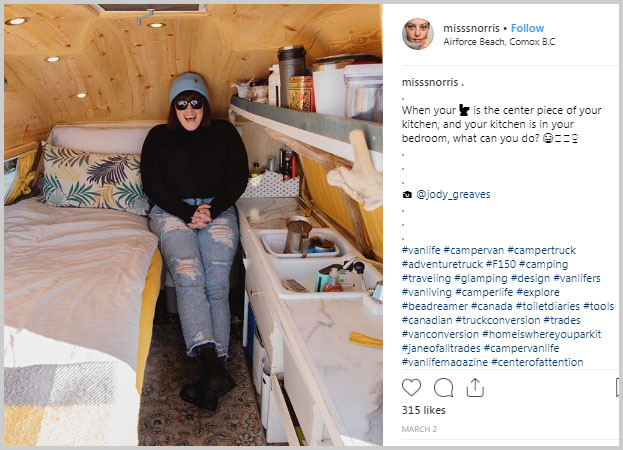 Showers in a van
There's no faster way to reinforce the van-hobo stereotype than skipping a few showers!
To combat this issue, many luxury vans include their own shower systems. Since space is limited, those showers are usually no more than a 5-10 gallon water tank mounted on the roof, with a hose attachment acting as the shower head. Typically, the water is solar-heated and pressurized using a bicycle pump.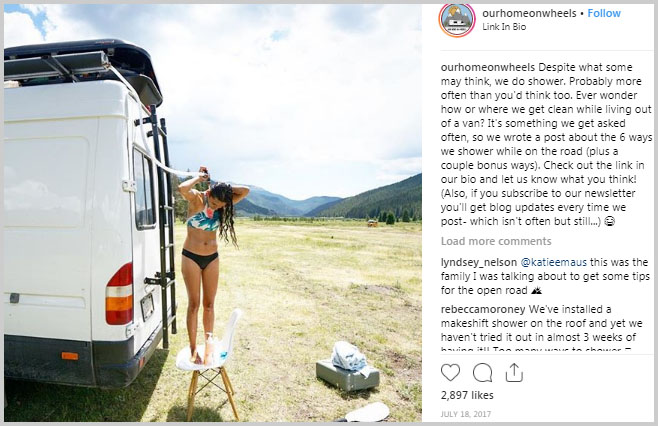 If you're still following along, these showers are located entirely outside the vehicle, which means they don't offer much (if any) privacy. They also receive mixed reviews in general, which leads to all sorts of more creative options for showering while living the van life, including:
Gym Memberships
Public beaches/campgrounds
Day passes to city rec centers
Bumming a shower from a friend or family member (probably not the best for combating the hobo stereotype either…)
Wet wipes (I seriously saw this listed as an option in my research…)
I'll be honest, after reading through this the first time, I was ready to shut down this post and write off van lifers as completely insane. But the more I think about it, the more I could see this actually working, with a bit of planning.
A healthy routine, and one of my early retirement dreams, involves waking up each morning and doing some kind of exercise at the gym. Adding a gym shower to that routine wouldn't be the end of the world.
Plus, on a personal note, my work's office building includes a locker room with a shower. A frugal van dweller living an eco-friendly lifestyle could definitely bike to work, bring a change of clothes, and shower before they started their day in the office.
Laundry during van life
Not surprisingly, vans don't have the space for a washer/dryer setup. So, most people living in a van either wash their clothes by hand or hit up the local laundry mat. Which sounds inconvenient, but is an activity shared by most apartment renters too, so I wouldn't consider this too big of a deal either.
Heating a van
As a Minnesota native, this was one of my biggest concerns.
As it turns out, most van lifers battle winter with a few different strategies. First and foremost, they'll use special material to insulate the van itself during construction. Often times, this also includes special lining on the windows. Some even buy blanket-like inserts, which temporarily cover the windows to combat heat loss during the coldest nights.
Beyond that, you can take your pick between electric space heaters, wood stoves, and propane heaters. Propane heaters are by far the most common, but the most interesting I found were similar heaters powered by the gasoline of the van itself. These are the most convenient, but as is usually the case, the most expensive too.
Of course, full-time van residents always have one unique strategy for beating winter. They can just drive somewhere warmer!
Cooling a van
Lots of options here, but the most common usually involves a rooftop AC unit, rooftop fan, or window AC unit.
Internet with a van
The most common internet strategy includes a cell phone with an unlimited data plan and a personal hot spot.
Again, in the spirit of portability, driving your whole house to the coffee shop to score some free wifi is always an option, too.
Where to Park (aka Stealth Van Living)
In doing my research for this post, I actually found a friend-of-a-friend who lives in a van full time. According to him, he's allowed to legally park (and sleep) his van anywhere you can park a normal vehicle.
I'm not sure I believe him though, since the internet is full of "stealth van living" strategies, mostly in response to a few poor souls who woke up in the middle of the night to find their van getting towed… with them in it!
The best parking strategy seems to be finding a neighborhood with an apartment or two. Regular neighborhoods tend to have nosy neighbors (like yours truly, as evidenced by my intro to this article!) whereas apartment complexes and their surrounding areas have a lot of different vehicles coming and going.
Other options include:
Walmart parking lots, which allow free parking for vans, semis, and RVs.
Rest stops
Campgrounds
Parking garages (often hit or miss)
How much does it cost to convert a van?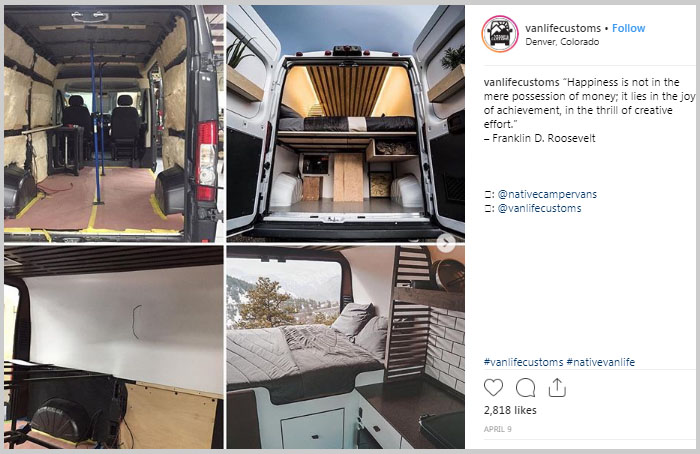 In order to take advantage of any of this, you'll need to make an existing van include all the conveniences of home.
The exact cost of this conversion depends. Are you keeping things pretty basic or do you want to be glamping in style?
Are you going for a full composting toilet, or is a bucket with a lid cool with you?
Do you you want a fancy built in heater running off the van's gas tank, or will your heating system consist of several layers of clothing and a sleeping bag?
Solar panels or no?
All told, the internet is full of van conversion estimates all over the place.
Some people make the van "livable" with nothing more than the purchase of a mattress. Others spend up to $100,000 turning a regular van into the portable home of their dreams.
Some companies, like Recon Campers, will deck out an existing van for about $28,000. This seems to be a pretty common figure for a basic build. It includes a fridge, sink, shower, and furniture, but does not include the cost of the van itself.
Which brings us to one of the most important costs.
Purchased new, large vans range from about $30,000 (Dodge Ram Promaster) all the way to about $65,000 (for a Mercedes Benz Sprinter with premium packages).

Of course, like anything, you can find good deals on their used counterparts; Craigslist is full of used creepy white vans, ranging from around $20,000 to $2,000 depending on the specific vehicle and mileage.
Oddly enough, retro vans, like the classic VW SlamVan, command a hefty premium for the nostalgia factor. I wasn't able to find a single used VW for less than $20,000.

For what its worth, my friend-of-a-friend purchased and converted his lightly used Mercedes Benz Sprinter van for $70,000 all-in, although he did all the labor himself.
So, how much does it cost to live in a van?
Tons of #VanLife peeps are pretty forthcoming about their budgets. As somebody who posts my own spending for the world to see every month, I find this practice fascinating. It wasn't long before I'd read and watched every van budget I could get my hands on. (Here's 1, 2, and 3 example budgets of people living in a van full time.)
What I've learned is that like anything, the exact cost of living in a van varies so widely that it's hard to put an exact number on it. But in general, your baseline expenses for living in a van are roughly:
Gas – $200/month
Obviously, this depends on how much you drive your house around. And while these giant cargo vans usually guzzle gas like monsters, overall I was pretty surprised at their relative fuel efficiency.
In general, large vans these days get 10-20 miles per gallon. (Although obviously, adding the weight of a full kitchen and sleeping quarters probably pulls that number down a bit.)
Insurance – $150/month
This part is interesting. Do you get car insurance? Or is it house insurance?
The best strategy, as recommended by van lifers, is to talk to your insurance company directly and explain the unique situation. Usually, this ends with a car/house combination insurance policy that runs about $150 per month for around $70,000 of house-van coverage.
Heat/Air Conditioning – $50/month
Again, this one depends on your climate, and whether you're willing to drive away to warmer/cooler pastures during the extreme months.
But for those van lifers dedicated to fighting it out with the winter weather, most report around $50 per month in propane costs for heating. I'm assuming those with the gas heating systems would add a similar expense to their monthly gas bill.
Similarly, you can expect an uptick in electricity usage for AC in the summer.
Water – $5-10/month
You'll want to fill up your water tank once or twice a month. At a minimum, this makes sure you've always got running water for your kitchen sink, although even those with onboard showers don't usually spend more than $10 a month total.
Gym – $10 per month
As previously mentioned, gyms with shower access become a bit of a necessity when you live in a van.
The most popular choice for van lifers is Planet Fitness. For $10 a month, van dwellers can score unlimited access (and more importantly, unlimited showers) at the Planet Fitness gym of their choice.
Phone/Internet – $80 per month
You probably won't have any DSL land lines to tap into, so if you want internet, coughing up for an unlimited data plan with a personal hotspot is your best bet.
Verizon offers that package for around $80 a month, and as the commercials proudly boast, their package includes the largest footprint of coverage. So when you're glamping in your van out in the woods, you can still update that Instagram of yours to make the rest of us jealous.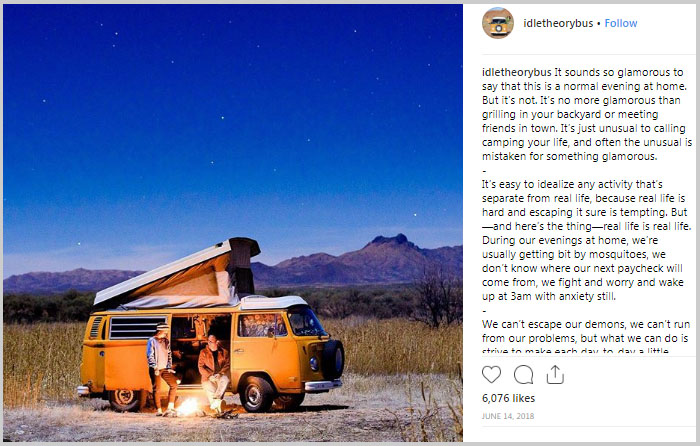 Laundry – $15 a month
You'll need to find a place to wash your clothes. A typical laundromat runs one person about $15 a month.
Parking – $0-300 per month
Stealth van living will let you park pretty much anywhere for free, whereas campsites could cost you around $10 a night. So obviously, this price depends, but we'll assume that if you're in it for the long haul, that you've found a place to park your van for free.
Total Cost of Living in a Van: About $515 per month (plus the cost of the van)
Not bad!
Obviously, I haven't included any discretionary expenses, like groceries, dining out, or entertainment. The way I see it, you'll be going to the grocery store and buying chicken breasts either way, whether you end up baking those chickens in your house's gas range or on your van's propane stove top.
Which brings up an interesting point. Many of the costs in that $515 per month estimate are expenses you probably already have:
You probably already have a cell phone, and these days, most people have unlimited data plans, too.
I bet you've also got a gym membership.
Plus, when you live in a van, you definitely don't need a car any more. (For me, that'd save another $80 a month on insurance plus about $40 per month on gas.)
Considering these factors, your "effective" cost of living in a van could be as low as $300 per month!
And we haven't even mentioned the part about van living that makes me the most jealous. With a few well-placed road trips, you could do some serious slashing of your travel spending too. While the price of gas in a van is probably a wash compared to just buying a plane ticket, once you do get your destination, you've already got a free place to stay!
What do you think, could you live in a van full time?
I had a blast putting this together. But after it's all said and done, I'm still not sure I could actually do it. And frankly, just from the perspective of having a bathroom with a door… living in an RV or even a houseboat seems a lot more practical.
That said, I'm definitely jealous of the lifestyle. And even more jealous of the savings!
Could you survive living in a van?
---
Related Articles: