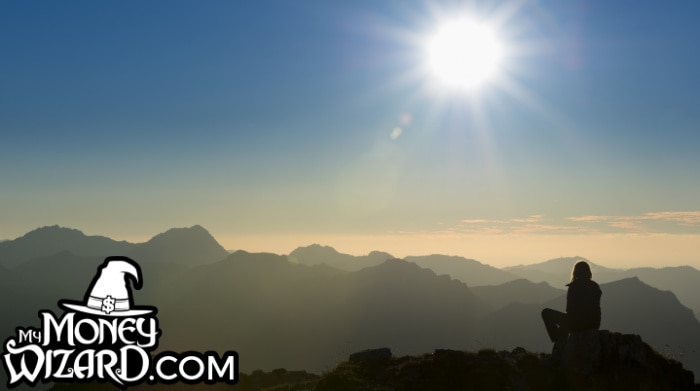 In today's world of Twitter Feeds, Email Updates, and Instant Messenger, if you want to get ahead, it's all about constant connection, right?
WRONG!
At least according to one of the most life changing books I've read recently.
At its core, Deep Work by Cal Newport makes a bold claim. All that stuff about having to multitask, work smarter, collaborate, or whatever the latest business buzzword of the day is? Total B.S.
Here's the truth.
With the rise of global competition and increasing technology, income naturally flows to the world's highest performers.
Who are those highest performers?
People who are willing to learn complex things and use that knowledge to produce at a high level.
But here's the problem with learning complex things. It's hard. (Duh!) Which means that type of learning requires intense, undistracted focus.
Also known as… Deep Work. (Title Drop!)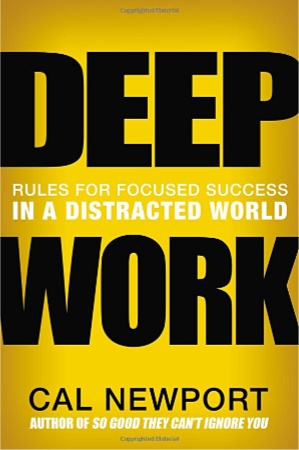 Why Deep Work is the Answer to All Your Life's Problems (Or maybe just work-related problems)
As far as I can tell, author Cal Newport isn't just making this stuff up as he goes. (Which, for the record, is a problem that plagues a ton of books in this sort of self-help genre.)
The ideas of Deep Work are backed up by quite a bit of science.
Common sense implies focus = good and distraction = bad. (As someone with tons of experience with distraction, I thought I had this simple concept down pat.) But I think a lot of people would be surprised by how bad distraction actually is, and even more surprising – how much we can be distracted without even realizing it.
One of the most interesting experiments within the book was a 2009 study from the University of Minnesota.
In this experiment, participants were asked to work on two tasks:
First, they'd complete a complex word puzzle
Then, they'd review four resumes. After reviewing the resumes, researchers sprung a surprise pop quiz on them, asking the participants to remember as many details about the resumes as possible.
But here's the catch…
The first group was allowed to finish their word puzzle. The second group was forced to stop the word puzzle before they finished it.
What happened?
Participants who finished the word puzzle before moving on performed MUCH better on the second task. (They remembered 20% more details about the resumes when quizzed.)
This concept has since been coined "Attention Residue." Again and again, research has proven that switching tasks before you're finished makes you more likely to perform poorly on the second task.
In other words, distraction isn't just bad. It's really, really bad.
So then why is instant messaging all the rage in my office? And why does every trendy company feature an open office floor plan?
The author has an interesting explanation for this. And based on my experience in the working world, I think he's totally spot on.
Convenience technology like Instant Messaging and fast paced email makes people's lives easier in the short term. Nobody has to wait for an answer, which is good. Even better, emails sent and IMs answered can be measured and packaged into a nifty report for the middle managers. And an open office floor plan looks cool during office tours. These are all measurable benefits.
But unfortunately, we can't measure the underlying fracturing these things have on our concentration. Nor do we see the silent cost of this lost concentration. It's literally impossible to measure, even though research has shown the impacts can be astronomical.
Cal Newport calls this "busy-ness as a proxy for productivity."
Back when the average worker labored on assembly lines, productivity was easy to measure. If you churned out 3 Ford Model T cars in a day, well then you were 3 Model Ts productive. If you work in a modern office environment where your vague job responsibilities include something more high level, it's much harder to prove your worth. So, people fake it by sending tons of distracting IMs and emails.
BUT WAIT! Deep Work can make you happier, too.
I told you this stuff would make all your life dreams come true.
When you're intensely focused, a few amazing and life changing things happen to you.
You literally HAVE to avoid all distractions, gossip, and bad news clickbait that bombards our lives and have been proved to make us depressed.
While it's easy to coast through shallow tasks, anything that requires extremely deep focus is important by nature. So by focusing on this type of work, your mind subconsciously views your life as more important and enriched.
You allow your mind more opportunities to reach the Flow State described in the now famous ESM Study, which has shown to correlate with higher life satisfaction.
How to Actually Do It
At this point, if you're like me, you're probably thinking, "That's all well and good, but my job is a job. I can't just start ignoring people."
And for that, I was happy to see the book provide all sorts of useful strategies.
On the most drastic end, the book talks about examples like Adam Grant, a Wharton Business school professor with a reputation for legendary productivity. (Apparently, this guy publishes academic papers at a rate of 3-4x his peers.) His secret is avoiding that deadly Attention Residue by strategically avoiding distractions.
Among other tactics, he batches all of his teaching in the Fall semester, then goes into hermit mode in the Spring, cancelling his classes and devoting all his time to researching and writing. During this time, he's extremely difficult to reach, even setting up "out of office" email notifications when he's in the office, so he can focus intensely on the most difficult parts of his research.
Obviously, that's an extreme example. In general, the book makes an encouraging discovery for those of us with real life responsibilities – in order to achieve the level of intense focus needed to become hugely successful, you really only need around 1-3 hours of undistracted time, per day.
(This number is also backed up by research which shows that, for example, beginning musicians can't really train effectively beyond about 1 hour per day, while even the most expert players can't focus intensely beyond 3-4 hours per day.)
This is great news for anyone wanting to get ahead in their job or side hustle.
By finding just 1-3 hours each day to close the door and work as hard as possible, you can make enormous strides on your goals.
The key, obviously, is to really focus during that time. Take it to an extreme – make yourself unavailable, shut of your phone, and even turn off the WiFi, if needed.
Miscellaneous Tips for Working More Productively:
Throughout the book, I found myself highlighting vigorously, and since I finished it, I've stayed mindful of the following ideas. Already, I'm seeing a massive increase in my productivity using the following strategies:
Batch your tasks: Switching from researching to email writing to researching (and back again) requires tons of willpower each time you start a new task. It's the perfect recipe for building up Attention Residue. Instead, schedule uninterrupted time to work on the most important stuff, and then respond to all those emails and admin tasks during planned chunks of your day.
Your phone is the devil: Constantly holding entertainment in your hand literally rewires your brain to lack focus. If you're never bored, you're always distracted. This erodes your ability to focus deeply.
Practice. Find a task that needs intense focus, then estimate how long it will take. Set an almost impossibly short deadline. You literally won't be able to meet this deadline if you give into distraction, so doing this a few times a day trains your focus.
Make your default answer "no." When asked to join some B.S. meeting, training, or travel assignment, most employees default to "yes." Flip that script and scrutinize every single obligation you have, starting with a "no" answer. While this might not be recommended for new hires, if you're already in a good position in your career, the negatives won't be nearly as bad as you imagine – most people will simply assume you're just too important to attend. Plus, if you're actually using the time to work productively, you'll have results to back this up.
Downtime is critical. Studies show that giving yourself dedicated time to recharge actually makes you more productive. On the flip side, trying to squeeze out extra work at night actually depletes your attention reserves and makes you less effective the next day.
Final Rating and Thoughts

I loved this one. I've written before about my procrastination problem, and I feel like this book transformed me into a man on a mission.
The idea that you only need a few hours a day to crush through your most important tasks sounds like a tall promise, but after implementing it for a few weeks, I'm totally sold.
Most people spend their workdays distracted and gossiping, with the fleeting moment of focus that usually gets interrupted by a text message or email popup.
By truly working hard for a few hours a day, your productivity can blow past your coworkers.
This mindset is especially beneficial for someone with a side hustle. Lately, I've been using this idea of Deep Work to implement the following schedule:
6:00 AM – Wake up and spend a few intensely focused hours writing for this blog.
8:00 AM – Start working on the most important tasks for my full time career.
Afternoon – Easy, "shallow" tasks that don't need much focus, like responding to various emails, filling out forms, etc.
Put simply, I've never been more productive.
PS – If you grab your copy of Deep Work using my amazon affiliate link, it really helps this site out. That said, if you grab your copy for free from the local library, then I'll give you a frugal high five and be extra proud of you!
---
Related Articles: