A few weeks ago, the financial world couldn't stop talking about the old fisherman who, for the past 10 years, had secretly held onto a $100 million pearl… under his bed of all places.
Although the complete lack of any kind of safe storage for the largest pearl ever discovered would personally make me a little nervous, this fisherman probably slept like a baby on top of his $100 million pearl mountain. I mean, just take a look at this thing!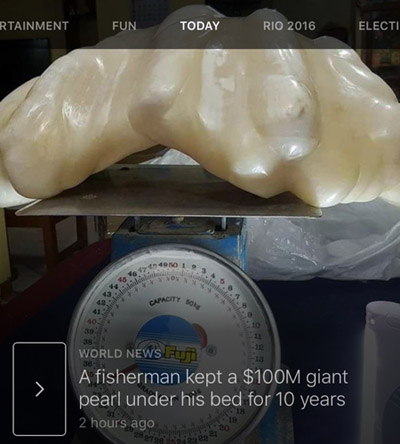 It doesn't take a pearl expert to know that's freakin' huge, and worth a fortune large enough to ensure our fisherman never has to fish another day in his life.
Which means while this giant pearl was sitting under his bed, it was, by all accounts, the greatest emergency fund in history.
…I wasn't impressed.
Okay, that's a lie. A pearl bigger than a few bowling balls and weighing more than a small child is pretty damn impressive.
But think of the investment returns lost by leaving one tenth of a billion dollars underneath his mattress. The life he missed out on for 10 years. And the difference he could have made. $100 million is an unreal amount of money.
Uber needed only $47 million to start an international tech powerhouse and overthrow the taxi monopolies of San Francisco, New York, Seattle, Boston, Paris, DC, Los Angeles, and London.
The Republic of Palau, a small island country located in the Pacific, needs annual expenditures of just $97 million to run its entire country.
$100 million dollars is enough money to launch over 500 different Subway franchise locations. That's enough to generate $1 billion in sales revenue every four years.
Meanwhile, this pearl was sitting under the fisherman's bed, doing nothin'.
Keeping this amount of money as cash, it would likely lose about 3 percent every year to inflation, or nearly 1/4 of its value every 10 years.
We're talking nearly $25 million of lost purchasing power.
"Haha, crazy fisherman…" we all say as we glance at his story before moving onto the next topic to judge.
But what if I told you that you too might be just like the fisherman, sitting on a completely ridiculous amount of money? And that by doing so, it's costing you thousands?
The Ridiculously Enlarged Emergency Fund
Let's take a quick look at what most of the personal finance "experts" will recommend for an emergency fund:
"Aim for an eight month emergency fund." –SuzeOrman.com
"It's time to kick debt for good, with 3–6 months' worth of emergency savings." –DaveRamsey.com
"Putting aside 3 to 6 months' worth of expenses is a good rule of thumb, but sometimes it's not enough." –Vanguard.com
If we're going to take generic advice like this, let's assume some generic numbers. In 2015, the average American household spent $55,978 per year.
Which means by taking the common advice on emergency funds, the average financial expert is recommending a savings account which holds, at all times, right around $28,000. Cash, of course. Everything else is too scary for our experts.
If we take Suze Orman's 8 month advice, we are looking at holding about $37,000 in cash! I don't know about you, but where I come from, that's an absolutely insane amount of money, so for our example we'll round down to $30,000.
Let's see how much a $30,000 emergency fund costs.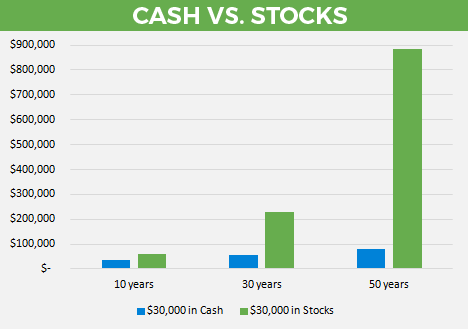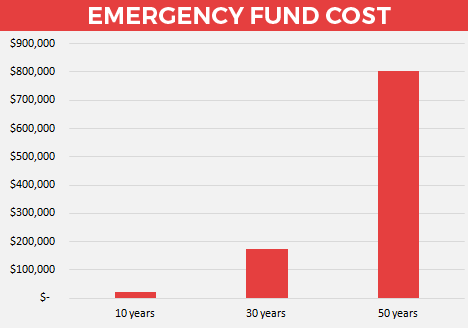 Peace of mind is priceless. Or maybe it costs almost a million dollars?
Protip: An Emergency Fund is for Emergencies
At this point I think it's time to take a step back.  It's important to remember this whole thing is named an emergency fund. It is not named the "I plan on spending this money" fund.
An emergency fund is supposed to be the sort of last ditch rescue that's only tapped into in the event of a catastrophic, life threatening… emergency.
We are talking the type of emergency where your appendix suddenly decides to rupture, and in your frantic pain you accidentally stumbled into a hospital not covered by your first layer of insurance. You know, that thing called health insurance that you're paying an arm and a leg for every two weeks.
Or the sort of emergency where you lose your job, the economy crashes, and you're out of work for months on end. And your employer offered no severance package AND you don't qualify for any unemployment.
Or maybe even the sort of emergency where Alien overlords start reigning down fire from the sky, leaving us all poor, homeless, and enslaved.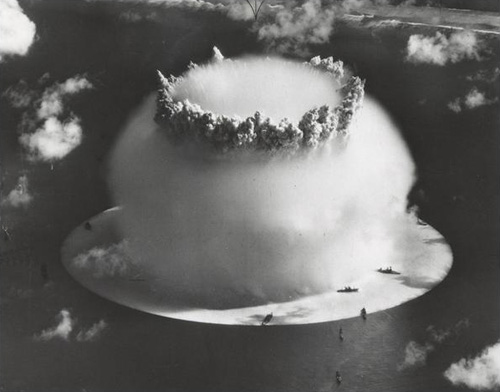 The point is, you shouldn't be expecting to ever need this stuff. The situations truly requiring an emergency fund are… emergencies, which means by definition they are the sort of once in a lifetime events where the stars align to screw you over.
Yes, we all have little and not-so little expenses that crop up. Car repairs, more expensive than anticipated doctor visits, and unexpected homerepairs can surprise even the most careful of planners. But if you're doing it right, situations like these are covered by intentionally living below your means. A budget designed with breathing room is easily able to manhandle these annoyances.
Which is why permanently carrying a hoard of money for an unlikely once in a lifetime event makes no sense at all. Especially when you factor in today's abysmal interest rates.
Look, I'm not saying emergencies don't happen. I'm saying that we should recognize:
Insurance is your primary emergency fund.
If you really won't be able to sleep at night, there are better options for an emergency fund than wasteful cash.
Two options for emergency funds better than cash
Home equity line of credit: It's no secret that I think home ownership is overrated. But, one of the coolest benefits of this money hole is the eligibility for a home equity line of credit.
A Home Equity Line of Credit (HELOC) essentially works like a credit card in that the balance can be drawn upon and paid off, with interest only accruing on the loan whenever you maintain a balance. The big difference, however, is that interest rates on HELOCs are as low as 3.5% today.
Apply for a HELOC with reasonable fees today, let it sit, and be covered tomorrow. You'll thank yourself for being such a genius pre-planner when your emergency hits.
Credit cards: Is it ideal? Absolutely not. But that's why they call it an emergency. Depending on the date relative to your billing cycle, floating the emergency cost on your credit card can allow up to 60 days to search the couch cushions, pick up a part time job, beg your rich uncle, or sell your body before being charged a cent of interest.
Which will allow you enough time to sell some…
Liquid Assets: The Ultimate Emergency Fund
Probably the best part about controlling your spending and boosting your savings is that you'll soon find yourself with all sorts of assets.
On the least liquid end of the spectrum, you might own some real estate, which can be borrowed against (hey, our HELOC talk coming full circle!) or eventually sold if times get hard enough. You might have some bond exposure, which is shielded from most market fluctuations and therefore less "risky" as an emergency fund. And you might have some stocks, which can always be sold quickly.
"But wait!" the personal finance 'expert' says. "You should never keep your emergency fund in stocks, because they are too prone to fluctuations and market swings!" Naysayers will then recite the dangers of the slim chance your emergency coincides exactly with a stock market plummet.
I call BS, and I'll recite the dangers of the guaranteed chance of your cash emergency fund costing $800,000 over a lifetime.
Consider this: the 2008 market crash was the worst financial event in the past 70 years. Had you invested all your money on the highest valued trading day, and then your emergency required all of our money on the exact lowest trading day, your stock market emergency fund would still hold half of its value.
Emergency funds are financial training wheels. Fine for beginners, but eventually they will hold you back.
You're not a novice. You're a Money Wizard. And if you're playing the game right, the idea of putting even more money into an unproductive savings account will feel like carrying along an inflatable life raft when you're already swimming with a life jacket.
So, how much should I keep in an emergency fund?
Well, the only correct answer is however much you feel comfortable with. In finding that number, I just want you to consider the hundreds of thousands of dollars these cash emergency funds actually cost. They're like insurance policies for things you already have insurance for.
Personally, I keep enough in my emergency fund to cover my credit cards and have $1-2,000 left over. Plus, because I live below my means, my monthly budget has a built in safety margin of around $1,000 which could be spent, rather than invested, if unexpected costs come up.
I sleep like a baby, and trust me, there are no $100 million dollar pearls under my bed.
Instead, I'm rocked to sleep by the wonderful thoughts of all my money invested, steadily working away to earn me hundreds of thousands of dollars.
---
Speaking of emergencies, why not take advantage of technology to manage your money like a pro, with Personal Capital? It's how I track my whole portfolio.
---
Related Articles: