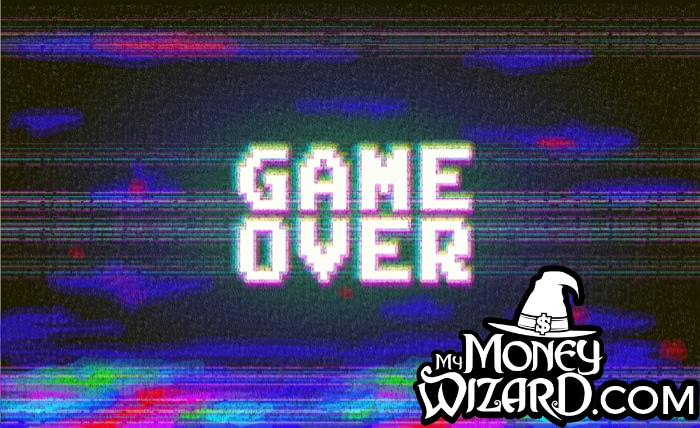 Ask and you will receive!
A reader recently sent in the following question:
Hello Mr Wizard,

Love your blog, I am trying to find an article if you have one about what the ideal 'End Game' investment portfolio would look like to capitalize on the 4% rule."
Great question!
For those who don't know, End Game is not a reference to the latest Avengers movie. It's a term originally from board games and used these days to mean, "Game over. You won."
I've gotta preface my answer with, "I'm not completely sure, because I haven't won the game yet." But here are my best guesses!
End Game Portfolio 1: All Stocks, Baby!
0% bonds? 0% cash? 100% stocks!
There's a segment of early retirees crazy enough to do this.
And while every financial planner ever is currently about to have a heart attack reading this, there's an interesting case to be made for why this approach might make sense for an early retiree.
Stocks are the highest performing asset class, and since The 4% Rule requires withdrawing well, 4% of your portfolio each year, the higher the returns, the better.
Sure, the original study that birthed the 4% rule was based on a 60/40 split between stocks and bonds. And if the market saw an extended downturn you might go completely bankrupt and lose everything. But why not juice those returns to the sky!?
YOLO!
End Game Portfolio 2: The 3 Fund Portfolio
I wrote a whole article about the 3 fund portfolio. Historically, it's been my favorite portfolio because of how simple it is to implement. (Not to mention, its performance has been embarrassing financial professionals for decades!)
Basically, you just choose three index funds that cover:
U.S. Stocks
U.S. Bonds
International Stocks
And hold them in whatever portion fits your risk tolerance and money goals.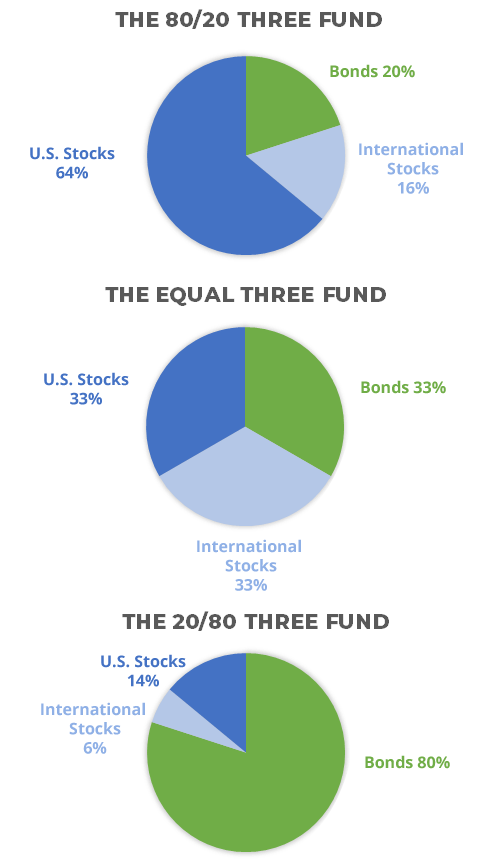 This is probably the most popular portfolio for early retirees hoping to live off The Four Percent Rule.
The "End Game" version of this would mean you hold a higher percentage of bonds. But these days, with inflation so high and bond yields so low, my personal opinion is that the heavy bond allocation might not be the best approach.
End Game Portfolio 3: Ray Dalio's All Weather Portfolio
Ray Dalio is a billionaire investor who looked to answer this exact question.
He asked his investment team, "What kind of investment portfolio would you hold that would perform well across all environments, be it a devaluation or something completely different?"
They created this portfolio:
30% Stocks
55% Bonds
7.5% Gold
7.5% Broad Commodities (Corn, Oil, etc.)
They named it "The All Weather Portfolio" for its ability to weather any situation.
Take a closer look. Every asset selected is chosen because it performs differently for entirely different scenarios.
From the official investment materials:
But there's a catch with the All Weather Portfolio – It's not really meant to provide exceptional returns. In fact, it's not really even meant to provide good returns.
Instead, it's main goal is to just not lose money.
For example, in 2021, the All Weather Portfolio returned something around 1.5%… in a market with 7% inflation and a stock market that returned 30%.
That'd be a great goal for say, an entrepreneur who just sold a business for millions or a trust fund kid who never wants to lose his inheritance, but the slow returns are more difficult for the typical early retiree.
In other words, you're less likely to be able to retire early with a portfolio like this, and instead more likely to earn a "Length of Service / Lifetime Achievement" award as you clock in just one more year while you hope to get your nest egg big enough to live off.
End Game Portfolio 4: The Mr. Wonderful "Own Everything" Approach
Here's an interesting one I picked up from Kevin O'Leary meeting with youtuber Graham Stephen. (Here's the full video, it's a pretty fun watch.)
I never let one asset class ever become more than 20% of my net worth… One of your goals over time should be to make it such a broad portfolio that… if that asset class has a really hard time, it can't take you out of business." – Kevin O'Leary
In the context of the video, some of the asset classes they're discussing include:
Real estate
Stocks
Bonds
Gold/Silver
Risky "Shark Tank" style venture capital investments
Kevin O'Leary doesn't provide specific breakdowns, but it's an interesting concept coming from the mindset of a mega-money-maker. (As he explains, he invests in so many dividend paying stocks that his biggest problem every month is deciding what to do with his cash!)
The big downside is that, well, you need a lot of money to be able to invest in so many things.
Even still, I oddly find myself leaning towards this approach the higher my net worth gets. While I'm obviously breaking his rule by having nearly 70% of my portfolio in stocks, I like the mindset of "just buy assets, no matter what they are, so that you can be as diversified as possible."
It's similar to what I've said in the past… that you just need to invest in something (anything!) as long as it's a productive asset.
Final Thoughts on End Game Portfolios
This is something I've been kicked around in my brain the closer I get to my magic age 35 number.
Personally, I think a hybrid approach between all four of these portfolios makes the most sense.
Ideally, the end game portfolio for an early retiree would draw on the strengths of all four approaches:
The tilted risk curve of a 100% stock portfolio: in order to boost the returns for an early retiree
The simplicity of the 3-fund portfolio: so that it's easily manageable and keeps you from doing anything crazy, like selling low and rebuying high.
The protective nature of Ray Dalio's all weather portfolio: so that your portfolio can, well, weather all types of weather.
The diversification of Mr. Wonderful's "buy everything" approach since this would provide the ultimate diversification.
I don't have an exact answer for how those four factors fit into my plans, but it's something I'm currently working on.
What do you think of end game portfolios?
I'd be interested in hearing your thoughts!
---
Related articles: