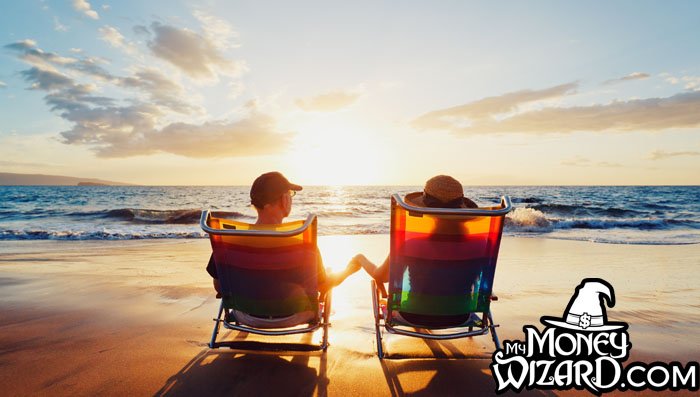 Ever had one of those brutal workdays?
The type that makes you stop and ask yourself how on earth your life brought you here.
I had one of those days recently. It was halfway through a meeting debating the absolutely mind-numbing details only the white-collar world could even begin to care about.
"Should we call them TPS Reports or TSP reports?" was the basic gist of the 55 MINUTE discussion that followed.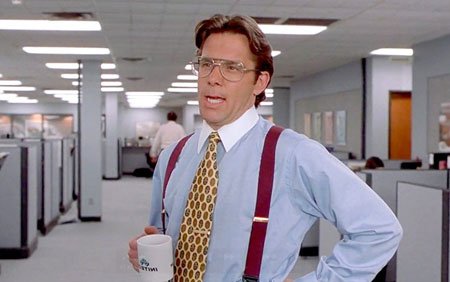 So I did the office environment equivalent of whipping up a comforting batch of mom's mac and cheese. I fired up Personal Capital, checked my account balances, and started doing a level of complex mental math that would make Albert Einstein proud.
And in the process, I laid out a plan to walk away from the boring office environment in less than six years. And still end up a crazy rich multi-millionaire.
How to turn a 12 year working career into the foundation of a $4 million portfolio
Here's what we know:
We also know that the stock market typically earns 7% per year, after accounting for inflation. (A lot of people get mixed up and think the market returns 7% before inflation, but if you don't believe me, you can check for yourself by looking back on just about any period over the past 100 years.)
Long story short, what happens if I put that scenario on auto-pilot for the next 6 years?
For 6 short years, it'd mean waking up, putting on my business-casual clothes, and speaking the corporate jargon day in and day out. It would mean NOT flipping any tables, exercising my F-U Money, or going rogue with a $35,000 vehicle purchase to show the world how successful I feel.
On the plus, it would mean holding steady a level of annual spending that affords me a modest 1,200 square foot house near a major metro area, as many awesome travel plans throughout the year as my vacation balance will allow, and overall, an extremely comfortable day-to-day lifestyle.
That plan sounds manageable, so let's fire up the financial calculator and take a peak into the crystal ball of my financial future. We'll use a 6% investment growth rate, instead of the historical 7%, just to be extra cautious.
Fast forward to a 35-year-old Money Wizard.
Here's what that hazy crystal ball shows. Myself, as a 35 year old, with $660,000 in a mixture 401k, IRA, and stock market savings.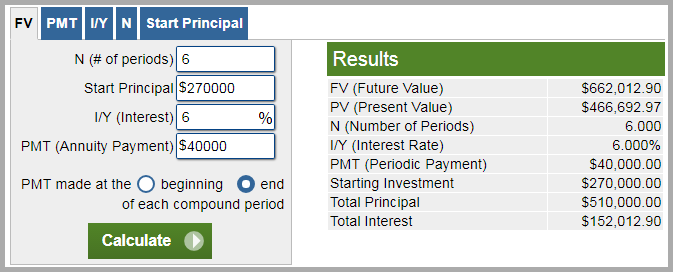 More interesting, my 35-year-old self now faces quite the dilemma.
Using the 4 percent rule, future Money Wizard's $660,000 is enough to earn about $26,000 a year in passive income.
With a few clever budgetary tweaks, he could probably live off that $26K a year forever. But 35-year-old Money Wizard also has a shameless love of annual ski trips with his buddies, weekly dinners out with Lady Money Wizard, and maybe even a family to raise. (Which we'll talk about in a second.)
He's also aware that early retirement, in the traditional sense of never working again while you live solely off your investments, comes with some obvious risks that the rest of the early retirement community tends to gloss over.
In other words, he'd prefer a little more breathing room. And he also has a lingering goal, for better or for worse, to experience life as a multi-millionaire at some point. But he doesn't want to slave away in corporate America for another 30 years to get there.
So, what if instead of completely checking out of the working world forever, he just took his foot off the gas pedal?
Age 35 to 65: Mixing Early Retirement with Hobby Employment
More specifically, what if he trades in his fancy corporate job, and all of its corporate headaches, for something with far more freedom?
So, at age 35, future Money Wizard finally decides to exercise his F-U money in the corporate world, flipping a table on his way out. (Or maybe just writing a thankful resignation letter and fading into the sunset. Either one works.)
Over the past 12 years, by hitting his savings goals, he's proven to himself that he doesn't need any more than about $30,000 a year to live what he considers an awesome lifestyle.
So, he goes job hunting.
This time, as a newly liberated corporate employee, not with the goal not of chasing a meaningless percentage point pay raise, but instead prioritizing something that will spark his passions, give him tons of free time, and earn him… no more than about $15 an hour.
Or $30,000 a year.
This opens a whole world of job possibilities he otherwise could never dream of.
Part time consultant? Could probably earn $30K a year with that…
Winter ski-school instructor, summer baseball coach? That sounds fun.
Full-time MyMoneyWizard.com blogger? Might be able to pay those bills…
Grocery store bagger? Why not!
It doesn't really matter what I do. As long as I managed to earn a little bit of money, I could follow my passions wherever they take me.
This isn't exactly a revolutionary idea. Everyone's heard of the aspiring actor who moved across the country to Hollywood without a dollar in their pocket, the hopeful fashion designer getting a fresh start in NYC, or the risk-taking entrepreneur who quits their career to chase an idea.
But unlike those free spirits following their dreams like a high-wire act with no safety net, I'd hopefully have a rock-solid backup plan of over $660,000 in the bank.
And as long as I made enough enough over the next 30 years to pay the bare minimum bills, without dipping into my lump sum of savings, that backup plan would continue to grow and grow.
Age 65+: Filthy Rich Status
After 30 years of making near-minimum wage while my investments silently compound behind the scenes, 65-year-old money wizard is looking at a new account balance of…
$3.8 million dollars.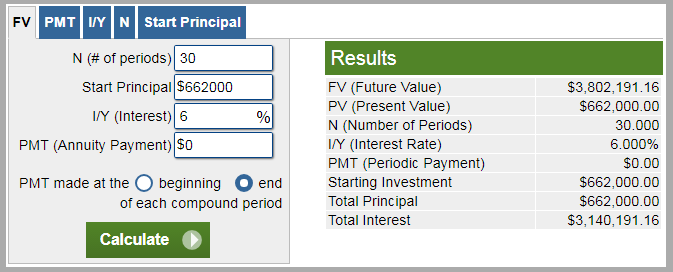 At this point. All bets are off.
At a modest 4% return, $3.8 million is enough to spit off $152,000 a year in near-guaranteed income. Not to mention social security would likely provide another $20,000 a year or so from my 12 years in corporate America and another 30 years earning money doing who knows what.
$172,000 a year is about six times more than I've ever spent in my life. And… this part's important… we're still not even considering the nearly $4 million dollars in principal.
All in all, we're looking at a level of wealth that'd take extremely lavish spending to ever dent. First class plane tickets, pent-house property, once-in-a-rich-person's-lifetime experiences… I don't even know where I'd begin with this much cash.
Or more realistically, it's enough to fund everything I'd ever want while providing the ultimate insurance policy against any long-term health risks in old age. (Which, for the record, I think is an overblown concern.)
Hey wait, what about a family?
The most surprising part in this whole day-dreamed scenario?
The most common roadblock in the discussion of early financial freedom – a family – barely even changes any of these plans.
If married, Lady Money Wizard would likely find herself in the same boat as me – a 35-year-old looking for a hobby to cover her minimum living expenses. Like me, she'd be job hunting around the $25-30,000 a year salary range.
Kids would obviously change things too, but the only monetary impact would be increasing that minimum earnings figure between the two of us.
When you dig into the numbers, a reasonable family can raise a child for less than $10,000 a year, and there's some shared efficiencies for a second child. In other words, we'd each be looking at raising our minimum hobby earnings by around $5,000 a year or so.
By the time the kids were college aged, we'd be approaching our 50s. Which means the silent portfolio would already be worth multi-millions, and we could either provide a little bit of parental help with the college costs or just pay the whole tuition outright. If we did the latter, we'd probably reach age 65 with around $3 million instead of $4 million.
Conclusion – Continued Employment vs. Early Retirement? How about both!
In the world of our parents and grandparents, there seemed to be one option. Get a good paying job, give up all your hobbies in exchange for extra hours at the corporation, and stay there for 40+ years. No matter how miserable you felt.
Then some early retirement folks broke the mold. Suddenly, it seemed a lot of people started targeting new goal – racing as fast as possible towards a bare minimum number, then living as frugally as possible for the rest of your life to keep from running out of money.
But from my view, both of those extreme paths limit your options.
And I'm chasing financial freedom to expand my options, not limit them. Which is why I think building up a financial safety net, then taking the plunge towards paid hobbies is the perfect solution.
I'm setting it as my new life goal. Anyone want to join me?
---