Originally, I planned on including this post within last month's 2018 Year-In-Review post. But then, I started rambling a little bit too much about my failures, and I realized I probably needed to wrap it up.
So now, fingers recharged, I'm back and ready to get typing! And I'm ready for another shot at some failed goals!
Let's get planning.
How to Set Effective New Year's Resolutions
Like everything in my life, I'm not great at going in blind. Instead, I usually research the topic to death, and it turns out, the topic of New Year's Resolutions is no different for me.
From what I've gathered, the scientific and not-so-scientific community, aka the self-help industry, has settled on a few strategies anyone can use to stack the deck in favor of their resolutions. (And hopefully, avoid the embarrassing fate of reporting to all your readers about a 40% failure rate. Not that I'd know anything about that…)
Those strategies include:
1. Make your resolutions specific
The classic here is the "I want to lose weight" resolution or, more appropriate for this website, "I want to save money."
Both of those resolutions are far too vague, and resemble a dream more than a goal. Instead, a quality resolution is specific.
Instead of wishing upon a star for money to appear in your account at the end of the year, a good resolution says, "I want to save X amount of dollars" and is immediately followed with the footnote of "And I'll save X dollars per month by following this budget or cutting back on [specific expense]."
2. Write them down
Check!
Looks like I've got a sneaky ulterior motive to this post after all…
3. Make your resolutions public
Uh oh, I think you all must really be onto my strategies now…
4. Make your goals small enough to be reasonable, and ambitious enough to inspire.
This one's a balancing act. Shoot too small, and you'll be haphazardly checking off your resolution a few weeks into the year. You can do better than that!
But aim too high, and you're bound to get discouraged.
We're looking for that Goldilocks sweet spot. Definitely more of an art than a science here.
Alright, with that in mind, let's get self-improving!
Without further ado, The Money Wizard's 2019 Resolutions

1. Spend less than $27,000 during the year
Last year, I blew the budget and spent $33,893. Sure, about $6,000 of that was house-related remodeling costs, but excuses aside, last year's spending was 25% more than I've ever spent in my life.
As The Money Wizard, it's literally in my job description to be concerned about this. Half the battle in getting rich is combating lifestyle inflation – that slow creep of increased expenses year over year just because, "Well hey, I've been successful, I deserve a better house/car/gold-plated toilet paper dispenser."
(Of course, that sort of spending is a trap, because whether I'm happy or unhappy right now, changing my spending habits isn't likely to swing the pendulum in either direction. At least not if we listen to the overwhelming evidence from science and rich people.)
So in 2019, I'm hoping to reunite with my long time friend, Frugality. Since we know good resolutions are specific, that means spending no more than $27,000 all year long, or less than $2,250 per month.
Some observant folks reading the net worth updates already noticed the first step towards this change – a 2019 overhaul of my monthly budget: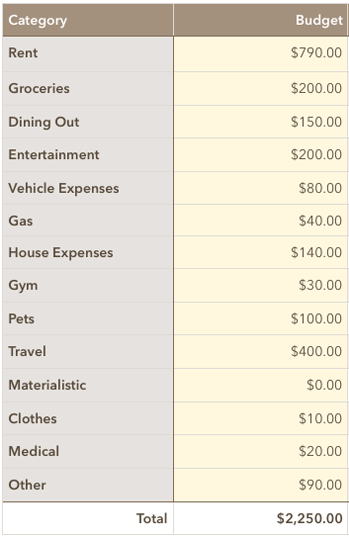 The main changes include a slight reduction in travel spending, avoiding major home renovations, and a 25% cut in dining out costs. That last portion mostly represents the thoughtless lunches out during the workweek, which is something I've wanted to cut back on for a while. Both my wallet and my health will thank me for that.
I've left entertainment untouched, because I don't believe in letting money control your social life once you've got the big 3 under control.
(For the record, I still think just tracking your spending with an app like Personal Capital is way more important than developing a fine tuned budget like this. Tracking will get you 80% there, especially if you've never done it before. Budgets, in my opinion, are most useful when you want to tweak specific details, which is what we're doing here.)
2. Save over $40,000 (including employer matching)
This is the underlying motivation for resolution #1, and while it's tied hand in hand, I'm typing this goal out for extra encouragement.
After crunching the numbers, if I spend less than $27,000, I should sock away over $40,000 between:
My 401k
Employer 401k matching
My IRA contributions
Any after-tax brokerage/cash savings
The ridiculousness of that amount of savings is not lost on me. If you're comparing your own situation to that figure and for any reason find it discouraging, the key is to focus on what you can do.
I've been fortunate that the hard work I've poured into the first 6 years of my career has been recognized and paid off. I'm now in a position with a surprisingly high salary for a guy without a family. (Likely high $80s in 2019) I also like to think that devoting thousands of hours a year to reading and writing about money has made me better with the stuff.
But it hasn't always been like this. I started this journey making right around $50,000. I was barely saving $1,000 a month, and there was no way I could have fathomed saving $40,000 a year.
But if you can rein in your expenses (see resolution #1) while doing what you can to maximize your income, money has a funny way of snowballing out of control.
PS – Although it'd make reaching this goal over $3,000 easier, I probably won't max out my 401k this year. Instead, I'd like to continue building a rental property investment fund, in case I ever muster the courage to pull the trigger on that goal.
3. Grow My Money Wizard by 50%
Last year, I worked like a dog to grow MyMoneyWizard.com by 80%. This meant sticking to a consistent posting schedule, no matter how crazy life got, managing the Money Wizard Facebook and Twitter page, and doing my best to monitor all those technical website details to keep users and the almighty Google happy.
A lot of website owners will measure site growth in overall revenue. But if my underlying goal has always been spreading Financial Freedom to as many people as possible, and hopefully making the world a little better place in the process, than I prefer to focus on a different metric – total page views.
That's not to say I want to work for free, but I hope that aligning my goals with the right metrics will keep me focused on what's most important.
Speaking of which, apparently my efforts at writing enough words to fill a thick novel paid off, and this site's overall views increased exactly 81.1% year over year. Even better, email subscribers grew by over 100%!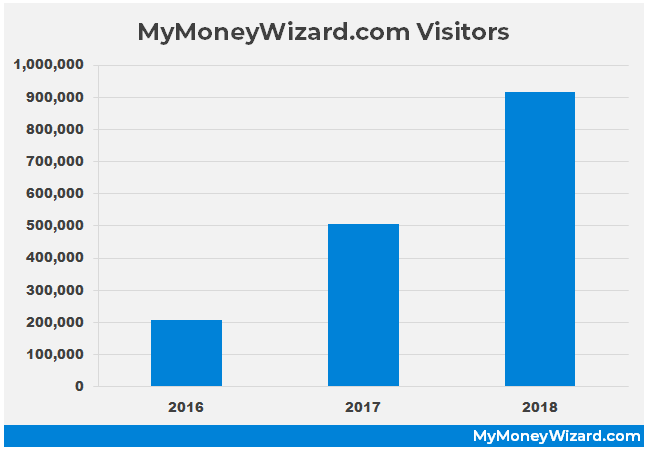 I can't even begin to describe how amazing it feels to go from wondering whether anyone will care what you say, to knowing nearly 100,000 people find your posts useful each month.
The catch-22 is that the bigger a site gets, the harder it gets to grow. Especially if you want to hold out as one of the internet's last one man bands.
So, in 2019 I'm tempering my growth expectations for the site, while remaining as realistically ambitious as possible. I will keep delivering the best content I can to you all once every week, and I hope this helps the site grow another 50% in 2019.
4. Read 15 books in 2019
One of the most effective methods for fueling the fire of good content is a steady stream of interesting ideas swirling around in the brain of yours truly. It should come as no surprise that a good old fashioned book contains the most interesting ideas per capita than any other media source. (Not to mention that I really love reading, when I actually sit down and do it.)
Last year, I got away from this a little bit. I only read 9 books all year, despite shooting for 20.
Instead, I fell into the trap of swiping mindlessly on my phone, digging too deep into random internet articles, or watching a few too many youtube videos that may or may not have been about crazy sports highlights, wild political conspiracies, or "the most shocking moments captures on film!!!"
All highly entertaining stuff, but probably not the best use of my time.
So this year, I'm aiming for a more conservative, yet still inspiring, goal of 15 books.
To make this happen, I'm devoting 10-15 minutes every night before bed to getting a couple pages in. Interestingly, over 365 days that adds up to over 90 hours of reading, which should be plenty for my reading target. And if I've picked up a particularly good book, it's not impossible for that 10-15 minutes to turn into 30 minutes to an hour each a night.
By the way, isn't it crazy how a tiny amount of time can add up to a length so meaningful? I wonder what else I could accomplish with 90 hours of bonus time…
5. No phone on the nightstand
I picked this goal up from Arnold Schwarzenegger, of all people. In a podcast interview with Tim Ferris, Arnie shared one of his favorite life hacks.
Apparently, The Terminator keeps his bedroom completely electronics free. He says he charges his phone in a completely different room in the house, which helps his sleep patterns, reading habits, and conversations with his spouse.
I loved the idea. As somebody who spends way too much time on his phone at night, then finds his mind racing far too fast to sleep, I knew I needed to institute a Nighttime Phone Ban.
I do use my phone as an alarm clock though, so I've chosen to just plug it into a different outlet, on the other side of the room. Score one for the added benefit of not hitting the snooze a million times each morning.
6. Say consistent with weekend meal plans and gym plans.
Getting back to our strategies for effective resolutions, notice that this resolution could have been a guaranteed fail by framing it as "Eat healthy and go to the gym more."
But my problem is far from not wanting to eat healthy, or not wanting to go the gym. My problem is execution, especially during busy times.
So I traced back the root cause of those failures in executing. And nine times out of ten, a lapse in dining out stems back to the question of, "Ahh!!! I've got nothing planned for dinner tonight!"
And skipping the gym for two weeks straight happens one day at a time, with the ever-so-classic white lie of, "Hmm… maybe I'll go to the gym tomorrow."
The best way I've found to kill both those dialogues of weakness is to make a plan and stick to it. If I know I'm cooking 6 meals this week, and I've got the groceries bought to prove it, then my mind has no excuse and no way out.
Similarly, if I already told myself that I've got gym appointments on Tuesday, Wednesday, and Friday this week, then you can bet I know my plans when I come home from work on Tuesday, Wednesday, and Friday.
No more excuses!
7. Max out my Roth IRA before the year is over
The IRS increased how much you can contribute to your IRA from 2018 to 2019, from $5,500 to $6,000. Unlike the last two years, I want to actually make these contributions before the last minute.
And what do you know, I've already taken steps to make this happen! In January, I contributed $6,000 to a money market fund in my Roth IRA. My plan is for my cash to earn around 2% while I transfer $1,000 per month over the next 6 months into more long term Roth IRA investments.
8. One interesting date with Lady Money Wizard per month
Life's about more than saving as much money as possible or sticking to a rigid set of resolutions. So in an ironic twist of Resolution-ception, I've got a resolution to be less resolution focused. Go figure.
Late last year Lady Money Wizard and I made a list of all the interesting, weird, and quirky things we could imagine doing. Some of them cost money, others are free. I'd like to cross off at least one of those bucketlist dates each month in 2019.
After all, money isn't the end goal. Freedom and happiness is.
Readers, what are your 2019 resolutions? I'd love to hear them!
---