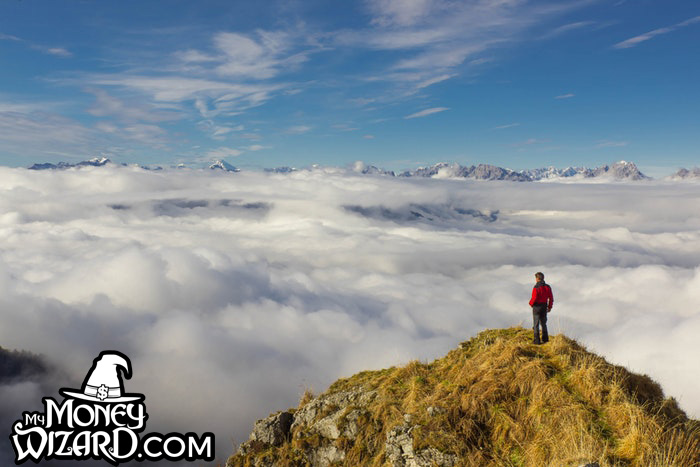 As a personal finance blogger, you'd think I'd have a pretty good understanding of compound interest by now.
I thought I did, right until I ran a little experiment that shocked me to my core, and nearly two weeks later, still has my head spinning.
The experiment
It's funny. As an obsessed money geek, I've probably ran through my financial scenario a thousand times.
At a moment's notice, I can whip out a financial calculator and start measuring what sort of impact minor investment changes will have on my early retirement in a decade.
But even though I've played through those scenarios so many times in my brain, last week, I realized something kind of amusing:
In all those thousands of calculations, I don't think I've ever assumed I'd retire at age 59.5. (The government's "normal" retirement age, as outlined in your 401k's minimum withdrawal date)
So, what if I didn't retire until age 60?
For fun, I made one tiny adjustment to my usual calculations. Instead of making the time frame 10 years, I made it 32.
The result?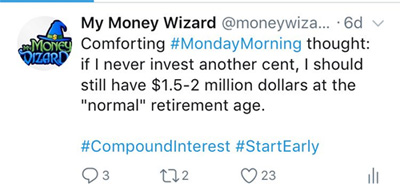 Say what??
Yea, I need to repeat that to myself to let it sink in…
The $230,000 I've already saved in my 20s is enough to all but ensure I'll become a multi-millionaire by 60, even if I never save another penny in my entire life.
To clarify, that potentially $2 million portfolio is not:
What would happen if I kept working and saving like a maniac on a mission.
The result of some brilliant, market beating investment performance.
Completely devalued because of inflation.
Instead:
That's $1.5 to $2 million adjusted for inflation.
The $500,000 range is simply the difference between a 6% and 7% return, which is right in line or even a little conservative compared to historical stock market averages.
And craziest of all, our scenario assumes I never save or earn another cent. It literally assumes I'll live paycheck to paycheck for the next few decades, never saving a dime, and then just letting my current portfolio carry me to the finish line.
A FINISH LINE WITH $2 MILLION AT THE END.
So, is saving money worth it?
Uh, ya it is!
The only "sacrifice" I made to build that $230,000 was avoiding debt, passing on a few cars and electronics, and saying no to a mansion. In fact, I'd say it just might be the easiest $2 million I've ever made.
How can anyone set themselves up to be a multi-millionaire?
What did I do to put myself in this spot? Sorry to be anticlimactic, but all I did was:
start early
invest in index funds (aka the most boring and simple investment ever)
let compound interest run its magic.
Sure, I still plan on retiring early, which most likely means withdrawing that nest egg before it gets a chance to reach millions. But wow… does it feel good knowing that by all mainstream standards, I've already made it.

Most people won't take the simple steps
Sometimes I find myself a little jealous of the carefree mentality most people take towards their money.
I do wonder what it'd be like to be able to walk into a car dealership and plop down an entire year's salary on a hunk of metal without flinching. Maybe that'd be fun, to spend like you have no future?
But of course, we know where that ends. It leads to a temporary satisfaction, then a lifetime of money struggles.
Most people never dig themselves out of this rut. Even more common, they never see the need to, since everyone else is stumbling through life, making the same money mistakes right along with them.
It's amazing to me how these "normal" decisions can add up to a lifetime of stress. 98.5% of people will never reach a million-dollar net worth, and yet, the solution to get there is staring them right in the face, every day.
We're all given two choices:
You can live beyond your means today, which ensures you struggle forever.
You can live a little below your means for a few years, and before you know it, you'll be as surprised as I am to find out you're set for life.
Take Advantage of Compound Interest To Lock Up Your Millionaire Status
If you're reading these words, don't underestimate the incredible opportunity you have today.
Even as much as the topic is brought up, we humans struggle conceptualizing the power of compound interest. It's nothing to be ashamed of, our brains just aren't hard-wired to intuitively grasp such a wild mathematical concept.
Compound interest is hazy. It's confusing. It's really freakin' hard to imagine small percentage multiplied for years and years on end.
Michael Batnick once explained it. If I ask you to calculate 8+8+8+8+8+8+8+8+8 in your head, you can do it in a few seconds (it's 72). If I ask you to calculate 8x8x8x8x8x8x8x8x8, your head will explode (it's 134,217,728). –Morgan Housel
(Yes, that's a quote of a quote.)
Our experiment shows that compound interest is probably way more powerful than you or I imagine. Obviously, it caught me by surprise.
Don't let it catch you by surprise. Start taking action today.
With just a few years of responsibility early, you can set yourself up for millions of dollars later.
Anyone want to join me in the slow, steady, and shockingly easy race to becoming a multi-millionaire?
---