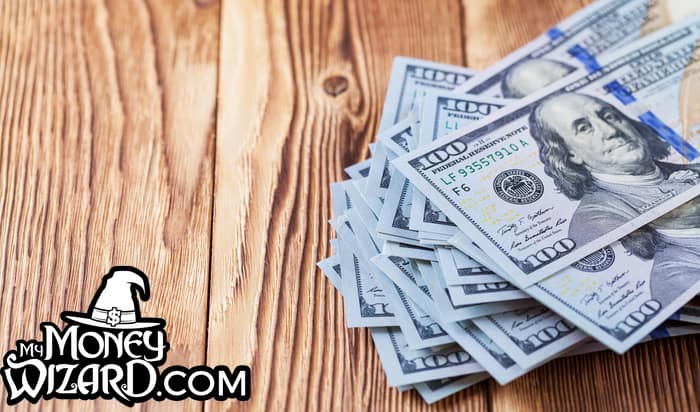 God bless Lady Money Wizard.
If I'm the guy sticking to the basic investment ideas, she's the one always coming up with weird and quirky ways to make a few extra bucks.
Which is why I wasn't surprised when I noticed her excitedly flipping through her phone a few months back. She put down the screen, and I could see her light bulb moment:
"I could make a ton of money flipping furniture on Facebook," she declared.
As the far less Facebook Marketplace savvy one in the group, I said it sounded like a fun experiment and encouraged her to go for it.
Truthfully, I was expecting the project to earn enough to treat us to a dinner or two.
I definitely was not expecting her to report back, just a few months later, that she'd already made her first $2,000!
😲
Even crazier? She's probably spending less than an hour a week on the project. And she's limiting her selections to whatever will fit in the back of my Mazda 3 hatchback.
The Killer Strategy to Flipping Furniture on Craigslist, Facebook, Garage Sales, etc.
The best part about this gig is how simple it is. Really!
There's only three parts to it.
1. Find furniture to flip (Duh!)
Step one in any business is building up some inventory.
And yet, the great thing about the furniture flipping business? Most people are willing to give you inventory for free!
Or at least extremely discounted prices.
People getting rid of couches, tables, chairs, etc. usually just want their items gone. And so, they're willing to part with this stuff way below market value.
The best places we've found for cheap furniture to flip include:
Facebook marketplace – this one is hit or miss. People are either practically giving stuff away, or they think their beat up sofa is as valuable as a vintage Picasso.
Craigslist – usually better deals to be had, but smaller selection.
Garage Sales – usually the best deals to be had, but also the most work.
The side of the road – Free 99!
And yes, even dumpsters
We'll get to some examples in a minute, but it really is amazing what people are willing to give away for free!
2. Decide if it's an immediate flip, or a piece you want to refurbish
When you're looking for stuff to flip, you'll usually find two types of furniture:
A. Stuff that could be flipped immediately
Usually, this is the furniture that's in pretty good condition, but is undervalued for one reason or another. Maybe someone was just giving it away for free, or maybe their Craigslist posting included pictures that look like they were taken with an old Nokia Brick Phone.
B. Stuff that needs just a tiny bit of work, and then could be sold for big profit
Some people get really serious about this, and they might as well be full-on furniture surgeons. They'll replace legs, reupholster fabric, and practically build new pieces.
Lady Money Wizard keeps it a little more simple, but still has some incredible before and after transformations.
Usually, she focuses on a fresh coat of paint or quickly restaining a worn piece. (We'll get to examples in a minute)
3. Profit!
The fun part!
This includes staging the furniture to sell.
What we've found is that it's all about the pictures.
Make sure you've got great lighting hitting your new furniture. Maybe place a plant or two for that Pinterest-worthy accent. And price that thing for profit!
Then, post it up on as many marketplaces as you can. Facebook and Craigslist are usually enough to find a buyer, but there's also a few other platforms like Ebay, Letgo, or even your own garage sale!
[Examples] How Lady Money Wizard Made $2,000 Flipping Furniture, working about an hour a week
I never expected this side hustle to be as successful as it was, otherwise I would have kept a better log of before and after pictures and all the items sold.
Nonetheless, here's a couple of example flips that should give you an idea of what's easily doable.
Reto-Modern Desk –
$90 profit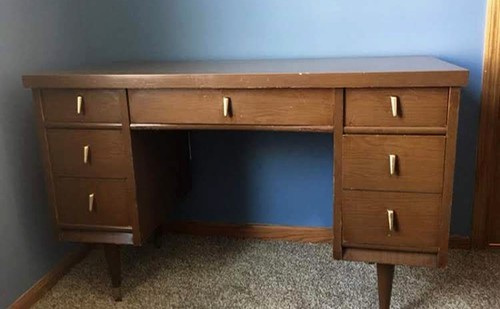 The one that started it all!
Lady Money Wizard found this for sale in our neighborhood for $10 on Craigslist. Being so cheap and so nearby, she figured it was worth a shot.
We drove the 5 minutes to grab it, tossed it in the back of my hatchback, and threw it back up on the internet for $100.
We were pretty shocked when we had a buyer less than a day later. It definitely showed us the potential of this little side hustle, and led the way to all these next flips.
Folding Leaf Table –
$130 profit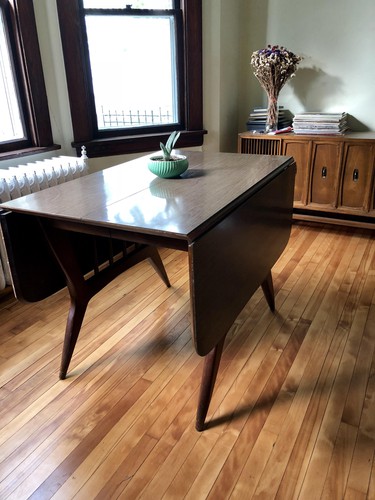 She bought this one for $20 off Facebook Marketplace, and sold it for $150 on Facebook Marketplace.
What did she do to it? Just took better pictures. And… placed that little succulent on top.
Mid Century Modern End Table –
$60 profit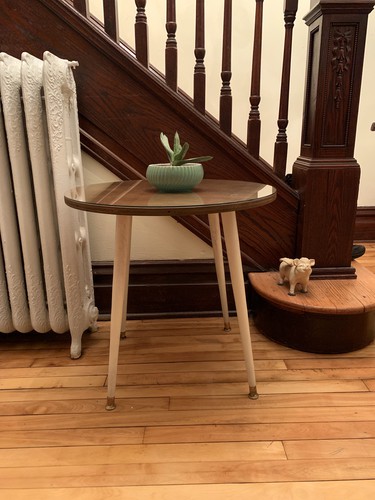 The succulent coming through again! With a little bit of furniture flipping help from the white flying-pig doorstop.
We got this one for free on the side of the road. The top was pretty beat up, so Lady Money Wizard spent half an hour re-staining the top.
Retro Green Chair –
$50 profit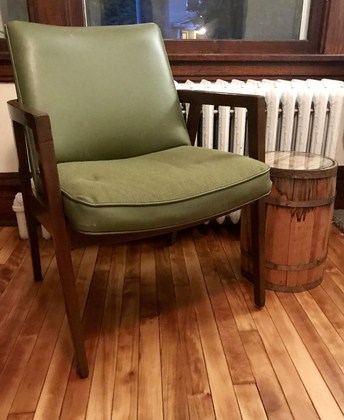 Our first successful dumpster dive. (Okay, technically it was sitting next to the dumpster, so there was no diving involved. I'll still count it.)
This one was pretty dusty when we picked it up, so we gave it a quick wipe down and vacuum. Then, Lady Money Wizard restained the legs to give them that nice deep brown color.
Mid Century Modern Desk –
$90 profit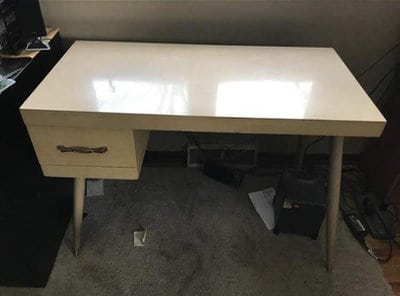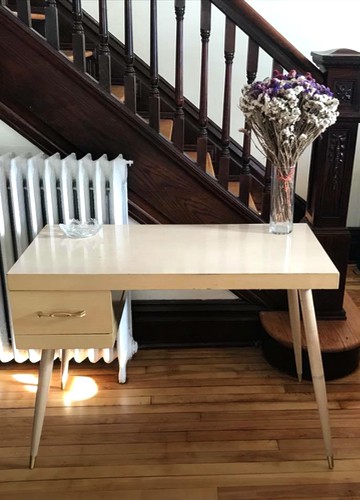 As you can tell from the blurry photo and the mess of papers on the floor, the original seller did about zilch for staging.
So, Lady Money Wizard saw an opportunity. She respray painted the gold finishes and took some better photos.
End result? An extra $90 for maybe an hour's worth of work.
Mid Century Modern Desk #2 –
$80 profit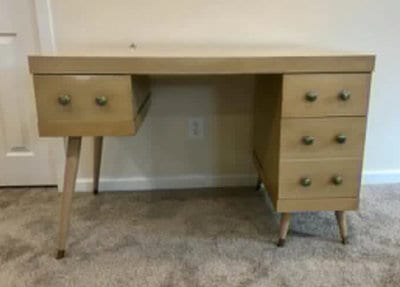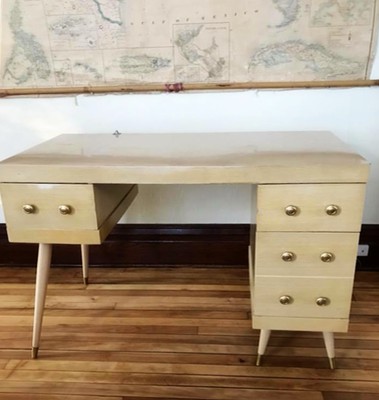 Same strategy. Took better photos and respray painted the knobs.
Wine Cart –
$79 Profit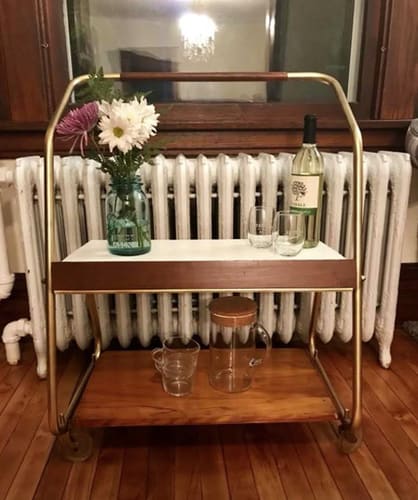 Clearly, Lady Money Wizard had a bottle of gold spraypaint to use up.
She bought this one for one dollar (yes, $1!) at an estate sale. It was in about as good of shape as you'd expect for a dollar, so she spray painted those handles gold and repainted the top white.
Retro Couch –
$130 profit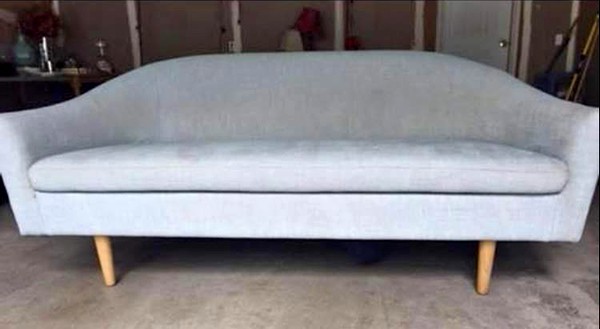 This one was an accidental flip.
We actually thought this couch might be a good fit in our living room. So, we borrowed a friend's van, drove across town, and jammed it into the back.
Unfortunately, when we got it home and actually placed it into the living room, we realized it didn't fit the space at all.
So, rather than eat the loss, we did what any self-respecting flipper would do. We threw it back up on Craigslist for a higher price!
We had a buyer in less than an hour.
Coffee/End Table Thing –
$55 profit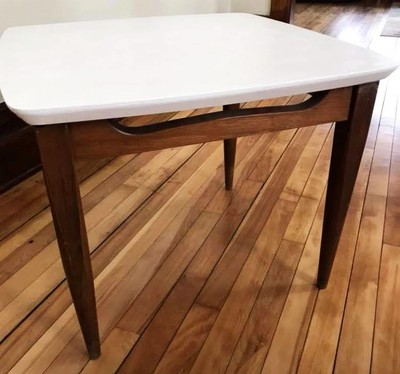 Not even sure what to call this. It originally came from a thrift store, and the top was a hideous blue.
So, she gave it a quick coat of paint before selling it for $60.
Another end table –
$40 profit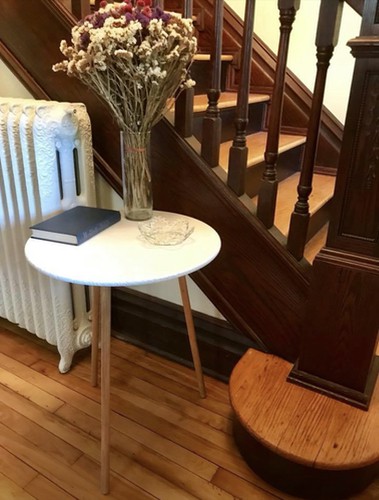 This one was a freebie in a pile of junk on somebody's curb. She must have had a can of white paint to use up too, because she painted the top white, threw some flowers on top, and sold for $40.
Herman Miller Retro Chairs –
$100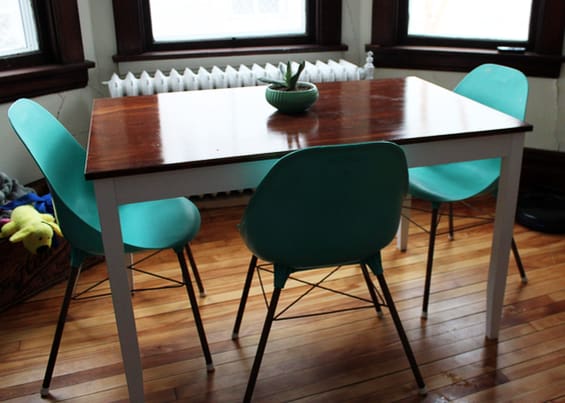 Another win for the succulent!
We noticed these with a free sign next to them while we were walking The Money Pup one day. So, we walked him back home, grabbed the hatchback, and threw the chairs in the back.
Apparently, this is an iconic design from the legendary Herman Miller furniture company. They're replicas, but we've since seen chairs like these selling for $80 a piece.
So, how much income can you make flipping furniture?
From what I've seen, a lot!
Lady Money Wizard made a quick $2,000 with some pretty strict criteria. Our flips have to be low work and fit in our relatively small cars. We've also limited our selections to a pretty specific type of furniture.
And we price our stuff to sell quickly, since we don't have a ton of storage space. If we had a bigger garage or basement, we could sit on inventory longer and hope for a better price.
In fact, I've since learned that some people actually do this full time.
One of the most famous examples of this are some fellow bloggers over at Flea Market Flipper. This couple ditched the hatchback and instead started focusing on the biggest ticket items. Their choices usually require larger investments, and maybe even a little more time to sell. (They usually use eBay and are willing to ship, rather than selling locally)
This creates a natural barrier to entry where there's even bigger inefficiencies in the market.
What's this mean?
They're able to make over $100,000 a year just from flipping furniture.
Crazy!
If you're interested in learning more about this, they actually released a course where they reveal all their secrets. You can learn all about that here:
Flipper University by Flea Market Flipper – The Course Showing You How to Make $133,000 a Year Flipping for Profit
Lady Money Wizard is still having fun with her strategy, so she hasn't taken the course yet. But she's thinking about picking up a copy soon.
If anyone's taken the course, let us know what you think in the comments!
Happy Flipping!
---