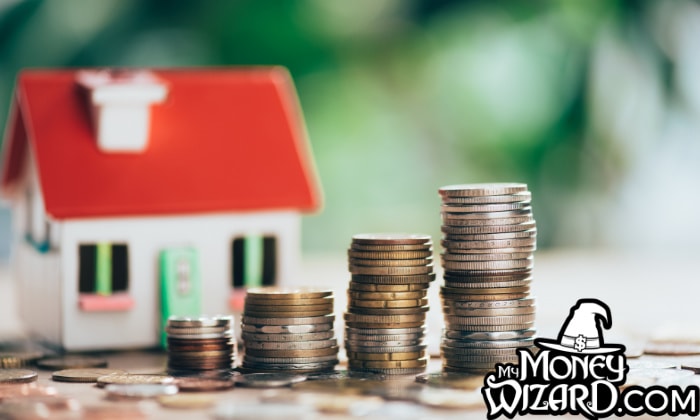 When most people consider real estate investing, they make a common mistake.
They:
Estimate their rental profit each month
Calculate a rough return on investment… which on a decent deal usually comes out to somewhere around 5-7%
Compare that return to the stock market, which usually lets you earn 7% for doing nothing except having money
Decide investing in real estate is not worth the effort.
Unfortunately, that analysis only tells half the story.
Had they completed the other half, they'd have realized something amazing – real estate investing often yields upwards of 20% per year.
Today's post will quickly break down the math…
Cash on Cash Return: 5-12%
"Cash on Cash Return" is probably the most common metric used to calculate a rental property's profitability.
As the name implies, it's simply how much money you earn per year compared to how much cash you coughed up to buy the property.
Getting into a little more detail, investors usually calculate cash on cash return like this:
(Downpayment + closing costs + any repairs made out of pocket) / (The property's annual profit)
Here's a basic example for a $200,000 property that needs a few minor repairs: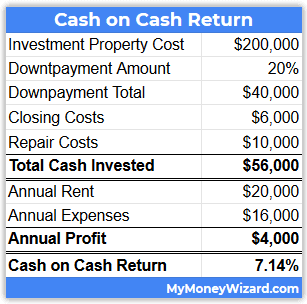 Long story short, most real estate investors hope to find a deal with a cash on cash return somewhere around 7-8%. Some get lucky and score higher, others score lower. (And fair bit of warning… some even have negative cash flows!)
The interesting part? As I mentioned in the intro, this is where most people stop their analysis, even though this number only tells half the story…
So let's find our true return by adding the four areas most people forget about.
+ Debt (Principal) Repayment: 4-5%
For most people, the thought of a renter paying your mortgage is one of the most attractive parts about a rental property.
Remember though, a large portion of that mortgage is interest paid to the bank, so you can't count that as profit.
BUT, there's definitely a portion of the mortgage that does go towards your "principal" aka… the portion of your loan that's directly paying off the property. (And increasing your net worth through equity.)
This portion can often boost real estate returns an extra 4-5%. On top of your cash on cash returns.
Here's the same example used earlier, with three rows added to show what happens if $240 per month ($2,900 per year) of the first year's mortgage payment goes towards principal repayment. (I found this amount through a mortgage calculator's amortization schedule.)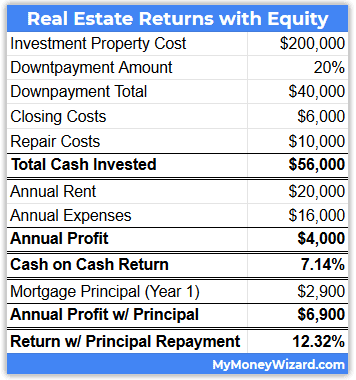 And the best part? The amount of your mortgage that goes towards principal increases over the life of the loan, so this return continues to increase each year you hold the property.
+ Debt devaluation through inflation: 1-3%
Imagine if you could pay rent at prices from 30 years ago. Your living arrangement would be crazy cheap!
Thanks to the effect inflation has on debt, that's actually possible.
Consider this example.
If you bought a $250,000 home today, you can expect a mortgage payment of about $1,100 per month.
Now imagine you took out a 30 year mortgage for that same house back in 1990. Back then (30 year's worth of inflation ago) that house would have only cost $125,000. It's monthly mortgage payment would have been about $450 bucks.
Today, your mortgage would still be a measly $450 a month!
This is the power of inflation on debt.
When you buy a house, you lock in your "rent" at today's dollars.
Since the federal government has openly stated their goal is to keep inflation somewhere around 3% per year, that means every year, your mortgage payment becomes 3% more affordable.
+ Property Appreciation: 3-4%
And we haven't even considered the possibility of your investment increasing in value yet!
On average, the price of real estate increases about 3-4% per year.
Sometimes,
That rate of growth can be much higher in some areas (cough… California!… ahem… trendy up-and-coming Minneapolis neighborhoods!…) or some time periods (cough… early 2000s housing boom!… ahem… post great recession recovery!…)
+ Tax Advantages: 4%
Real estate investing comes with tons of tax advantages. Coach Carson talks about nine of them here.
This will be different for everyone depending on their income situation, but on average, it's totally feasible for these benefits to leave you with 4% more money, each year.
Taxes saved are absolutely a real return, so this is definitely something worth considering when you calculate your total real estate returns.
Final Total? Annual Returns of 17% to 28%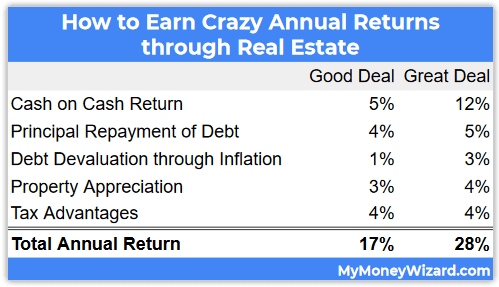 It doesn't take a Money Wizard to realize those sorts of returns are absolutely INSANE.
For comparison of just how insane, the rule of 72 shows that annual returns of 24% mean that you will double your money every three years.
Put another way, Warren Buffett has averaged somewhere around 21% annual returns since 1965. That's enough to make him one of the richest people on the planet.
Yet, these returns are totally doable with real estate.
Does every rental property earn this much? Obviously not. A lot of real estate investments barely break even, and some even lose money.
But at the end of the day, these sort of returns are probably why, when it comes to the most common paths to financial freedom, the route of real estate consistently crops up more than any other.
All this is why I've restarted my search for a rental property. I'm looking to partner with some long time friends (who thankfully, have much more construction and maintenance experience than yours truly) and I'll hopefully invest in my first rental property within the next year.
Do you enjoy my free blog? Share this article on your favorite social media or take advantage of free, awesome products like Personal Capital or Rakuten using this site's affiliate links. (Like those two links!) Thanks for keeping this place alive!
---
Related Articles: