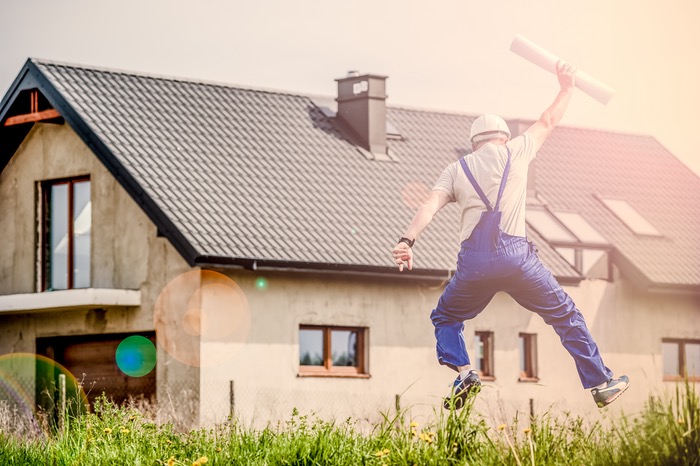 If you've been following this blog for a while, you've seen my dreams of becoming a property mogul sneaking into various posts.
After all, mogul is such a cool word. Who wouldn't want to become a mogul of something? It's like building an empire, which sounds equally cool, and is another not-so-secret goal of mine.
Aside from fancy titles and cool names, I'm attracted to real estate for several reasons. I covered a few of those reasons in my somewhat tongue-in-cheek case for owning your own home, but rental properties present their own set of advantages that I'm much more enthusiastic about.
Reasons Why Rental Property Is Such an Attractive Investment
1. Leverage
Only through real estate can you contribute 20%, or less, and immediately control an asset worth hundreds of thousands of dollars.
How powerful is leverage? As a basic example:
If the value of a $100,000 property increases to $127,000 in 5 years, you've earned about 5% per year.
If you leveraged that same property by only putting 20% down, you're looking at returns of 19% per year.
Rental real estate is the perfect investment to leverage. Banks love it because there's tangible collateral they can collect if things go south, and you love it because you can use other people's money to get rich. Which leads us to…
2. Cash Flow
Cash is king. And for financial independence, cash flow is king.
We all know investments create returns either through price appreciation or cash flow. While most investments do a little bit of both, real estate is the perfect investment for cash flow.
While stocks are great at silently appreciating through compounding market gains over time, there's nothing quite like the immediate cash flow of real estate.
Sure, your property probably won't pull a Tesla and increase in price ten-fold, but you can sleep like a baby when you open the mailbox and see your tenant dropped off yet another monthly rent check.
In the stock market, the best dividend paying company yield around 4%. In other words, you'd need to purchase $750,000 in dividend paying stock if you planned on living off $30,000 per year.
With real estate as an investment, you receive the full amount of cash flow even if you've only invested a partial amount of the property's cost, thanks to the previously mentioned leverage. $30,000 of annual cash flow is as attainable as a 20% down payment on three properties profiting $800 per month.
3. Demand
Even as the real estate market flies up and down on the madness of the economy, everyone still needs a place to live.
Real estate becomes even more recession proof in my target property type – lower priced multifamily properties. While a weakening economy is sure to cause my stocks to tank, the demand for a reasonable place to live might actually increase.
4. It's a proven business 
The cliché of fixing toilets as a landlord holds some truth, but I'd be lying if I didn't admit there's a certain level of attractiveness to controlling your own income source.
How many times have you heard this quote – "Man, I'd love to start a business, but I just don't have that next million dollar idea."
There's one business that welcomes anyone regardless of credentials, has been around since the dark ages, and bankers will happily lend you money to get started: real estate.
Open a history book to any page, and you'll see all throughout history landlords have built wealth through renting property.
5. Generational trends are on your side 
I'm getting a little speculative here, but hey, it's my party and I can cry if I want to.
Owning rental properties makes a lot of sense from a big picture perspective. We know a few things about millennials, and they're all good for the landlord.
As record numbers of millennials graduate college with crushing student loans, they are delaying the purchases of homes. What are they doing while they pay off those loans? Renting.
Millennials are a generation of free spirits, world travelers, and skeptical home owners, thanks to coming of age during the housing collapse. All of this means they're more likely to continue renting.
In the 1970s, the median marriage age was 20-23 years old. Today? 26-28 years old. Millennials are more likely to rent until they settle down and get married.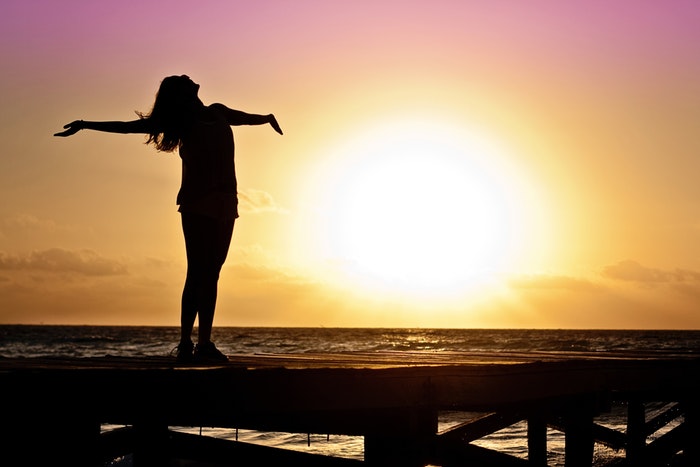 How I Analyze Investment Property
First, a disclaimer. I'm not a real estate agent, and I haven't (yet) bought a rental property. Below is my thought process as I scroll through Zillow deciding whether I want to tour a potential rental property.
Please, if you spot an egregious error or disagree with me, I encourage you chuck several rotten tomatoes my way. Then let me know in the comments why I've been dodging over-ripened fruit all day.
Some Guidelines on Expenses
I talked about several of these when I showed how you can actually lose money on a home that doubles in value, but here are a few helpful guidelines as you do your best to estimate a rental property's potential:
Mortgage costs are easy to estimate using a mortgage calculator.
Property taxes, on average, cost about 1% of the home's value.
Allot around 1-2% of the home's value to maintenance each year, depending on the property's age.
Home insurance typically runs about 0.5% of the home's value each year.
Your unit won't be 100% rented all the time. Establish a vacancy rate, keeping in mind that lower income properties have higher turnover than nicer neighborhoods.
Property managers, if you're into that sort of thing, charge around 10% of monthly rent.
Prepare for a 20-25% downpayment and closing costs of at least 3% of the purchase price.
Now, let's run through the numbers:
We've got most of our expenses covered, now let's run through the numbers using a real example.
Let's consider the hypothetical purchase of a $160,000 duplex in the Twin Cities. The property is in a somewhat up and coming part of town, although the neighborhood is still a little too rough for me to personally want to live in.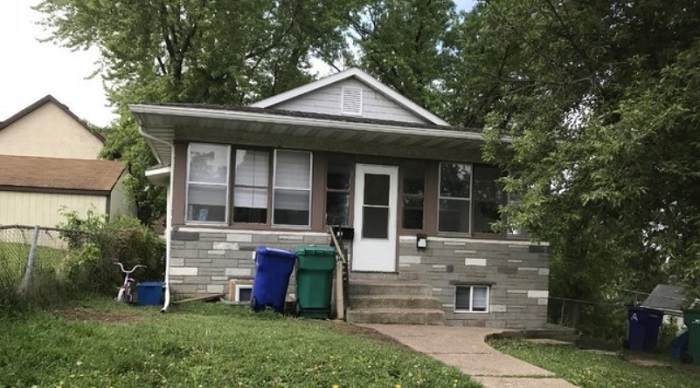 $160,000 listing price.
The two current tenants pay $800 and $900 per month, or $20,400 per year.
We can't assume full occupancy, so we'll deduce 10% for vacancies. Adjusted gross rent = $18,460
The mortgage, property taxes, and insurance total $9,900, using the guidelines above.
Maintenance and property management will cost an additional $5,000 per year. (2% of purchase price and 10% of rent, respectively)
$1,000 expense just for fun, since it snows a lot in Minnesota and we'll need someone to take care of it.
Annual cash flow: about $1,800
That's a lot of numbers, and this site isn't meant to be hard work. Here's a table to help you out: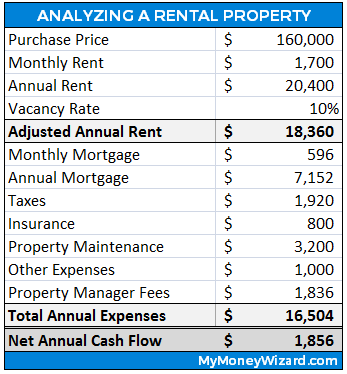 $1,856 on a $160,000 investment wouldn't normally be exciting. But real estate investing holds two big advantages: leverage, and renters helping you pay off an asset.
We didn't actually invest $160,000 in the property. Our investment only included the downpayment and closing costs.
20% downpayment – $32,000
Closing costs – $5,000
In other words, a total investment of about $37,000. Now, with cash flow of $1,856 we're up to a 5.04% return on the cash we invested. This is called the "cash on cash return," and although it sounds like something out of a rap video, it's a good metric to show the power of leverage.
But wait, those renters are also helping you pay down the mortgage and build equity in the house. Once we add back the $2,000 of principle included in our first year of mortgage payments, the cash on cash return is all the way up to 11.38%.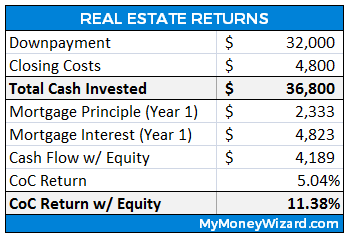 Plus, since the amount of principle paid increases over a loan's life, this return will increase with each year. If rents increase as well, even better.
We're now past the range of normal stock market returns, and there's room to do better.
Mortgage interest paid, property taxes, and deprecation are all tax deductible. I'm no tax expert, and everyone's situation is different. In any case, it's likely the benefit of tax deductions could push this rental property's first year cash on cash return near 15%.
Am I Buying This Property?
Overall, this property is not bad, especially for the first duplex I picked off somewhat-randomly from Zillow.
Am I rushing out to buy this property tomorrow? No, for two reasons.
1) I don't have $38,000 cash, and my ideal rental property wouldn't need me to liquidate assets for the initial investment.
I know enough about investing to recognize when I'm not an expert, and I'm definitely not an expert real estate investor. For that reason, I'd like to avoid risking any of my nest egg while dabbling in real estate.
2) The numbers for the second and third properties I randomly picked off Zillow looked similar, telling me there's plenty of deals to be had in this neighborhood. Like Warren Buffett once said:
The trick in investing is just to sit there and watch pitch after pitch go by and wait for the one right in your sweet spot. And if people are yelling, 'Swing, you bum!,' ignore them." -Warren Buffett on investing.

---
Related Posts: