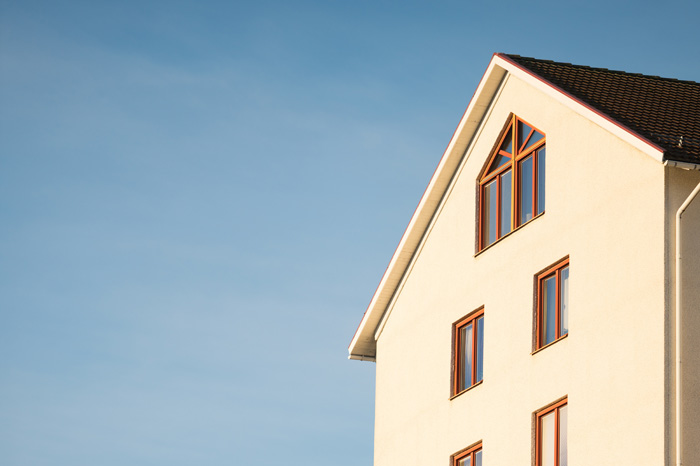 I've been more than a little critical of home ownership before.
But I also believe in the importance of knowing our biases, and hearing both sides. So here today, in the interest of expanding my mind, I'll play devil's advocate… with myself… by presenting the most legit reasons to buy a home.
I'm taking real, actual, logically sound reasons for buying a home. Not the fake myths you're used to hearing from realtors, bankers, the government, and other people who stand to make a lot of money when you enter the real estate market.
Terrible Reasons to Own a Home
First, a review. Despite what the world will try to tell you, these are not good reasons for owning a home.
1) You want a place but you don't want to throw money away on housing.
This myth is fake news that would make Facebook proud. Between property taxes, mortgage interest, and routine maintenance, home owners can easily throw away hundreds of thousands of dollars, without trying.
In certain situations, home owners can even throw away more money than renters.
Who throws away more money depends on several economic factors, and not whether you check "rent" or "own" on your credit card applications.
2) You want to live in a great investment.
Wrong again. Homes that you live in are not investments.
Investments make money, and they go up in value over time. Homes cost thousands of dollars per year, and they return 0% per year, after adjusting for inflation.
3) You think your neighborhood is going to beat the 0% historical return of real estate
Still not the best idea. The often ignored truth about real estate gains is that they're only realizable if you're willing to move to an entirely different place. Think about it. If your home doubles in value because your city is booming, guess what? All your neighbor's homes have doubled in value too.
In fact, real estate prices tend to run in a cyclical nature across entire states or countries. Meaning even if you're willing to relocate neighborhoods, or even whole states, recognizing your real estate appreciation is probably harder than you planned.
To actually cash out a jackpot housing run up, you must be willing to:
Make a drastic life change. Something along the lines of moving from a trending city to a sleepy rural town.
Sell and drastically downsize to near tiny house levels (or a houseboat!)
4) You want a starter home
The idea here being that purchasing a home is a necessary step towards building the magical equity.
Of course, equity is nothing more than net worth in your living residence. Meaning the entire idea of "needing to build equity" comes with the giant freakin' assumption that the only way to save money is to do so through real estate.
Obviously, a savvy investor will realize there's a more efficient way to build wealth than through forced monthly mortgage payments. Mortgage payments, which especially during the first few years*, will go almost entirely towards paying interest to the bank rather than building equity.
*The typical mortgage takes 12-13 years before you start paying more principle than interest.
There are two big winners in the first home business, and it's rarely the buyer.
The bank, who collects an average of $4-5,000 in closing fees.
The realtor, who's 6% sales commission is a wonderful money grabbing opportunity between starter home and forever home.
There's a better way to set yourself up to one day purchase the home of your dreams, and it has nothing to do with paying huge interest payments or real estate agent fees. It's called investing, and if you need proof of its effectiveness, check my net worth updates.
Damn, I went and ranted against home ownership again. In an article that's supposed to be about the benefits of home ownership.
Quick, let's get to the positive!
5 legitimate reasons for owning a home
Ranked in order of awesomeness.
5) You love being handy
There's a certain percentage of the population who loves nothing more than rolling up those sleeves and diving hand first into a clogged up toilet.
If you enjoy fixing things, or take a great deal of pride in using your DIY skills to make improvements, a home can bring a great sense of purpose. The best part, of course, is that a home always has something that needs fixing, so you're sure to guarantee yourself an endless source of entertainment. If you're into that sort of thing.
4) You need help staying disciplined with your savings
If you're undisciplined saver, buying a home is the perfect savings vehicle for you. If you don't stick to your home's built in savings plan, aka a mortgage, you're sure to receive several angry phone calls from your banker. Nothing like the threat of foreclosure and homelessness to keep your savings goals on track!
Most home owners convinced real estate is a great investment are actually impressed with the results of forced savings through a mortgage. Anyone steadily putting away $1,000 per month, every month, for years on end, is placing themselves in a much better financial situation than if they squandered their money.
A rising tide lifts all waters. Real estate is excellent at keeping the average person disciplined enough to save something for themselves. For already high savers, real estate has the potential to increase a high savings rate even higher.
3) You plan on raising a family soon
I'm not a parent yet, so don't quote me on this, but I can't imagine a worse situation than scrambling to find a new home for your family, just because your landlord decided to change the rules of the game.
Owning a home gives you freedom. Instead of worrying about rising rents, the only thing you need to get your grandpa-pants in a bunch over is the latest property tax assessment. And keeping those punk kids off your lawn, of course.
All this freedom means more stability. Putting down roots mean your kids can enjoy a steady place to call home. As a youngster, I really appreciated this part of family life, and I hope to provide the same stability for my future family.
2) Leverage
Only through real estate can you contribute 20%, or less, and immediately control an asset worth hundreds of thousands of dollars. This admittedly works much better with an investment property, but the concept holds true for a home as well.
Most notably, leverage on a home allows you to get ahead of market madness, and avoid becoming priced out of a location. Real estate prices in Denver increased more than 50% in the two short years I lived there. Buyers who leveraged up to buy real estate now own property that those of us who sat on the sidelines won't be able to afford. Even if a crash occurs, there's no guarantee the correction will bring prices down to previous lows.
Leverage allows you the upside (and the risk!) of exposure to larger assets that you otherwise could not own.
1) Hedge against inflation
The granddaddy of all homeowning benefits.
When you rent, you can expect your rent to increase every year at a rate at least equal to inflation.
When you agree to a mortgage, you are effectively locking in your "rent" payments at the current year's prices. Bonus points if you can secure a mortgage at historically low interest rates.
Inflation causes prices to double every 25 years or so. Meaning by year 25 of a mortgage, your living costs are basically 50% off!
Once you own the whole place free and clear, your "rent" drops all the way down to zero, ignoring ongoing ownership costs such as taxes and maintenance.
So, Rent or Buy?
Well, the New York Time's rent vs. buy calculator is a good place to start.
But even the calculator's set in stone number isn't perfect. In reality, the answer depends mostly on intangible and emotional factors.
How long do you want to live in an area?
How much do you value your flexibility vs. stability?
Are you a disciplined saver, or do you need a little help staying on track?
How much do you enjoy free time versus the pride of maintaining something you own?
Somebody, please… think of the children!
Etc.
So there, my most level headed and open minded take on the subject yet.
Now if I could just get my hands on that Money Wizard guy, he's a real smart ass and I'm sick of arguing with him…
---
Related Reading: