Picture this: I'm having a great time last week on vacation in Aspen, Colorado. I'm skiing down the side of a beautiful mountain trail, when I stumble upon this condo complex: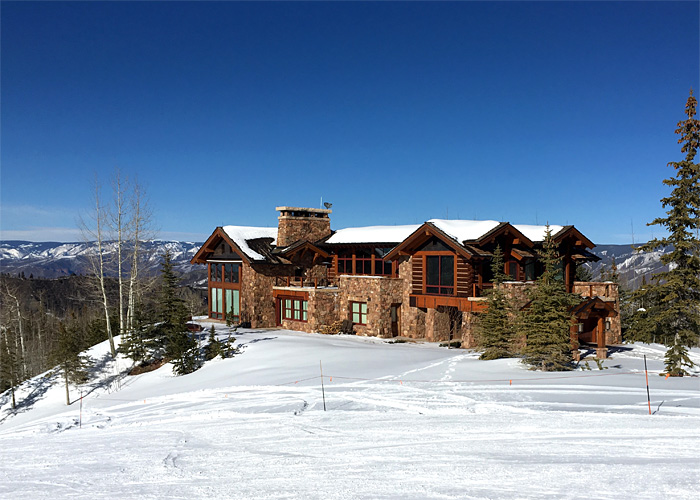 "Wow, that's a nice complex," I think to myself.
"Hey wait, that condo building only has one garage…" I realize.
It hits me. That's not a condo.
That's one person's house.
Welcome to Aspen. The playground for the world's rich and famous.
These mansion sized ski cabins are found at resorts all over the country. Skiing, after all, is an absurdly expensive hobby. I realized this unfortunate epiphany after I shared a mountain with Kim Kardashian then Tom Brady.
But Aspen is next-level ritzy. While loading onto the morning gondola to head up the mountain, one can't help but notice the line of designer stores across the street. Unlike any other ski town, Prada, Gucci, Burberry, and Louis Vuitton retailers don't even stand out, and neither do the masses of fur-coat wearing clones who shuffle themselves from store to store.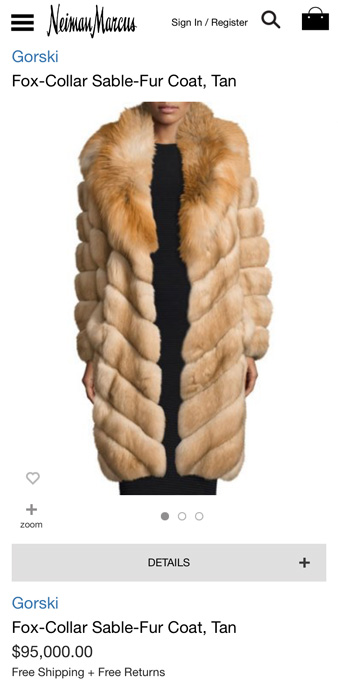 In fact, Aspen is so expensive, in 2011 the Wall Street Journal named it "The Most Expensive Town in America." This might sound like a bold claim, right until you realize the cheapest single family home in Aspen cost $559,000. And it's a trailer home.
The high priced real estate market hasn't exactly cooled off since. Here's a listing I just found on Zillow: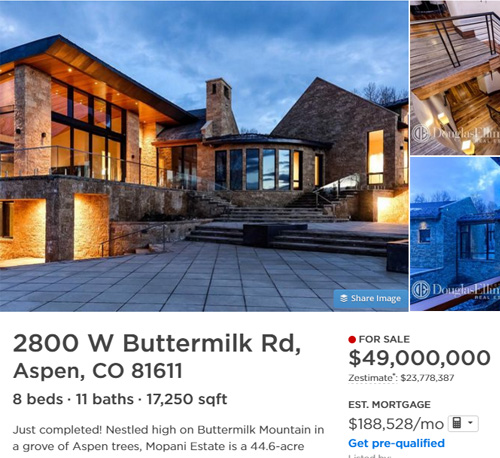 These sort of houses are lined all along the mountain. Each one custom built from the ground up and designed by some world renowned architects (apparently) intended to ensure every home is uniquely different from the next. Yet all the houses had something strange in common:
Nobody was using them.
Despite the beautiful architectural design, each home was shuttered up, drapes drawn, and had no signs of life. The owners were obviously far, far away, with no intention of enjoying their multi-million-dollar vacation homes any time soon.
This really shouldn't come as a surprise. In order to afford a house larger than some countries' GDP, you're probably devoting your entire life to your work.
So I got to thinking, what line of work would that be? Just who can afford one of these mega-mega mansions?
How to Afford a $50 Million Dollar Home
Say you really want one of these homes, and you're convinced a $50 million pad is your ticket to happiness. (spoiler alert: it's not.)
Surely you must be a wealthy doctor. Maybe a lawyer. Banker?
Well, let's meet our hypothetical banker earning $1,000,000 per year. Our banker faces a marginal tax bracket of 40%. In other words, his/her after-tax salary is around $600,000. (In reality, his take home would be slightly higher, but we'll soon see this difference doesn't matter much in his home ownership dreams.)
We'll assume this is a relatively frugal banker, and he saves 50% of his income. (This is quite the assumption, since he wants a $50-million-dollar home after all.)
Assuming no investment gains or losses, it will take our poor millionaire banker about 82 years to afford the home.
So doctors, bankers, and lawyers are out. Maybe you have to be a pro athlete to afford this house?
The average professional baseball player makes $4 million per year, which is enough to make baseball one of the highest paying sports in the world. How affordable is our Aspen mansion looking for Joe Slugger?

Even a professional athlete has to work over 40 years to afford this dream home! Unfortunately, the average MLB career is only 6 years, and even the game's greatest players don't last much longer than 20 years.
So the average well-paid professional athlete is out. Maybe this athlete is one of the rare superstars?
Specifically, maybe this athlete is Barry Bonds, the MLB's all-time home run leader and one of the highest paid athletes in history. His salary happens to be public record, so let's see how the Home Run King* would have fared for this vacation home:
*may or may not have used enough steroids to make a juiced up body builder jealous.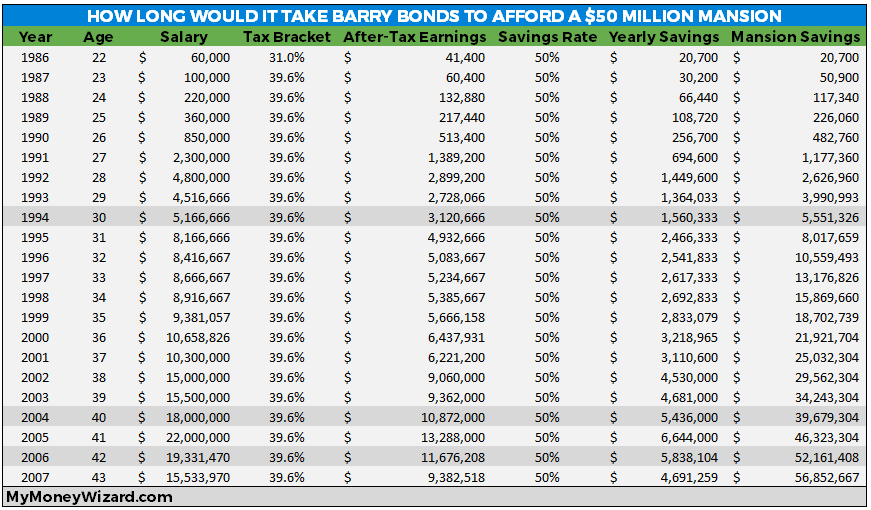 It would take almost the entire career earnings of Barry Bonds to afford this Aspen mansion! Without considering the closing costs!
And then he'd be broke! Poor guy wouldn't even have money left over to cover the annual maintenance. And he certainly wouldn't be able to afford his usual steroid use!
This leaves the 1 percent, of the 1 percent, of those 1 percent. The average CEO of a S&P 500 company made $10.8 million in 2016. A $50 million second home would be a stretch even for the executives of the world's largest companies.
Who's left? A few billionaires? Some oil sheiks?
Beats me. Maybe that's why the place is for sale.
Jumping Off the Hamster Wheel of Excess
We just found a home that could nearly bankrupt one of the highest paid athletes in one of the highest paying sports in the world, and would still be out of rich for most of the world's wealthiest CEOs.
Aside from a $50 million house being pretty cool to look at, it's also a beacon of proof for a longstanding fact: money is relative, and if you're not careful you'll find yourself spinning your wheels always trying to afford what's just out of reach.
Here's the truth none of the designer brands or high end real estate agents will ever tell you: There will always be more expensive goods and bigger houses than there is money to spend.
Whether it's a $50,000 car or a $50,000,000 house, measuring your success by your stuff is a never ending losing battle.
Here's another truth: money is worthless if you don't have time to enjoy it.
Instead let's shift our focus on the happiness which is free – friends, family, love, and finding a purpose.
In truth, I felt sorry for some of these Aspen elite. For the few who actually peeled away long enough for a vacation, they choose to spend their time running around in their fur coats, moving from designer store to designer store, mindlessly seeking the next rush by buying stuff to impress people who don't care.
They retreat towards their mammoth vacation homes, never stopping for a second to question whether more is always better.
What a waste.
I've lived in a million-dollar-home. It's completely overrated. I imagine a multi-million-dollar vacation home isn't much different, especially if you never give yourself time to enjoy it, or are always peering at the neighbor's bigger house in envy.
Meanwhile, me and my ski buddies were crashing in an outdated, trashy motel. Each person's portion of the bill ended up being about 30 bucks per night. We slept two dudes to a bed that was generously labeled a Queen, and we bought groceries to make our own meals when we weren't fueling up at the cheapest restaurants we could find.
And we had an incredible time.
I'd put our week up against the week of some CEO in a boardroom any day.
Because we were free. We weren't slaving away at work to buy one of the most expensive homes in the world. We weren't trying to impress anyone with a fur coat costing more than most cars.
We were spending time with our friends. Enjoying life. We were appreciating a completely free activity – the company of others – of which no amount of hours in the office or dollars in a bank account can buy.
---
Related Articles: