Since I started this blog, I've written 115 posts and nearly 150,0000 words. That's nearly two Harry Potter Books.
And I don't think I've ever published anything more controversial than this table:
How to Lose Money On Your House (Even After it Doubles in Value) 
A little bit of background:
About a year and a half ago, an otherwise normal workday ended with me overhearing yet another person bragging about how much money they made on their house.
At first, I was really impressed, and overall feeling pretty happy for the coworker. But as soon as the conversation shifted towards something resembling the following exchange, my demeanor shifted.
Older Coworker 1: "Yeah! I bought the place for $240,000 [10 years ago] and just sold it for $260,000. Easiest money I've ever made!"
Younger Coworker 2: "Wow… I really need to buy a place fast!"
I quickly realized coworker 1's math didn't add up. Rather than making him feel bad and potentially outing myself as The Money Wizard in my place of employment, I made a quick counterpoint to the younger coworker, then packed it up for the day.
But the exchange kept replaying in my head. That night, I found myself pounding away on the keyboard, writing about how most people completely miscalculate the investment returns of their house.
What I ended with was this post.
In it, I showed how somebody could own a house that doubled in value, and still not make any money. The post finishes with the above table.
The Aftermath
Admittedly, the article isn't perfect. For simplicity's sake, I left out the tax advantages of owning a home, although the mortgage interest deduction is mostly overrated.
(65% of Americans own homes yet only about 30% itemize their deductions. In other words, most home owners get no tax benefit from their mortgage, and instead just take the standard deduction. And by all accounts, this benefit became even less appealing after Trump's latest tax plan.)
I also framed the article as a little too much buy vs. rent without enough direct comparisons between the two. I should have made the article's main point (that a house is a lousy investment) more direct.
In any case, what followed was a staunch defense of the home. This didn't surprise me. I don't know if it's just The American Dream talking or what, but home owners won't take anyone dissing their decision without a fight.
But as the hate mail kept flooding in, one argument took me completely by surprise. Email after email, comment after comment, and even a few forum replies as the article made its way around the internet, showed something I wasn't prepared for.
Most people completely misunderstand home equity.
The Big Home Equity Mistake Most People Make
I'll include the chart again here for a quick reference: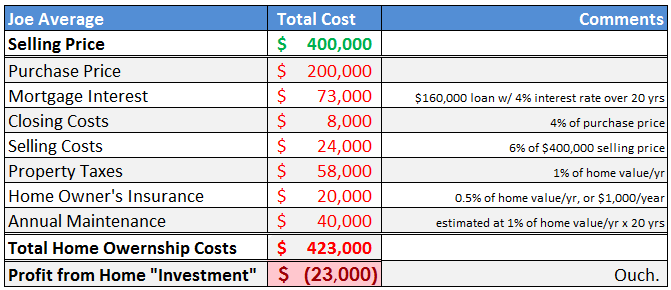 According to these comments and emails, I completely dropped the ball by subtracting the $200,000 purchase price of the home out of the final profit.

As their line of thinking goes, as you repaid the loan, you built equity in the house. Since you get to keep that equity, it shouldn't be counted a cost.
In their view, Joe Average actually made $223,000 on his house flip, because that equity was his. Or something.
The trouble is, they're completely wrong.
And judging by the number of identical comments I got about this topic, there's clearly a whole subset of the population buying homes without actually understanding how equity works.
A lot of people seem to view equity as a free lunch. This is dangerous, because it leads to a mindset of "buy anything you want" because in the end, you'll always profit. Because equity. 
No wonder Americans overwhelming view real estate as the best investment.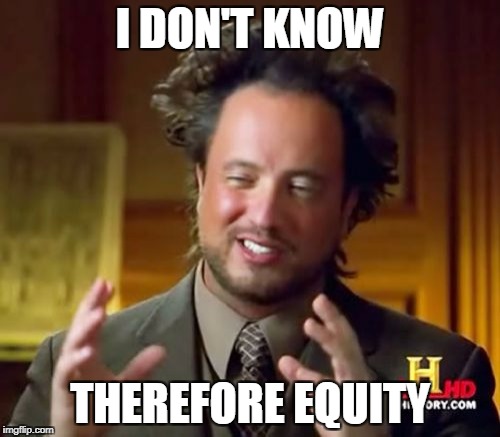 So let's look into it.
What is Home Equity?
First off, a few thing's equity is not. It's not:
A magical gift from the bank.
The only way to riches.
The best performing asset class in the world.
Home equity is simply your house's market value minus any loans against it.
Home equity = home value – loans
Put another way, it's how much of the house you actually own. You could also call it your net worth in the house.
A quick home equity example:
You find the home of your dreams:
Purchase price: $200,000
20% cash downpayment: $40,000
Immediate Equity? $40,000.
(You own $40,000 of the house and you owe the bank $160,000 for the rest of it.)
Simple enough, right?
As you make your mortgage payments, a portion of those payments go towards principle (aka "building equity" in the house) and some of the payment goes towards paying the bank interest on your loan.
Now, here's where most people get it wrong.
Say we're approaching year 30, and we're about to give that home loan it's final K.O.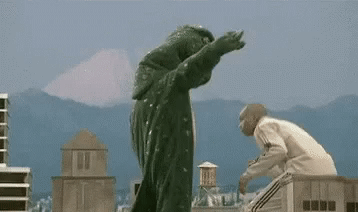 Because you've been steadily contributing a couple hundred dollars each month to build equity, over the life of the loan, the bank has received enough "equity payments" that they've recouped the initial $160,000 they gave you as a loan.
The bank is essentially cashing in all those payments you've made, and giving you a home free and clear. For their troubles, they'll keep all the interest you paid as their profit.
The important part to note, and the part so many hatemailers were confusing, is that equity isn't a free benefit from having a loan. It's a real cost, so you have to subtract the amount you paid to build equity from your profit.
If you sell the house tomorrow for $200,000 (remembering that you have $200,000 in equity now) your profit isn't $200,000.
It's zero. Because you paid for that equity every month for the past 30 years.
What if I sell the house before loan is paid off?
Say you sell the house after 5 years. The mechanics are similar:
Initial Equity from the downpayment: $40,000
Equity built from 5 years of monthly payments: $15,000
Total Equity: $55,000
Principle outstanding to the bank: $145,000 ($160K initial loan – the $15K of principle payments you've made.)
(These are rough numbers. If you want to get exact, you can use a mortgage calculator and your amortization schedule.)
The bank isn't going to just let you walk away without getting the money you still owe them.
So they'll take the sales price and first apply it towards your loan, before you get to collect any of that sweet, sweet profit.
Let's say you fetch the same $200,000 sales price. The bank takes that $200,000 applies it to the remaining loan amount of $145,000, and writes you a check for the difference.
In this case, that difference is $55,000. Hey, look at that! The exact amount of your equity.
Does that mean you made $55,000 off the sale?
NO!
Remember, you paid $40,000 for the downpayment and $15,000 of principle through your mortgage payments. You got out what you put in, which is exactly what we'd expect to see when you buy a house and then sell it for the same price.
Are you sure I didn't make $55,000 on the sale? I've got $55,000 in my pocket…
Again, no!!
No matter how many people with a misunderstanding of equity try to make this true, that $55K of equity is not profit. Sure, it might be better than blowing money on rent, or maybe you'd have been better renting and investing the difference.
But if you're going to compare the two, you need to accurately calculate returns. And if you're trying to calculate the return on any investment, you HAVE to consider your initial investment.
If I buy a share of Apple stock for $10, and sell it tomorrow for $10, I haven't made $10!
If I buy a TV for $500 and sell it for $500, I've made zero dollars.
Even if I buy a TV with a $500 loan, and pay the loan back over 30 years, then sell the TV for $500… still zero dollars.
Final Thoughts on Home Equity
I can think of a few million articles I planned on writing, but none of those would have been 1,200 words explaining that you don't make money when you buy and sell something for the same price. Yet here we are.
I don't know whether its the lobbying real estate agents, the sneaky mortgage brokers, or the misguided baby boomers pushing for their American Dream at all costs, but somehow the three groups have managed to cloud a simple concept for a lot of people.
The real truth? Equity can help you make money on a home sale, it can have you lose money, or it can leave you indifferent.
In some instances, building equity can be better than renting. In some instances, it's not.
But one thing's for sure, building equity doesn't automatically make a house a good investment, and equity doesn't come for free. Don't ever let anyone tell you differently.
---
Related Articles: