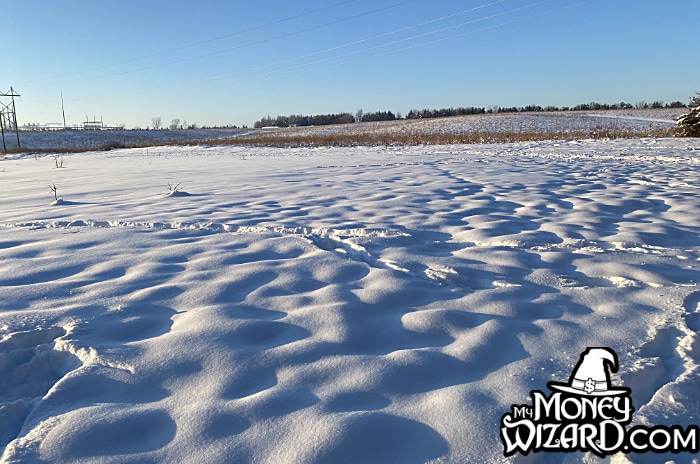 Hey Money Wizards,
We aren't dead yet!
Every month For the first time in the last three months, I'm tracking my net worth to see how close I am to leaving my office job in the near future.
I'm currently 32 with the goal of $750K to $1 million bucks within the next three years. Let's see the latest!
Life Update: October to January 2023
Busy stuff! Which pushed the blog a little lower on the priority list, unfortunately.
What can I say? The pay around here stinks!
In all seriousness, a big reason for the delay was that Lady Money Wizard and I finally started the process of combing finances.
Hey, only 1.5 years late! By that scale, this blog post is looking good!
What else? Get ready for the lightning round:
November 2022: Thanksgiving festivities with family, Thanksgiving with friends, Thanksgiving with more friends, and I'm pretty sure another thanksgiving with friends? Almost like there's a holiday this month…
December 2022: Flew down to Texas for an early Christmas with my family, then flew back to Minnesota for a timely Christmas with Lady Money Wizard's half of the family. Even reunited with some new friends from our big fat trip to Greece!
January 2022: Battled some epic snow in Minnesota. Seriously, I can't ever remember it being this snowy! Then escaped the snow with a trip to Florida to visit some family.
Net Worth Update: January 2023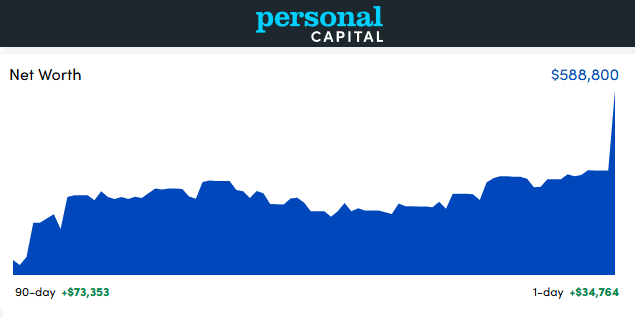 And the details…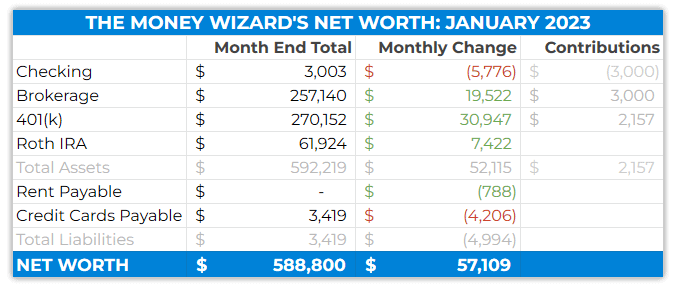 In November, the overall market gained about 5%, then slid back down 5% again in December.
The market's final tally for the year 2022? Down about 20%.
Then in January, the market climbed another 10%, which means my portfolio is finally getting near its previous peak in October 2021, which was $615K.
Enough of a roller coaster for ya?
It's easy to get bummed about a lost year+, but that's only one pessimistic way to look at it.
The other side is that the market has, historically, recovered and rallied after times of great discount.
As I keep telling myself – it's all about those assets! Because in that last year+, I've been buying up more and more shares of assets which should, one day, take off.
It's building the base. Kindling before the fire. Dynamite for the explosion.
One day!
Account Changes
For the past three months, the checking account continued transferring $1,000 per month into my brokerage's Total Stock Market Index fund, and the 401(k) kept getting the maximum allowed.
Moving forward, Lady Money Wizard combined our checking accounts, so I'll play with the numbers and see how much to auto transfer to the brokerage moving forward.
My current strategy
In 2023, I still plan to max out the 401(k) and Roth IRA.
Now that Lady Money Wizard and I are combined, we'll probably have more investible income, so I'll probably have to play with how much we're dumping into index funds. (I expect it to increase slightly.)
With the real estate market correcting, I'm also finding myself with an itch to become a landlord again, although regular readers will know I'm typically all talk in this area. We shall see!
Total Spending: January 2023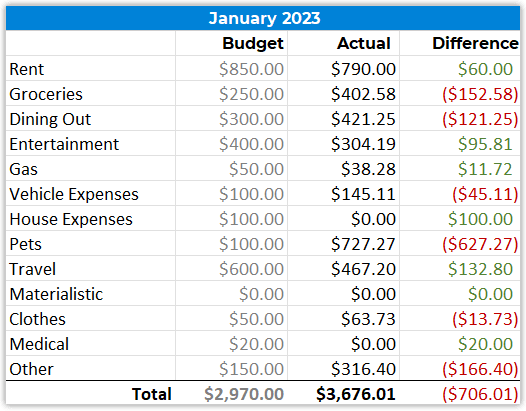 The rent category will need some adjustment moving forward, since we now share an account.
Otherwise, the big expenses in January:
Groceries and Dining Out: $821
Those food costs are killer right now!
Pets: $727
The Money Pup got his first ever dental cleaning, so that was quite the bill.
Travel: $467
The Florida trip, which was greatly reduced in price thanks to staying with family and using some companion credits.
How have you been?
It's been a few months since one of these posts. Would love to hear from you!
P.S. – The New Year is a great time to start tracking your Net Worth, and Personal Capital is still my personal favorite tool to do so.
---
Related Articles: