Welcome to the June 2017 Net Worth Report!
June was a whirlwind of a month for this site. Not only did I continue pounding at the keyboard during all the spare moments I could find, but this little blog made it's second appearance on the front page of Yahoo.com.
Last time this happened, I joked at this little site getting featured next to President Trump. This time, MyMoneyWizard.com was featured above President Trump.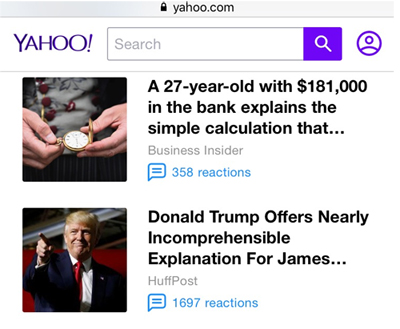 Take that, Mr. President! (Now please don't send the Russians after me…)
Along with the mainstream feature came a nice surge in new visitors and email subscribers. So if you're new here, welcome! Every month, I bare all and publish all the details I can about my monthly finances.
After all, anyone can post a few articles about the theories of reaching financial independence before they're 40. But I prefer to volunteer myself as a case study for the world, so you can follow the exact progress of somebody chasing this ambitious goal. I hope that by sharing my finances, you can learn from my successes and failures.
On the other hand, if you're an O.G. subscriber and came here from the usual newsletter, you might take comfort in knowing there's now a whopping 3,000 different subscribers receiving emails alongside you. Now that's a party!
Now, back to the update.
In June, I came to the epiphany that it's completely insane to live in a place as cold as Minnesota all winter, then leave as soon as the beautiful summer months come around. So, no travel for me this month.
Instead, I stay-cationed my way around the Twin Cities, exploring the beautiful sights and attractions this place offers whenever the weather warms up. It's amazing that we're often so fixated on traveling, when there's so many amazing activities right in our backyard.
Thanks to last month's addition of our new pup, these activities undoubtedly included several trips to lots of local dog parks.
And for that, I'm torn on the frugal-ness of our new four legged friend. On one hand, the startup and ongoing costs of a dog are insane. On the other hand, I've noticed he's created a sort of new, cost effective hobby for us. An afternoon hike around the dog park costs exactly $0, so he might be more frugal encouragement than I originally suspected.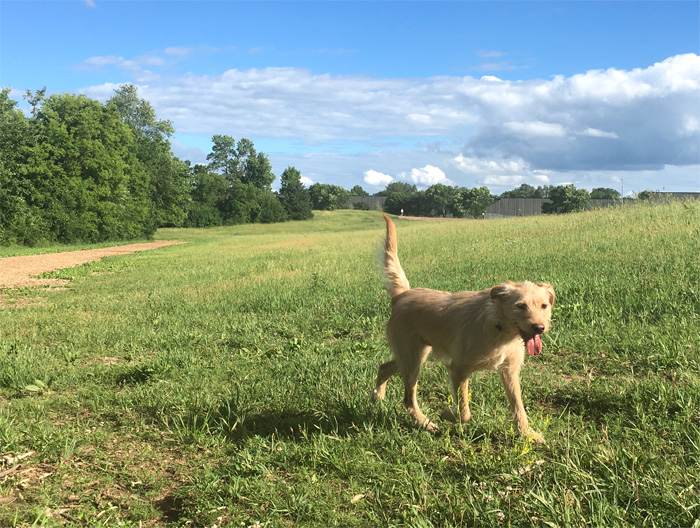 And here's another frugal summer tip. We all love a nice baseball game under the sun, but I'm guessing most are less enthusiastic about the eye popping ticket prices.
The answer: nosebleed seats.
I know, I know. You're probably ready to hit the X button on this page, but hear me out. After direct comparison between the $100 seats and the $10 ones, I'm ready to make a bold claim – I like the nosebleeds better.
Unless you're a fantasy baseball addict needing precision scouting of each player on the field (full honesty: this used to be me…) you're probably safe to relax a bit. A summer baseball game is all about the atmosphere, and going higher lets you take in the better views, at a fraction of the cost.
So while everyone in the bottom bowl needs to keep their head on a swivel to avoid it getting taken off by a 120 mph foul ball, you can comfortably sit like a king in the clouds, admiring the beautiful scenery.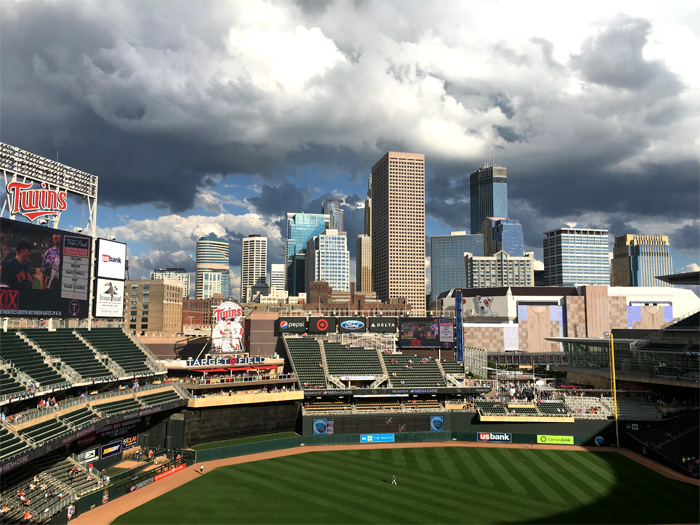 Anyway, to the update!
Net Worth Update – June 2017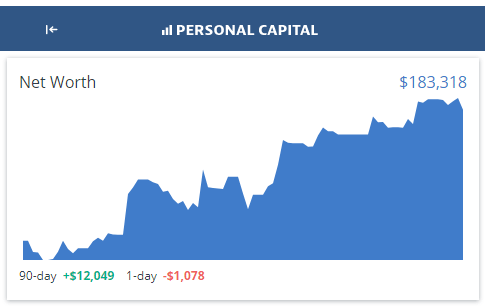 Here's the detailed breakdown: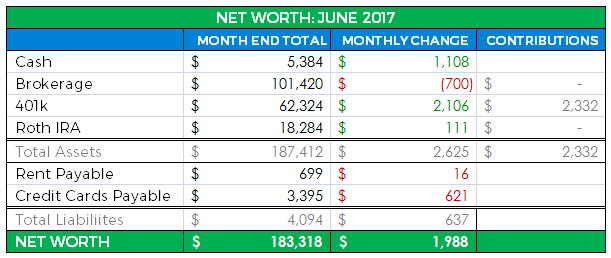 At the request of some readers, I added a third column to the chart. The "contributions" column shows how much I added (with the help of employer matching, in the case of the 401k) to the three different investment accounts. This should hopefully make it easier to tell how much of the monthly changes are from investment returns, and how much are from brute savings.
Overall, not the greatest month in the market, but hey, these things go up and down. And I like the direction of that cash account. Speaking of which…
Cash: $5,384 (+$1,108)
June was a relatively frugal month, and I was able to save a pretty solid chunk of cash. More information on this month's spending towards the end of this update.
Brokerage: $101,420 (-$700)
No contributions this month, so the slight decline was just due to regular ups and downs of the market.
At month end, my brokerage account included:
401(k): $62,324 (+$2,106)
This account actually lost money during the month, but the total value still went up thanks to $2,332 of 401k contributions. This includes both my automatic paycheck contributions and my employer's matching.
I'm contributing nearly 30% of my pre-tax income right now in order to max out the 401k in 2017. It stings the take home pay, but the tax benefits are massive. Compiling these net worth updates helps me to keep in mind just how much my 401k decision is helping me build wealth.
Roth IRA: $18,284 (+$111)
$0 of contributions this month, although it's still a goal of mine to hit the $5,500 IRA contribution limit in 2017. So far, I still have $5,500 to go…
My Roth is invested entirely in Vanguard's REIT index fund. I like this allocation, since I otherwise have no exposure to real estate and do not own a house.
Rent Payable: $699 (+$17)
Same rented apartment, same lease, but a lot more AC usage with the weather heating up.
Credit Cards Payable: $3,395 (+621)
Obviously, credit card bills take into account last month's spending. This bill still had some expenses left over from last month's Alaska vacation, as well as at least $400 of reimbursable work-related expenses.
Inspired by Raptitude's post in this month's Link-O-Rama, I did a better job tracking my spending in detail for the month. Personal Capital's automatic expense tracker didn't hurt with this task either.
Total June Spending: $2,103
Rent – $682
Groceries – $94
Dinning Out – $220
Gas – $25
Gym – $27
Entertainment – $182

Major items: A few nights of drinks with friends, the previously mentioned Twins game, registration fees for my softball league, a Redbox rental, and $4 of late fees for said Redbox rental! Note to self: don't accidentally keep a BluRay for two extra days!

Car Insurance – $77
More dog startup costs – $96

Toys, food, and medicine.

Cleaning fee – $100

Yep, that's a maid. Go ahead and banish me now, frugal bloggers. In the interest of matrimonial harmony, I've hired someone to clean my place top to bottom. It's a ridiculously lazy expense, but hey… compromise. And I do have to say, I've never seen a bathroom so clean. 🙂

Ski Pass – $600
Overall, a pretty good month outside of the insanely, monstrously expensive ski pass. Including the ski pass, which will help pay for future expenses, my savings rate was roughly 40%, and omitting the ski pass I'd have been closer to my usual ~60%.
Conclusion
An increased net worth, despite a decrease in the market. When you save money, good things happen, regardless of the market noise.
Readers, how did you do with your savings goals in June?
Oh, and Happy Summer! 
Disclaimer: Some of the links in this post contain affiliate links, which means I'll earn a commission at no cost to you. I only recommend products I find extremely useful. 
---
Related Posts: