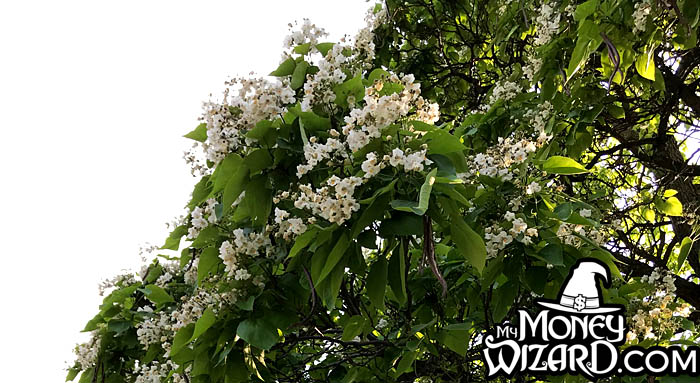 Hey all, welcome to another monthly net worth update!
If you're new here, every month I share my progress towards a nearly $1 million portfolio and an early retirement by age 37. Money tends to be a pretty taboo subject IRL, but I hope that by sharing all my details here, you just might find something helpful towards your own situation.
Regular readers know that for the past few months, we've been gutting our kitchen for a total remodel. We green-lighted the project because of the old kitchen's complete lack of a dishwasher, barely enough room to fit two full sized adults, and counter top space that totaled 4 square feet on a good day.
I've been teasing regular readers with a light at the end of the tunnel. And that's because the kitchen has been teasing me.
You see, I hoped to give a nice summary wrap up by now. But unfortunately, the kitchen is still under construction. Right as we were about to rip through the banner of the finish line, our contractor/family friend had to pull away and take a break.
The kitchen's basically finished, although there's still a few cosmetic touches that need rounding out. The delay is annoying, but on the plus we finally have a running sink, new countertops, A DISHWASHER (hallelujah!) and the whole functional shebang.
On one hand, the new kitchen is borderline life changing. And on the other, it's totally overrated.
Interestingly, the parts that are mostly overrated involve the B.S. cosmetics that most people get completely caught up in – the quartz countertops, the look of the cabinets, etc.
Meanwhile, the most life changing aspects involve those elements which transcend money. The dishwasher is amazing because it saves time, which can never be purchased back. The new open layout allows us to invite friends over and enjoy their company while we cook, which would have been near-impossible before.  Both of those upgrades go so far beyond a new look that the high dollar distractions become laughable.
We'll dive more into that thought in a wrap up post… If we ever finish this project…
In other news, June's summer weather meant the great American past time. Baseball!
Like a true frugal blogger, I bypassed MLB's Minnesota Twins and went straight the value menu. The Saint Paul Saints are an independent league baseball team, which basically means you trade watching a team where a casual fan like me can't recognize 90% of the players for a team where I can't recognize 99% of the players.
So, we strolled up to the ticket window on a beautiful Saturday night, ready to purchase some $5 outfield nosebleeds, when I got a tap on my shoulder. It was a normal looking guy asking if I needed seats. I almost didn't recognize the question without the usual mumbling, gold chains, and shady antics of a scalper.
But, it turned out he wasn't a scalper. Instead, he was an extremely generous dude with two extra tickets to give away. He gave both to us for free, and the story became even more unbelievable when I looked closer to find my seat. These free tickets were row 6, right behind home plate!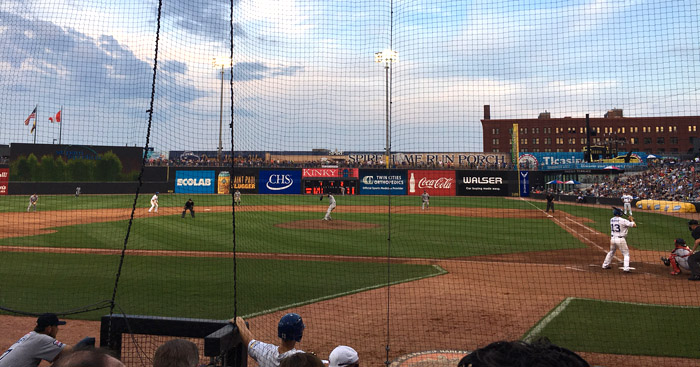 You know, the section so fancy that the seats are padded. And instead of walking up the stairs to grab your beer and a dog like a sucker, a personal waitress comes directly to your seat to relay your order. Talk about living the high life. For free!
I decided to pay our unknown hero's good deed forward, by purchasing one of those online meal delivery services for a friend who I knew would appreciate it. The expense will show up in the spending reports under "other" for the next few months, but in my mind, the impact is priceless.
It's a small gesture, but without question one of the times in my life that I've been most grateful about the financial situation I've created. I've still got a ways to go to meet my own goals, but it feels great to know I can do something good without even thinking twice about the money. I look forward to the day when I'm in an even better position to start giving my money towards good causes.
As I get to the end of this intro, I'm realizing we're a little light on the pics this month. So, here's The Money Pup cooling off with an ice cream cone: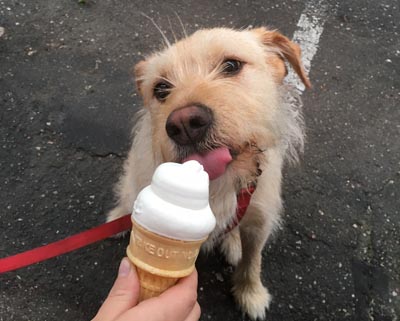 Plus a random rainbow I drove past: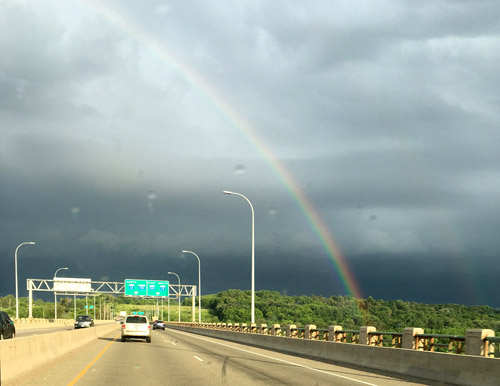 To the update!
Net Worth Update: June 2018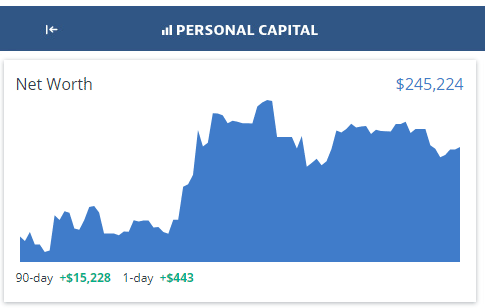 And the detailed version: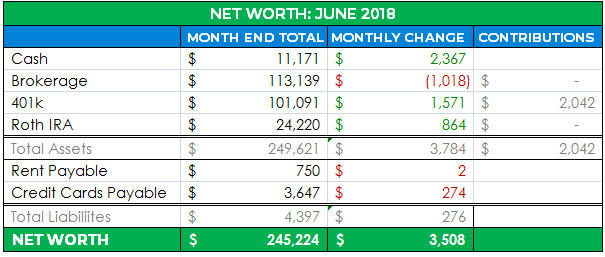 Cash: $11,171
(+$2,367)
Nothing unusual here this month. Cash inflows included a few paychecks and reimbursement for some work related expenses fronted on my personal credit cards.
Brokerage: ($113,139)
($1,108) 
A very rare down month for the stock market lately, driven mostly by fears about tariffs, or something. These micro panics don't mean much in the grand scheme of things, so I have a habit of ignoring them.
No contributions this month, so my breakdown remains:
401(k): $101,091
(+$1,571)
After a few months of getting close… I've hit 6 figures!!!
An increase only because of my $2,000+ of automatic contributions. Overall, my 401k followed the market's slight downward trend on the month.
But, BREAKING NEWS!
Following last month's revelation that I've already saved enough in my 401(k) to support me through retirement, and with so many reader comments reaffirming my plan to fast track my savings for rental properties, I adjusted my 401(k) contributions.
It hasn't hit my paycheck yet, but I'm actually reducing my 401(k) contributions moving forward. I'll still contribute enough to get the full employer match (about $7,000 per year) but the rest will funnel towards my investment property downpayment fund.
With nearly a quarter of a million tied up in the stock market, I like the idea of shifting towards real estate because:
It should diversify my investments quite a bit.
Rental property has potential for more cash flow today, which is the crux of my early retirement needs.
This is the first major change in strategy I've had in about 4 years, so these are interesting times! Stay tuned…
Roth IRA: $24,200
(+$864)
I still haven't contributed anything to my Roth IRA yet this year, which is probably a mistake.
As usual, the Roth remains invested in Vanguard REIT index fund.
Rent Payable: $750
(+$2) 
My half of the mortgage + utilities. I'm actually pleasantly surprised with this bill. It's been insanely hot here this summer, so we've been running the AC way more than ever before. I was sweating… literally and figuratively… about what the latest AC bill would total. Thankfully, it's not too unusual.
Credit Cards Payable: $3,647
(+$274) 
This month's large credit card bill bolstered by a $1,000 refrigerator purchase (our last major expense from the kitchen remodel, thankfully) and a few work related expenses that got reimbursed through the cash account.
Total June Spending: $2,467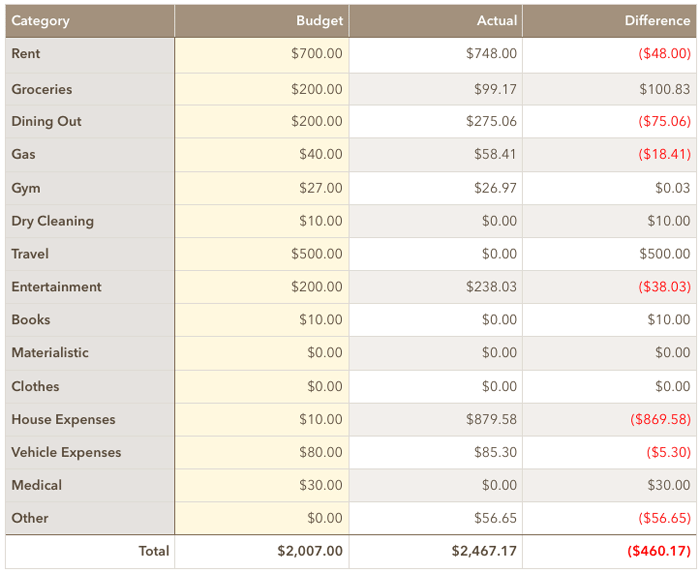 When the smoke cleared, June was actually a somewhat typical month.
Rent: $748
My half of the mortgage plus utilities and expected maintenance.
Dining Out: $275
Lady Money Wizard and I found ourselves at a fancy tasting menu for a special occasion. The food was delicious. The bill was not; it made up nearly half of this month's total.
Entertainment: $238
A couple rounds of drinks with friends, a work-related happy hour, some annual beer-league softball fees, and most entertaining – a $20 deal at a local arcade for all you can game. Nothing like unlimited plays of Skee Ball, Air Hockey, and Big Buck Hunter for a few hours on end!
House Expenses: $880
Mostly my half of the refrigerator, plus a few miscellaneous kitchen supplies.
Vehicle Expenses: $85.30
Car insurance. ?
How is my car getting older, yet my insurance is increasing??
Other: $57
The meal service (got a coupon for the first month!) and a re-up on annual costs of owning a dog.
Readers, how was your first official month of summer? 
---
BTW – If you're looking for an easy way to track your spending and net worth, check out my detailed Personal Capital vs. Mint review.