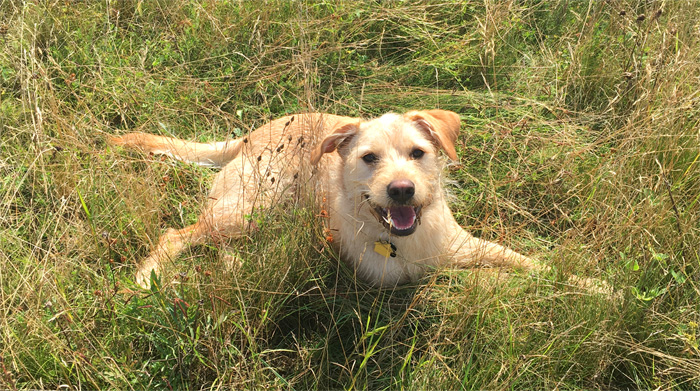 Back in the May Net Worth update, I announced the newest edition to the Money Wizard family – The Money Pup.
Born in Alabama, The Money Pup found his way to Minnesota after his previous owner left him to starve in favor of her latest boyfriend.
We met him at a local rescue, and the adorable 1 year-old mutt stole our hearts the moment we first saw that scraggly face. We took a leap of faith and brought him home.
Since then, he's been about the coolest dog ever. He's been easy to train, sweet, and extremely chill.
I mean, he even wags his tail slowly, and he's usually found lounging by my side all day while I sit on the computer typing up blog posts. Although occasionally, he gets really, really excited to chomp on one of his bones.
He also loves saying hi to people, especially kids, by running up to them, tail slowly wagging, and leaning his body towards them in a not-so-subtle request for pets. He's also a great excuse to check out the local dog park a couple times a week, which might just be the happiest place on earth.
Plus he's been a breeze to train, and like a true money wizard, he already knows plenty of Harry Potter spells… I mean tricks.
Of course, I wouldn't be a very good money blogger if I didn't immediately turn this intimate life event into a public experiment for the internet. So from day one, I set out to track every single cent spent on the adorable little guy.
Here are the results:
How much does it cost to adopt a dog? 6 months later: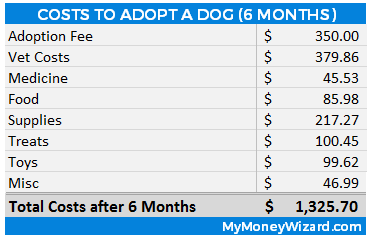 Uh, wow. That's a lot of money. Let's take a closer look.
Adoption Fee – $350
Consider me clueless, but I was actually surprised it costs money to adopt a dog.
No good deed goes unpunished, but hey, somebody's gotta keep those nonprofits afloat.
Vet Costs – $379.86
This bill could have been a lot worse. Since he was an adult dog from a reputable adoption agency, he already came with the major vaccines (usually $155) and already neutered ($200-300).
Even still, a new dog comes with a pricey vet visit and a couple follow ups: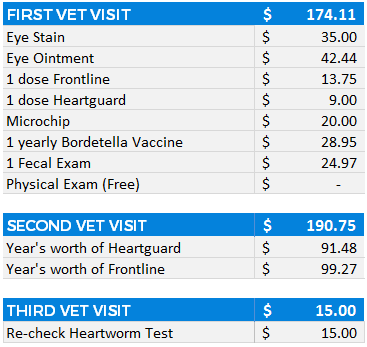 Medicine – $45.53

Our guy has some allergies, so we went for the massive bulk 1,000 count bottle of doggie anti-histamines.
Oh, and don't laugh at those tooth brush costs. It's a worthy investment to avoid dental procedures, which run between $350-1,000! Plus, the American Animal Hospital Association says regular tooth brushing can add up to five years to your dogs life!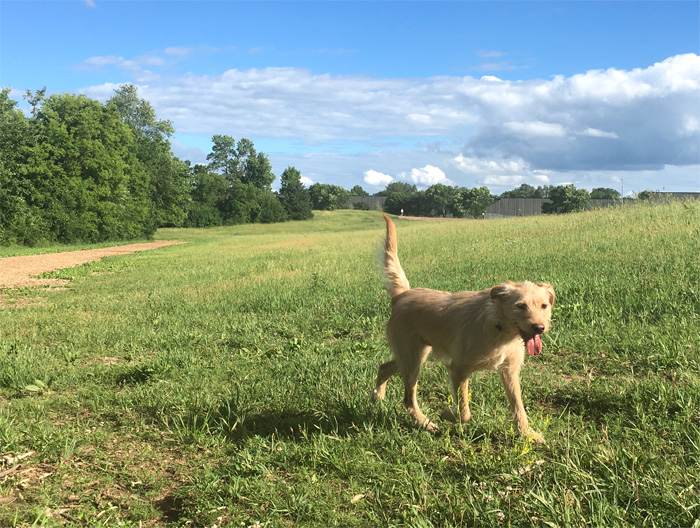 Food – $85.98

I was pretty surprised to see food was actually one of the cheapest costs of dog ownership. We buy his food in bulk at Costco, which is highly rated and waaaay cheaper than the small bags of "premium" food from the pet store.
He's about done with the second bag now, so I expect this cost to run about $150-200 each year.
Supplies – $217.27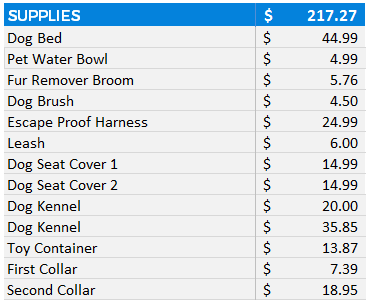 Definitely surprised by this one. That said, we didn't have any doggie supplies, so as you can see we had to stock up on everything from collars to brushes. A couple of notes here:
Kennels: Craigslist is the place to look for dog kennels. We found one in great shape for $20. We did spring for a second new one ($36), out of convenience for a generous family member who offered to watch him whenever we travel.
It pays to be prepared. As you can see, we spent $25 on a fancy harness before realizing we prefer the basic $6 leash from Walmart. We also emergency purchased an $8 dog collar, since we forgot to place our order for the personalized one from Amazon. (Apparently, dog tags come off for a lot of lost dogs, so we sprung for this awesome custom engraved collar.)
Costco comes through again with a dog bed for at least one-half the price of the pet stores. According to The Money Pup, it's incredibly comfy: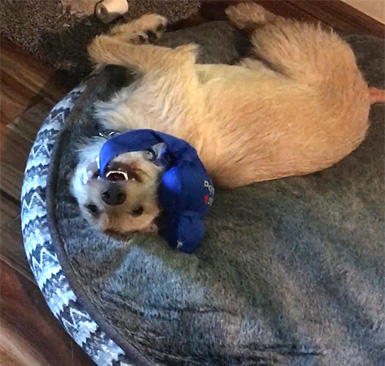 In an unexpected testimonial, my human friend Dave also agrees. He once spent a New Year's Eve passed out on a similar Costco dog bed, with no complaints the next morning.
The surprise best buy? These $15 dog car seat covers: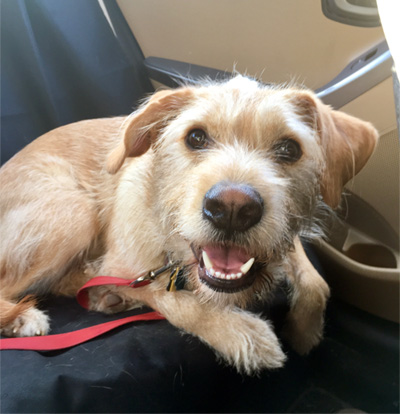 I totally misjudged them as a waste of money for consumer suckers. But that version is even cheaper than the amazon generic brand, and they really do fend off muddy paws and dog hair like a champ. Plus, they can snap on/off in no time, in case you need to replace a dog for a human on a moment's notice.
Treats – $100.45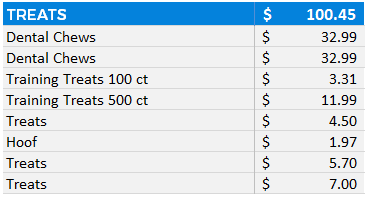 Wow, another surprisingly expensive category. Lady Money Wizard even bakes her own dog treats to save money on the store bought brands. Definitely going to need to bake some more of those…
Those dental chews are also crazy expensive, although supposedly really good for dog's teeth. Note to self – follow up with the vet about just how good those things really are.
The surprise winner though? That $1.97 hoof. He loves that thing more than all of the expensive treats combined, and it lasts longer than any of his toys.
Toys – $99.62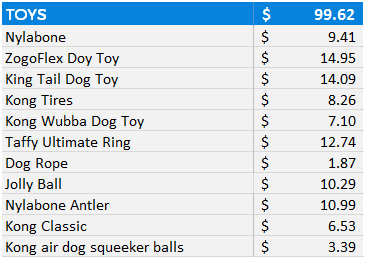 Yep, we definitely got carried away here.
I always suspected dog toys were mostly marketing nonsense, and so far that's been the case.
Of all those expensive toys, he's either completely not interested in them, or he destroys them in minutes. Even when they're marketed as "extra durable."
His favorite, and most durable toys so far? Some free stuffed animals won at the Minnesota State Fair.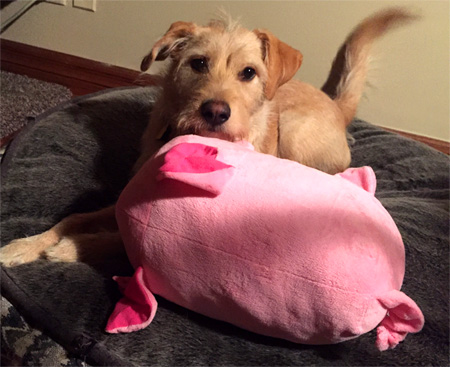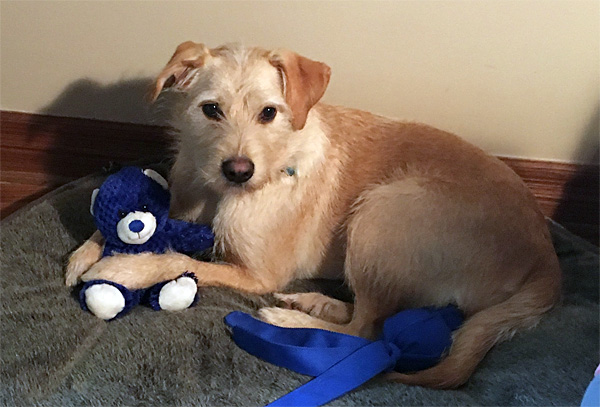 Miscellaneous – $46.99

We had to know he was going to destroy something. I'm just glad he chose the cheaper shoes.
With that out of the way, now we're getting to the really important stuff. Like this Hairy Pawter dog bandanna, or this essential dog hat: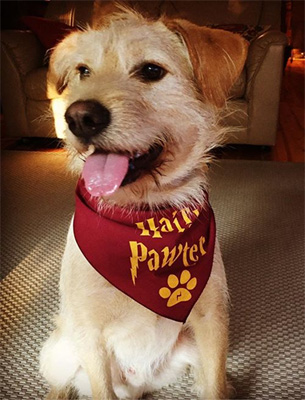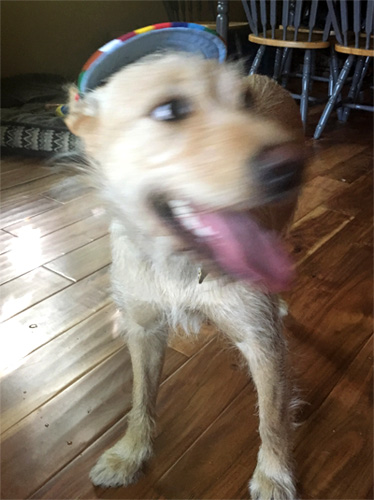 So, exactly how much does it c
ost to adopt a dog? 6 months later
I always knew owning a pet was expensive, and when we got this guy I was prepared for some serious costs. That said, seeing $1,300 spent over just 6 months is pretty amazing.
Now, one look at the toy spending category and you'll realize I wasn't exactly as frugal in pet spending as other areas of my life, but we did go about getting a dog in about the cheapest way possible.
We adopted from a shelter, rather than buying an expensive breed. We were lucky that he didn't have any health issues, aside from a $10 bottle of allergy pills. And we found some cheap, healthy food that he loves.
The key takeaway here? Dogs are expensive! And while their love and devotion can be priceless, don't forget to make sure you're prepared financially before bringing one of these adorable critters into your life.
If you enjoyed this post, can you do me a favor?
According to experts, the cost of pet ownership is one of the 5 most common reasons dogs are given up to shelters every year. If you think my first-hand account would help potential pet owners plan for the costs, help spread the word by sharing this post.
The three million dogs in shelters will thank you!
---
Related Articles: